Bakery-Style chocolate chip muffins
Desserts | Muffins | Chocolate Recipes
These are the best bakery-style chocolate chip muffins you'll ever have. Super soft, moist and packed with tons of chocolate chips. Follow our recipe and treat yourself with these delicious muffins!
We love to enjoy a good muffin with a nice warm cup of coffee, especially on lazy Sunday mornings. We especially love soft and fluffy bakery-style muffins with high domes and loaded with melted chocolate chips.
Our recipe for bakery-style chocolate chip muffins couldn't be easier and the batter comes together in minutes, with a simple ingredient list. These muffins are best consumed when warm while the chocolate chips are still melty. If consuming these muffins later, just warm them in the oven or microwave and they are ready to enjoy.

We are sure that these bakery-style muffins will become one of your favourites and you will make them again and again!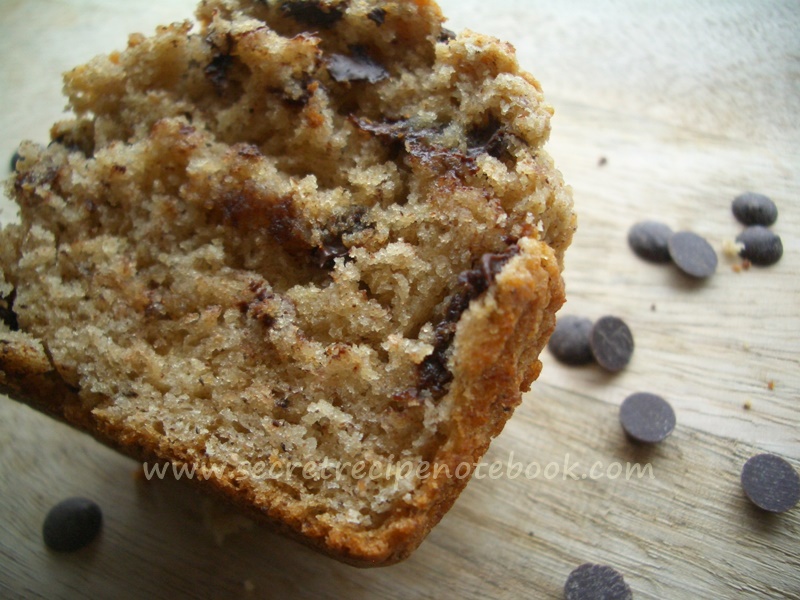 bakery-style chocolate chip muffins are so soft and fluffy
Our bakery-style chocolate chip muffins are so soft and spongey, especially just from the oven. We achieve this with a mix of plain, whole grain spelt and almond flours, which, when combined, gives a nice fluffy texture and is also more nutritious.

Be sure to use fresh high quality almond flour, which is finely ground and pale yellow in colour.  Both Greek yogurt and melted butter add plenty of moisture to the muffins.


Bakery-style chocolate chip muffins are packed with mini chocolate chips
What we love most about these muffins are that they are loaded with mini chocolate chips which makes them extra tasty and tempting. When the muffins are still warm and just from the oven, these mini chocolate chips are melt-in-your-mouth-delicious. For these muffins we use mini chocolate chips but feel free to use regular ones or chocolate chunks.


how to make bakery-style chocolate chip muffins
By following our step-by-step recipe you can whip up these amazing muffins in only 10 minutes. 

MAKING THE BATTER: The batter starts with basic ingredients such as flour, baking powder, baking soda and salt. This recipe features a mix of plain, whole grain spelt and almond flours, which gives the muffins a great texture and interesting nutty flavour.

In a medium bowl, we whisk together eggs, melted butter, sugar and Greek yogurt. At this point we add one teaspoon of vanilla extract - it's just one of those flavours that goes well with most things. All these ingredients are what makes our muffins soft and moist. 

Pour the wet ingredients slowly into the flours, add mini chocolate chips (leaving some for the tops) and using a silicon spatula to fold until you get a thick homogenous batter. Do not overmix the batter as this could result in dense muffins.


useful tip
Make sure all the ingredients from the fridge are at room temperature.  This will allow them to incorporate more quickly and easily with other ingredients. We recommend taking them out of the fridge about 30 minutes before starting.

BAKING THE MUFFINS: Prepare the muffin tray by lining it with 12 standard muffin cases. Scoop the batter into the cases, all the way to the top. The easiest and cleanest way to do this is to use a cookie scoop. Sprinkle the muffins with the remaining mini chocolate chips.
To achieve nice rounded domes on the muffins, bake them on a very high temperature - 220°C (430°F) for the first 5 minutes, then lower the temperature to 180°C (360°F) and continue baking for another 8 - 10 minutes. Don't open the oven when reducing the temperature! The muffins are ready once they get a light brown colour.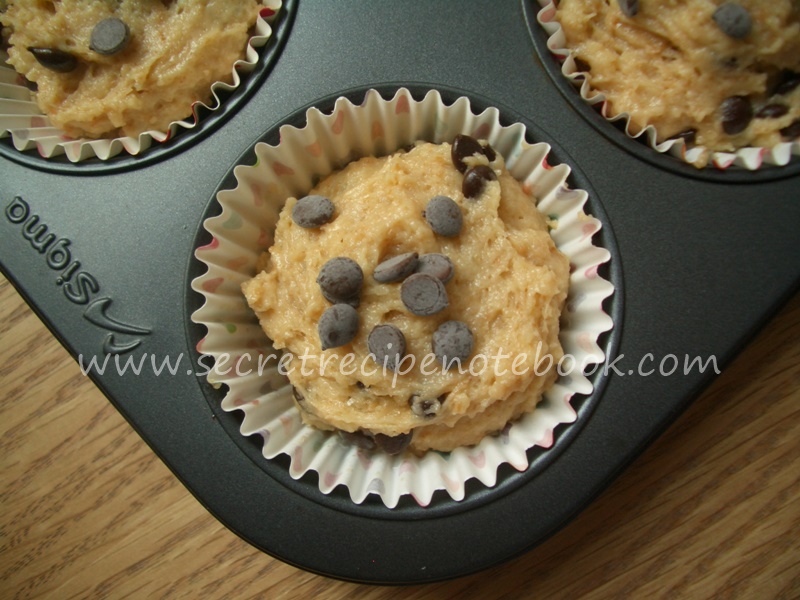 The Trick For Tall Muffin Tops
Authentic bakery-style muffins are specific as they have tall rounded domes. The key to making perfect muffins like this is to have enough leavening agents - baking powder and baking soda - to create those rounded domes when baking (our recipe uses both). Also baking first on a high temperature then lowering it, makes the muffins rise beautifully.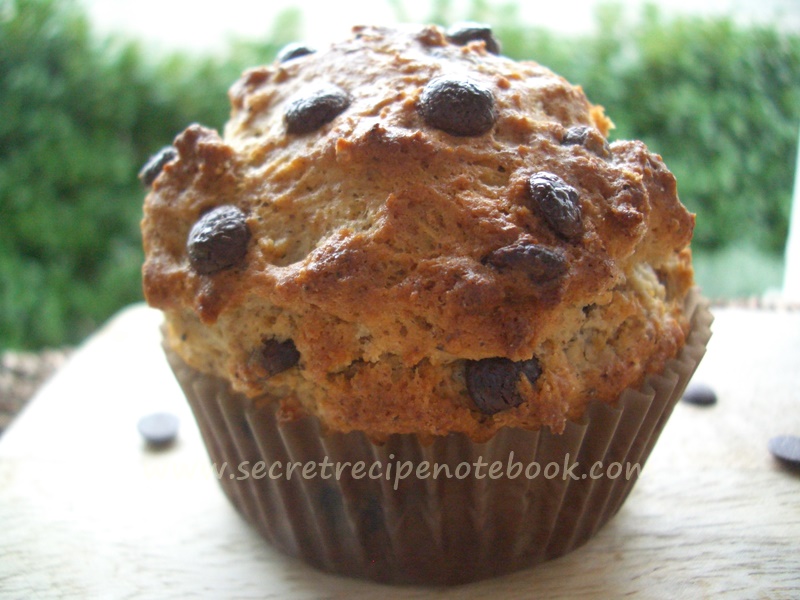 Serving and storing bakery-style chocolate chip muffins
These soft bakery-style muffins are best enjoyed while still warm, but can be stored in an airtight container at room temperature for up to 2 - 3 days.

Muffins can be frozen for up to 2 months. To freeze muffins, wrap them separately with cling film and place in freezer bags. To thaw, remove the muffins from the freezer and let them thaw at room temperature for several hours or heat up before enjoying.


Best Selling Kitchen Tools & Gadgets
Looking for more muffins to try?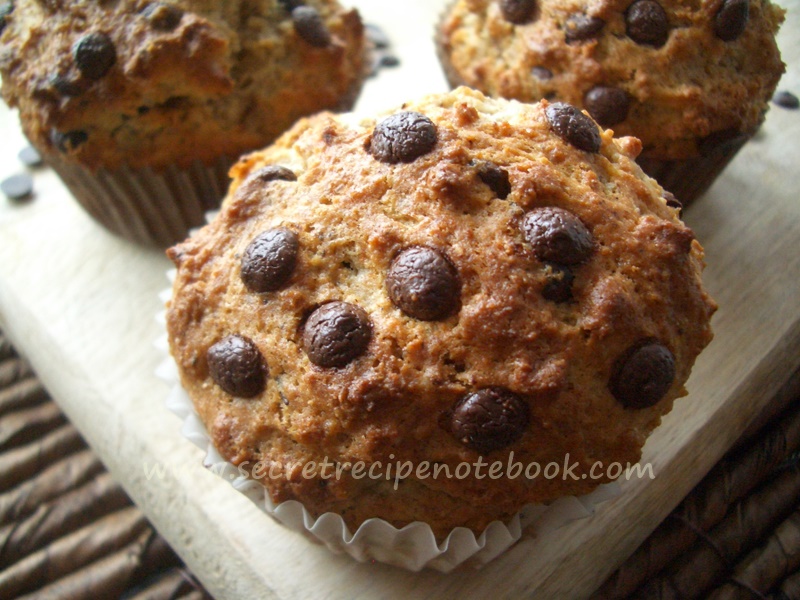 Like this recipe? Follow us on Pinterest for lots more recipe like this one! And don't forget to pin this recipe for later by clicking on one of the images above. 
shop Kitchen Essentials for this recipe
Kitchen Scale | Mixing Bowls | Wire Whisk | Silicon Spatula | 12-hole Muffin Tray | Standard Muffin Cases
bakery-style
chocolate chip muffins
recipe
MAKES: 12 standard muffins
COOKS IN: 40 minutes
LEVEL: Easy
INGREDIENTS
200g (1 2/3 cup) plain flour
40g (1/3 cup) whole grain spelt flour
30g (1/3 cup) almond or hazelnut flour
2 teaspoons baking powder
1/2 teaspoon baking soda
1/4 teaspoon salt
126g (9 tbsp) butter, melted
100g (1/2 cup) brown sugar
2 eggs, at room temperature
160g (2/3 cup) Greek yogurt, at room temperature
1 teaspoon vanilla extract
METHOD
Preheat the oven to 220°C (430°F). Line 12-hole muffin tray with paper cases.


In a large bowl combine flours, baking powder, baking soda and salt.


In another bowl, whisk the eggs, sugar, melted butter, Greek yogurt and vanilla extract until the sugar is completely dissolved.
 
Pour wet ingredients into dry and fold together using a silicon spatula until everything is combined and you get a homogenous texture. Stir in 3/4 mini chocolate chips and mix everything. Don't overmix so your muffins don't get dense and tough. The dough should be very thick.


Spoon the batter into prepared muffin cases filling all the way to the top. Once you fill the muffin cases, top with remaining chocolate chips and leave them to rest for 10 minutes. This allows the flour in the batter to fully hydrate.


Bake the muffins at 220°C (430°F) for 5 minutes, then reduce the oven temperature to 180°C (360°F) and continue to bake for another 8 - 10 minutes or until the tops are lightly golden brown. Check if the muffins are ready by inserting a skewer into the centre. It should come out clean. Leave the muffins to cool in the muffin tray for 2 - 3 minutes then transfer them to a serving plate.