HOME > DESSERTS > PASTRIES & TARTS
Cinnamon Churros
You will love these traditional Spanish pastries, usually eaten with hot chocolate sauce. These are simple just coated with caster sugar scented with vanilla and they are as good as the one with sauce.

The best thing about churros is that you need only basic ingredients you already have at home, so you can make them at any time.

Let's see how to prepare these unusual deep-fried dessert.


This webpage contains affiliate links. Please read our disclosure policy.

How to make cinnamon churros
Making the dough for churros is easy. All you need is WATER, BUTTER, PLAIN FLOUR, BAKING POWDER and EGGS. Also prepare piping bag with star tip - necessary for shaping churros.

FOLLOW THESE STEPS FOR MAKING CHURROS: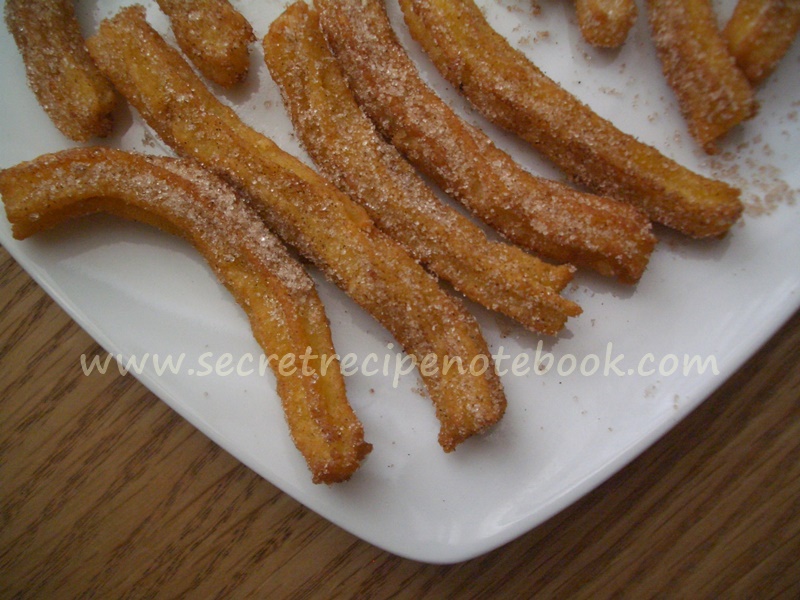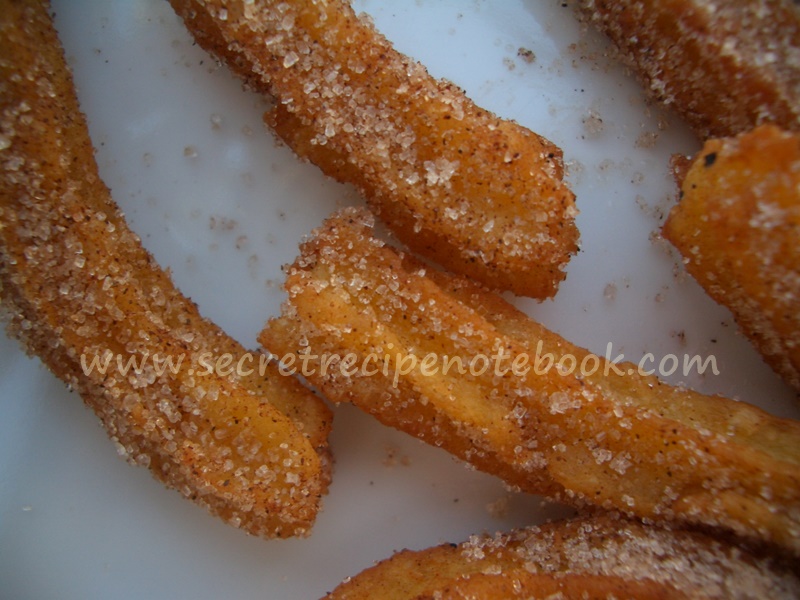 More easy desserts
you'll want to try:
Top tips for making perfect churros
Be sure that the oil is at the right temperature - it should be heated to around 170°C (338°F). Drop a small piece of the dough in the oil and if it start to sizzle immediately, the oil is ready for frying. If it turns brown quickly, the oil is too hot. In this case reduce the temperature and wait until it's ready.


When piping churros, hold the piping bag with right hand and pipe directly into the hot oil and cut the strips with small knife which you hold in the left hand.


Use small saucepan for frying - this way you don't have to use much oil.


Fry 3-4 churros at the time - if you fry more the temperature of oil will drop too much and the churros will stick to each other.


When piping strips, hold the piping bag a few cm above the oil. Be careful as the oil is very hot. Use small sharp knife to cut off the dough.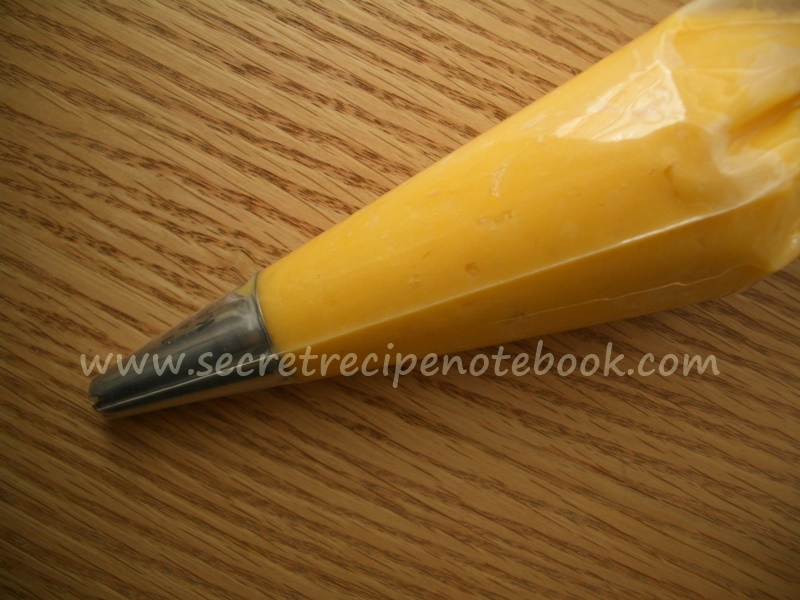 The best tip for making churros is medium-sized open star tip - Ateco 824. It produce skinny little churro, but after deep-frying the dough puffs up nicely.

One of the most important things for making the best churros is to heat the oil to the correct temperature. If you have a kitchen thermometer on hand, it would be very useful. Heat the oil to 180 - 185 C. If you fry churros on a lower temperature, they may become soggy and if the oil is too hot, churros will likely become burnt form outside with raw centers.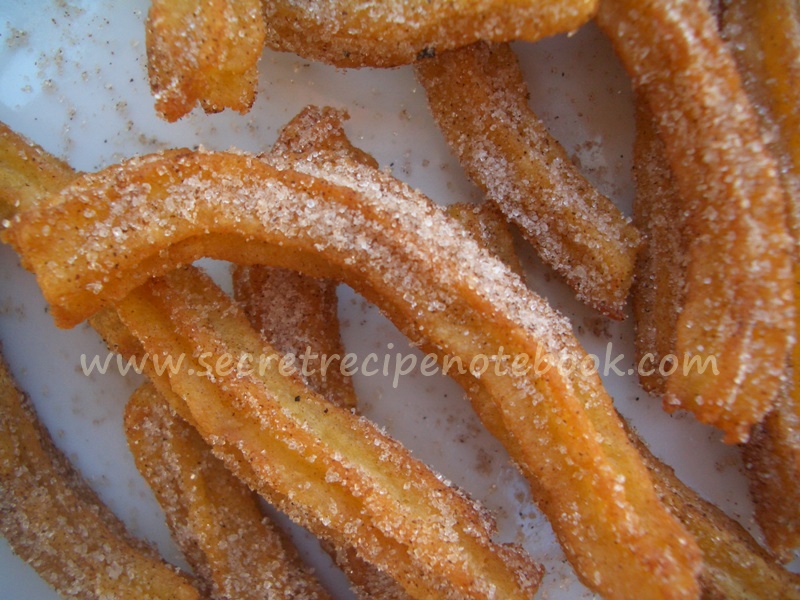 Serving ideas for churros
Churros are traditionally a street snack, so usually they are sold in a cup with a chocolate sauce so you can walk around and eat. At home, just pile them on a plate with a little cup of dipping sauce then you can dip and eat!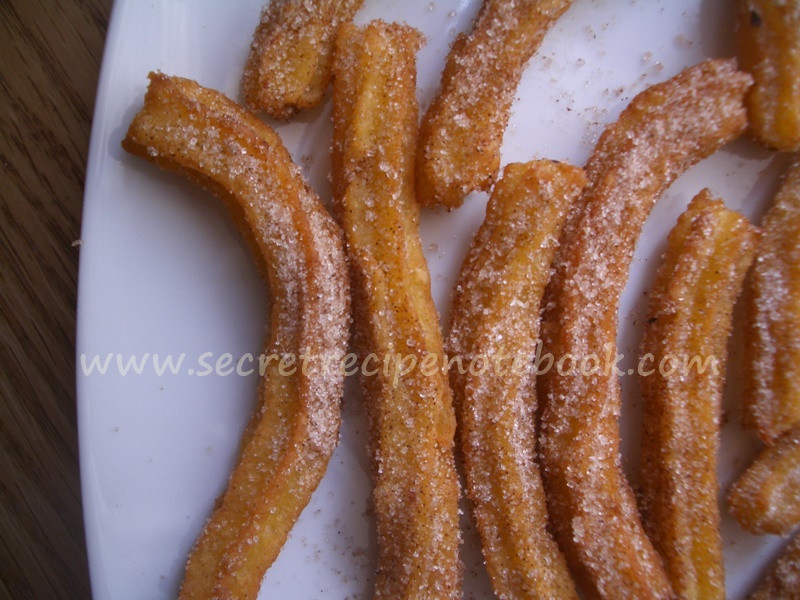 Looking for more fried desserts? Check these out:
UP TO 40% OFF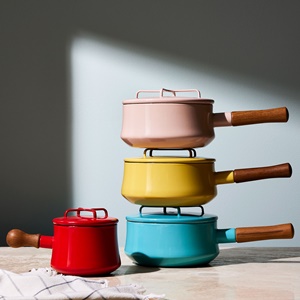 Cinnamon Churros

MAKES: 40 churros
COOKS IN: 40 minutes
LEVEL: Easy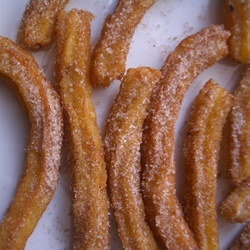 KITCHEN ESSENTIALS:
INGREDIENTS
For the churros
120ml water (1/2 cup), cold
42g butter (3 tbsp), cubed
1 pinch of salt
135g plain flour (1 1/8 cup)
1 egg, at room temperature
sunflower oil, for frying
For the coating
METHOD
Place water and cubed butter into a saucepan and add a pinch of salt.


Put the saucepan on a medium heat and stir until the butter is melted and bring to the boil.


Remove from the heat and quickly stir in sifted flour and baking powder. Beat with a wooden spoon until smooth and it comes away from the sides of the pan.


Transfer the mixture into a heatproof bowl, cool for a couple of minutes. Gradually add eggs one at a time, and beat with a wooden spoon until the mixture is smooth and glossy. You can also do this with an electric hand mixer. Add grated orange zest and mix until combined. Cover the bowl and leave to rest for about 20 minutes.


Meanwhile, prepare small bowl with caster sugar and cinnamon for rolling churros once fried. Set aside.


Fill a deep frying-pan with sunflower oil to a depth of between 1.5 and 2cm and heat until it reaches 180 C.


Spoon the batter into piping bag fitted with open star tip. Once the oil is hot enough, pipe 5 or 6 strips of batter (7-8 cm long) directly into the hot oil, cutting off each strip with a pair of scissors or a small sharp knife.


Fry churros until golden brown and crispy, about 2-3 minutes on each side. Repeat with remaining dough, frying in small batches so that the churros do not touch. 


Remove churros from the pan with a slotted spoon or kitchen tongs, drain on the kitchen paper, wait for 1 minute then roll into cinnamon/sugar mixture and serve while still warm!


CATEGORIES: PASTRIES & TARTS, FRIED DESSERTS
Looking for more recipes?

We are a participant in the Amazon Services LLC Associates Program, an affiliate advertising program designed to provide a means for us to earn fees by linking to Amazon.com and affiliated sites.