You will love these gluten-free coconut cookies that are easy to make. Cookies are crumbly and chewy thanks to the shredded coconut we use in the recipe. We are sure the cookies will gone fast!
For coconut lovers, we have an amazing gluten-free coconut cookies with soft and chewy texture and beautiful coconut aroma. Completely gluten-free, made from three gluten-free flours and with desiccated coconut, these cookies are also a healthy bite.

Additional plus, is that these coconut cookies are so easy to make - the same as our gluten-free hazelnut cookies and gluten-free almond flour cookies.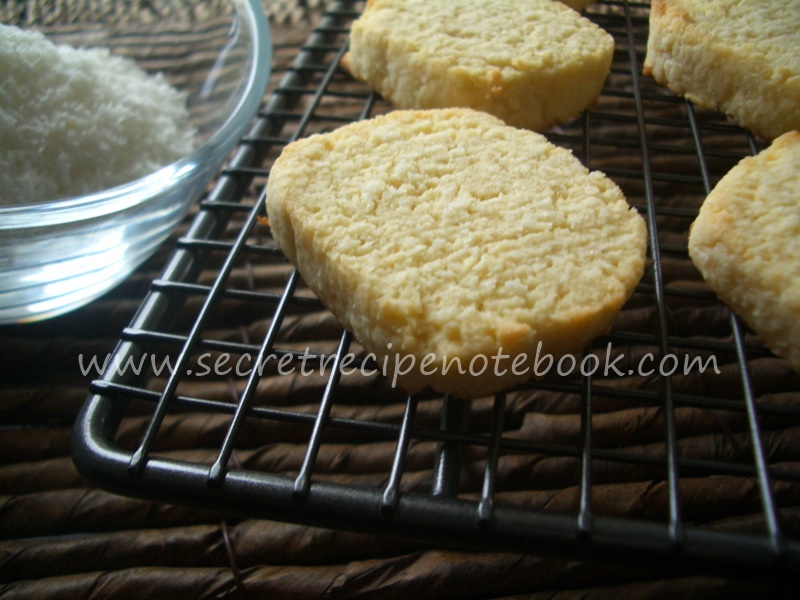 what you'll need for gluten-free coconut cookies
This recipe uses combination of millet, coconut and almond flours, making these cookies completely gluten-free. Millet flour is like substitute for wheat flour, coconut flour gives mild coconut scent and sweetness while almond flour makes cookies airy.

Desiccated coconut adds subtle coconut flavour and gives some chewiness to the cookies. We opt for using demerara sugar in this recipe which has coarse texture giving some crunchiness to the cookies. We uses lots of coconut which gives the cookies some crunch and chewiness.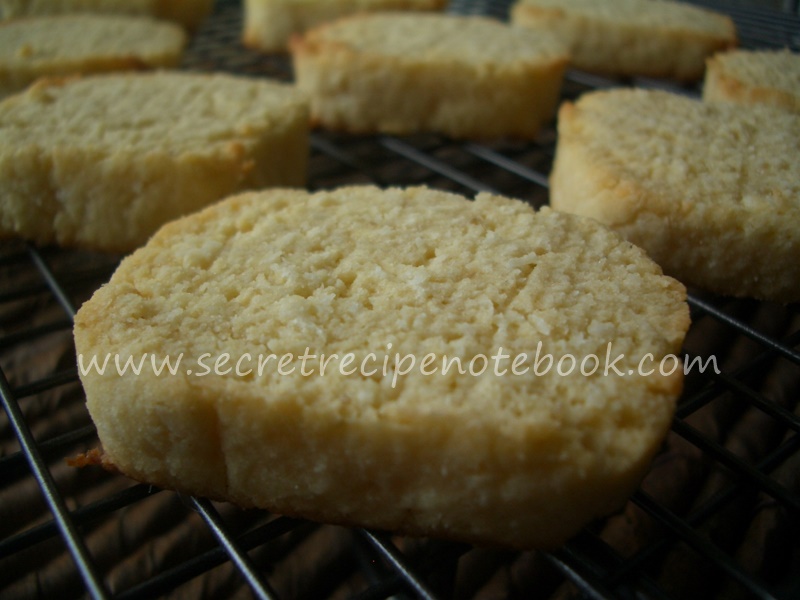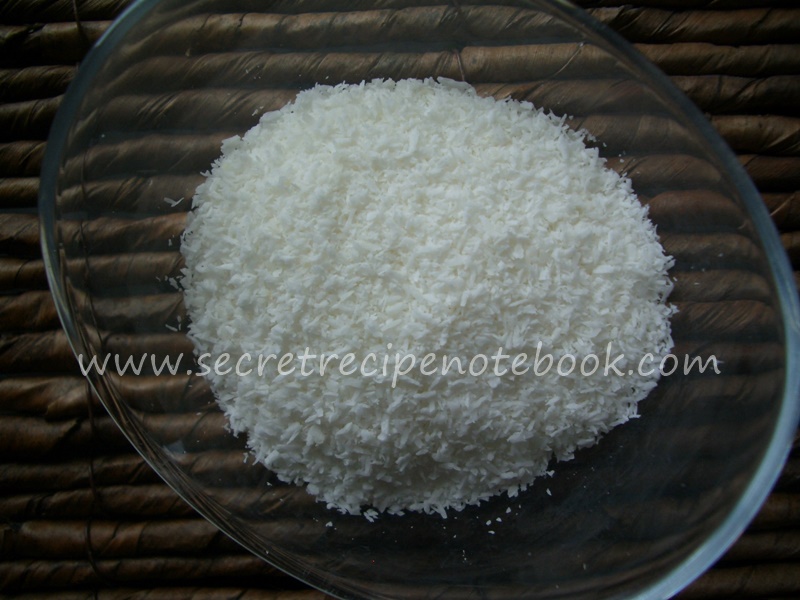 how to make gluten-free coconut cookies
Making these cookies could not be any easier to make. You will need only one bowl and electric hand mixer to assemble together the ingredients. Let's check how to do this.

making the dough
Recipe start with combining all dry ingredients: flours, coconut and salt in one bowl.

In another bowl beat softened butter and demerara sugar until creamy. Add egg, grated lemon zest and Amaretto and continue to beat for a few minutes. Now add dry ingredients into butter/egg mixture in two batches, beating in between to get a soft dough.

Half the dough and form 2 logs, then wrap each in cling film and cool in the fridge for about 1 hours. If you are short on time, place logs in freezer for 20 minutes to harden.


best selling kitchen Tools & Gadgets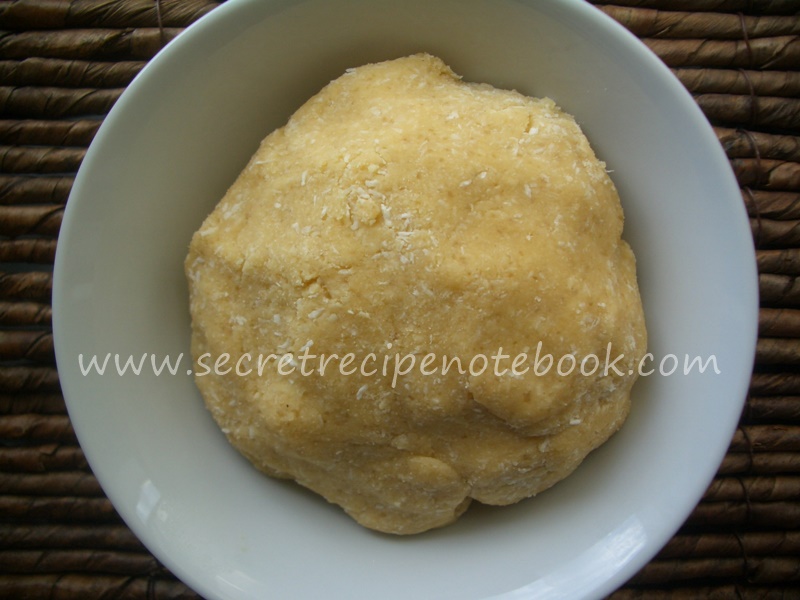 baking the cookies
Shaping the cookies is so easy. Take logs and cut into 16 slices (7 - 8mm thick). Arrange slices on the baking tray and bake in preheated oven for 5 - 6 minutes. These cookies bake so quickly so be sure not to overbake them. Leave cookies on the tray for 5 minutes to cool, then transfer to cooling rack using thin metal spatula.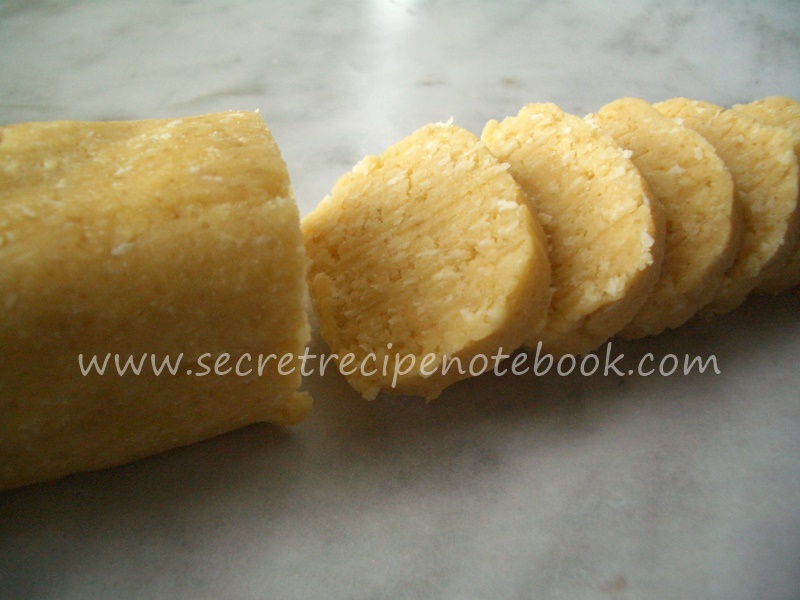 storing gluten-free coconut cookies
These gluten-free cookies stay fresh in an airtight container for 3 - 4 days. Baked cookies freeze well - up to 2 months. Cookie dough logs freeze well too, up to 3 months. Allow the logs to thaw overnight in the fridge then continue to bake them.

The same day they are made, these cookies have a crispy texture, but over time the exterior becomes softer. The insides stay soft and chewy for several days. You can keep them at room temperature or in the fridge.


looking for more gluten-free recipes?
For more cookie inspiration, take a look at our collection of yummy cookie recipes. Also check out our selection of interesting gluten-free cookies, too.

shop Kitchen essentials for this recipe
Digital Kitchen Scale | Mixing Bowl | Electric Hand Mixer | Flour Sifter | Baking Tray | Baking Paper Sheets | Cooling Rack | Cookie Spatula | Serving Platters
Gluten-Free
Coconut Cookies
MAKES: 32 cookies
COOKS IN: 30 minutes plus cooling time
LEVEL: Easy
INGREDIENTS
60g millet flour
55g (1/2 cup) coconut flour
65g (2/3 cup) almond flour
60g (3/4 cup) shredded coconut
1 pinch of salt
160g (2/3 cup) butter, at room temperature
65g (1/3 cup) demerara sugar
1 egg, at room temperature
1 tablespoon grated lemon zest
1 teaspoon Amaretto liqueur
METHOD
Preheat the oven to 175°C (347°F), 10 minutes before baking. Line baking tray with baking paper.


Combine millet, coconut, almond flours together with shredded coconut and pinch of salt in a medium bowl.



In a large bowl using a hand mixer or stand mixer, beat softened butter, demerara sugar on a medium speed until smooth and creamy. Add egg, grated lemon zest and Amaretto and continue to beat on a high speed for a few minutes until smooth. Scrape down the sides and bottom of the bowl as needed, and continue to beat until fully combined.


Add 1/2 flour mixture into the wet ingredients and mix on a low speed for 1 minute. Add the rest of flours and continue to mix until you get a soft compact dough.


Turn the dough onto floured work surface and divide into two. Shape each half into 20cm log, about 4cm wide. Tightly wrap the logs into cling film and chill in the fridge for at least 1 hour. 


Remove the logs from the fridge and cut each log into 16 slices, about 7 - 8mm thick. Arrange slices on prepared baking tray and bake for about 5 - 6 minutes or until lightly brown. Leave the cookies to cool on a tray for about 5 - 6 minutes, then transfer to cooling rack until serving.