Snacks & Nibbles | Gluten-Free Recipes | Almond Flour Recipes
Gluten-free vegan Crackers
For those looking for healthy snack, these gluten-free vegan crackers would be an ideal choice. Made with a mix of gluten-free flours and packed with seeds, these crackers are nutritiously rich.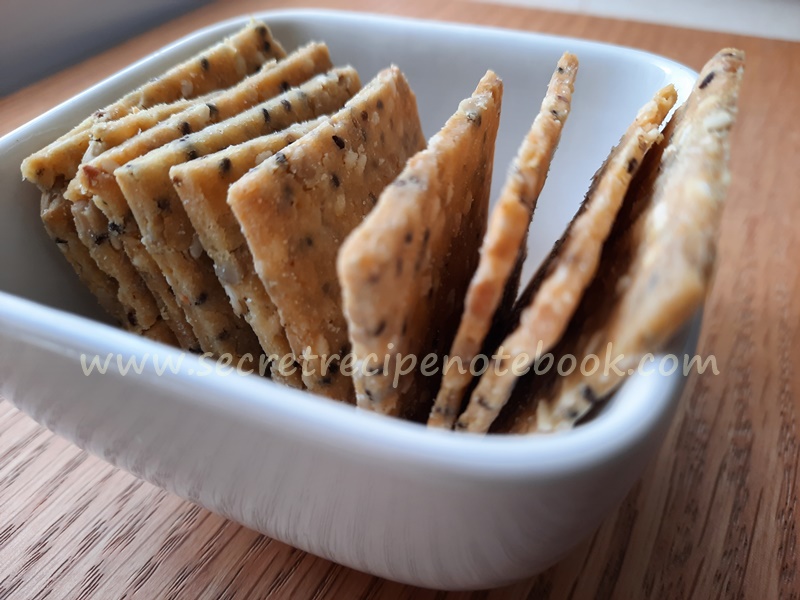 If looking for completely healthy nibble, both gluten-free and vegan these crackers would be a great choice. There is no regular flours in this recipe, neither eggs or dairy products. Not to mention they are also delicious thanks to the sunflower and sesame seeds we use in the recipe.
Let's check how to make these gluten-free vegan crackers from scratch.


Try also these tasty recipes:
Gluten-free flours used in this recipe
This recipe features combination of almond, buckwheat and rice flours, all gluten-free and nutritiously rich. 
Almond flour, made of blanched almonds adds nuttiness, while buckwheat flour gives rich and earthy flavour to the crackers. White rice flour with sandy texture and very mild taste complement great with these two flours. Each of these flours can be bought from health food stores or ordered online.


Making the chia egg
A chia egg is simply made from water and whole chia seeds. Once combined, they become gelatinous - similar to the texture of egg. Chia eggs are used in vegan baked goods instead of eggs. It doesn't have much of taste at all. If you don't want to be able to see the chia seeds, consider using white chia seeds rather than the standard black chia seeds.

Just take 1 tablespoon of chia seeds and place them in a small bowl. Add 4 tablespoons of water and wait for about 5 minutes, until they become like a gel. Then use it in the recipes, just as you would regular egg.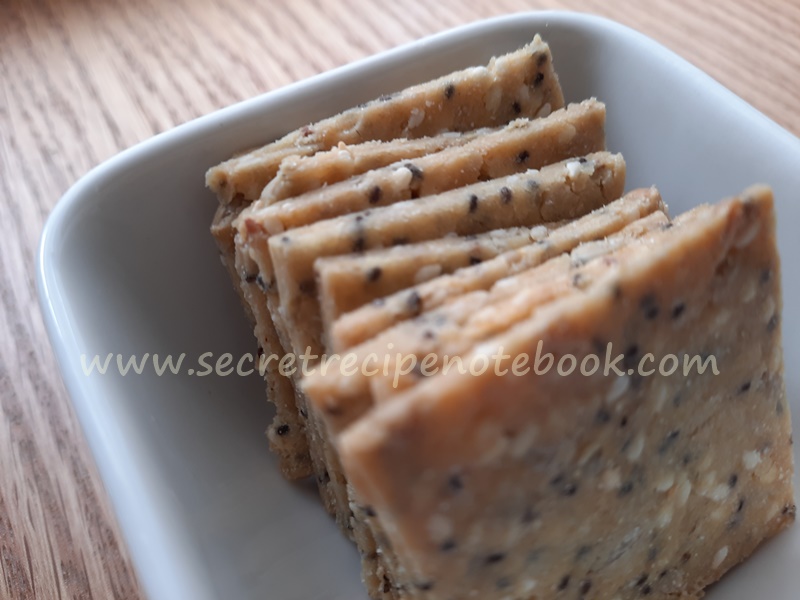 Making the dough
Once you have measured all flours, seeds, olive oil and have ready an chic egg making the dough is easy. In a medium bowl combine all ingredients (except olive oil), make a well in the centre then pour olive oil and chia egg. Stir then working with your hands make a compact dough. 


Shaping the crackers
It's time for rolling the dough. This is best done between two sheets of cling film. Once you roll the dough thinly (we love this rolling pin), using a sharp knife or a pastry wheel cut squares of rectangles. We get 32 small square (3x3cm) crackers from this dough.

Arrange crackers on the lined baking sheet and bake 8-10 minutes. Leave them to cool on the tray. Your healthy crackers are ready to enjoy!


Best selling kitchen tools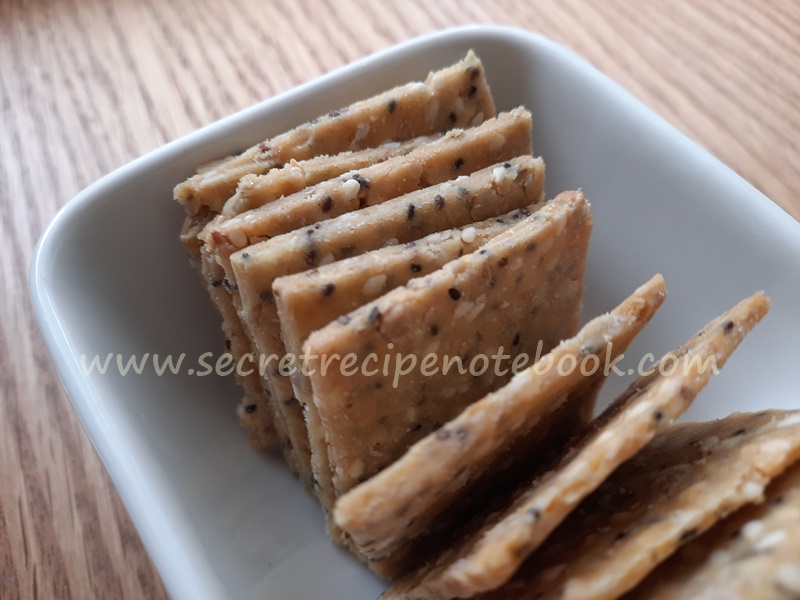 How to store gluten-free vegan crackers
Store these crackers in the airtight container for up to 7 days. They will stay crisp and delicious.


Looking for more snack recipes? Take a look at these:
For more snack inspiration, take a look at our collection of snack recipes. Also check out our selection of other tempting bread & pizza recipes, too.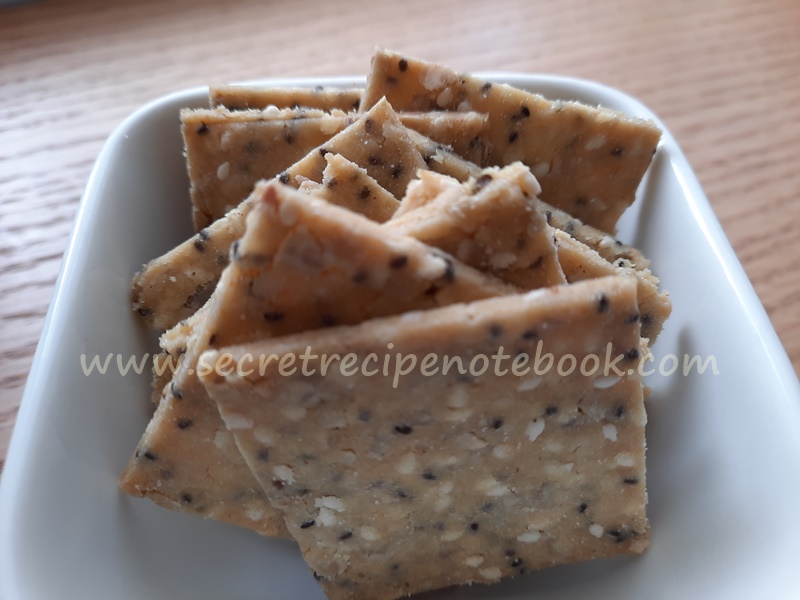 Like this recipe? Follow us on Pinterest for more recipes like this one! And don't forget to pin this recipe for later by clicking on one of the images above. 
Gluten-free vegan Crackers
MAKES: 32 small crackers
COOKS IN: 30 minutes
LEVEL: Easy
KITCHEN ESSENTIALS FOR THIS RECIPE:
Quality Kitchen Products
-
Shop here!
iNGREDIENTS
10g (1 tbsp) chia seeds
45ml (3 tablespoons) water
50g (1/2 cup)

almond flour

30g buckwheat flour

35g (1/4 cup) rice flour

35g (1/4 cup) 

sesame seeds

35g (1/4 cup)

sunflower seeds

, fi

nely chopped
1/4 teaspoon baking soda
1/4 teaspoon salt
30ml (2 tablespoons) olive oil
METHOD
Preheat the oven to 175°C (347°F). Line

2

baking sheets

with baking paper.


Combine chia seeds and water in one glass and leave for 5 minutes.


In a large bowl, combine almond, buckwheat and rice flours, baking soda, salt, sunflower and sesame seeds.


Make a well in the centre of flours and add olive oil and chia seeds. First stir with a spoon then using your hands form a compact dough. Leave aside for 5 - 10 minutes.


Place dough between two sheets of cling film and roll with a rolling pin up to 1-1.5mm thickness. Remove the top clingfilm and cut with a knife little squares 3x3 cm.


Transfer crackers onto baking tray using

a

thin metal spatula

leaving some space between. If there is leftover dough, gather the dough to reform a dough ball. Repeat the rolling/cutting process again with the dough. 


Bake for 8-10 minutes, checking every 2-3 minutes, as they brown easily. Fully cool down on a cooling rack. The crackers will harden as they cool down. Store in a glass jar or airtight container for up to 10 days.


Gluten-free Vegan Crackers