Healthy Chocolate Orange Muffins
These healthy chocolate orange muffins are so moist and dense, everyone will adore them. Make them and amaze your loved ones!
This webpage contains affiliate links. Please view our disclosure policy for more details.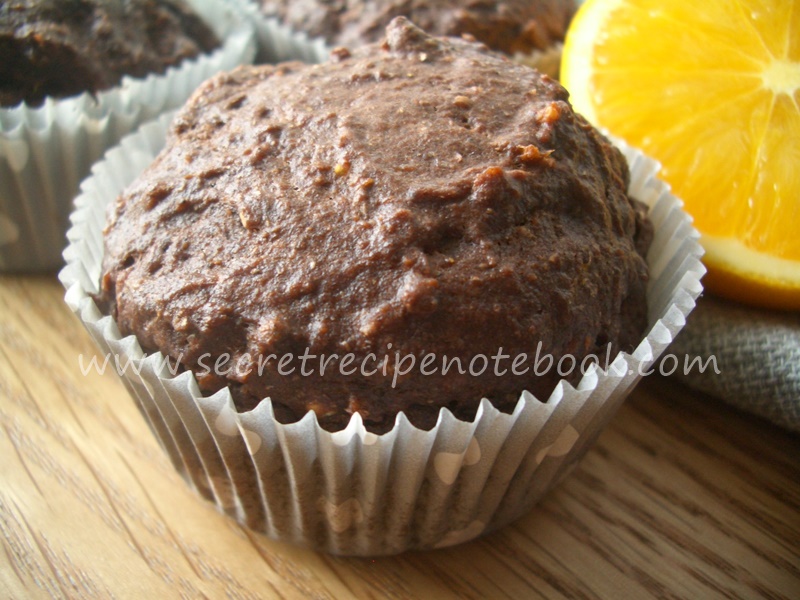 We love these rich chocolate muffins with damp and sticky texture, the beautiful orange flavour and dark chocolate chunks. In this recipe we used the unique method: blitzing whole oranges, zest and all, combined with whole grain flours, eggs, sugar and buttermilk and coconut oil.
Who wouldn't like chocolatey muffins enriched with refreshing orange purée. Let's check what else we need for these muffins and how to make them.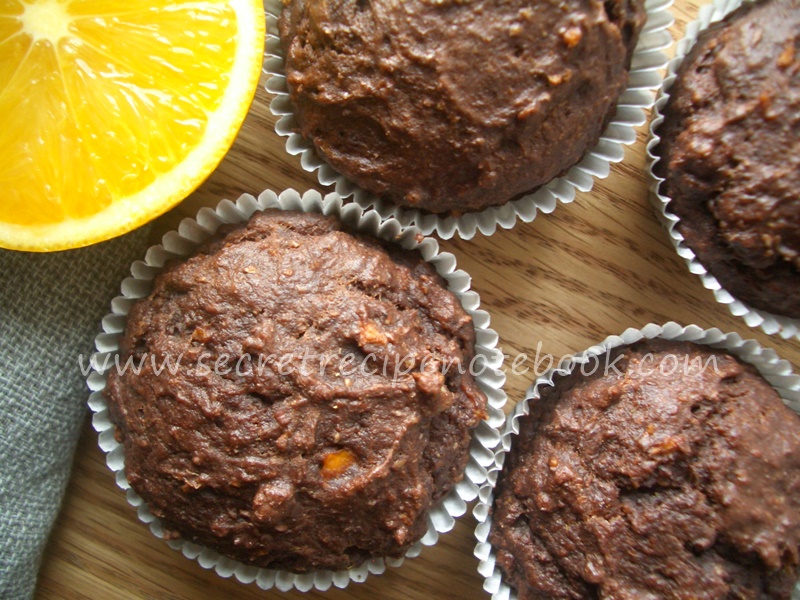 What these healthy chocolate orange muffins make so special
These muffins are moist and bursting with orange flavour in a way that you can only achieve using whole oranges. You need to boil whole oranges and make a puree of them as the orange zest is from where true orange flavour comes from.

Thanks to the unsweetened cocoa powder and chunks of quality dark chocolate. Once you bite the muffin, you will find melting chocolate pockets inside which makes these muffins so tasty. Use chocolate with at least 60% cocoa and natural cocoa powder for this recipe.


How to make orange puree
The secret ingredient of this recipe is orange purée. For this recipe you will need only 1 medium orange (around 150g). You don't need to be exact here - if they weigh more, your muffins will be a little bit more moist. 
Place orange in a saucepan and cover with cold water. Bring to the boil and simmer until orange become soft (10-15 minutes). Drain orange, cool slightly until you can handle and cut into smaller pieces. Remove any seeds.

Using stick blender blend orange until you get a purée consistency with only a few visible bits of zest remaining. It does not to be completely smooth.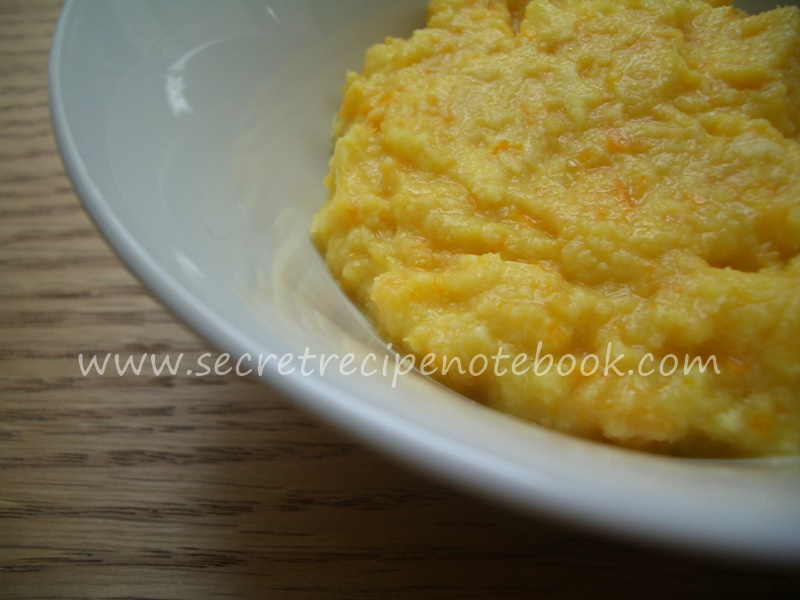 Try also these tasty recipes:
Making the batter for healthy chocolate orange muffins
Making these moist muffins is fairly easy once you have all the ingredients on hand. You will need a few mixing bowls, balloon whisk, silicon spatula and muffin tray.

First combine all dry ingredients - FLOURS, COCOA POWDER, BAKING POWDER, BAKING SODA and SALT.


Melt DARK CHOCOLATE with COCONUT OIL on a double boiler.


Whisk EGG

S, BROWN SUGAR, BUTTERMILK, ORANGE PUREE, ORANGE JUICE and VANILLA EXTRACT. Now, pour melted chocolate into this mixture.




Pour liquid mixture into the center of flours and stir until you get a thick batter. Fill muffin cases 3/4 full and bake for about 10 - 12 minutes. 


Best Selling Kitchen Tools
Useful baking tip
The easiest way to test if the muffins are ready is to stick a skewer into the centre of the muffin. If it comes out with a few crumbs stuck on it, the muffin is done. Don't let the muffins sit in the hot tin for too long once they're done or they'll be over baked and dried out. Place them on a wire cooling rack to cool.
Storing and freezing healthy chocolate orange muffins
These muffins also freeze quite well, so you can also pop half the batch in the freezer if you want to save for another day. We always find muffins taste best on day one but these will stay fresh for up to 3 days if you store them in an airtight container.


Looking for more muffin recipes? Take a look at these:
Want to make a batch of fresh muffins? Try great ideas from our Muffin Recipe Collection!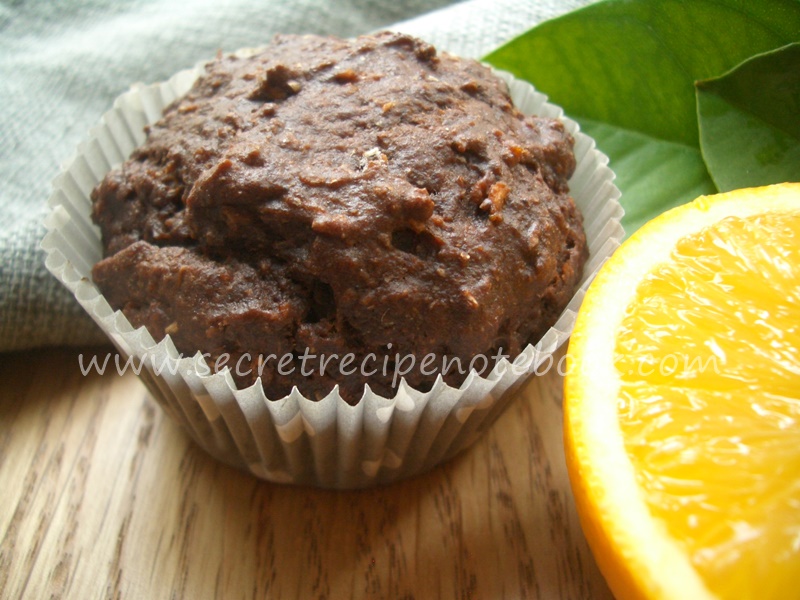 Healthy Chocolate Orange Muffins

MAKES: 12 standard muffins
COOKS IN: 1 hour
LEVEL: Moderate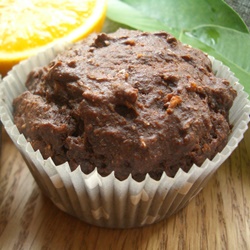 INGREDIENTS
1 medium orange (for 100g orange purée)
120g (1 cup

)

whole wheat flour

120g (1 cup + 1 tbsp) 

whole grain spelt flour

20g (1/4 cup) cocoa powder (unsweetened)

1 teaspoon baking p

owder
1/4 teaspoon baking soda
1/8 teaspoon salt
2 eggs, at room temperature
65

g (1/3 cup)

demerara sugar

56g (2 ounces)

dark chocolate

(60-70%)

60ml (4 tbsp) coconut oil or mild olive oil

210ml (3/4 cup + 2 tbsp) buttermilk

45ml (3 tbsp) freshly squeezed orange juice

grated zest of 1 orange
1 teaspoon vanilla extract
Kitchen essentials for this recipe:
Kitchen Scale | Mixing Bowls | Citrus Zester | Silicon Spatula | Measuring Jug | Balloon Whisk | Small Saucepan | 12-cup Muffin Tray | Cooling Rack | Standard Muffin Cases
METHOD
Preheat the oven to 180°C/360°

F. Line

12-cup muffin tray

 with standard paper cases.






In a large bowl combine flours, cocoa powder, baking powder, baking soda and salt. 




Place coconut oil and chocolate into a small saucepan and melt on a low heat.


In a medium bowl whisk eggs, demerara sugar, buttermilk, orange juice, orange purée, orange zest and almond extract. Whisk until everything is combined. Pour melted chocolate into this and whisk again.


Make a well in the centre of dry ingredients and pour wet ingredients. Fold with silicon spatula just until combined. Don't overmix the batter as this could result in a muffins with a tough texture. Instead, just fold the batter together instead of mixing it, using the minimum amount of movement required until everything is combined.


Divide the batter among prepared muffin cases until 3/4 full and bake for 10-12 minutes. Be careful and don't overbake the muffins. Test if the muffin is ready by sticking a toothpick into it (it should have some crumbs stuck on it). 


Remove from the oven and allow muffins to cool for a few minutes before transferri

ng them to a 

wire rack

 to cool completely. 



We recommend using the measurement in grams & ml (instead of cups & spoons) for more accuracy and better results.