Homemade Chocolate truffles
These homemade chocolate truffles are a breeze to make and need only a handful of simple ingredients. These decadent sweets makes ideal food gift.
Chocolate truffles are among the easiest chocolate bites you can possibly make, yet they are always received like a super special gift. Who can resist that amazing rich chocolate flavour and smooth texture? Chocolate truffles will satisfy even the most dedicated chocolate lovers, and once tasted will never be forgotten.

These luxurious sweets are an impressive addition to any party, dessert table, or celebration. The best part is, they are so easy to make. For dark chocolate truffles you will need only quality dark chocolate, heavy whipping cream, butter, some vanilla extract to flavour and rich cocoa powder for coating.

Just follow our simple recipe which will show you that making homemade chocolate truffles is so easy. 


Homemade chocolate truffles are so special because:
They are so easy to make
Making these dark chocolate truffles is so easy and simple. You will need only quality dark chocolate with at least 60% cocoa, heavy whipping cream, butter and some vanilla extract for flavouring. If you would like to enrich these truffles we have an idea - why not to try our chocolate pistachio truffles or creamy chestnut truffles.


They are decadent and chocolaty
The most important thing for making good chocolate truffles is to use good quality dark chocolate with a high percentage of cocoa solids. This recipe uses 65% cocoa chocolate which is enough for deep chocolate flavour. Use chocolate with less or more cocoa percentage according to your wish. 


How to make Homemade chocolate truffles
MAKING CHOCOLATE GANACHE: Once you decide to make chocolate truffles, get some quality dark chocolate and chop it into smaller pieces using a serrated knife, so the chocolate melted easily. Place the chocolate in a heatproof bowl so you can pour the whipping cream over it.

Now, heat the whipping cream on a medium heat and pour over the chocolate. Leave for 1 - 2 minutes and then stir or whisk until chocolate is completely melted. Add some butter and vanilla extract and stir again until you get a smooth ganache. Leave for a few minutes at room temperature, then place in the fridge for about 1 - 1.5 hours or until it hardens enough to be scooped.


ROLLING THE TRUFFLES: Now it's a time for making these adorable chocolate balls. Using a teaspoon or a small cookie scoop, take a small amount of mixture and roll it into a ball, then coat in cocoa powder. Place truffles on a tray and keep in the fridge until ready to serve. Take the truffles from the fridge 30 minutes before serving for the best texture and taste.

When rolling the truffles they may become sticky from the heat of your hands. To avoid this dust your hands with cocoa powder or use rubber gloves. Otherwise, once the mixture become soft, place it in the fridge for 5 minutes and then continue making the truffles.


useful tip
Chocolate mixture needs to be firm enough to roll into balls, but soft enough to scoop. If you leave it overnight in the fridge, just keep for 30 minutes at room temperature to soften and then roll the truffles.


Serving and storing Homemade chocolate truffles
For the best taste and texture, serve the truffles at room temperature. Keep the truffles covered in the fridge for 3 - 4 days. If stored in an airtight container in the fridge, these white chocolate truffles can last for up to 2 weeks.


Best Selling Kitchen Tools & Gadgets
Looking for more delicious truffles?
For more chocolate inspiration, take a look at our collection of chocolate recipes. Also check out our selection of other tempting desserts, too.


Shop Kitchen essentials for this recipe
Kitchen Scale | Cutting board | Serrated knife | Small saucepan | Measuring Jug | Heatproof bowl | Hand whisk | Small cookie scoop | Serving bowls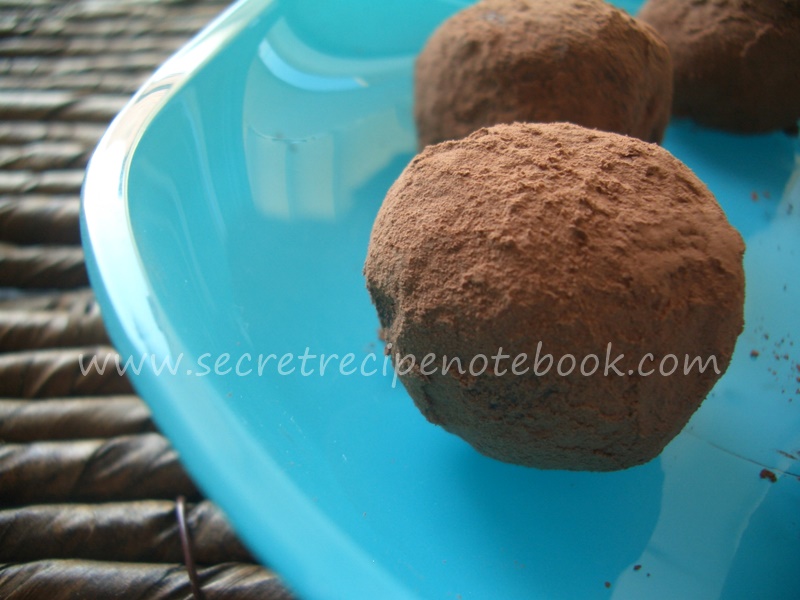 Homemade chocolate truffles recipe
MAKES: 12 truffles
COOKS IN: 30 minutes plus cooling time
LEVEL: Super easy
ingredients
200g dark chocolate (65% cocoa), finely chopped
100ml heavy whipping cream (30 - 36% milk fat)
30g butter
1 teaspoon vanilla extract
unsweetened cocoa powder for coating
method
Place chopped dark chocolate into a heatproof bowl.


Place the whipping cream in a small saucepan and bring to just below boiling point.


Pour over the chocolate, leave for a few minutes then slowly whisk until the chocolate is melted. Add butter and stir until completely combined. Cover with cling film over the top and place in the fridge for about 1 - 1.5 hour until firm enough to scoop.


Place the cocoa powder into a shallow bowl.  Scoop the cooled chocolate ganache, using a teaspoon or a small cookies scoop, and roll into balls about the size of a walnut. Roll each ball in the cocoa powder until it's evenly covered. If the chocolate ganache starts getting too warm, put it back in the fridge for 15 minute and then continue making the truffles. Place truffles on a tray and refrigerate for 30 minutes and serve.


© Secret Recipe Notebook owns the copyright on all images and text and does not allow for its original recipes and pictures to be reproduced anywhere other than at this site unless authorization is given.
This webpage contains affiliate links, which means that if you purchase anything through these links we will get a small commission at no extra cost to you. Please view the Affiliate disclosure for more information.