Buttery, delicious and without any added sugar, these cookies will be your favourite choice. They are made from a combination of healthy flours and packed with pieces of toasted pistachios.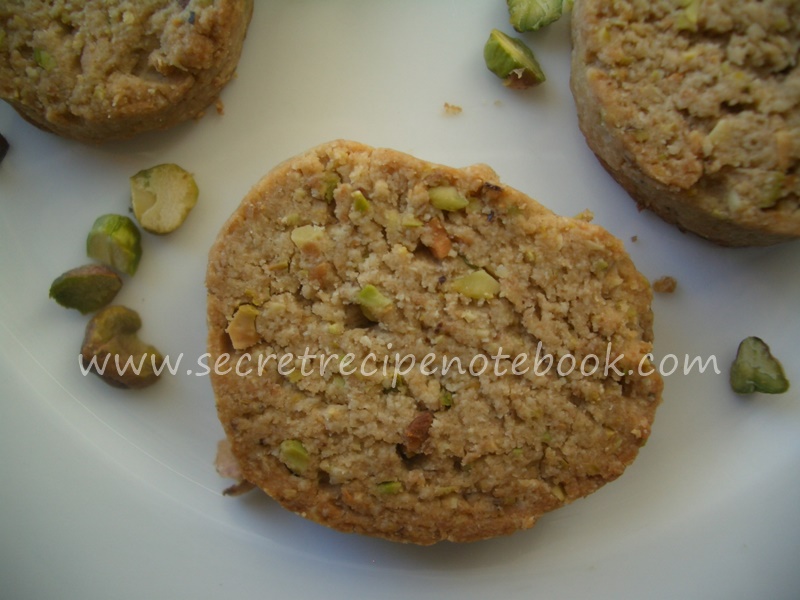 This recipe is for those who love cookies, but not all of the sugar that comes with them. You will definitely love these crumbly shortbread cookies made from a combination of healthy flours and enriched with crunchy pieces of toasted pistachios. Not to mention the fact that these cookies are made in only one bowl and no need for mixers, rolling pins or cookie cutters.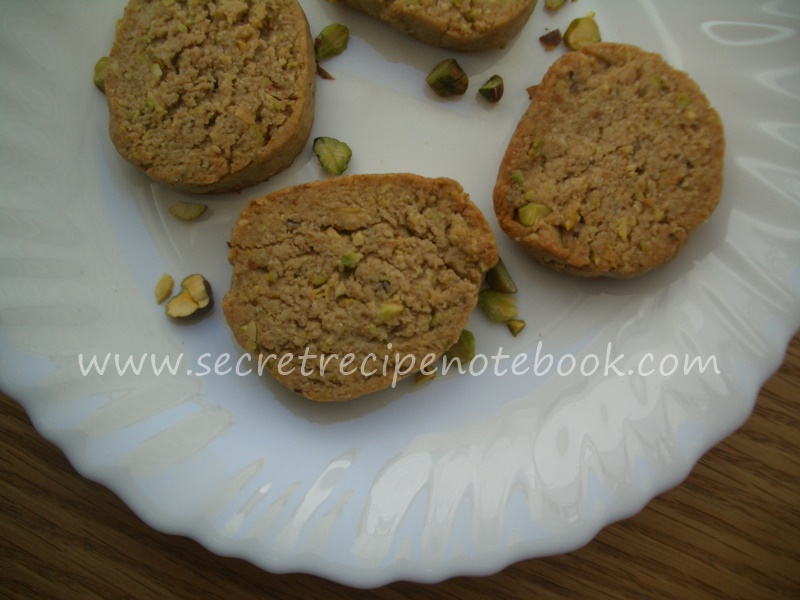 these shortbread cookies have crumbly texture & packed with toasted pistachios
Who doesn't love the unique sweet aroma of toasted pistachios, which enrich every dessert or cookie. Pistachios pairs great with buttery dough made from healthy combination of flours - chestnut, almond and whole grain spelt. Thanks to these flour texture is crumbly and light - ideal for shortbread cookies.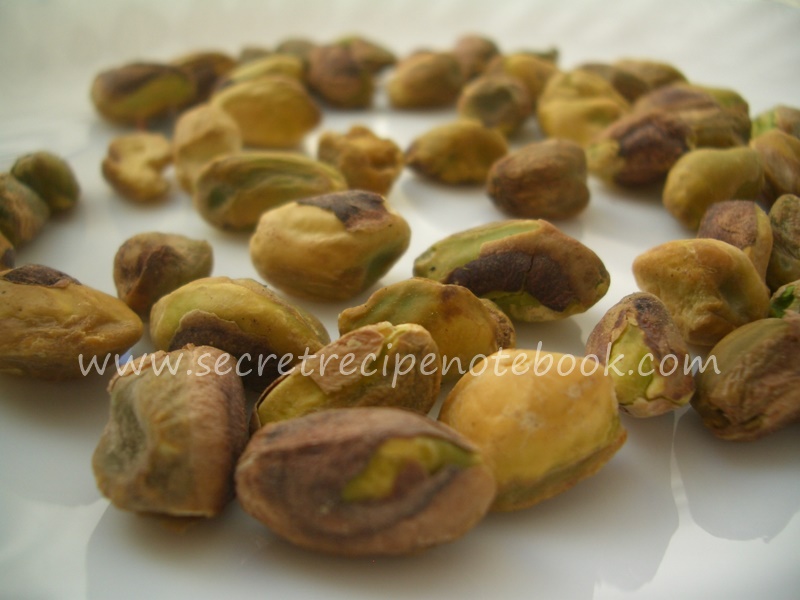 no added sugar in these cookies
Thanks to the chestnut flour and its natural sweetness there is no need for any sugar or other sweetener in the cookies. The chestnut flour is a perfect ingredients to have in your cupboard if you are making sugar free baked goods. It is full of fibre, high protein, packed with vitamin C and naturally gluten-free.

If you are not sure where to get it, you can find it online here. However, if the cookies are not sweet enough for you, add 1 - 2 tablespoons of agave syrup to the dough. 


more about chestnut flour
If you haven't used chestnut flour for baking, you should definitely start as this flour is ideal for adding to baked goods and has many benefits. Made from dry ground chestnuts, this flour is gluten free and it's full of fibre, high protein and vitamin C. Additional plus, it's naturally sweet so if added to the dough, you can reduce the amount of sugar or any other sweetener in the recipe.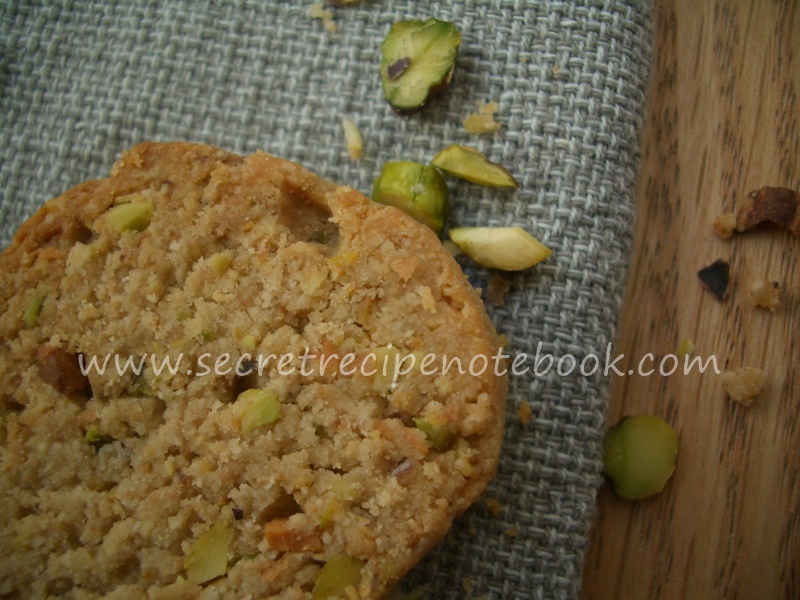 how to make sugar-free shortbread pistachio Cookies
First toast pistachio in the oven for 10 - 12 minutes to accent their sweet flavour, then finely chop them using a sharp knife. Combine them with flours and salt in one bowl.

Cut the butter into small pieces and melt on a low heat until completely melted. Add Amaretto liqueur and grate lemon zest and stir. Pour this mixture into flours and stir first with spatula then with your hands until you get a compact dough. It might be a bit crumbly, but that is fine since you'll shape it into logs.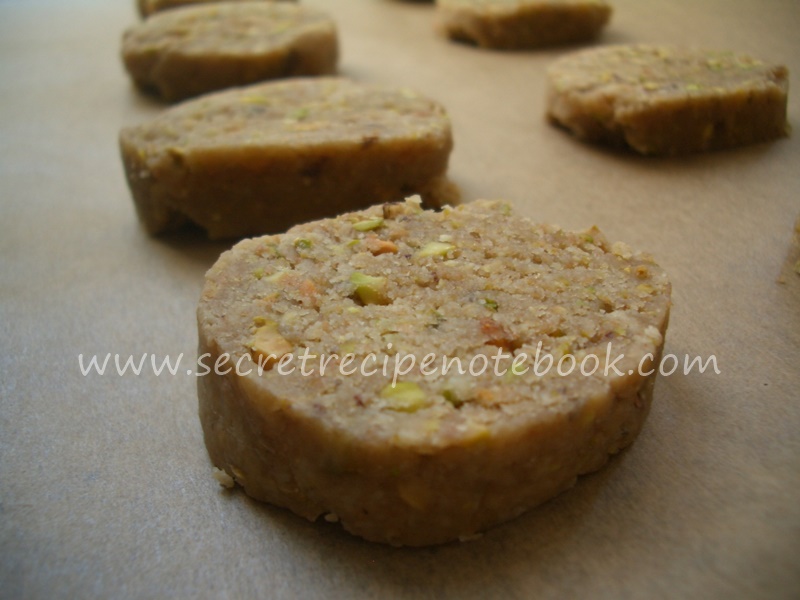 Divide the dough in half and using your hands, shape each piece into a log that is 4 cm in diameter. Wrap them into cling film and let it cool in the fridge for about 30 minutes.

Now it's time to slice and bake sugar free shortbread pistachio cookies. Take the logs and cut each into 7 - 8 mm thick slices. The dough may crumble and break but this is fine. If this happens, squeeze any broken bits back into the cookies.

Bake the cookies for about 6 - 7 minutes or until slightly brown on the edges. The cookies will be soft but will crisp up as they cool on a wire rack.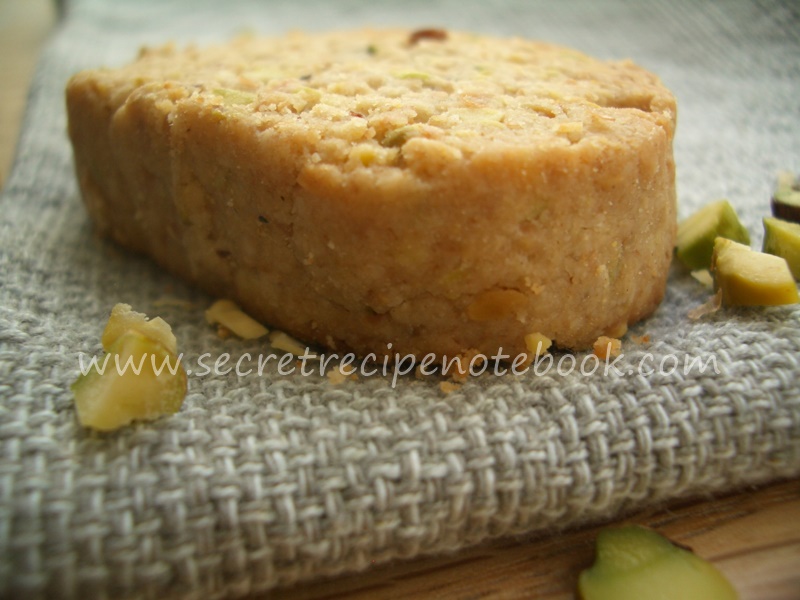 Storing sugar-free shortbread pistachio cookies
The sugar free shortbread pistachio cookies will last up to 5 days in an airtight container or in the fridge for up to 1 week, bringing to room temperature before serving. Cookies can also be frozen up to 2 months.


Best Selling Kitchen Tools & Gadgets
Looking for more cookie recipes?
FOR OUR COMPLETE COOKIE RECIPE COLLECTION
CLICK HERE!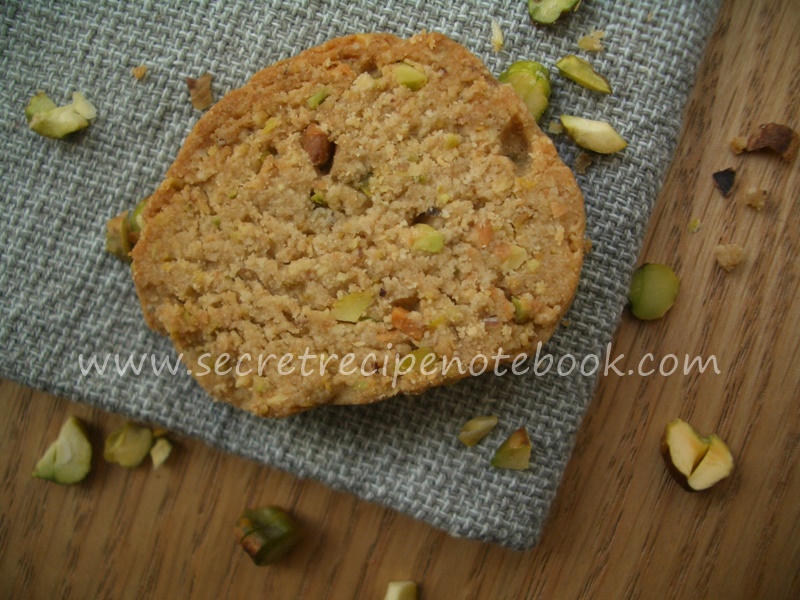 Kitchen essentials for this recipe
Kitchen Scale | Mixing Bowl | Flour Sifter | Small Saucepan | Baking Tray | Baking Paper Sheets | Cooling Rack | Cookie Spatula
sugar-free
shortbread Pistachio cookies
MAKES: 24 cookies
COOKS IN: 30 minutes plus cooling time
LEVEL: Easy
Ingredients
Method
Spread pistachios evenly on a baking tray and place in the oven on 170°C (338°F) for about 5 - 6 minutes or until they become fragrant. Remove from the oven, cool completely and then chop finely using a sharp knife. You can do this also in food processor or nut grinder.



Sift the chestnut flour and combine with the almond and spelt flours, finely chopped pistachios and a pinch of salt.


Cut the butter into small pieces and place in a small saucepan. Melt on a low heat then add Amaretto liqueur and grated lemon zest and stir.


Pour butter into flours and stir with spatula until the flour starts to incorporates, then using your hands knead until you get a compact dough. Form a log from the dough and wrap in the cling film and place in the fridge for 30 minutes to rest.


Take the dough from the fridge and cut into slices 7 - 8mm thick using a sharp knife. Arrange slices on prepared baking tray and bake for about 6 - 7 minutes or until slightly brown. Allow cookies to cool on baking tray for 4 - 5 minutes then transfer to cooling rack with metal thin spatula.