Pastries & Tarts| Easter Recipes | White Chocolate Recipes | Hazelnut Recipes
White Chocolate Hazelnut hot Cross Buns
You will love these soft hot cross buns packed with white chocolate and toasted hazelnuts. They are a ideal for breakfast or a snack during the day.
When it comes to Easter, you can't beat these lovely sticky hot cross buns. We have a twist on original recipe, this time with white chocolate and large pieces of toasted hazelnuts. Try our recipe for cranberry orange hot cross buns.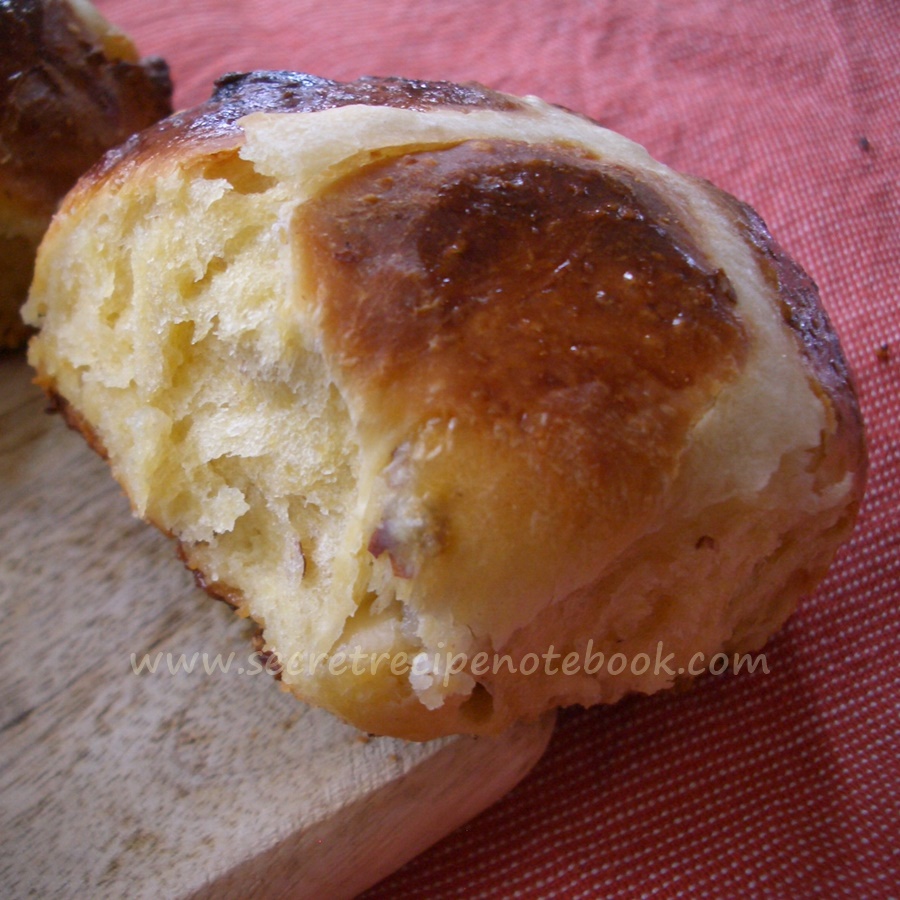 Try also these tasty recipes:
How to make white chocolate hazelnut hot cross buns
These little buns are made like regular one but this time studded with pieces of white chocolate and chopped hazelnuts.

The dough is simple to make, you just need to rise twice which takes some time, but the rest is so easy. In this recipe we use instant dry yeast which we combine with flour and sugar in one bowl. In the middle of dry ingredients pour the mixture of milk and melted butter, add egg and knead a soft dough. Leave it to rise until doubled in size. 

Once the dough is risen, knead in white chocolate and hazelnuts and divide the dough into 12 even balls. We bake the buns on the baking tray, as you need enough space for them. Arrange buns on the baking tray, leaving some space between each. Brush the buns with beaten egg and rise for another 30 minutes. 

Now it's time to make these white crosses on the top. For this stir flour with water until you get a thick paste. Place it in the disposable piping bag or zip-lock bag and cut the end and pipe the crosses on the top. Bake in the oven until they are golden brown all around.


To make the cross paste, combine the flour and water in a bowl until a smooth paste forms. Transfer to a piping bag fitted with a 2mm plain nozzle. Pipe in a continuous line along the centre of each row of buns. Repeat in the opposite direction to make crosses. Bake for 20 minutes or until golden and the buns sound hollow when tapped on the base.


Looking for more dessert recipes? Check these out: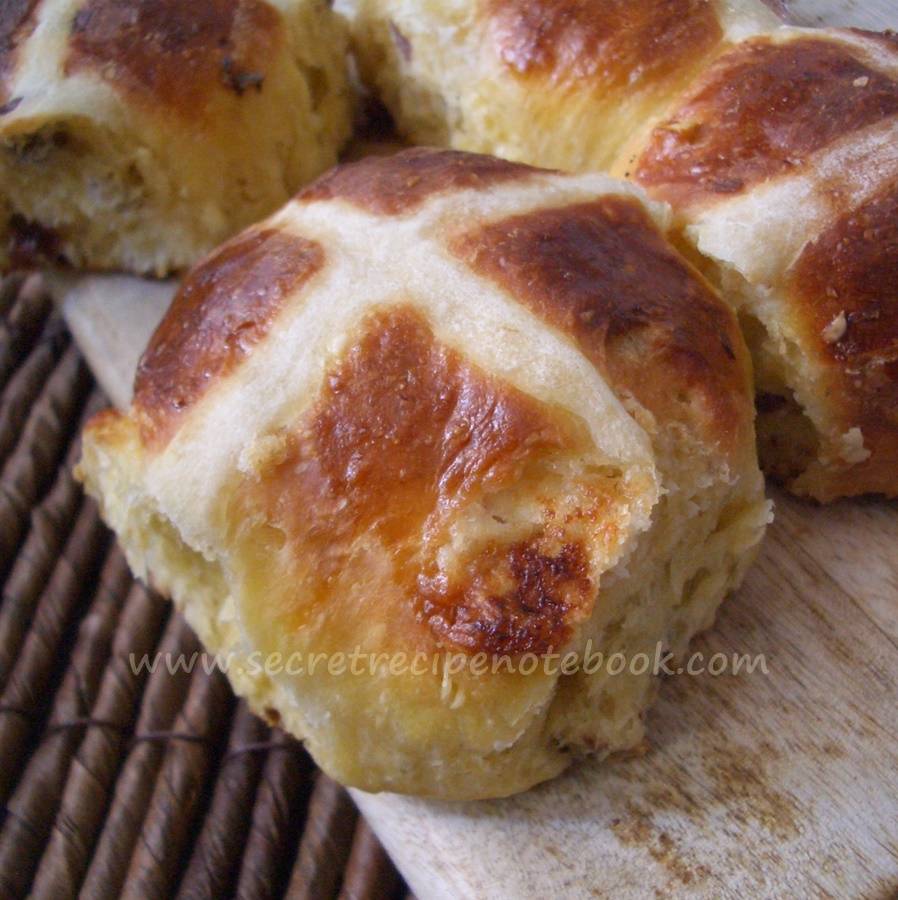 Like this recipe? Follow us on Pinterest for more recipes like this one! And don't forget to pin this recipe for later by clicking on one of the images above. 
White Chocolate Hazelnut Hot Cross buns
MAKES: 12 hot cross buns
COOKS IN: 50 minutes plus rising time
LEVEL: Moderate
INGREDIENTS
For the dough
220ml

whole milk

70g (5 tbsp) 

butter

2 

eggs

, at room temperature
420g (3 1/2 cups) 

plain flour

2 teaspoons

instant dry yeast

(fast-action yeast)
50g (1/4 cup) coarse brown

 sugar

1 tablespoon finely grated

orange

or

lemon zest

200g (7 ounces) 

white chocolate

, cutted into chunks

140g (1 cup) 

whole hazelnuts

1

egg,

for egg wash
For the crosses
30g (1/4 cup) 

plain flour

3 - 4 tablespoons

water
METHOD
Preheat the oven to 160 C. Place whole hazelnuts on a baking tray and toast in the oven for about 5 - 6 minutes until lightly golden. Allow to cool, then chop coarsely on a cutting board using a sharp knife. If using white chocolate bar, cut into smaller pieces on a cutting board.


Place the milk and butter cutted into small pieces in a small saucepan. Heat on the low-heat and swirl the saucepan until most of the butter is melted. Leave to cool slightly.



Combine flour, sugar and instant dry yeast in a large bowl. Make a well in the middle, then add egg and stir with a fork. Pour milk/butter mixture and continue stirring until the mixture comes together.


Tip out onto dusted work surface and knead until soft and smooth dough forms (7-8 minutes). Transfer the dough to the floured bowl, cover with clean kitchen towel and leave to rise until doubled in size (1 - 2 minutes).


Transfer the dough to a clean dusted work surface and knock the air out, then sprinkle with chopped white chocolate and knead into the dough for 1 - 2 minutes.


For the filling, mix toasted ground hazelnuts, sugar and melted butter until combined.


Preheat the oven to 180 C and grease lined baking tray.


Use the sharp knife to cut the dough into 12 equal pieces. Grab one teaspoon of hazelnut filling and put in the centre of the dough then lightly roll each piece into a smooth ball, closing the cut edges.


Arrange the balls on the tray, leaving a small gap between each one. The buns should be just touching. Cover with kitchen towel and leave in the warm place for further 30 minutes or until doubled in size. 


Brush the buns with a little beaten eggs.



Mix the flour with water to get make a thick smooth paste, then transfer it to the piping bag fitted with a small round tip. You can also use zip lock bag and cut off one small corner. Pipe the crosses over the top of the buns.


Bake the buns in the preheated oven for about 20 minutes or until deep golden brown. Leave to cool on the tray for 5 - 6 minutes, then transfer on a cooling rack.