You are going to love these simple pizza made with flatbread base and topped with zucchini and cubes of pancetta. Ideal light summer lunch or easy dinner.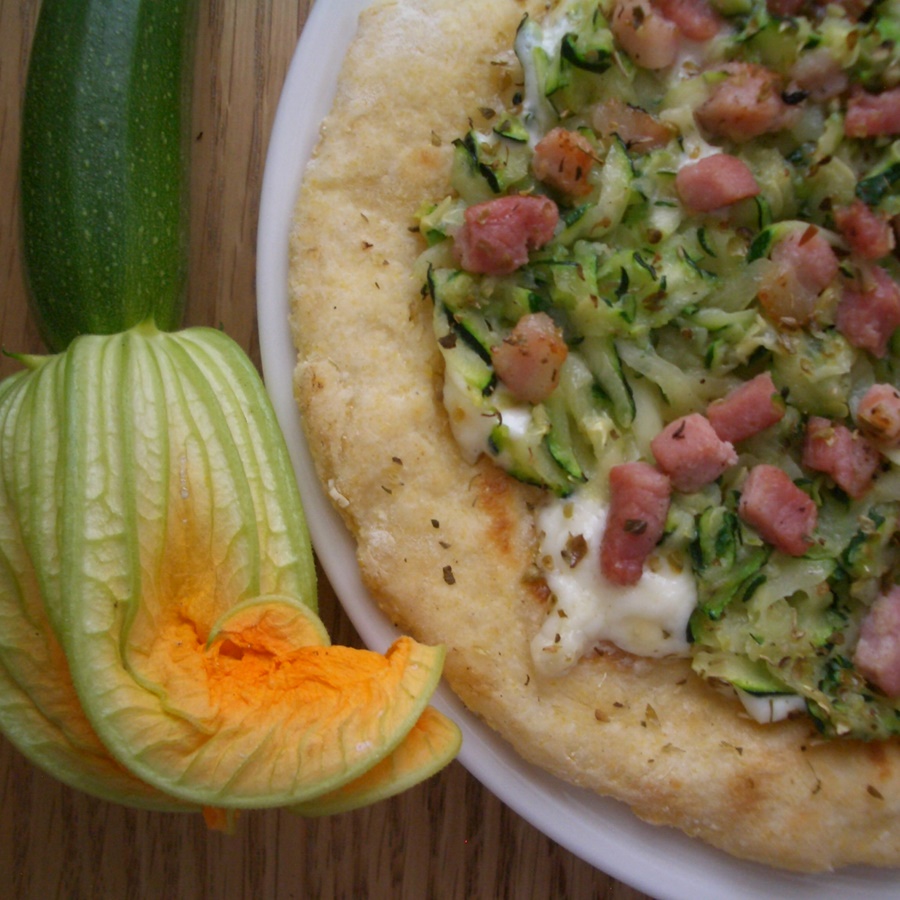 These individual pizzas are breeze to makes ideal quick summer meal. Simple flatbread base is topped with tons of zucchini with addition of creamy mascarpone cheese and crisped pancetta. The pizza base is ready in 10 minutes - you don't have to wait the dough to rise. 

Topping makes a great combination of flavours - refreshing mascarpone, sweet zucchini and pikant pancetta.
Everyone loves these delicious flatbread pizza made with simple base and topped with creamy mascarpone, fresh zucchini and pancetta on the top. These three made ideal combination of flavours. 

If you love this great recipe, you will also like our recipes for  summer flatbread pizza and sweet corn flatbread pizza, both delicious.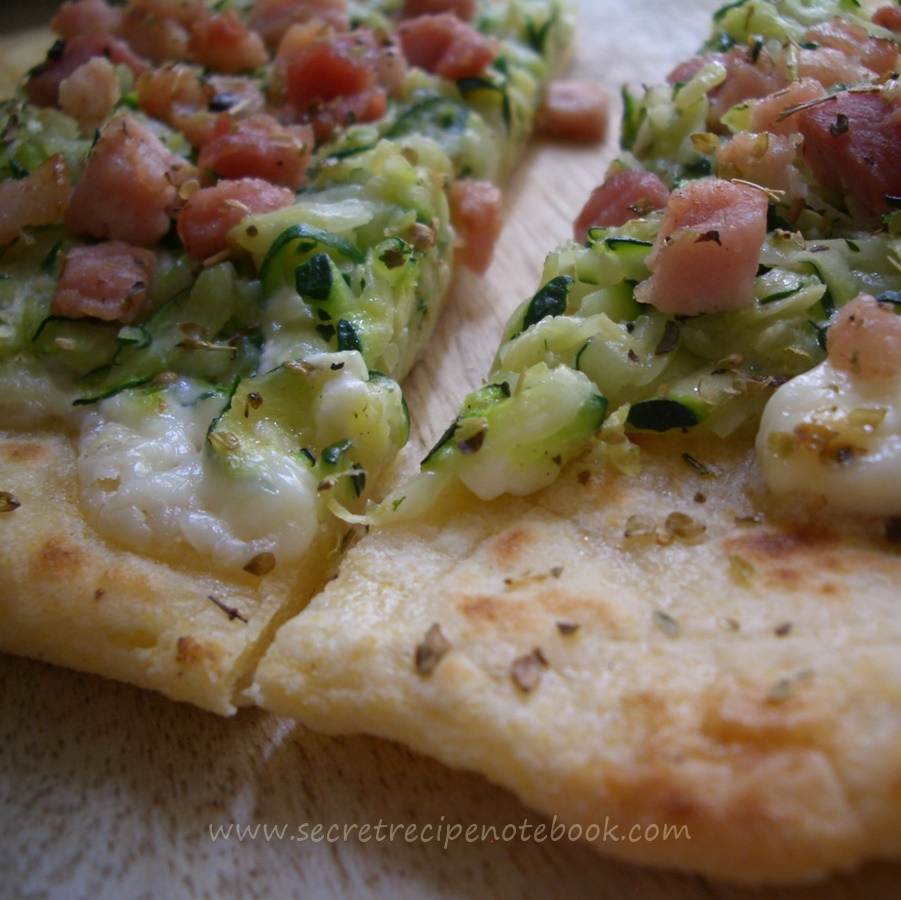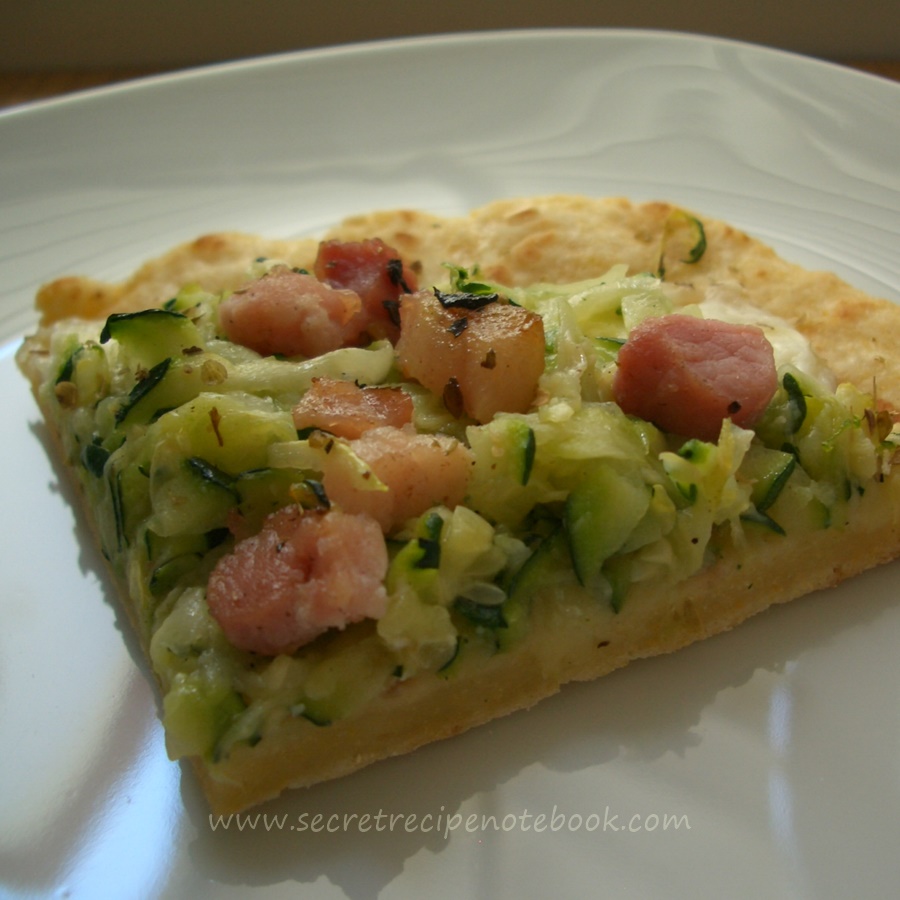 try also these tasty recipes:
about zucchini
Zucchini are summer vegetable which are quite affordable as well as healthy and nutritious, which makes them a desirable ingredient in every summer dish. Fresh zucchini tastes great in salads, pastas, soup, pizza or even desserts. You can eat it raw, grill it, cook it, sauté it - the possibilites are endless. 
We love to shred them and make simple fritters such as easy zucchini fritters and the one with pancetta, both delicious. For another great snack idea, check our recipe for quick fried zucchini balls. We hope these recipes will inspire you to try cooking zucchini in a new way. And this is not all, there are always more zucchini recipes to try.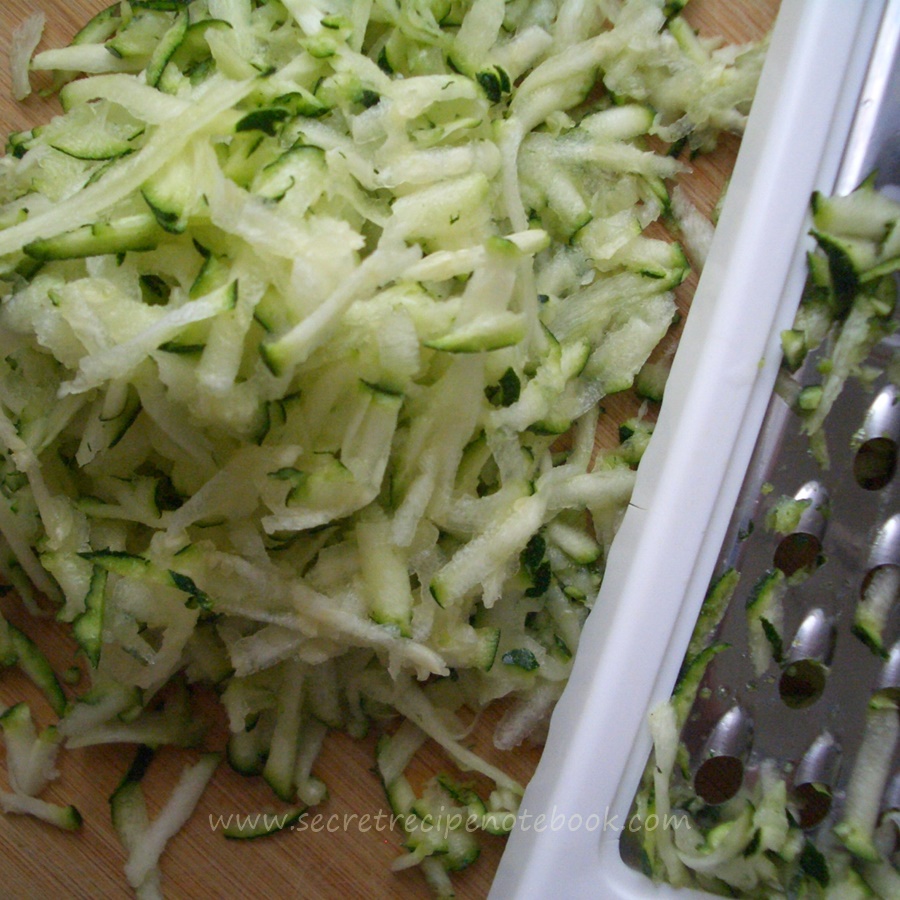 how to make zucchini pancetta flatbread pizza
Making these tasty flatbread pizza is so easy. For the flatbreads in this recipe we use plain flour. Stir these two ingredients together with baking powder and salt then add olive oil and Greek yogurt. Knead a dough, then roll out small flatbreads and cook them on the stove. Our pizza base is ready!

These pizzas are topped with:
MASCARPONE CHEESE - This recipe uses mascarpone cheese which is creamy and has mild sweet buttery flavour. It has smooth creamy and smooth texture and is goes great with zucchini on the top. It is less tangy than ricotta or regular cream cheese.


SHREDDED ZUCCHINI - once you shred zucchini, sprinkle with some salt and leave for 10 minutes. Drain as much as liquid as possible to avoid soggines of the pizza base. Saute it for a few minutes to bring some extra flavour.


CUBED PANCETTA which adds some flavour to the pizza. It tastes similar to bacon. Instead of pancetta you can use bacon or prosciutto - both works well).

Brush flatbreads with some olive oil and bake in the oven for a few minutes then top them with mascarpone, zucchini and pancetta. Bake for 10 minutes and enjoy while still warm.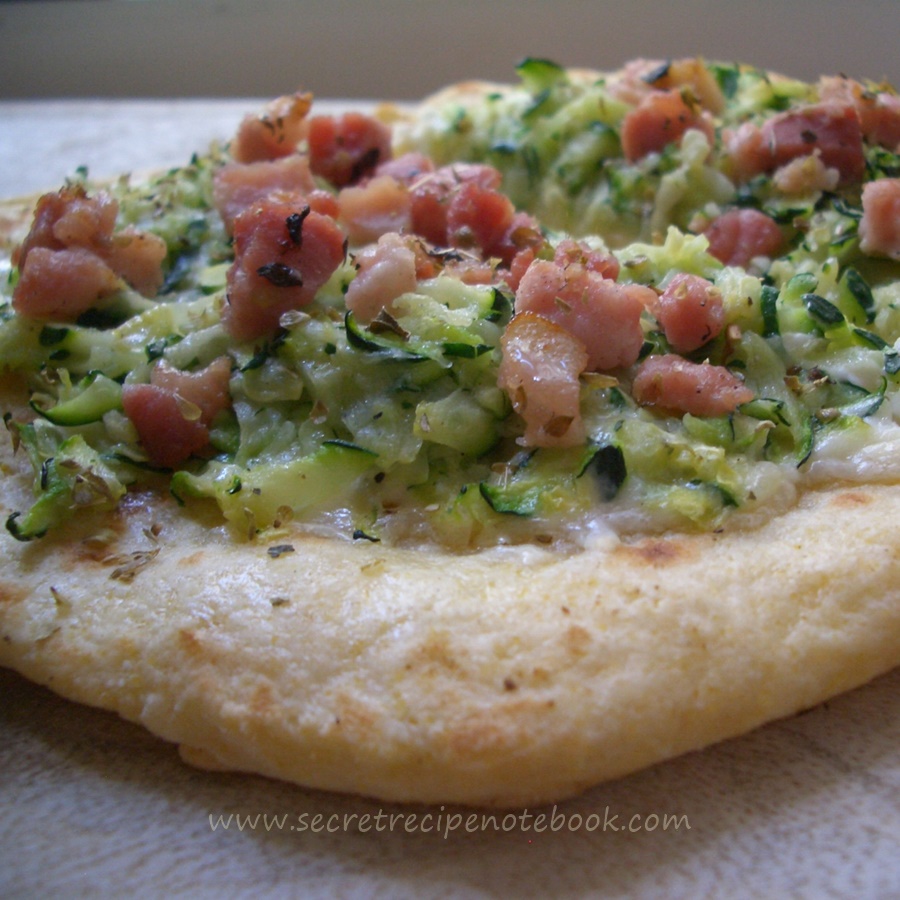 Making ahead zucchini pancetta flatbread pizza
If you want to make these simple flatbread pizzas even quicker, make a pile of flatbreads in advance and freeze them. Wrap cooked flatbreads individually into into aluminium foil and place in a plastic freezer bag.

Once you want to prepare pizza, take flatbreads from the freezer, place them on the baking tray to thaw for a few minutes, brush with olive oil and bake in the oven on 200°C (392°F) for 3 - 4 minutes. Continue with topping as described in the recipe. 


looking for more snack recipes?
For more snack inspiration, take a look at our collection of snack recipes. Also check out our selection of other tempting bread & pizza recipes, too.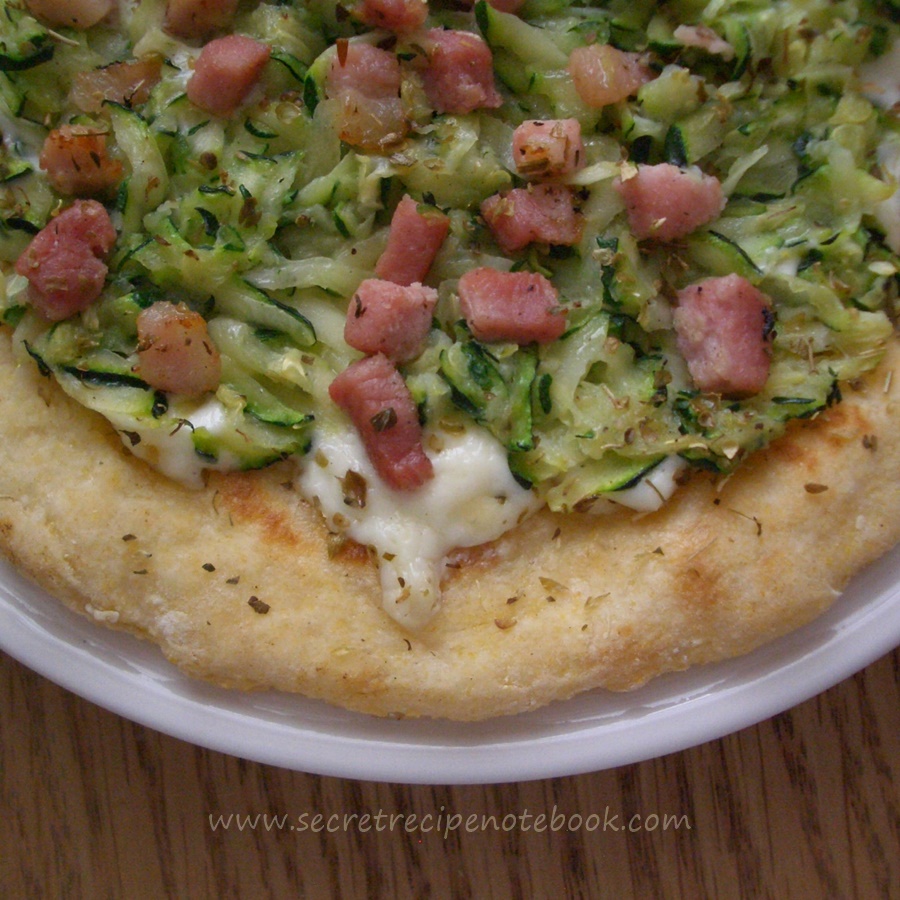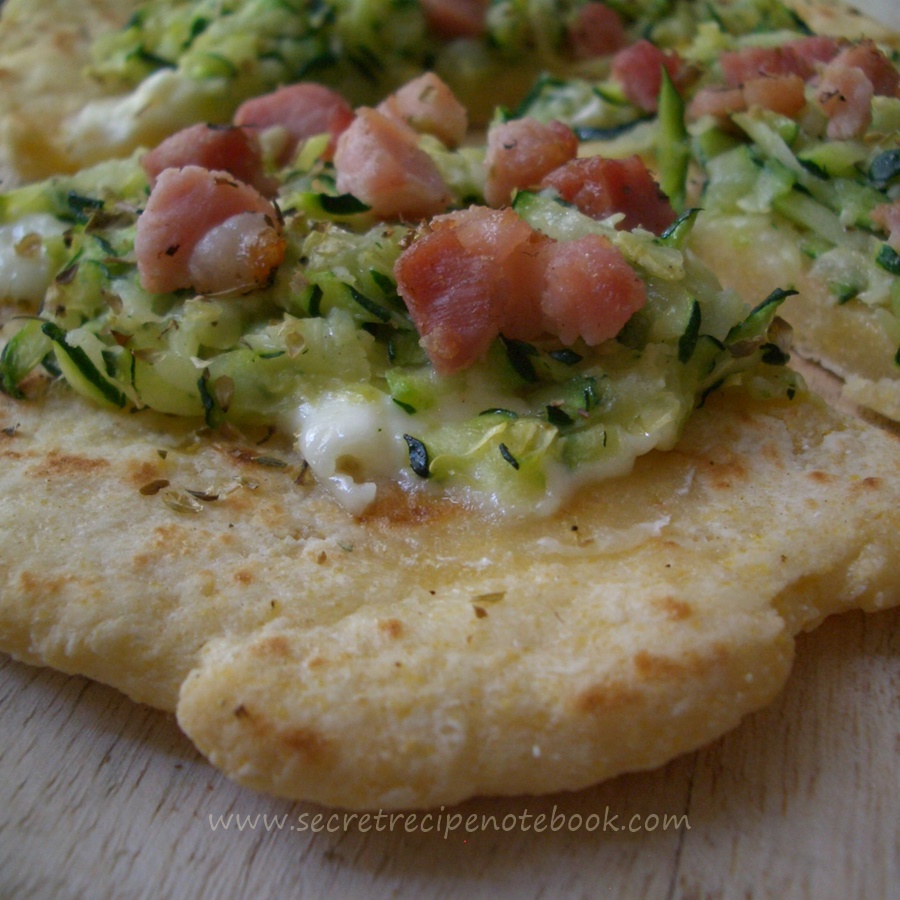 shop kitchen essentials for this recipe
Digital Kitchen Scale | Wooden Cutting Board | Measuring Spoons | Box Grater | Small Skillet | Non-Stick Frying Pan | Baking Tray | Baking Paper Sheets 
zucchini pancetta flatbread pizza

SERVES: 3 medium-sized flatbread pizza
COOKS IN: 45 minutes
LEVEL: Easy
INGREDIENTS
For flatbreads
For the topping
1 medium zucchini (around 200g)

115g (1/2 cup) mascarpone cheese
100g (3.5 ounces) pancetta, finely diced

sea salt 

& freshly ground 

black pepper

olive oil for frying

1 tablespoon dried oregano or thyme
METHOD
TO MAKE FLATBREADS, combine together flour and polenta, baking powder and salt in a large bowl. 



Make a well in the centre and add olive oil and Greek yogurt and using your hands bring everything together.


Lightly flour a clean work surface, then transfer the dough to the surface and knead until smooth, 3 - 4 minutes, adding more flour if the dough is sticky. Place the dough into a bowl, cover and leave aside for 10 minutes.


Preheat the oven to 200°C (392°F). Line the baking tray with baking paper.


TO MAKE THE TOPPING, shred zucchini on large holes of box grater, sprinkle lightly with salt and leave for 10 minutes. Drain as much as possible liquid from zucchini. You can do this with your hands or using a clean cloth.


Put a small skillet on a medium heat with a drizzle of olive oil and add shredded zucchini. Sauté for about 3 - 4 minutes, stirring continuously. Season with salt and freshly ground black pepper and set aside.


Add cubed pancetta to the same skillet and fry for 2 - 3 minute stirring all the time.


TO COOK THE FLATBREADS, divide the flatbread dough into 3 pieces. Dust a work surface (or pastry mat) and rolling pin with flour. Working one at a time, roll out each piece of dough into a round about 2 - 3 mm thick and 15 cm in diameter.


Lightly oil a non-stick frying pan or griddle and place on a medium-high heat. Cook rounds of dough for 1 - 2 minutes on each side or until puffed up slightly. There should be a small golden brown spots on both sides. If the pan seems too hot or is smoking, turn the heat down slightly.



Place flatbreads on the baking tray lined with baking paper, brush lightly the surface of the flatbreads with olive oil then bake in the oven for 2 - 3 minutes.


Take the flatbreads from the oven and dot over with mascarpone, then to with shredded zucchini and pancetta. Sprinkle with dried oregano or thyme.


Bake in the preheated oven for 12 - 14 minutes of until the crust is golden and mascarpone melted.


Transfer to a warmed serving plates and serve immediately.