Mushroom and Pancetta Quesadillas
Whether you make it for a party or quick meals ready to go for the week (the individual squares reheat really well), this is definitely worth the work and is an impressive finished dish! 
These twice-baked soufflés would make a stunning starter, or a sophisticated light lunch served with a side salad.


Quesadilla are our favourite last-minute dinner or lunch idea. What can be better than crisp tortillas filled with a mix of veggies plus melted cheese. Whole family will love this healthy meal that are so easy to make. Pull out those tortillas from the freezer (yes, you can freeze them and have ready at any time).
These quesadillas are made of veggie and cheese filling, sandwiched between two homemade flour tortillas. Everyone will love these amazing meal, full of healthy vegetables. These are easy to make, first start with making tortillas (you will need 4 large tortillas) and then make a filling in only 20 minutes. The rest is easy!

If you love these you'll also love our colourful veggie quesadillas!
What's really great is that you can use up all that produce you might have sitting in your fridge at the moment. Yes, I'm talking about that stalk of broccoli you don't know what to do with. Or the zucchini you bought way too much of thinking you'd be fancy and make this ravioli…but then didn't.
You could even toss in some corn, which I'm sure would be great with these flavors!


Making homemade tortillas is easy
First you'll need a bunch of tortillas and homemade ones are the best choice. Making them is a breeze. You'll just need flour (here we used a mix of plain and corn flours), just small amount of baking powder, a few tablespoons of olive oil, a pinch of salt and hot water. Just stir everything in a medium bowl and knead a soft dough. Leave the dough to rest, covered with clean tea towel for 20 minutes.


Divide the dough into 4 even pieces (we love to use dough scraper for this), roll them thinly on a lightly floured surface using a rolling pin. Cook each tortilla on a non-stick frying pan (or cast iron pan), until the dark spots appears on the surface, about 1 minute on each side. Pile them on a plate and cover with another plate.

For more detailed info on making homemade tortillas, check out the recipe card below. Or peak into our recipe for simple flour tortillas, where you'll find more info.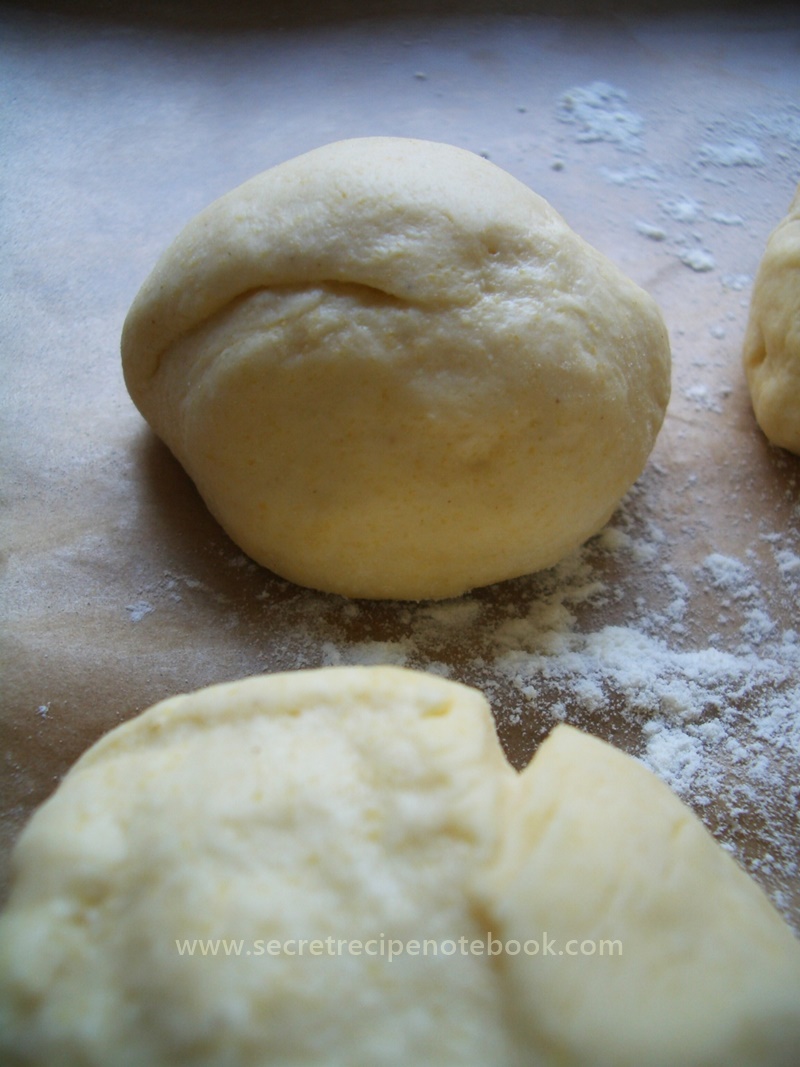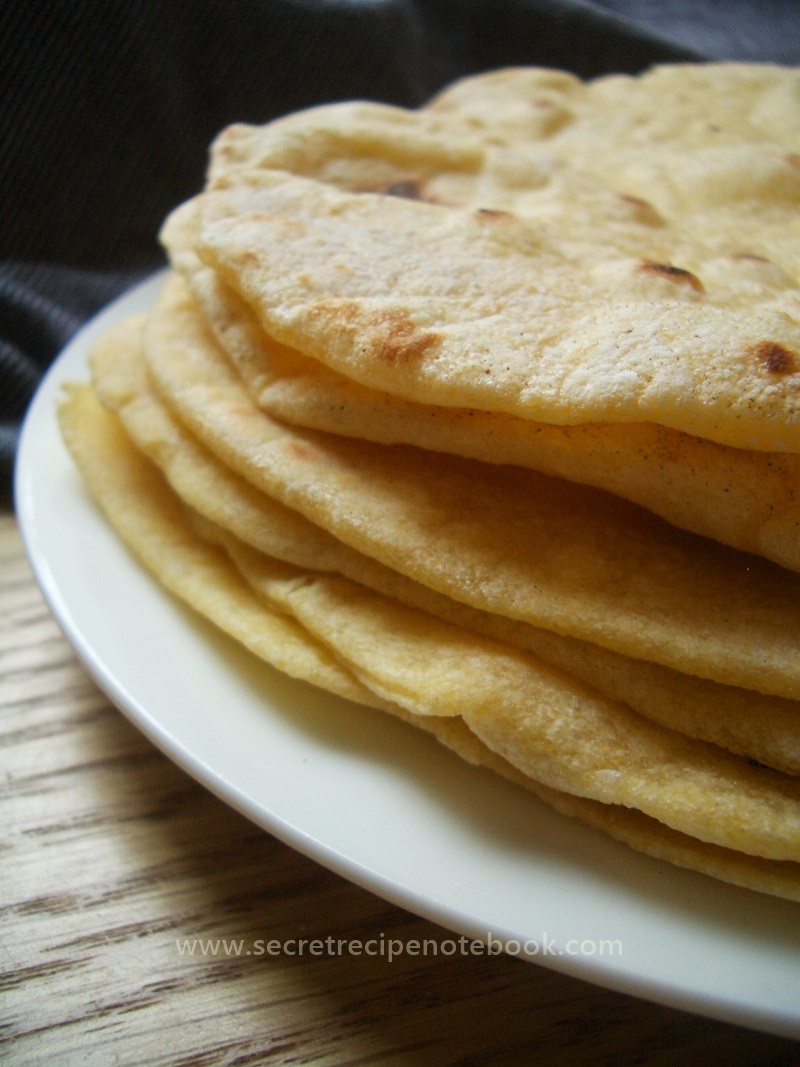 Making the filling
Filling is simple and made of only three ingredients: MUSHROOMS, CUBED PANCETTA and CHEESE plus seasoning (SEA SALT, GROUND BLACK PEPPER and ITALIAN MIX OF HERBS).


We used here white button mushrooms, but cremini mushrooms will also be great here. Just be sure to slice them thinly: do this using a sharp knife on the cutting board or mandolin slicer. Once you sliced them, place in a medium bowl, pour olive oil over and toss to evenly coat. Fine sea salt and ground black pepper as well as Italian seasoning, add great flavour to the mushrooms. We baked mushrooms in the oven on 200 C for 15 minutes, instead cooking on the stove. This is much easier - you have time for making tortillas while these are baking.

Last 5 minutes, we added cubed pancetta to the mushrooms, so it become crispy and get some nice aroma.
We'll be using President Pizza Cheese here (already grated).


Assembling quesadillas is so easy...
Once the mushrooms and pancetta have cooked, layer everything up in the tortillas, pan-fry, and that's it.

Heat non-stick frying-pan on a medium heat. Lay one tortillas in the pan, sprinkle some of cheese all over. Now spread 1/4 filling all over tortilla and top with another tortilla. Cook for a minute, pressing with spatula. Flip quesadilla to the other side and cook for another 50-60 minutes. Tortillas should be golden and the cheese melted. Slice into quarters and serve. Repeat the process with the remaining tortillas. Quesadillas are best eaten while still hot.
Keeping quesadillas warm...
If you'd like to serve all quesadillas at once, then transfer quesadillas to a baking sheet and keep in the oven heated to 150 C while you finish cooking the rest. Serve together on a large serving platter once everything is ready.


Fresh mozzarella is packaged in a watery salt solution to keep the cheese from drying out. You also need to use the product within three to five days of opening the package.
The flavor is also different, but lovely, depending on the brand. It is smooth, fresh tasting, albeit a little bland. In a Caprese Salad with olive oil, fine sea salt and basil, it is a very simple and the salt enhances the cheese and tomato flavor.
Fresh mozzarella doesn't melt as well as dry, grated mozzarella. Both types are very good as pizza toppers in their own unique way.
Low moisture packaged mozzarella
Serving ideas...
We love to serve these quesadillas with creamy Greek yogurt to cool things off, some avocado, and plently of fresh lime juice. Oh, and extra herbs for some extra flavour. A tomato salsa is also a good idea! But, these are perfect as is. 


This quesadilla is a meal on its own, but I do recommend serving it with salsa, sour cream, and guacamole. Good for dipping!


Mushroom and Pancetta Quesadillas
INGREDIENTS
For tortillas
150g plain or bread flour (1 1/4 cup)
60g spelt flour (1/2 cup)
1/2 teaspoon salt
1/4 teaspoon baking powder
30ml sunflower or olive oil (2 tablespoons)
120ml water, hot (1/2 cup)
For the filling
2 tablespoons olive oil
200g white or brown button mushrooms
150g smoked pancetta, cubed
1 tablespoon Italian herb seasoning (or oregano, thyme, basil...)
120g fresh mozzarella, chopped
Meanwhile, heat a frying pan over a medium heat. Add the pancetta and fry for 4–5 minutes, until golden and crispy. Drain on a piece of kitchen paper and leave to cool.
METHOD
MAKING THE DOUGH FOR TORTILLAS: combine plain and corn flours, baking powder and salt in a bowl.


Mix together the oil and hot water in a small jug.


Make a well in the centre, then pour the oil/water mixture while stirring with a wooden spoon or sturdy spatula. Once the dough comes together, transfer it to the floured work surface. Knead until you make a soft and smooth ball of dough, around 3-4 minutes. Cover with a clean tea towel and leave to rest for at least 20 minutes.


MAKING THE FILLING: first heat the oven to 200 C and line the baking sheet with baking paper. 


Cut the mushrooms into thin slices (around 2mm). Place them into a bowl and toss in olive oil and dried herbs until evenly coated. Sprinkle them over the baking sheet and bake for about 5 minutes.


Take them from the oven, season lightly with salt and pepper, then add pancetta cubes and bake for another 5-6 minutes, or until pancetta is browned and crisp. Transfer the mushrooms and pancetta to a plate.


COOKING TORTILLAS: Cut the dough into 4 equal pieces. Roll out each ball of dough,, on floured surface. They should make rounds about 18-20cm wide, around 2 mm thick.


Heat a large nonstick frying pan or cast iron pan over medium-high heat. Drop some oil on the pan, then whipe the excess with a paper towel. Place a tortilla on the skillet and cook for 40-50 seconds, or until small bubbles start to form. Flip over with spatula and cook for another 30-40 seconds. Wrap them in foil and cover in a tea towel to keep warm, while you cook the rest.


ASSEMBLING QUESADILLAS: Heat a heavy-bottoms frying pan over medium heat. Place one tortilla into the frying pan. Sprinkle with mozzarella and the filling. Fold the tortilla over to cover the filling and cook for about 1 minute. Using metal flat spatula, flip quesadilla on the other side and cook for another minute. Repeat one more time, until the bottom is toasted and cheese is melted. Repeat with the remaining tortillas and filling.


Transfer quesadilla to the cutting board, cut into quarters or triangles (a pizza wheel works well for this) and serve while still hot. You could add a dollop of sour cream, serve them on a bed of greens, and/or drizzle them with some hot sauce. Very easy, fresh, and fast.


We are a participant in the Amazon Services LLC Associates Program, an affiliate advertising program designed to provide a means for us to earn fees by linking to Amazon.com and affiliated sites.