HOME > DESSERTS > PASTRIES & TARTS
Lemony Sweet Rolls
with Marzipan
Soft lemony rolls with crisp golden crust are a real breakfast or brunch treat. 
Both lemon and marzipan elevates them beyond ordinary sweet roll to something special. We have a good news for you, these lemon sweet rolls use quick-method sweet roll dough. The rising time is around 1 hour.

Once you have the dough ready, spread the filling all over rolled dough. Roll the dough up tightly, cut into rolls, arrange into the pan, and let rise for 60-70 minutes until doubled in size. Turn the oven on, and bake until lightly browned. The fresh lemon scent is amazing!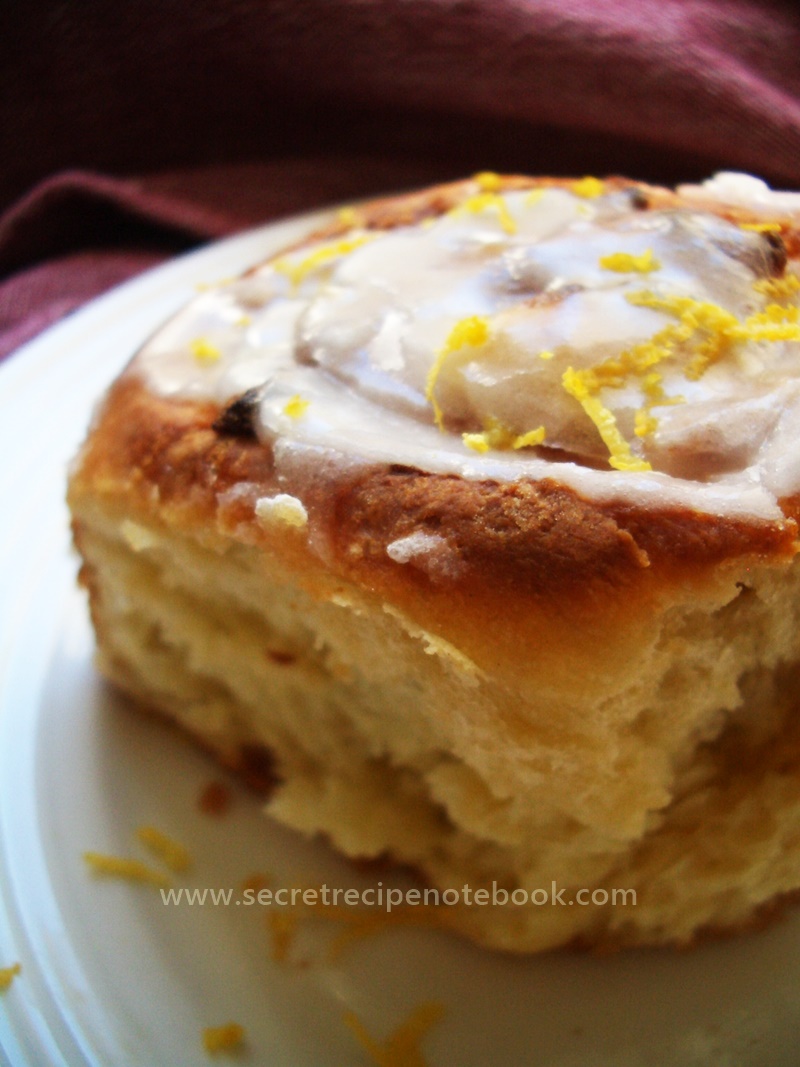 This webpage contains affiliate links. Please read our disclosure policy.

More lemony desserts
you'll want to try:
How to make these lemony sweet rolls
For making these sweet rolls, leave time as there are several steps you need to follow. Because first you need to make the dough then it needs to rise in a warm place for at least 1 hour.

Next, you'll need to roll out the dough and spread the filling, then you'll need to roll up the dough into a tight roll and slice it into 10 slices. Finally, rolls need to rise again for another 30 minutes then be baked.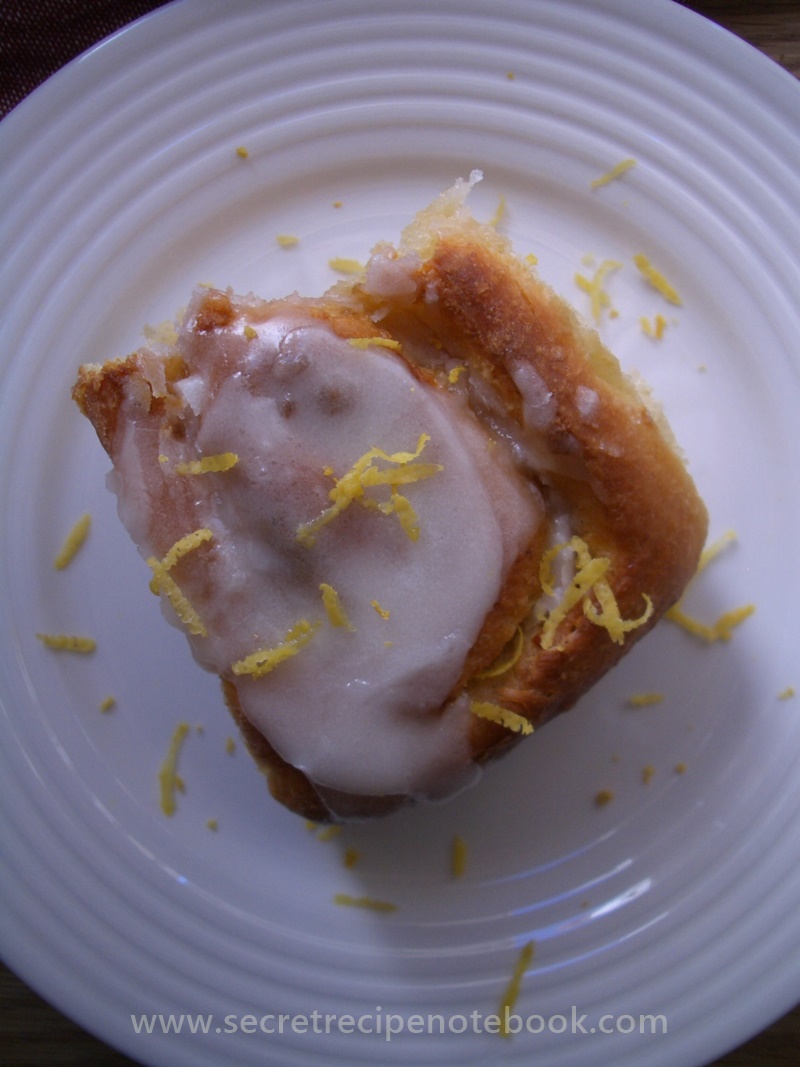 Ingredients for the dough
This recipe requires: ALL PURPOSE FLOUR, INSTANT DRY YEAST, WHOLE MILK (lukewarm), BUTTER (melted), SUGAR and SALT and LEMON ZEST for amazing lemony aroma. These simple ingredients will create a soft pliable dough that baked up into golden sweet rolls.


3 easy steps for making the dough:
First combine flour, instant yeast and salt in a large bowl. 


Make a well in the middle, add an egg, sugar, melted butter and lemon zest. Now star pouring milk into this while incorporating flour.


Beat the dough using a wooden spoon until you get a soft shiny dough. Leave to rise until it's doubled in size (this can take around 1 hour).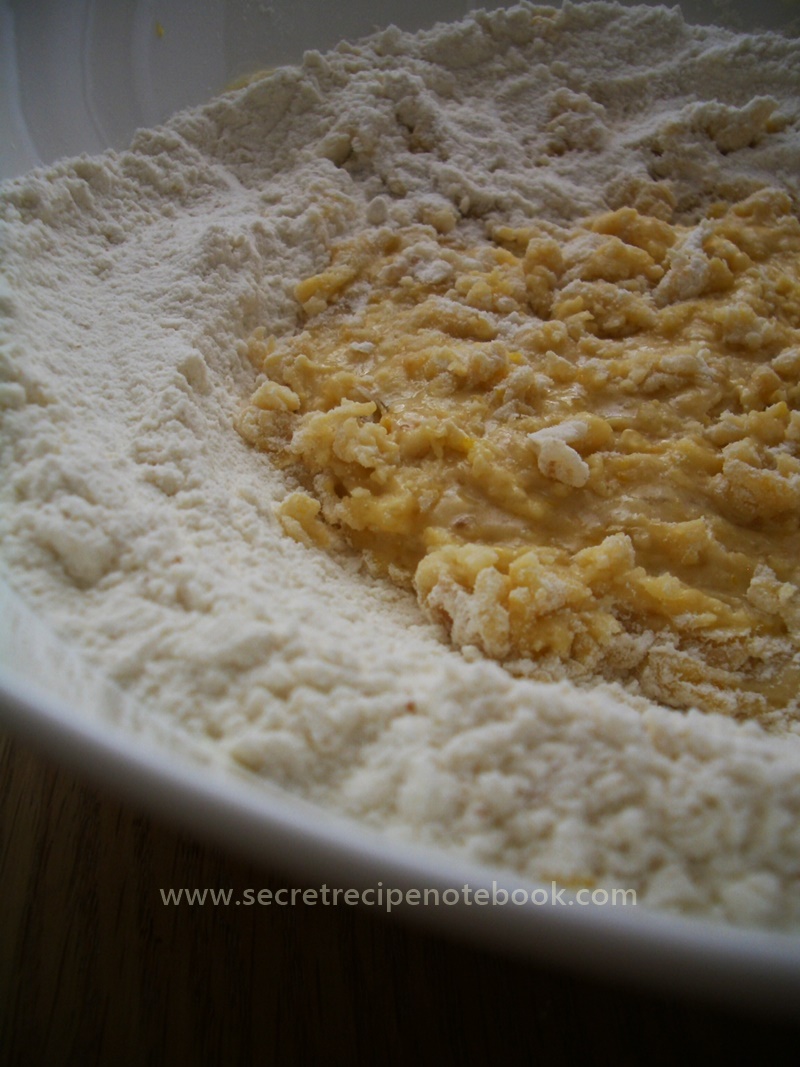 What is filling made of?
These rolls are something special as they combine zesty lemon flavour with sweet taste of marzipan. The marzipan is almond paste made of ground almonds, sugar and egg whites.

It has soft and chewy texture and it's a great addition to cakes and other baked goods (like in our puff pastry twist). Be sure to use high-quality marzipan. We love Dr Oetker's marzipan, but use any other quality brand.

Beside marzipan you will need BUTTER, SUGAR and freshly grated lemon zest for adding some extra lemon aroma. Butter is first melted and then cooled. Add lemon zest to the butter.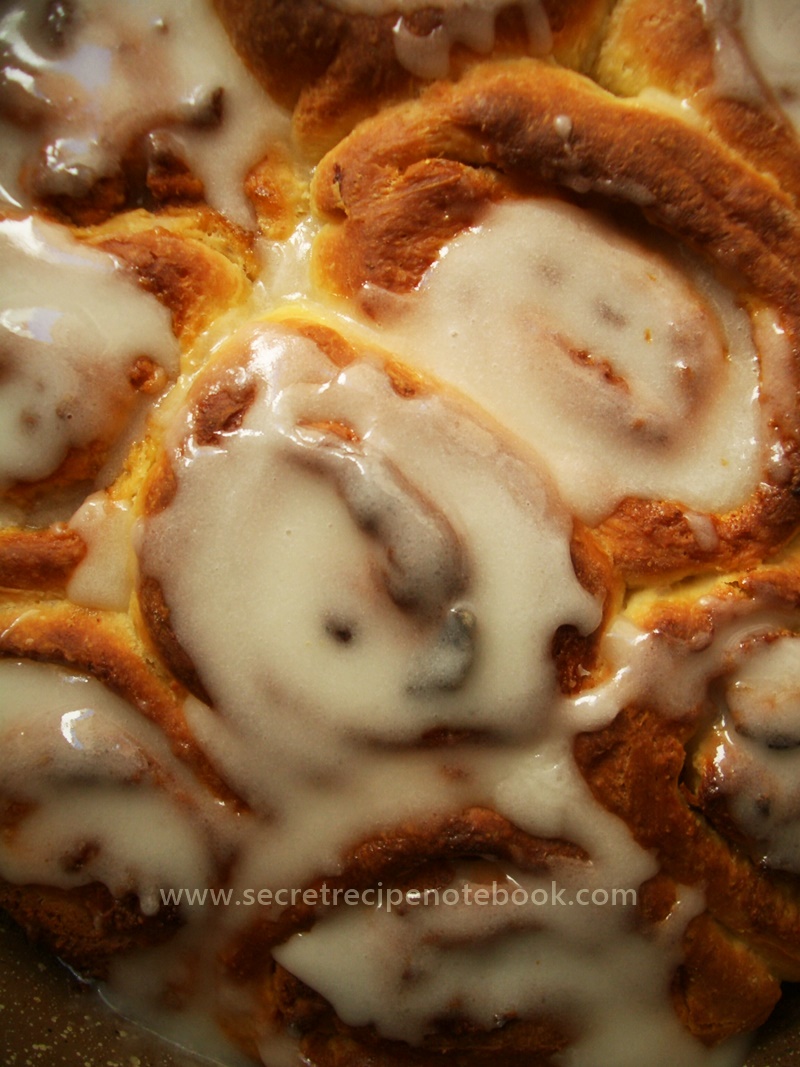 Follow these steps to shape the rolls:
Roll out the dough it into a rectangle 35x20cm, on a floured surface.


Spread the filling on the surface (leaving some space on the edges) then sprinkle with marzipan.


Tightly roll up the dough (like a Swiss roll), then using a sharp knife cut into 10 even slices. From this dough we get 10 rolls which fits well in 24cm springform or 24x24cm baking pan. Be sure to grease generously with the butter the pan, then arrange slices into the pan with cutted sides up. Leave to rise for another 30 minutes in warm place before baking.


Preparing the icing
Stir the icing sugar with lemon juice and generously drizzle over the slightly cooled sweet rolls. Sprinkle with more lemon zest and enjoy!

These rolls are best enjoyed the same day they are made, but can stay fresh in an airtight container for 5 days in the fridge.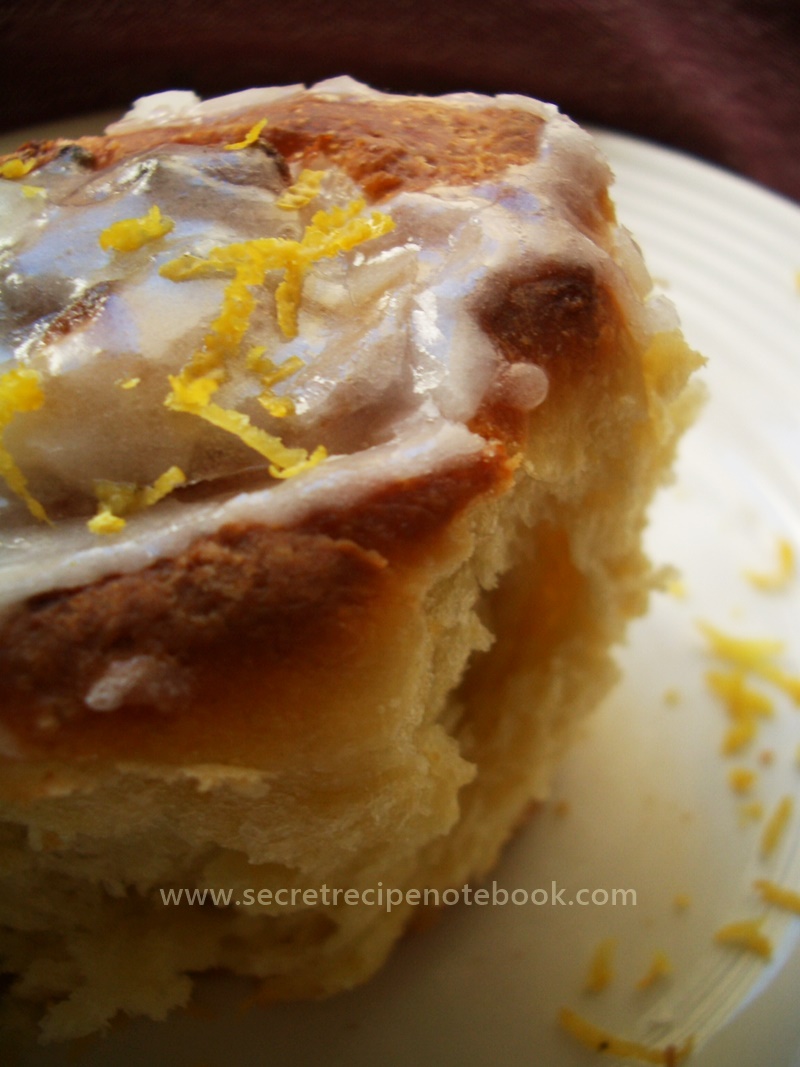 A few of our favourite dessert recipes:
Lemony Sweet Rolls with Marzipan
MAKES: 10 sweet rolls
COOKS IN: 1 hour 50 minutes plus rising time
LEVEL: Moderate
Handy equipment:
INGREDIENTS
For the dough
420g (3 1/2 cups) plain flour
7g (2 teaspoons) instant yeast
1/2 teaspoon salt
1 egg, at room temperature
50g (1/4 cup) granulated sugar
60g (5 tablespoons) butter
1 tablespoon finely grated lemon zest
240ml (3/4 cup) whole milk
For the filling
For the lemon glaze
120g icing sugar
2-3 tablespoons fresh lemon juice
3-4 tablespoons freshly grated lemon zest
METHOD
MAKING THE DOUGH: Place the butter is a small pan and melt over a low heat. Add the milk and set aside. The mixture should be slightly warm.


Combine the flour, instant dry yeast and salt in a large mixing bowl.


Make a well in the middle, then add an egg, sugar and melted butter. Stir to slightly combine. Now, slowly pour in the milk while stirring with a wooden spoon and incorporating the flour.


Tip the dough onto dusted work surface and knead gently until it becomes smooth and shiny (5-6 minutes). Transfer back to the same bowl (slightly dusted), cover with a clean kitchen towel and leave in a warm place to rise for at least an hour, or until doubled in size.


MAKING THE FILLING: Stir melted butter, cardamom and lemon zest in a small bowl.


ASSEMBLING THE ROLLS: Generously grease the sides and bottom of 24x24cm baking pan. Turn the dough onto a lightly flour work surface and using a rolling pin, roll out into a rectangle, about 35x20cm. Brush the butter over the dough (leaving 2cm border around the edges), sprinkle with sugar and marzipan, then roll it lengthways to form a log. Using a sharp knife cut the dough into 10 even slices.


Place slices into prepared baking pan with cut side up. Cover the pan and set aside to rise for another 20-25 minutes.


BAKING THE ROLLS: Preheat the oven to 180°C/356°F.


Bake rolls for 18-20 minutes or until golden brown on the tops and edges.


MAKING THE GLAZE: Stir the lemon juice with icing sugar until smooth and pour over the warm rolls. If you want a thicker glaze, add more icing sugar and if you prefer thinner, add more lemon juice. Sprinkle with more freshly grated lemon zest!


CATEGORIES: Pastries & Tarts, Breakfast & Brunch, Easter,
Spring & Summer, Lemon, Marzipan
We are a participant in the Amazon Services LLC Associates Program, an affiliate advertising program designed to provide a means for us to earn fees by linking to Amazon.com and affiliated sites.