Sweet Potato Gnocchi
This webpage contains affiliate links. Please read our disclosure policy.

You will love these healthy orange gnocchi made with sweet potatoes. These are made with only 3 ingredients! Toss them in your favourite sauce and have a delicious comfort meal.

Don't skip also our recipes for classic potato gnocchi (if you are short on time, we can recommend high-quality Italian De Cecco Gnocchi) and the rustic gnocchi with spelt flour.


More tasty recipes
you'll love to try:
How to make sweet potato gnocchi
For our delicious sweet potato gnocchi you will only need SWEET POTATO MASH, PLAIN FLOUR and SALT. Let's check how to make these little dumplings.


Making sweet potato mash
The easiest way of making sweet potato mash is to roast sweet potatoes in the oven. Prick them with a fork several times, place on the lined baking sheet and bake until very soft.

Baking time vary depending on the size of sweet potatoes. For medium-sized sweet potatoes it's enough 40-50 minutes at 200°C (392°F). Once you can insert easily fork in the sweet potato, it's ready. If the sweet potatoes are really big, you can half them to bake faster.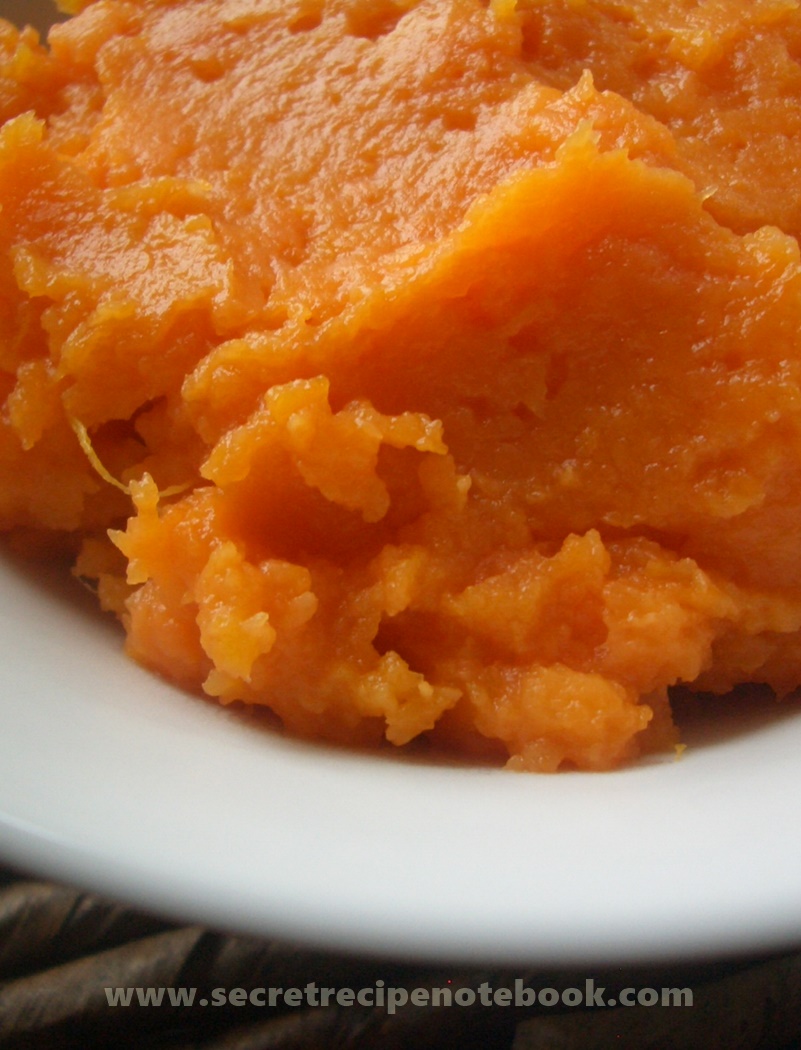 Once they are soft and skin is wrinkled, take them from the oven and leave to cool for a few minutes until you can handle them. Carefully peel off the skin and place sweet potato flesh into a bowl. Mash it with a fork or potato masher until you get a smooth mash. From 500g of sweet potatoes you will get around 300g of mash.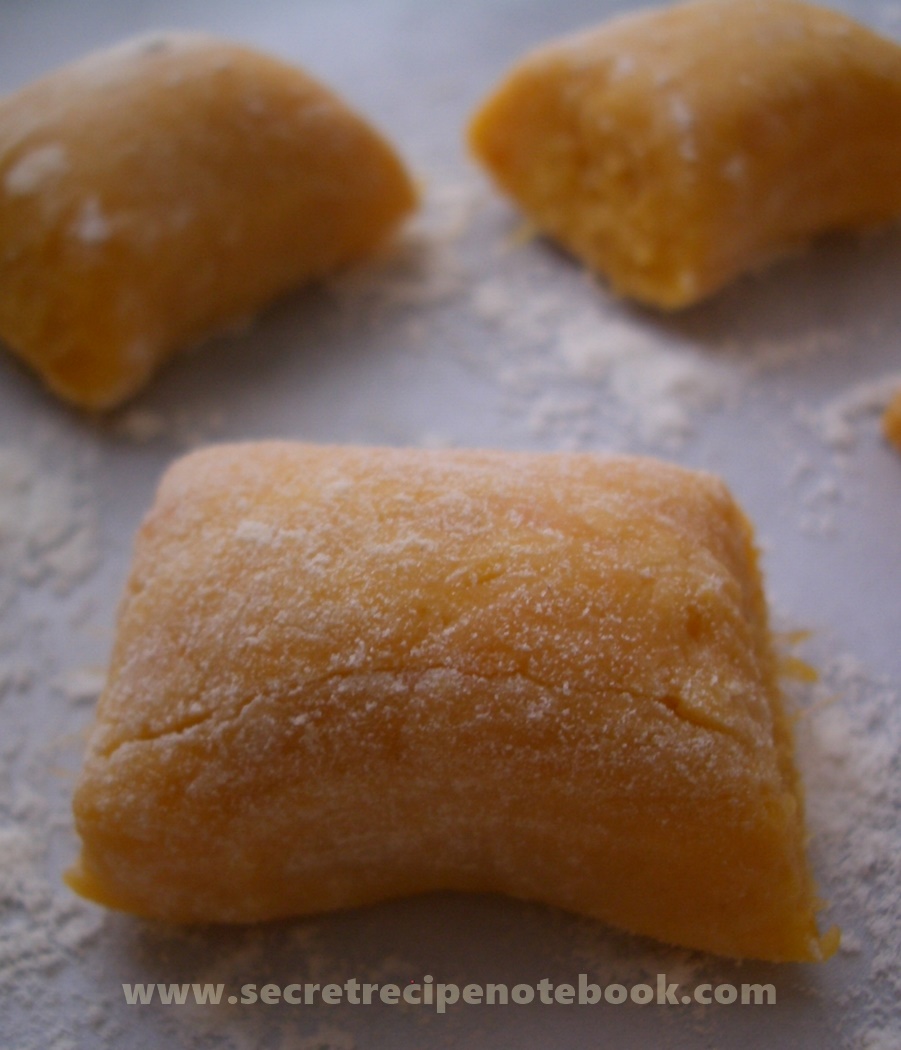 Making sweet potato gnocchi dough
Once you have sweet potato mash ready, kneading the dough is quick and easy. For this recipe we don't use any eggs or egg yolks. Sprinkle the potato mash with some salt then gradually add flour while kneading after each addition.

If the dough is too sticky add some more flour as needed. Be sure not to over knead the dough as gnocchi will be tough. Shape the dough into a flat disc.


Shaping sweet potato gnocchi
Using a dough cutter cut the disc into 4 then roll each piece on a floured work surface or a pastry math into a rope 1.5cm thick. Cut the rope into 2cm long slices which makes our gnocchi. Keep extra flour handy to dust the dough to prevent the sticking.
Lay gnocchi on a floured tray and repeat this with the rest of the dough. Once you have done all your gnocchi, you can prepare them immediately or freeze for later use.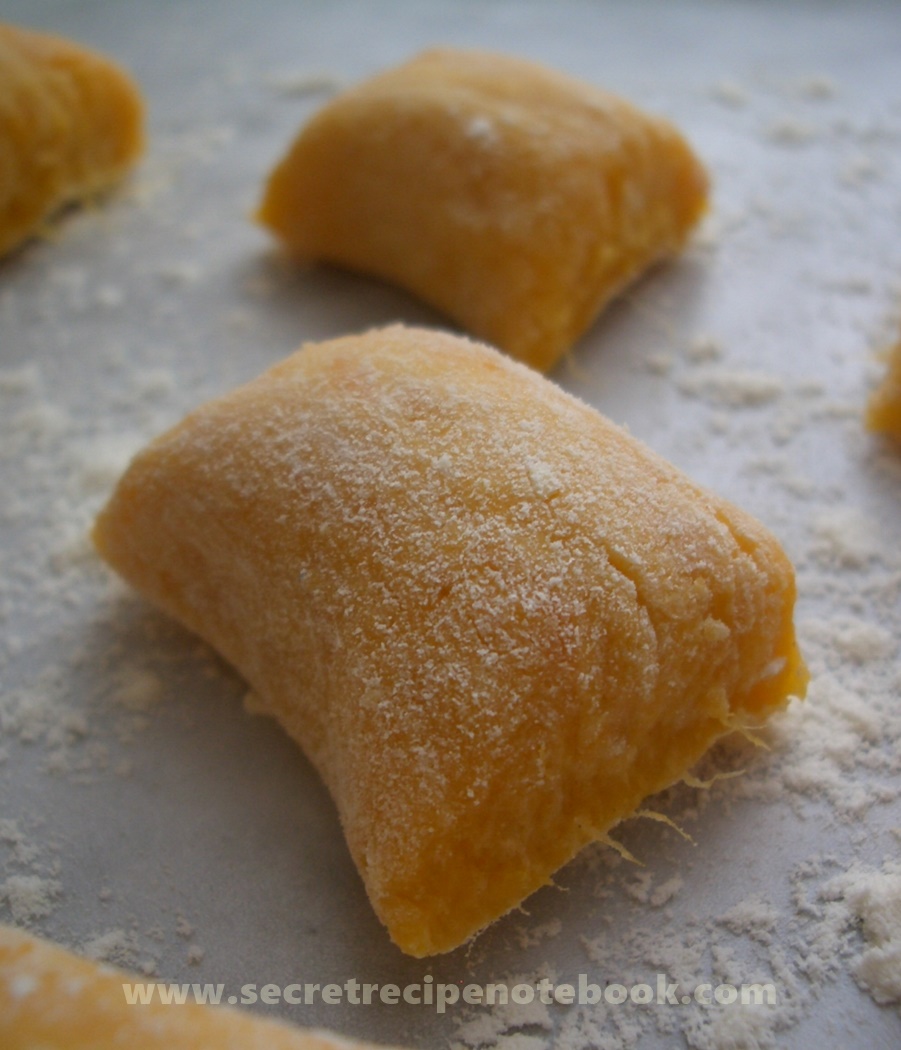 How to cook sweet potato gnocchi?
Bring a large pot of water to boil, add gnocchi in small batches and cook for about 1 - 2 minutes or until they float. Remove them from the water using a slotted spoon and toss with your desired sauce or prepare in some other way.

Can we freeze sweet potato gnocchi?
Once you made gnocchi, it's the best to cook them immediately. They are not good to keep in the fridge as they become soggy.

You can freeze them for later use in the way that arrange them on a baking sheet in one layer and place in the freezer. Once they are frozen, transfer them to a freezer bag. When you want to cook them, just throw them directly into boiling water without thawing.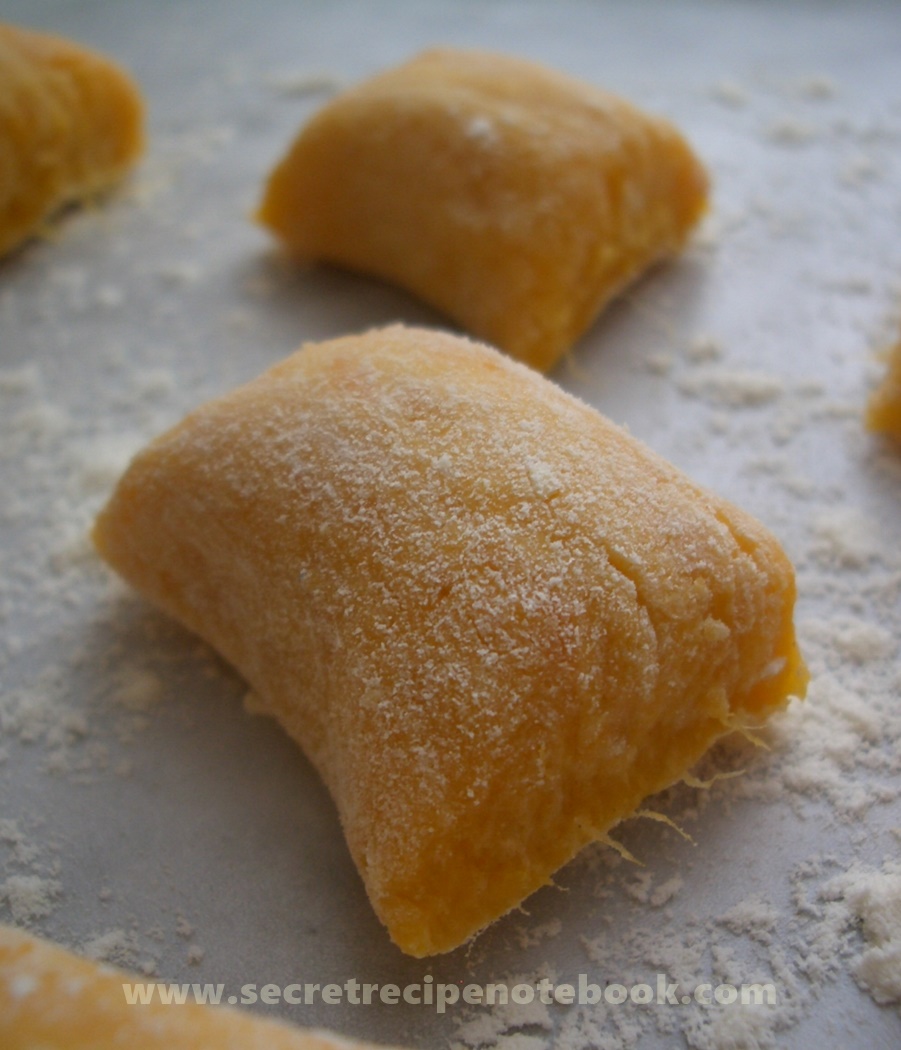 Serving ideas for sweet potato gnocchi
Sweet potato gnocchi can be served in so many way you will have a hard time to decide. We love to serve them in brown butter sauce and with sprinkled with dried oregano. This simple recipe is ideal for a quick and easy meal, if you have your gnocchi ready.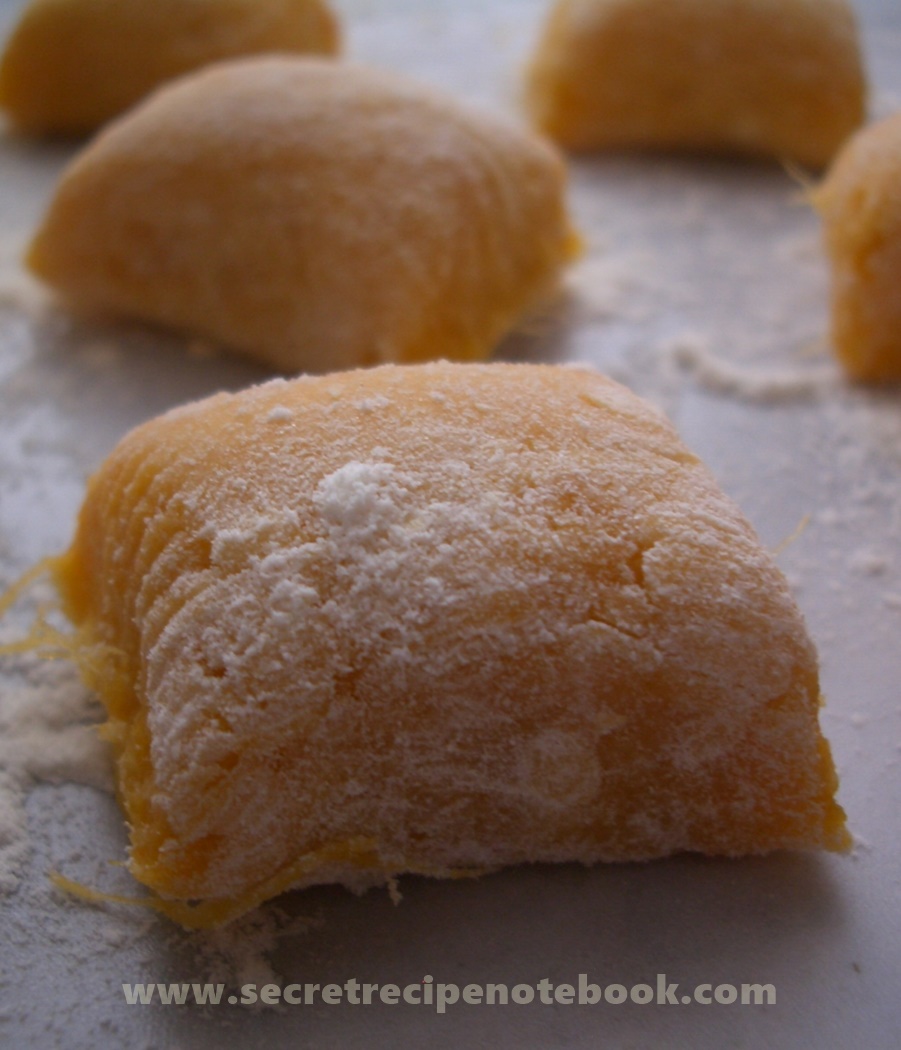 A few of our favourite Italian recipes:
Sweet Potato Gnocchi

SERVES: 2 servings
COOKS IN: 1 hour 10 minutes
LEVEL: Easy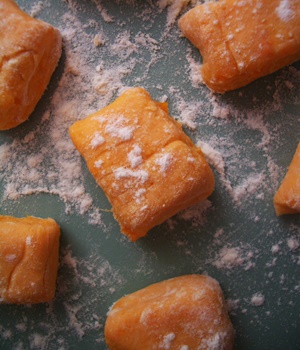 HANDY KITCHEN PRODUCTS:
INGREDIENTS
2 medium sweet potatoes (500g, 1.1 pounds)
60g plain flour (1/2 cup)
1/4 teaspoon of salt
METHOD
Preheat the oven to 200°C (392°F). Prick the sweet potatoes with a fork for several times and lay them on the baking sheet

lined with baking paper. Bake for 50-60 minutes or until the fork can be inserted easily in the potatoes. Set aside to cool until you can handle them easily.




Remove the skin from the sweet potatoes and mash them with a fork or using potato masher. Place in the large heatproof bowl.


Add the flour and salt and gently fold until everything comes together. Dust the work surface with flour then turn the mixture onto it and knead until it's firm and no longer sticky, adding flour as needed. Don't overwork the dough!


Divide the dough into 4 then roll each pieces into a long sausage (2cm thick). Cut the logs with a dough cutter into 2cm long gnocchi.


If cooking gnocchi immediately, heat a saucepan of salted water to boil. Add gnocchi and let cook for a few minutes. Once the gnocchi rise to the surface, let it cook for another 30 seconds and then remove using a slotted spoon. Toss in your favourite sauce.


CATEGORIES: PASTA & GNOCCHI, ITALIAN INSPIRED,
SWEET POTATOES
Looking for more recipes?

We are a participant in the Amazon Services LLC Associates Program, an affiliate advertising program designed to provide a means for us to earn fees by linking to Amazon.com and affiliated sites.