These tasty pasta is made from semolina and water and is a great pair with any sauce. You can make easily a bunch of these pasta at home.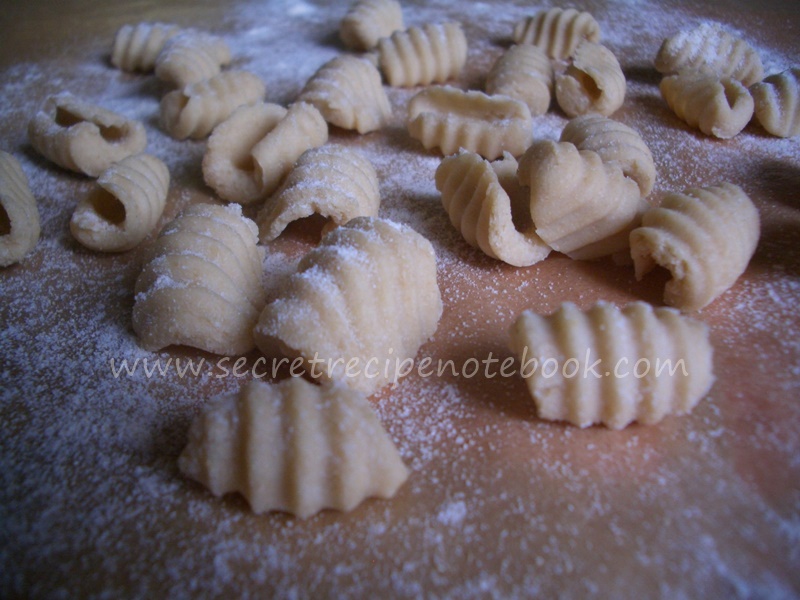 We have original recipe for malloreddus pasta, which is similar to cavatelli and originates from the island of Sardinia. It is known also as "gnocchi sardi" and is typically served with a heavy tomato sauce with meat or butter and pecorino.

Malloreddus pasta is so easy to make, just combine semolina with water and pinch of salt and knead a dough. Usually, saffron is added to the dough which gives a subtle flavour and bright yellow colour to the pasta.


try also these tasty recipes:
Semolina is a coarse pale-yellow flour ground from hard durum wheat and used to make traditional pasta in the south of Italy. It can be also used to make pizza, bread or cookies as well as gnocchi. For making malloreddus you will need a gnocchi board which helps to shape pasta.

Preparing homemade malloreddus pasta is very easy and rewarding as you will get delicious fresh pasta which pairs well with any kind of sauce.


Looking for more pasta & gnocchi recipes?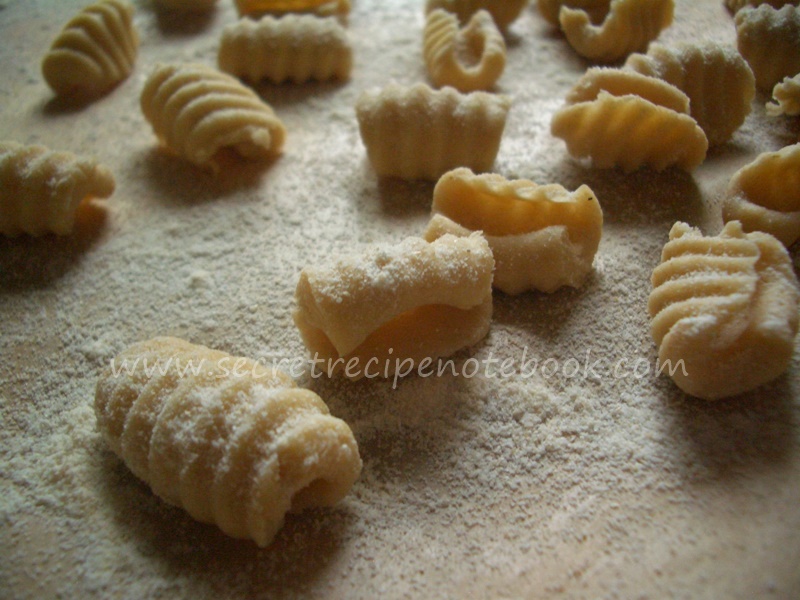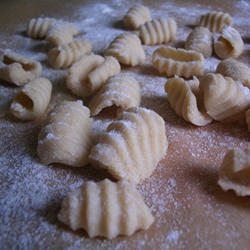 Homemade Malloreddus Pasta

MAKES: 2 servings
COOKS IN: 30 minutes
LEVEL: Moderate
INGREDIENTS
100g remilled durum wheat semolina
50g warm water
1 pinch of salt
METHOD
Place semolina and salt in a medium bowl.


Pour the water into the semolina and work everything with your hands until you form a ball.


Tip the dough onto a work surface and knead no more than 3 - 5 minutes or until you get a soft ball. Be sure not to overknead the dough. 


Make sure your work surface is clean when you start to shape pasta. Take a piece of dough and roll into a thin snake. Wrap the rest of the dough into a plastic wrap so it doesn't dry out.


Cut off pieces of dough about the size of your thumbnail. Using your thumb, roll each piece off a gnocchi board. Set pasta on a baking sheet dusted with a flour. Repeat with the rest of the dough. Place pasta on the drying pasta rack until ready to cook.


When the pasta is done, get a large pot of water and place on the heat until it start to boil. Add some salt. Boil pasta until it start to float, and leave for another 1 minute.


To serve, put some sauce in a big bowl, add pasta and toss to combine. Garnish with grated cheese.