Simple Flour Tortillas
These homemade tortillas are so easy to make. With only 6 ingredients and under 30 minutes, you have a batch of soft tasty tortillas. From this recipe you will have 12 soft and delicious tortillas.

Tortillas can be used in many recipes, like in our veggie quesadillas, tacos or fold-over tortilla bake. Make an interesting pizza with these tortillas or homemade tortilla chips ideal for dipping into your favourite dip.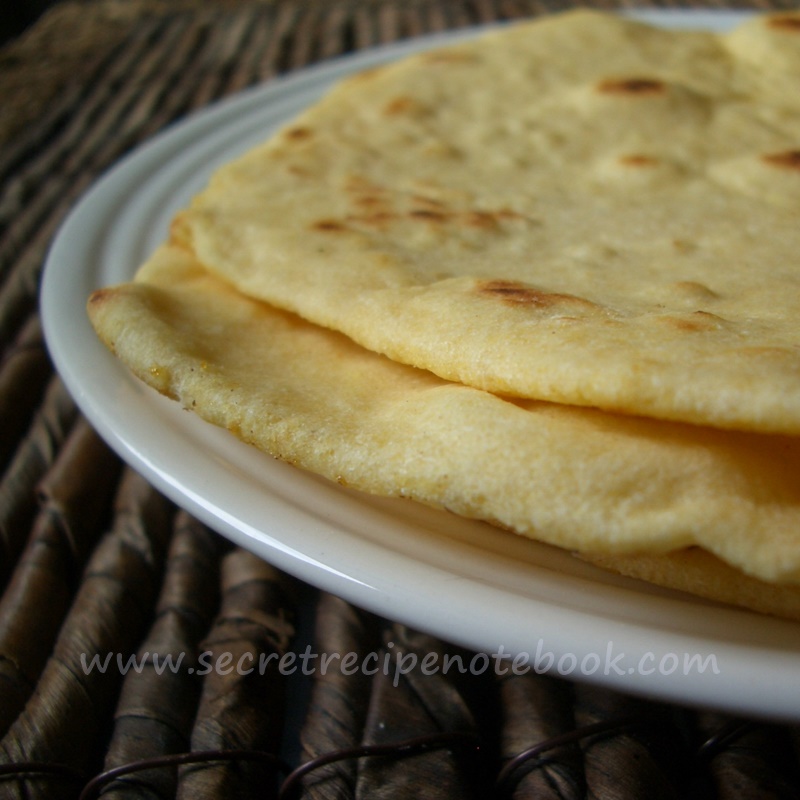 This webpage contains affiliate links. Please read our disclosure policy.

What you'll need
These soft tortillas come together with just 6 ingredients. We'll be using a mix of PLAIN and CORN flours in this recipe, which is a great combo. The plain flour gives elasticity while corn flour gives bright yellow colour, and slightly sweet flavour.

The corn flour we use here is yellow-coloured flour, made by grinding dried corn kernels. If you don't have this flour, swap it for spelt flour or just skip it and use only plain flour.

Besides flours, you'll need a dash of baking powder (to give some fluffiness to tortillas), salt, a few tablespoons of olive oil (or sunflower oil) and hot water (70-80 C).


More recipes
you'll want to try:
3 easy steps for making the dough
Start with stirring flours, baking powder and salt in a medium bowl. 


Make a well in the middle, add olive oil then star to pour water while stirring with a wooden spoon until everything comes together.
 
Now, turn onto dusted work surface and knead for 4-5 minutes. You will get smooth and elastic dough. Cover with clean tea towel and leave to rest for 15-20 minutes.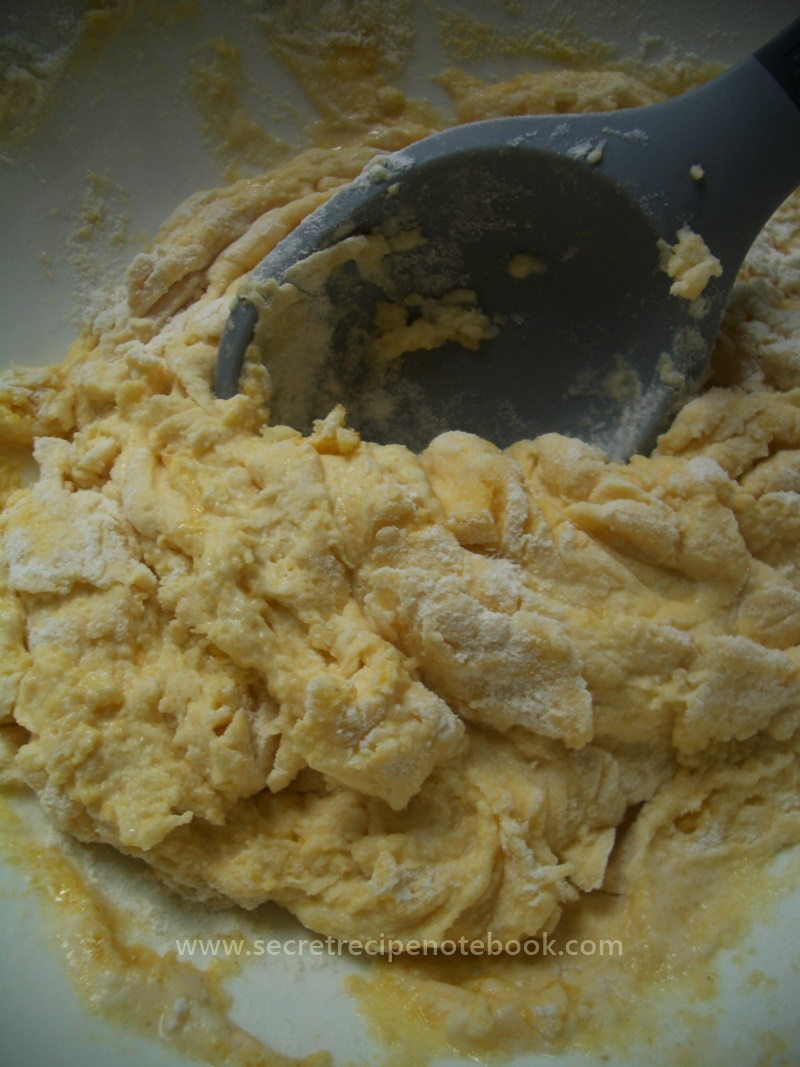 Useful tips for rolling out tortillas...
You don't need a tortilla press to make homemade tortillas. A rolling pin will works just fine for making them. First the dough should be soft and pliable and the room temperature should be warm.


Divide the dough into 2, make dome from each half, then using a dough scraper or a sharp knife cut into 6 even pieces. Now, make 12 soft balls from the dough. Cover them with kitchen towel while rolling out tortillas so they don't dry out.

First be sure to slightly dust with flour your work surface and rolling pin. Take one ball and using your palms, stretch into 1o cm flat round.

Now, using rolling pin roll out the round into a thin 18-20cm round. Flip the dough as you roll out into all directions. From this dough, you'll get 12 medium-sized tortillas (15cm in diameter).


How to cook tortillas?
Tortillas are cooked on the stove - you will need either cast iron griddle or non-stick skillet heated on medium-high heat.

Once the tortilla is rolled, place it on the griddle and cook for about 40-60 seconds. It will start to form little or large bubbles and have dark spots on the surface. Flip on the other side and cook for another 20-30 seconds.


Remove from the griddle, place on the plate and cover with kitchen towel or another plate to keep it warm. This great tortilla warmer is ideal for keeping tortillas warm and soft while cooking the rest.
The trick for cooking tortillas is to cook them on the high heat so they cook quickly and don't dry out.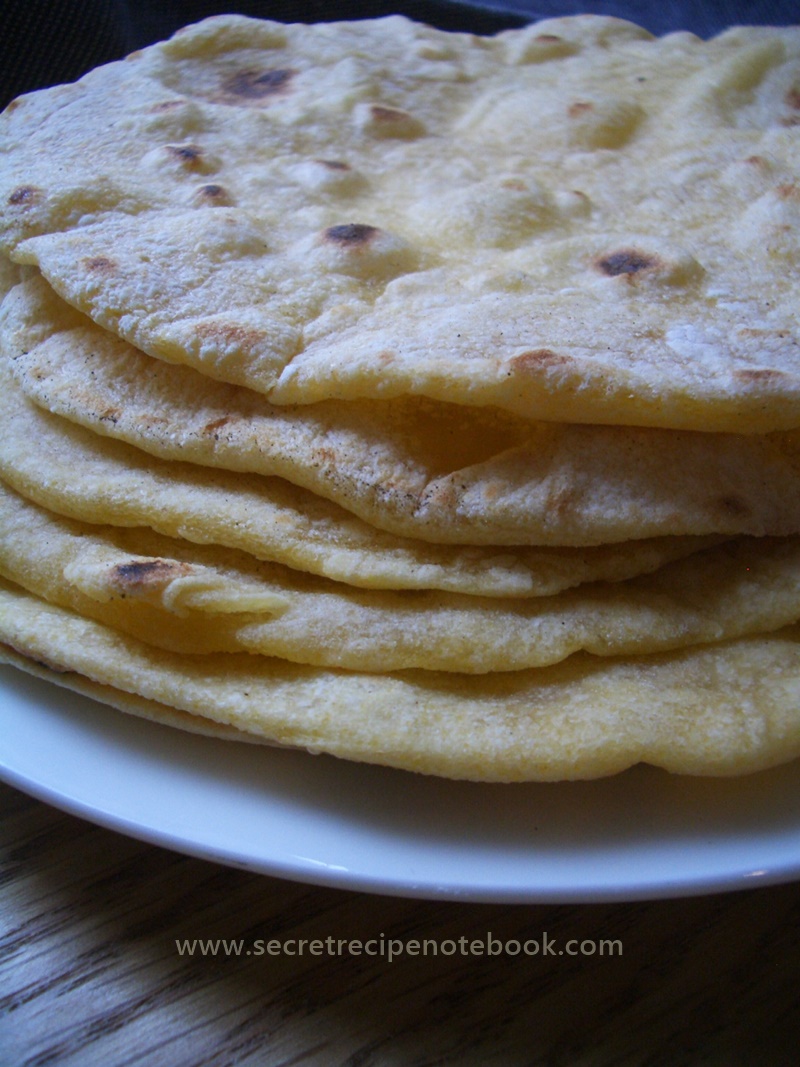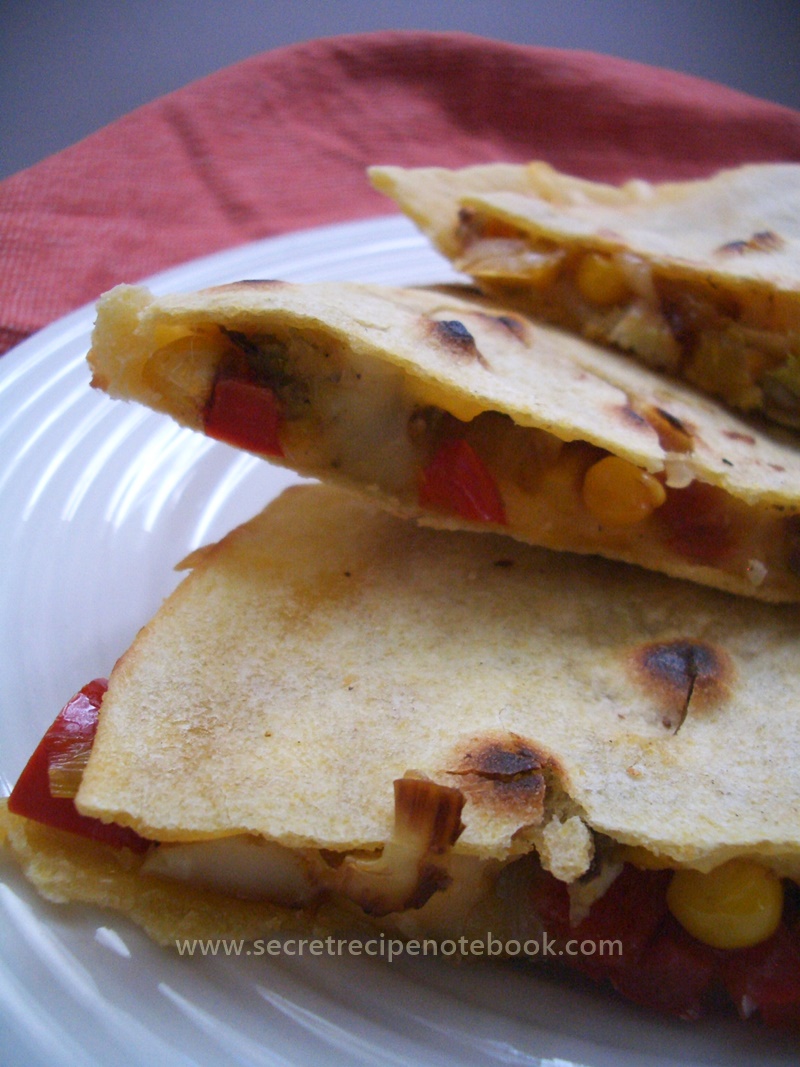 Making ahead & Freezing flour tortillas
Tortillas are great for making ahead and having a pile on hand when you crave for quick quesadillas. Make the dough and keep in the fridge for a day or two.

Or, cook them and make a pile (separate each one with baking paper or cling film), place in the freezer bag and freeze. Once you want to enjoy them, you can defrost for a few minutes, then quickly re-heat on the frying pan or in the microwave.


A few of our popular bread recipes:
Simple Flour Tortillas

MAKES: 12 medium-sized tortillas
COOKS IN: 30 minutes
LEVEL: Easy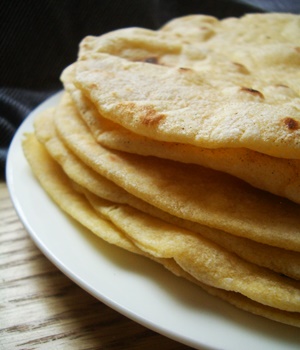 Handy equipment:
INGREDIENTS
300g

plain or bread flour 

(2 1/2 cups)

120g

corn flour

(

flour milled from dried corn kernels

) (1 cup)

1 teaspoon salt

1/2 teaspoon baking

powder
60ml sunflower oil (4 tbsp)
240ml water (1 cup), hot (70°C-80°C)
METHOD
Combine the flour, baking powder and salt in a medium bowl. 



Pour over oil and hot water and stir until the dough comes together. Transfer to the floured work surface and knead for about 4-5 minutes or until you make a smooth ball of dough. Cover with clean kitchen towel and leave to rest for 20 minutes.




Di

vide the dough i

nto 12 pieces and roll thinly each piece on a floured work surface using a rolling pin.


Heat non-stick frying pan (or a cast iron griddle) over a medium-high heat. Cook tortillas one at the time for 50-60 seconds on one side, then flip an cook for 40-50 seconds on the other side, or until the tortilla begins to form air bubbles and has dark spots. Transfer them to a plate and cover with another plate or wrap with aluminium foil to keep warm. 


CATEGORIES: Bread & Pizza, Side Dishes, Quick & Easy
We are a participant in the Amazon Services LLC Associates Program, an affiliate advertising program designed to provide a means for us to earn fees by linking to Amazon.com and affiliated sites.