Smoked ham pumpkin pizza
Smoked ham, pumpkin, mozzarella and fresh rosemary are what gives flavour to these pizza. True fall pizza that is easy to make!
For this pizza you don't even need tomato sauce, just fresh mozzarella, pumpkin and smoked ham. The dough is simple and easy to make and the combination of flavours are amazing. A special hint gives a fresh rosemary sprinkled over. We are sure this will be your favourite fall pizza, you will serve to your family and friend all over again.

Let's see what exactly we need and how to make these yummy snack.

Cooking lovers can find amazing deals on kitchen products at Food52 Shop (up to 40% OFF).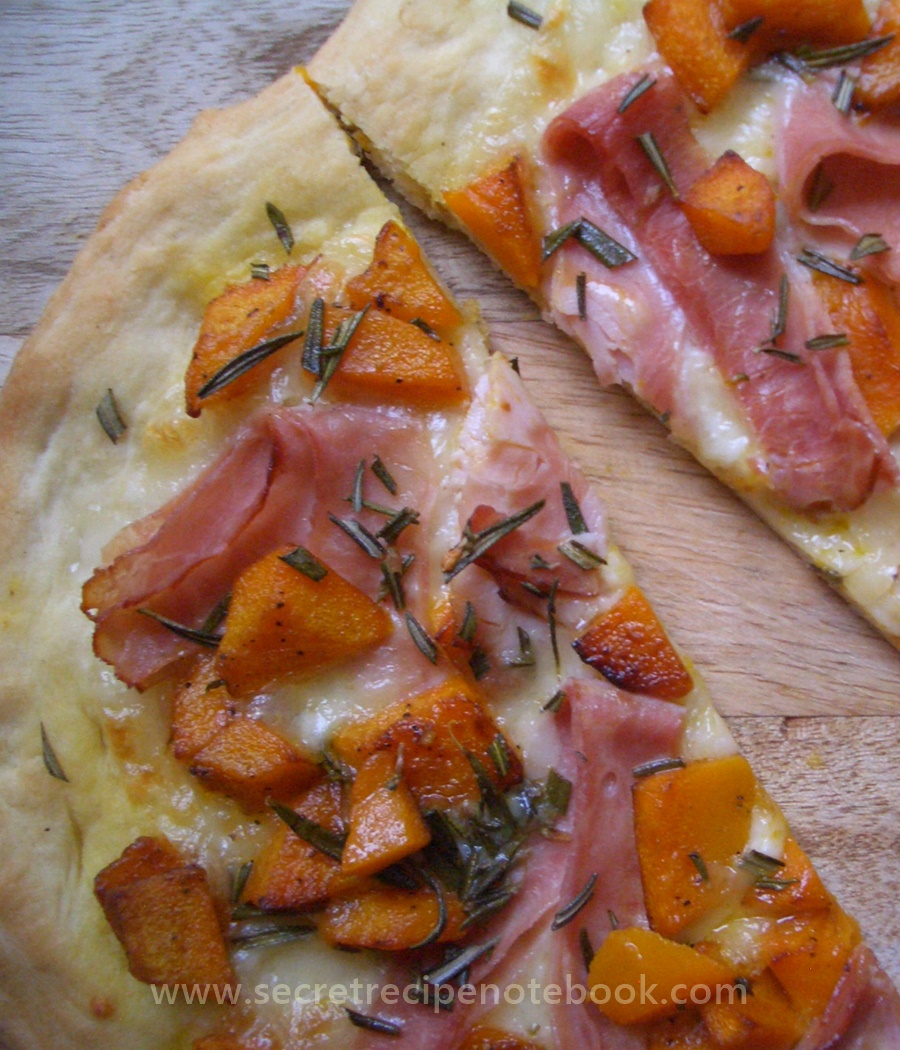 what you'll need for pizza dough
The base of this delicious pizza is the dough made of FLOUR (type 00), FRESH YEAST, SALT, SUGAR, OLIVE OIL and WARM WATER. For making pizza it's the best to use Italian 00 Flour which is super fine and has high content of proteins, but you can use also bread flour or plain flour.

This recipe calls for FRESH YEAST, which rises the dough quickly and makes it soft and fluffy. Crumb the fresh yeast in a cup, add sugar, flour and water and stir. Leave it until it becomes rise and become foamy. Next step for making he dough is to add this to the flour and salt mixture together with olive oil and water and knead a soft dough.


tip about the yeast
In the case you use instant dry yeast, just skip the step 1 and combine the yeast with flour and salt and skip the sugar. If using active dry yeast, combine the whole amount of water, yeast and 1/2 teaspoon sugar in a small bowl and leave for 5 minutes. Then continue with the step 3 in the recipe.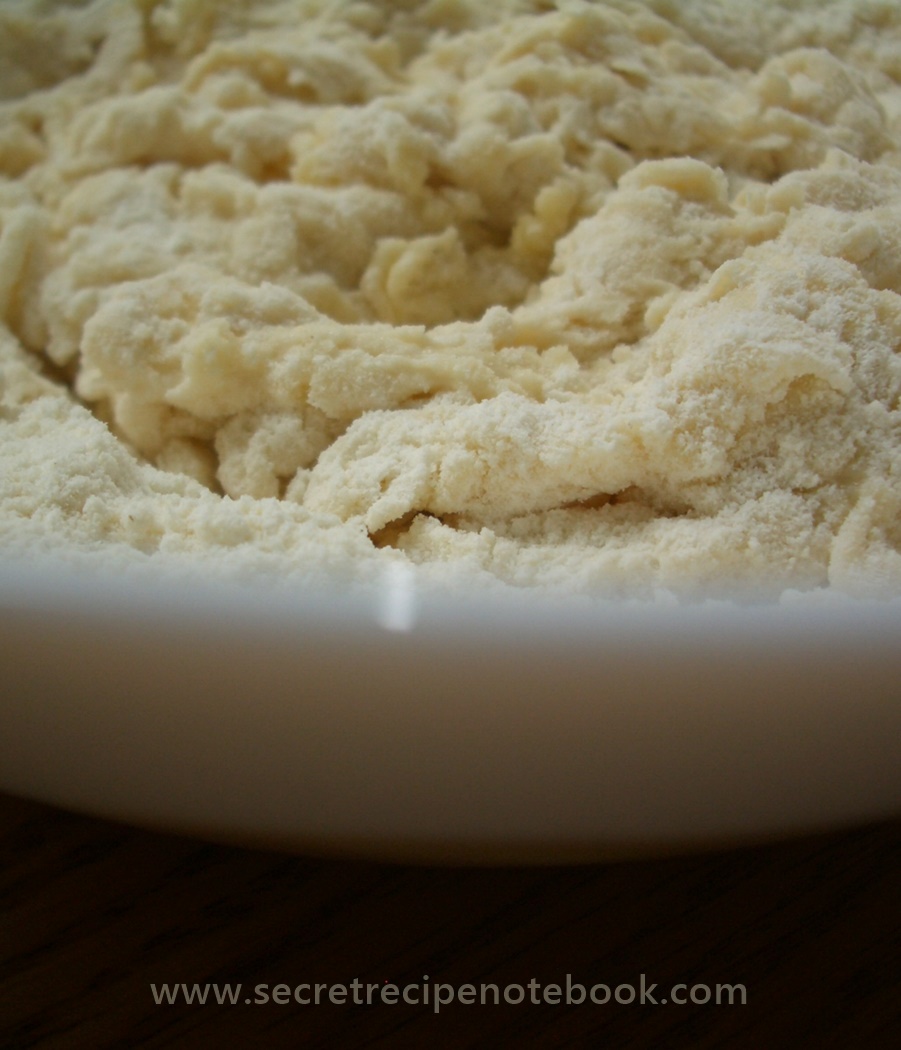 rising the dough
Once the dough is kneaded, place it in lightly oiled bowl, cover with a clean kitchen towel and allow to rise at room temperature for about 1 hour or until double in size. If you want to speed up the process or the room temperature is too cold, heat your oven to 150°C (302°F) for 5-6 minutes, then turn the oven off, place the dough inside and leave it to rise (it will need about 30 minutes).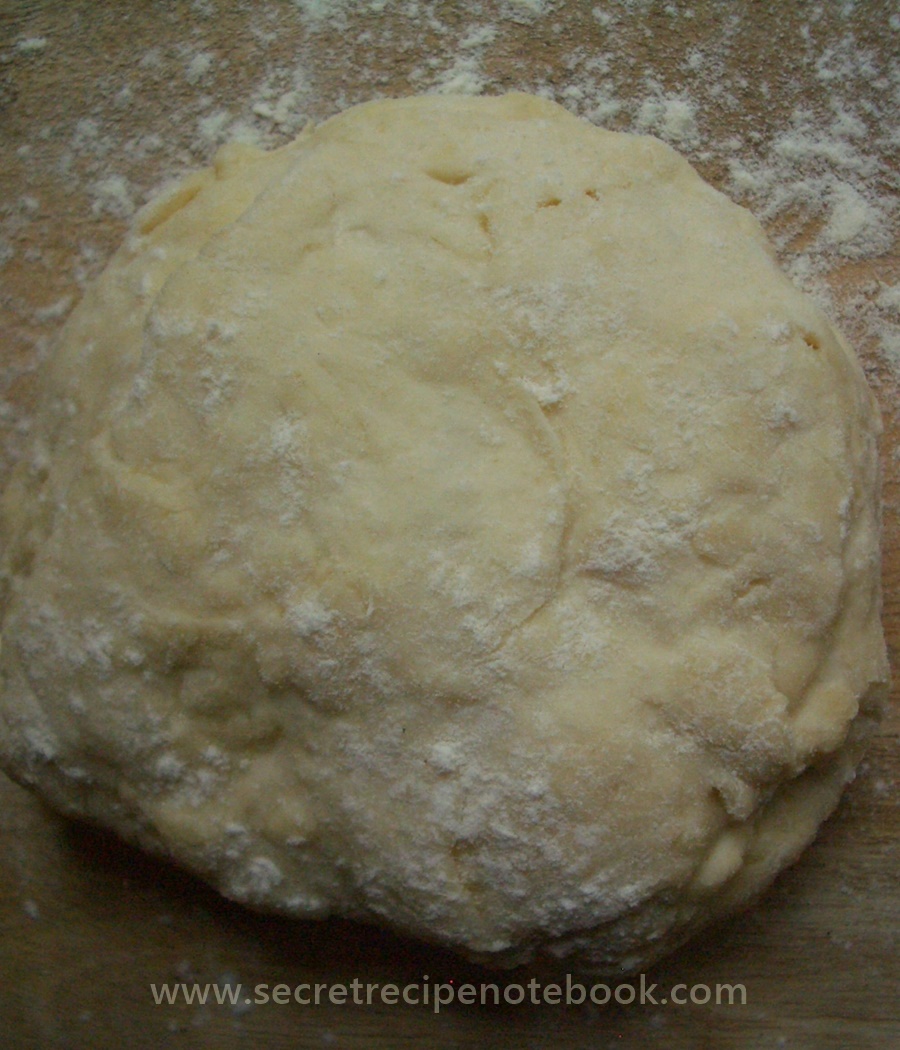 what you'll need for pizza topping
While the dough is rising, prepare the pizza topping. We used here HOKKAIDO PUMPKIN which has subtle sweet taste and has thin skin so you don't have to peel it (any other kind of pumpkin will work well here).
Cut the pumpkin into small cubes (around 1.5cm) and sauté on some olive oil on a non-stick skillet until slightly brown. Season with salt and pepper.
We love to use FRESH MOZZARELLA ball on pizza, which is usually found on authentic Italian pizza. Just squeeze the mozzarella ball to excess any liquid, then tap with kitchen towel and cut into smaller pieces on a wooden cutting board.

SMOKED HAM adds another layer of flavour to this pizza and perfectly pairs with slightly caramel flavour of caramelised pumpkin. On the top of it, pizza is sprinkled with FRESH ROSEMARY, slightly bitter and woody herb.


Assembling the pizza
Finally, when you have everything ready it's time for assembling the pizza.
Half the dough then on a lightly floured work surface flatten the dough using a rolling pin or your hands. Place the dough onto oiled baking sheet, brush the top with some olive oil and push dents into the surface to prevent bubbling.

Scatter with mozzarella, pumpkin and smoked ham and bake for 20 - 22 minutes (put the pizza in the very hot oven - preheat it to 220°C (428°F) at least 30 minutes before baking). Once the edges of pizzas turn slightly brown and the topping start to smell it's time to take pizzas from the oven and enjoy.

This amount of dough is enough for 2 medium pizzas (20cm in diameter), but you can make one larger pizza or several small ones.


best selling kitchen tools & gadgets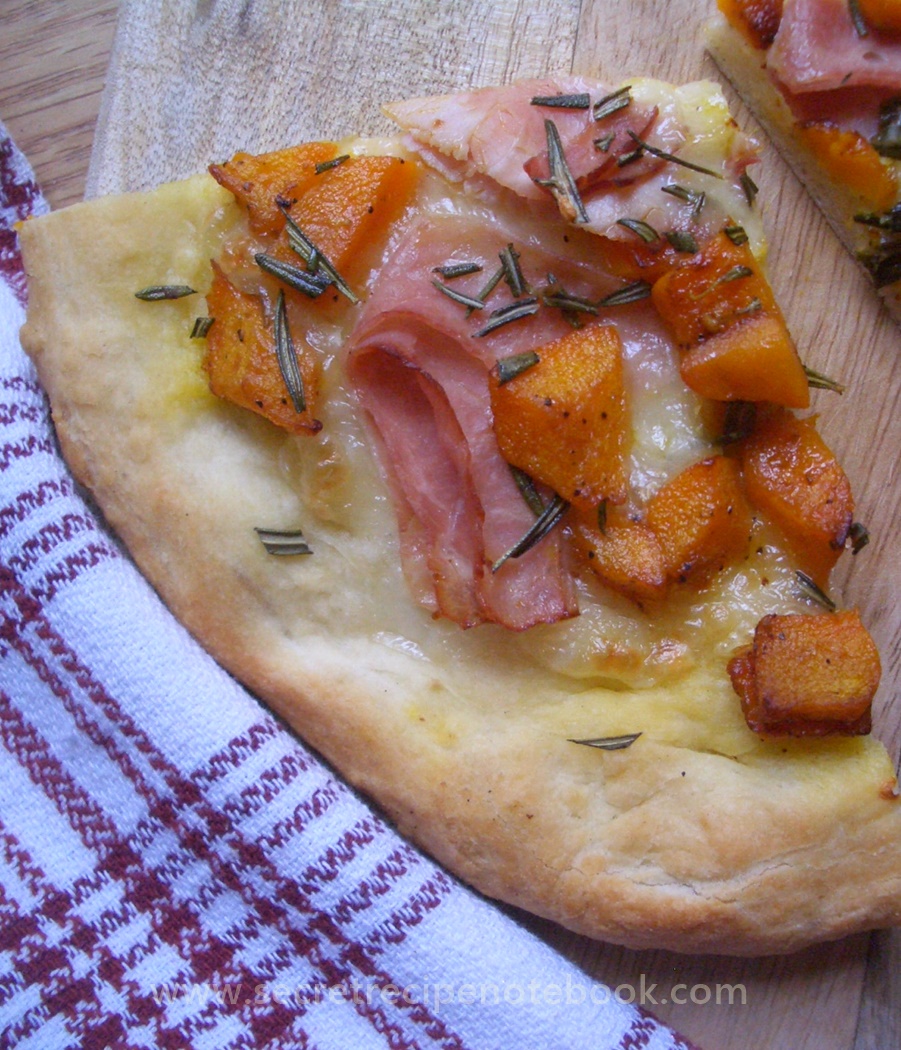 looking for more snacks? Take a look at these recipes:
For more snack inspiration, take a look at our collection of snack recipes. Also check out our selection of other tempting bread & pizza recipes, too.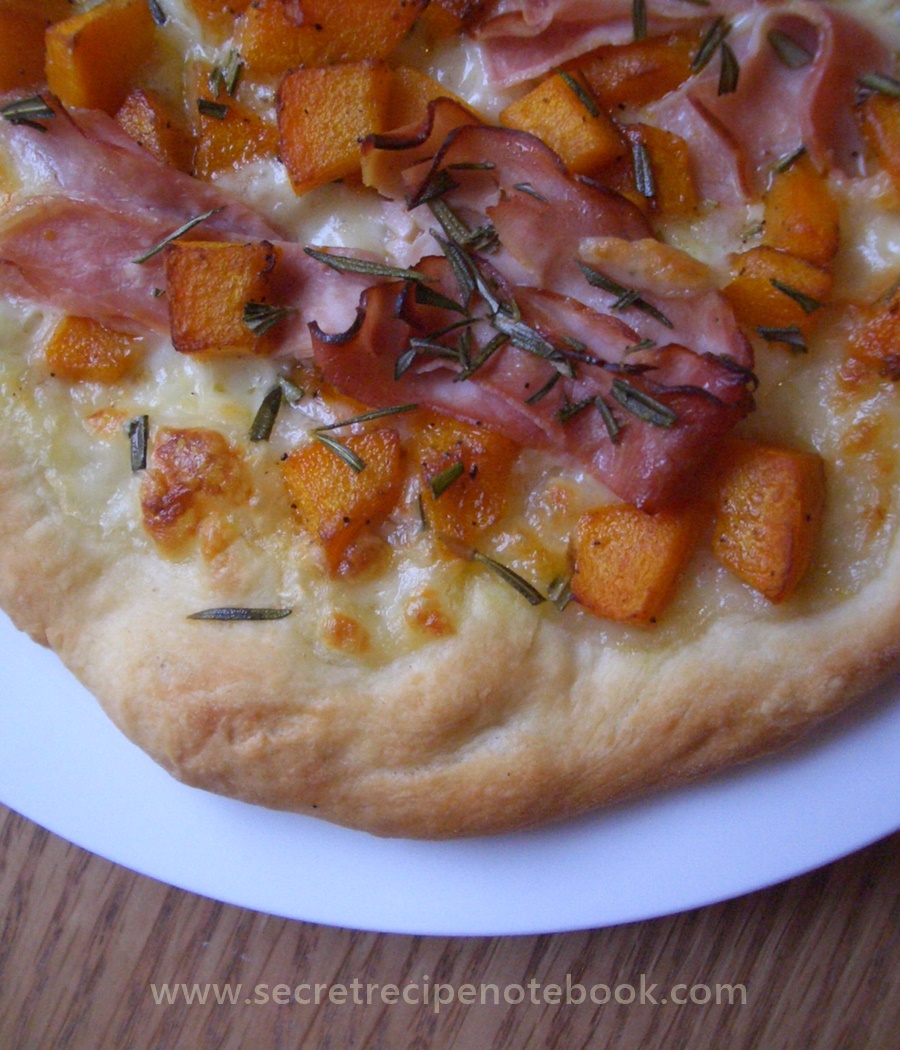 Smoked ham pumpkin pizza
MAKES: 2 medium pizza (20cm in diameter)
COOKS IN: 45 Minutes Plus Rising Time
LEVEL: Moderate
KITCHEN ESSENTIALS FOR THIS RECIPE:
Digital Kitchen Scale | Mixing Bowl | Rolling Pin | Wooden Cutting Board | Kitchen Knife | Non-Stick Skillet | Wooden Spoon | Baking Sheet or Pizza Pan | Pizza Cutter
INGREDIENTS
for the dough
8g fresh yeast (or 3.2g active-dry yeast & 3g instant yeast)
1/2 teaspoon sugar
1/2 teaspoon salt
30ml (2 tablespoons) olive oil
135ml (1/2 cup + 1 tbsp) water, lukewarm
For the topping
280g (10 ounces) pumpkin (hokkaido, kabocha & butternut squash)
224g (8 ounces) mozzarella ball
140g (5 ounces) smoked ham, sliced or cubed
2 tablespoons fresh rosemary leaves, finely chopped
METHOD
Crumble the fresh yeast in a cup then stir with 1/2 teaspoon sugar, 2 tablespoons of flour and 30ml warm water until it's completely melted. Set aside to rise (8-10 minutes). See NOTES below if you use active-dry yeast or instant yeast.


Combine plain flour with a salt in a large bowl.


Make a well in the centre then pour the olive oil and yeast mixture. Start slowly pouring the rest of the water stirring with a

wooden spoon

until all f

lour is incorporated. The dough will be very soft and pliable.


Tip the dough onto a dusted work surface and knead the dough with lightly floured hands (re-flour hands when dough becomes too sticky) until smooth and elastic (about 9-10 minutes). Shape the dough into a ball, put in a lightly oiled bowl, cover with kitchen towel and let it rise in a warm place until doubled in size (about 30 minutes). 


Heat the oven to 220°C (428°F) and grease the

baking sheet

with oil.


In the meantime, prepare the toppings. Cut the pumpkin into small cubes (around 1.5cm) then 

sauté o

n a

non-stick skillet

with some olive oil for 3 - 4 minutes. Season with salt and pepper and set aside.


Drain mozzarella ball, tap with paper towels and cut into small pieces. Cut slices of smoked ham into long stripes.


Half the dough and form 2 bowls. Dust some flour on your work surface and roll out the dough ball into a circle (20cm in diameter) leaving the edges slightly thicker. You can to this using a

rolling pin

or your hands. Place on a prepared baking sheet (or

pizza pan

),

 push dents into the surface and brush the top with olive oil.


 
Scatter over mozzarella, pumpkin and smoked ham and sprinkle with rosemary. Bake for 20-22 minutes or until the crust is golden and crisp. Serve immediately.


NOTES:
If using ACTIVE-DRY YEAST combine it with whole amount of water with 1/2 teaspoon sugar, leave for 5 minutes then continue with adding this to the flour together with olive oil. If using INSTANT YEAST stir it with flour and salt then continue with adding the oil and water.