Snacks & Nibbles | Bread & Pizza
Ham mozzarella pizza rolls
These pizza bites are packed with ham, mozzarella and tomato sauce. You will enjoy these rolls for breakfast, brunch or just for a picnic.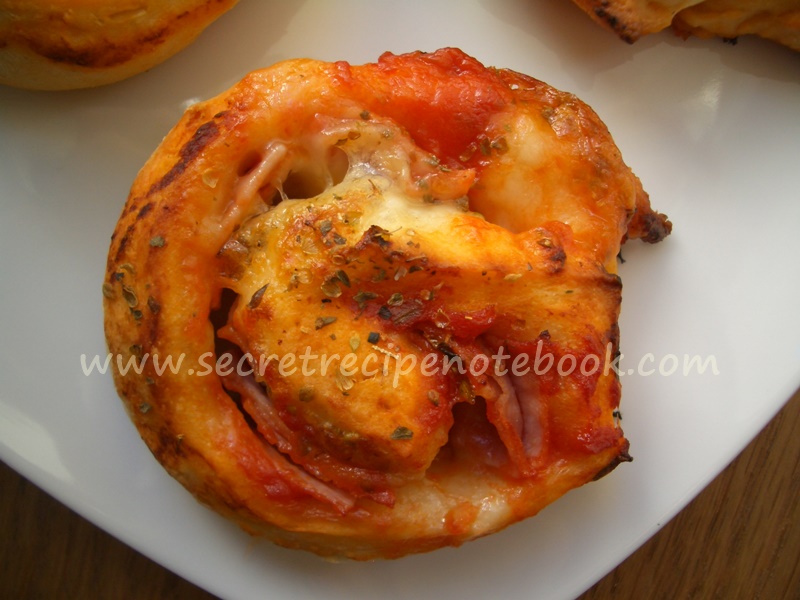 We adore these small snack that can be devoured in one or two bites. They are often made for kids or as a snack, but we love them in every occasion. Stuffed with fresh mozzarella, ham and tomato sauce, these pizza rolls can be also served as a dinner with a simple green salad.

These rolls are perfection: crisp on outside and soft, super cheesy and packed with ham inside. You will love making and eating these these light snack every day.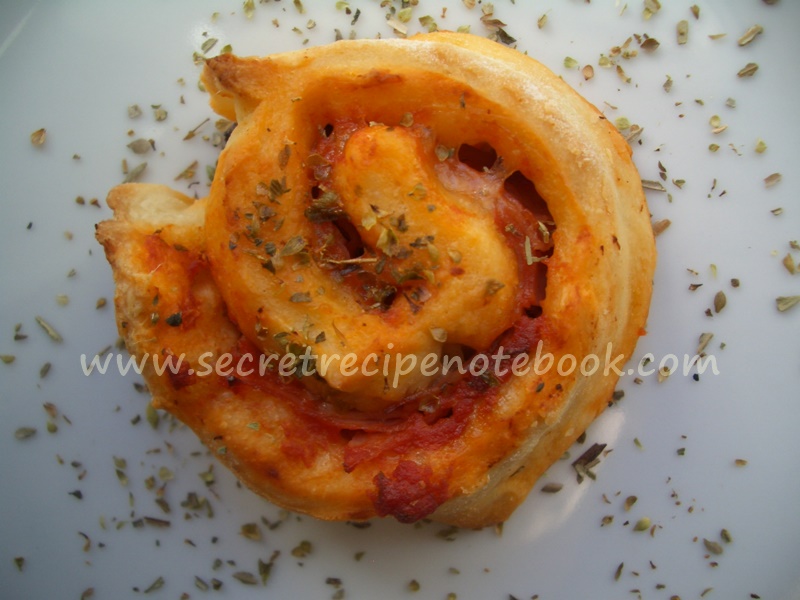 Try also these tasty recipes:
How to make smoked ham mozzarella pizza rolls
You will easily make these small pizza bites once you have all ingredients ready. The base of this recipe is simple PIZZA DOUGH which we use to roll delicious pizza stuffing - TOMASTO SAUCE, SMOKED HAM and FRESH MOZZARELLA, all sprinkled with DRIED OREGANO.

Making pizza dough is easy. For this recipe we use fresh yeast, which we crumble in one bowl and combine with water, flour and some sugar. Once the yeast is risen, combine this with flour + salt and some olive oil. Knead a soft elastic dough on your work surface and let it stand in a warm place until doubled in size. 


Best selling kitchen tools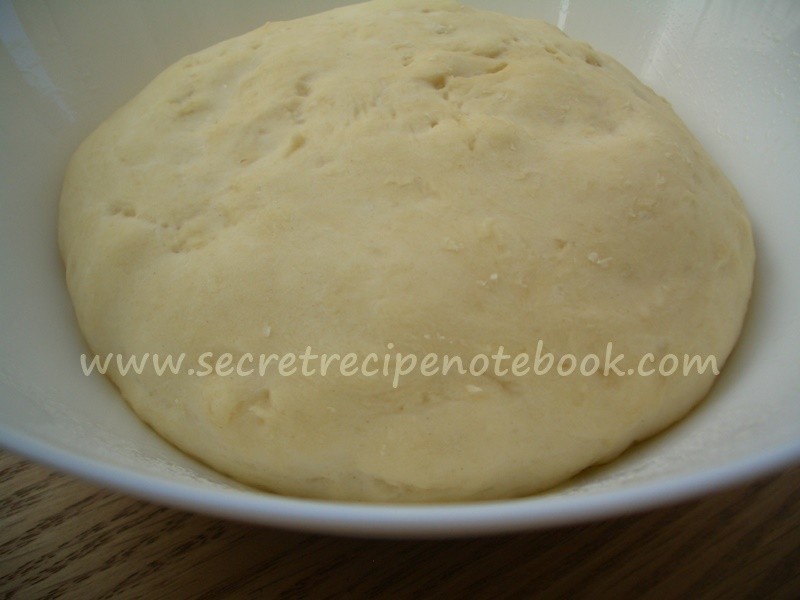 When the dough is ready, it's time for playing with our stuffing. Roll the dough into a rectangle, brush with olive oil then spread tomato sauce over the dough. Arrange stripes of smoked ham and mozzarella cheese (cutted or shredded - depending on which mozzarella you use). Sprinkle generously with dried oregano.

Now, roll tightly the dough into log, then cut into 1 - 1.5cm slices and arrange on the baking sheet lined with baking paper. These little snacks are baked on high temperature - 220 C for about 13 - 15 minutes. 


Tip about using yeast
In this recipe we use fresh yeast, but in the case you use instant dry yeast, just skip the step 3 and combine the yeast with flour and salt and skip the sugar. If using active dry yeast, just combine 150ml water, yeast and 1/2 teaspoon granulated sugar in a bowl and leave for 5 minutes. Then continue with the step 4 in the recipe.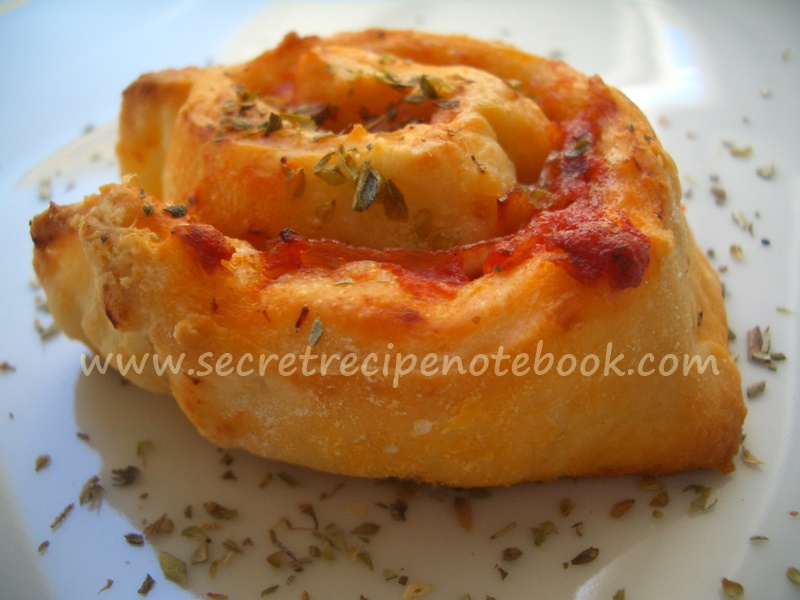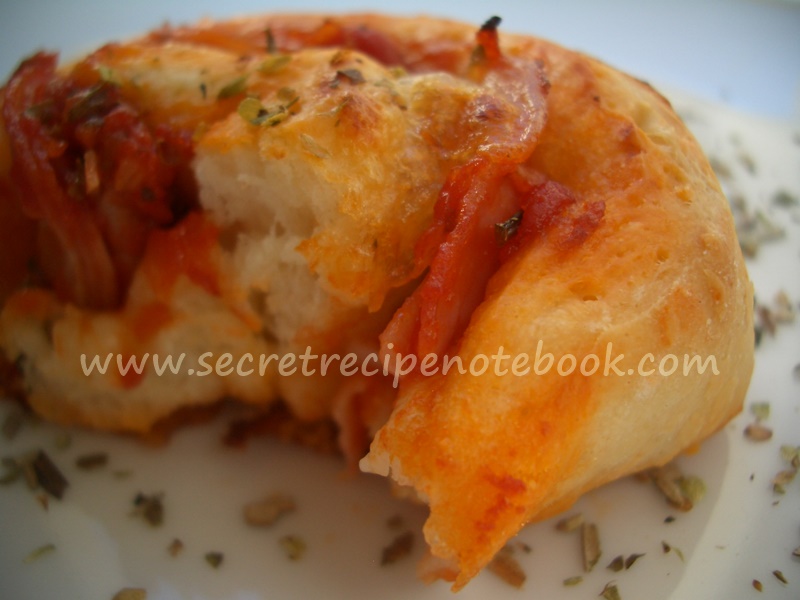 Making ahead smoked ham mozzarella pizza rolls
If you want to have your pizza rolls ready in advance, so you can bake them at any time, prepare the rolls as described through the step 3 then tightly wrap the logs with cling film and refrigerate for up to 1 day. Baked pizza rolls freeze well, up to 3 months. 


Looking for more delicious snacks to try? Check these out: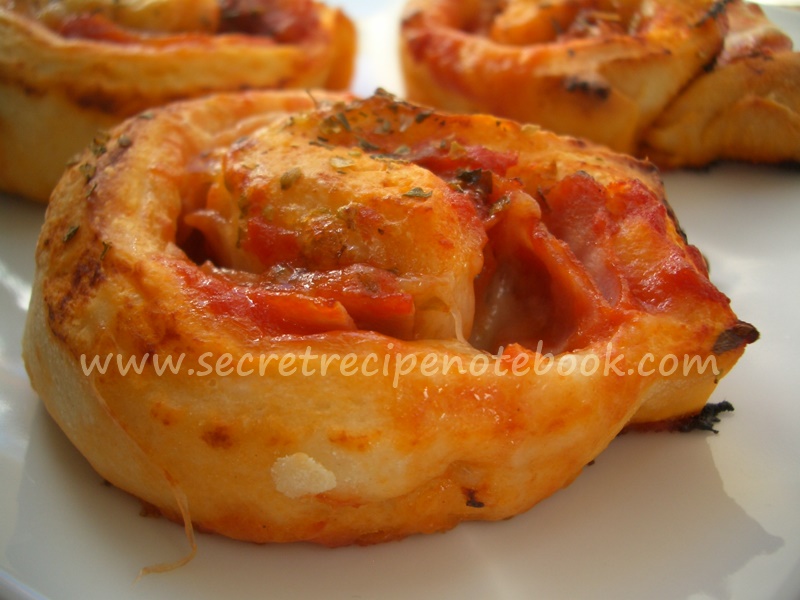 Like this recipe? Follow us on Pinterest for more recipes like this one! And don't forget to pin this recipe for later by clicking on one of the images above. 
ham Mozzarella pizza rolls
MAKES: 12 pizza rolls
COOKS IN: 30 minutes plus rising time
LEVEL: Moderate
KITCHEN ESSENTIALS FOR THIS RECIPE:
Quality Kitchen Products
-
Shop here!
INGREDIENTS
For the dough
240g (2 cup

s)

00 flour

or bre

ad flour
1/2 teaspoon

salt

30ml (2 tablespoons) 

olive oil

10g

fresh yeast

1/2 teaspoon

sugar

150ml (1/2 cup + 2 tbsp) 

water

, lukewarm
For the filling
5 - 6 tablespoons tomato sauc

e

(

homemade

or store-bought)



100g

fresh mozzarella

100g

ham

, thinly sliced
2 tablespoons

dried oregano

olive oil

for brushing
METHOD
FOR THE FILLING, prepare

tomato sauce

if using homemade. Just follow our simple

recipe

to do this. grate or finely cut mozzarella cheese. The best wa

y to do this is to place the ball of mozzarella in the freezer for 15 minutes. Cut ham into thin stripes.



FOR THE DOUGH, crumble the fresh yeast into a small bowl or a mug, add 50ml water, 2 tablespoons of flour and 1/2 teaspoon sugar. Stir until combined and place in a warm place for 10 minutes until it becomes foamy.


Combine flour and salt in a large bowl, make a well in the middle then add olive oil and yeast mixture. Stir using a spoon while gradually add remaining water (100ml). Using hands stir until most of the flour is incorporated. Turn the dough onto lightly floured work surface and knead a dough for about 4-5 minutes until the dough is soft.


Place the dough into lightly oiled bowl, cover with a clean kitchen towel and allow to rise at room temperature until double in size. If your space is not warm enough, heat your oven to 150 C, turn it off and place the dough inside until risen.


Preheat the oven to 220°C (428°F) and line baking sheet with baking paper.



Dust a work surface with flour and roll out the pizza dough into 30x20 cm rectangle. If the dough start to spring back let it rest for a few minutes, then try again.


Spread tomato sauce over the dough, leaving about 2-3 cm border at the top and bottom. Sprinkle cutted mozzarella over the sauce and then ham. Sprinkle dried oregano all over.


Starting at the long end closest to you, roll up the dough tightly into a log. Cut the log with a serrated knife into 12 pieces. Brush each roll with olive oil on the top and sides. Use a flat spatula to transfer the rolls cut-side up to the baking tray, leaving some space between. Bake for about 20-25 minutes then let cool on the baking tray for a few minutes. 


Ham Mozzarella Pizza Rolls