Potato Crust Pizza with
Zucchini and Bacon
Potato pizza dough topped with melty mozzarella, slices of zucchini and crispy bacon makes a great light lunch or snack.
Dried oregano, sprinkled over the pizza, brings an earthy and sweet aroma to this delicious snack. Feel free to swap in whatever dried herbs and spices you've got to hand. A pinch of dried chilli flakes would be delicious, as would some chopped fresh rosemary leaves.

The great thing about this pizza is that there is no need to wait the dough to rise.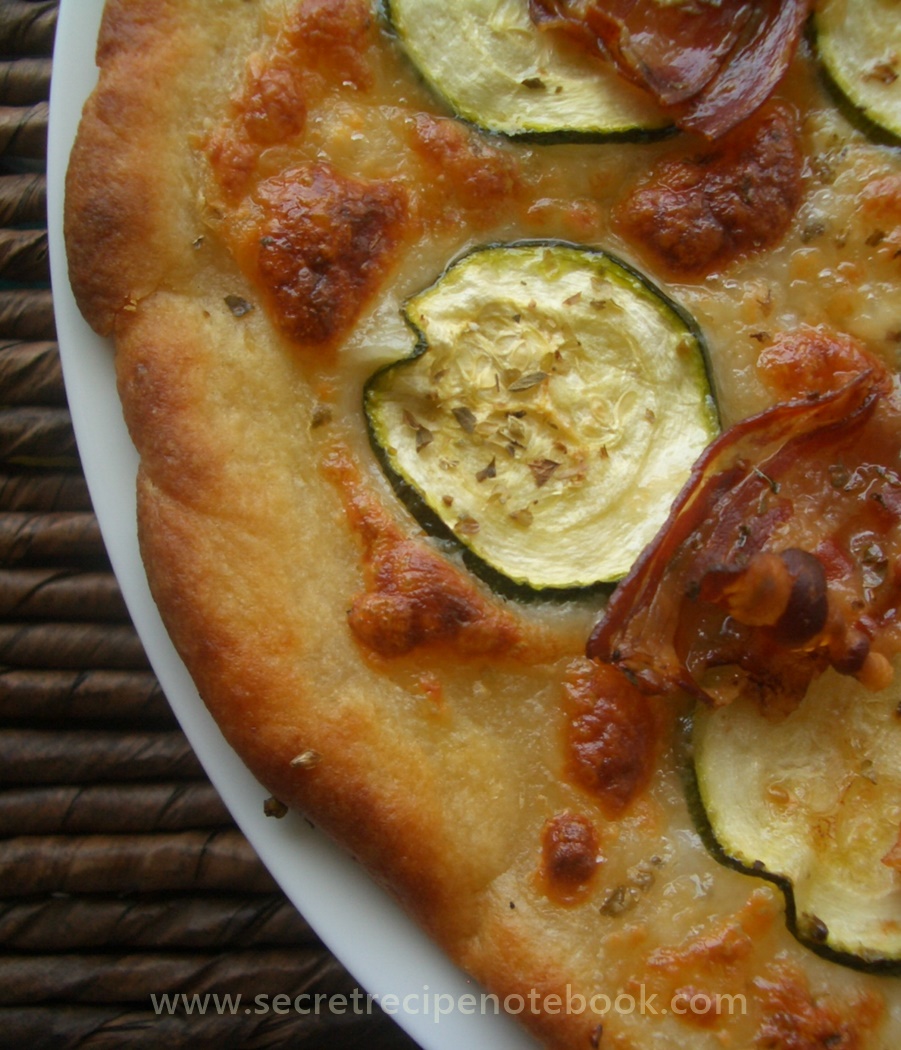 This webpage contains affiliate links. Please read our disclosure policy.

About potato pizza dough
This kind of pizza dough originates from southern Italy where they use mashed potatoes to make tender and delicious pizza dough. For this dough you should use yellow starchy potatoes for a creamy and smooth mash.

No need to rise, just knead the dough with mashed potatoes, plain flour and some baking powder and you will get soft, light pizza dough that can be topped with topping of your choice.

Add your favourite fresh or dried herbs, grated cheese or even grated carrot to make this dough extra delicious.


More tasty snacks
you'll want to try:
How to make potato crust
Making this light pizza dough is fairly easy once you have ready POTATOES, PLAIN FLOUR, BUTTER, BAKING POWDER and some SALT.

Cut peeled potatoes into chunks and cook in the water until tender. Mash using a potato masher and transfer to a floured work surface. Add butter and leave to cool slightly. Sprinkle with flour and baking powder and season with salt. Knead until you get a soft pliable dough.


This potato dough is very tricky to handle before cooked, so it's easier to roll it out directly on the baking sheet or pizza pan. Grease lightly baking sheet, then roll using a rolling pin. Form a large circle using your fingers.


What you'll need for pizza topping
For the topping you will need ZUCCHINI, MOZZARELLA and slices of SMOKED BACON. Prepare zucchini by slicing into thin slices using mandolin slicer.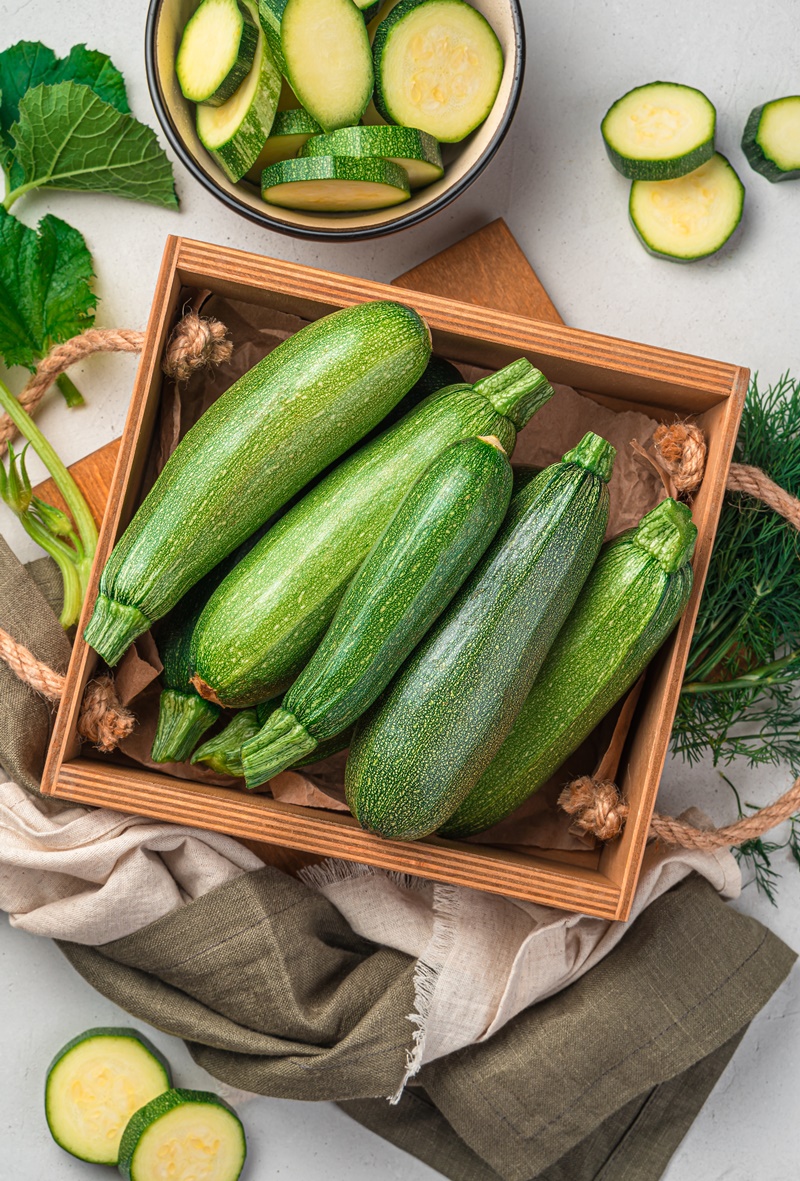 We love to use MOZZARELLA BALL like they use on real Italian pizzas. First squeeze to remove excess liquids, then tap with kitchen towel, usually cut into small pieces on a wooden board. Cut slices of bacon into smaller pieces. We also use dried oregano and olive oil.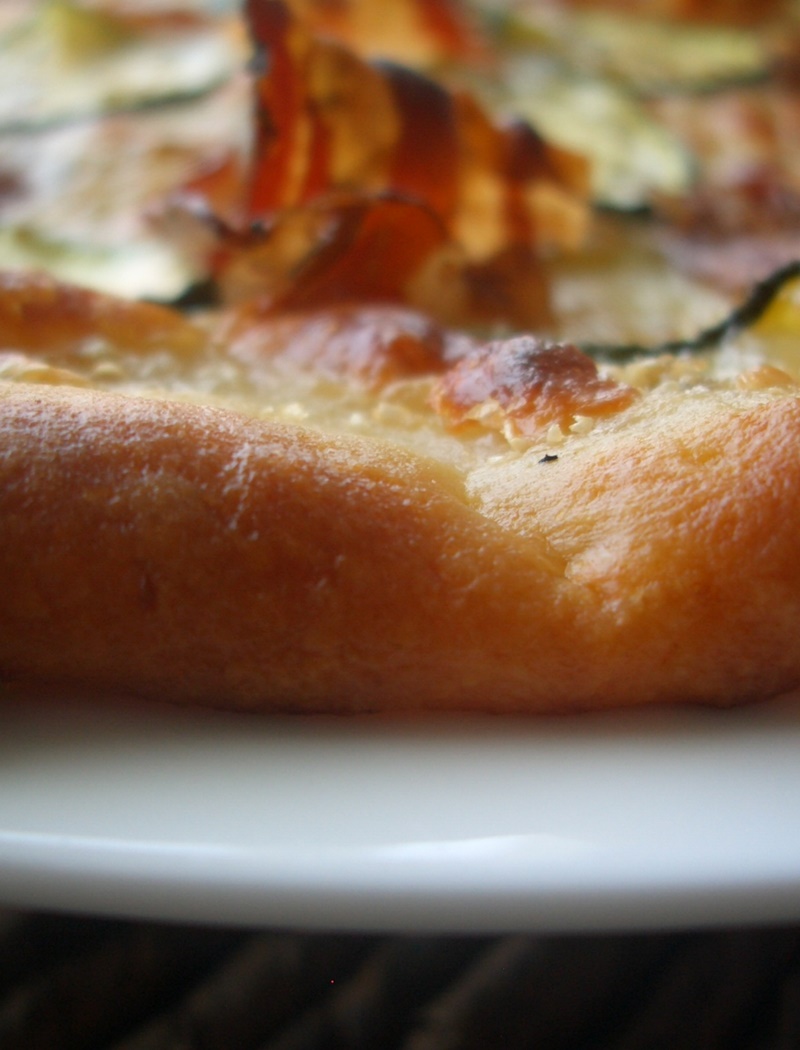 A few of our popular snack recipes:
Potato Crust Pizza with Zucchini and Bacon
MAKES: 1 pizza (25cm in diameter)
COOKS IN: 1 hour 10 minutes
LEVEL: Moderate
Handy equipment:
INGREDIENTS
For potato base dough
300g floury potatoes
120g plain flour (1 cup)
70g butter (5 tbsp), cold and cubed
1/2 teaspoon baking powder
1/2 teaspoon salt
For the topping
1 medium zucchini
110g mozzarella ball (4 ounces)
85g sliced bacon (3 ounces)
2 tablespoons dried oregano
olive oil, for drizzling
METHOD
F

OR THE POTATO CRUST

, peel the potatoes and cut into chunks. Place in a medium saucepan of cold water and put to the boil. Lower the heat and simmer uncovered for about 20 minutes or until the fork can be easily inserted into a potato.


Drain the potatoes and mash them using potato masher or potato ricer. Transfer the potatoes onto dusted work surface. Stir in butter and leave for 2-3 minutes. 


Sift together flour and baking powder then gradually add to the potatoes. Season with salt and form quickly a soft compact dough. Don't knead too much, just until the flour is incorporated.


Preheat the oven to 200°C (392°F).


FOR THE TOPPING, slice zucchini into 1mm thick slices using a mandolin slicer or a sharp knife. Squeeze mozzarella ball, cut into chunks. Cut bacon into small pieces.


Lightly grease baking sheet and roll the dough directly on the sheet using a rolling pin to a circle (25cm in diameter). Push up the edges all around to form a ridge before adding the topping.


Top the pizza base with mozzarella, zucchini and bacon. Sprinkle with dry oregano and drizzle with some olive oil.


Bake pizza base for about 15 minutes, then lover the heat to 175°C (347°F) and bake for another 15 minutes. The crust should be golden brown and the top begun to crisp. Serve immediately!


CATEGORIES: Bread & Pizza, Snacks & Nibbles,
Italian Inspired, Zucchini
We are a participant in the Amazon Services LLC Associates Program, an affiliate advertising program designed to provide a means for us to earn fees by linking to Amazon.com and affiliated sites.