You are going to love these thin and crispy flatbread crackers scented with fresh rosemary. They are so easy to make! No rising needed!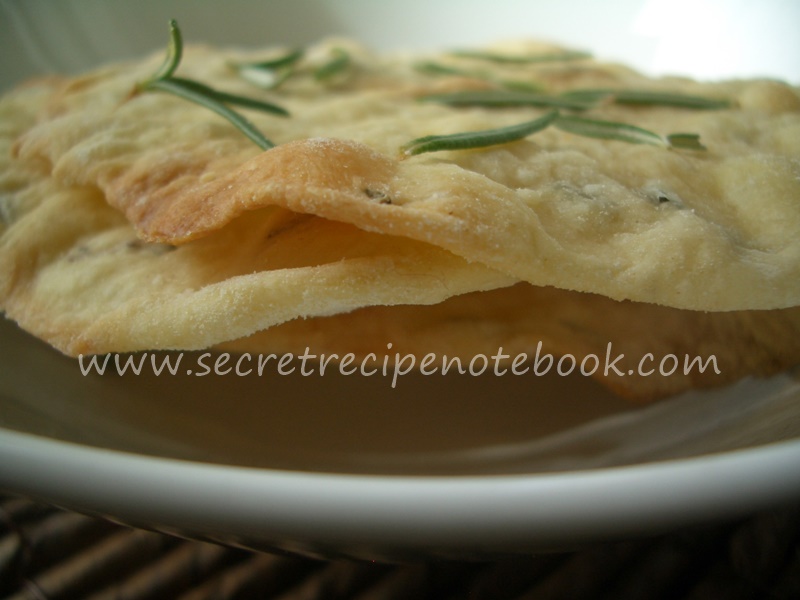 You will be amazed how easy these crispy rosemary flatbread crackers can be made. Seven simple ingredients are all you will need to make them. There is no yeast and no rising needed. These crackers are flavoured with fresh rosemary and just right amount of freshly ground black pepper.

Make these crackers and serve them with a platter of cheese and prosciutto or your favourite dip. Or just nibble them throughout the day. If you love fresh rosemary flavour, try also our multigrain rosemary crackers.


try also these tasty recipes:
how to make rosemary flatbread crackers
For these rosemary flatbread crackers you will need just one bowl. Combine flour, fresh rosemary leaves, pepper, salt and sugar in one bow. Pour olive oil and water and stir until everything incorporated.

Divide the dough into 10 pieces and roll each piece thinly. Keep your work surface and rolling pin dusted so the dough don't stick and break. Brush each cracker with olive oil and bake in the oven for about 8 - 10 minutes until slightly brown. Your crackers are ready and you can enjoy them alone or dip in your favourite dip.


best selling kitchen tools & gadgets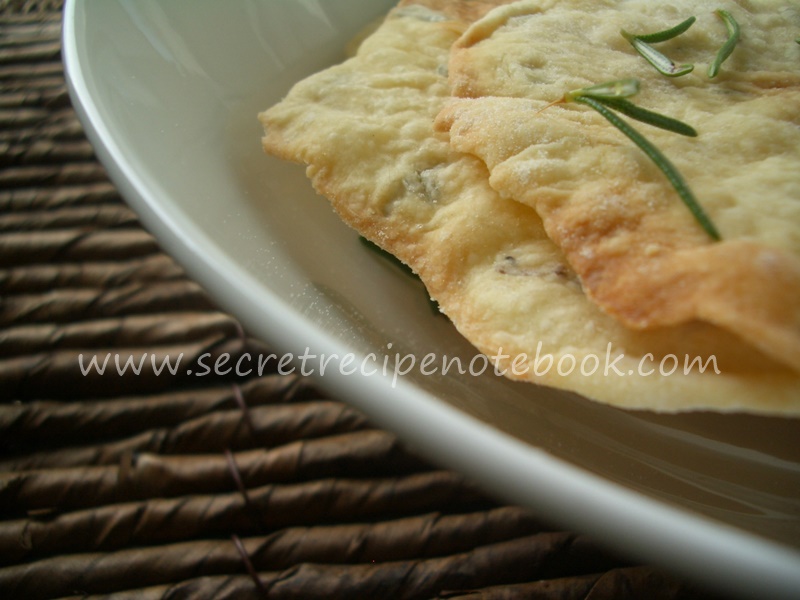 serving and storing rosemary flatbread crackers
These crackers can be made 2 days ahead and cooled completely, then kept in an airtight container at room temperature.


Looking for more snacks to try?
For more snack inspiration, take a look at our collection of snack recipes. Also check out our selection of other tempting bread & pizza recipes, too.

Shop kitchen essentials for this recipe
Digital Kitchen Scale | Mixing Bowl | Measuring Spoons | Wooden Cutting Board | Kitchen Knife | Pastry Mat | Rolling Pin | Baking Tray | Baking Paper Sheets
Rosemary Flatbread Crackers
MAKES: 20 large crackers
COOKS IN: 30 minutes
LEVEL: Easy
INGREDIENTS
180g (1 1/2 cup) plain flour
1 teaspoon salt
1/4 teaspoon ground black pepper
1 teaspoon sugar
4 tablespoons finely chopped fresh rosemary
30ml (2 tablespoons) olive oil
95ml (1/3 cup + 1 tbsp) water, cold
METHOD
Preheat the oven to 220°C (428°F), and line the baking tray with baking paper. You will have to bake these crackers in several batches.


Combine together the flour, chopped rosemary leaves, pepper, salt and sugar in a medium bowl.


Make a well in the centre of flours and add the water and olive oil then gradually stir until a dough forms. Let the dough rest for about 10 minutes.


Divide the dough into 10 - 12 pieces (size of walnut) and roll each piece as thin as possible. The secret of rolling this thin is to keep your rolling pin and work surface well floured, otherwise the dough will stick to the surface. You will need bake in two batches.


Transfer rolled dough pieces to prepared baking tray and bake for 8 - 10 minutes, but check periodically to make sure it's not getting too brown. Bake until pale golden and browned in spots. Turn the oven off and let the crackers sit in the oven for 1 hour to really dry out and get crispy.