Everyone loves these crispy vegan crackers made with healthy flours and packed with fresh rosemary leaves. This recipe makes 80 crackers in only 30 minutes.
When you manage to make your ideal healthy snack with a little effort that has way more taste then bought ones, you'll never go back to buying crackers again!

These multigrain vegan crackers are crispy, nutty and so easy to make. You don't need any special equipment, just one bowl, rolling pin and pastry wheel to make these healthy snacks with fresh rosemary twist.

Perfect for nibbling on their own, serving with your favourite dip or cheese and prosciutto. We just love snacking them at any time of the day.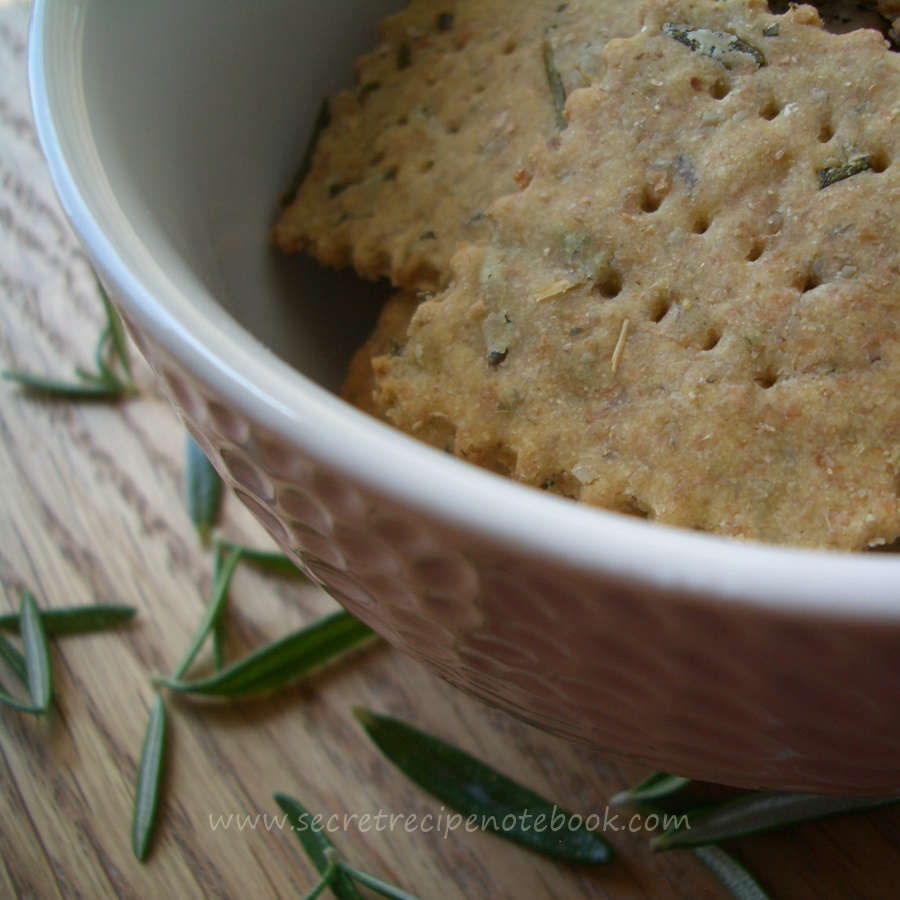 try also these tasty recipes:
what makes Multigrain Rosemary crackers so special
These crackers are made of an interesting combination of healthy flours which makes them both healthy and extra delicious. Choose either WHOLE WHEAT FLOUR or WHOLE GRAIN SPELT FLOUR then add CORN FLOUR (flour that's milled from dried corn kernels, not cornstarch), BUCKWHEAT and OAT flours.

Don't forget to add ground toasted SUNFLOWER SEEDS, which add some nuttiness to the crackers. For aromatic herb flavour add a whole bunch of FRESH ROSEMARY LEAVES - finely chopped on a cutting board. You can also pulse the leaves in a mini food processor or coffee grinder is you want a quick solution.
We love to use whole grain flours in our cracker recipes, like in recipes for whole grain sesame chia crackers or crispy whole grain crackers. Try also them!


how to make crispy vegan crackers
Making these crispy crackers is so simple. You will need only one bowl to combine all ingredients and knead the dough. First mix together flours, ground sunflower seeds, salt and fresh chopped rosemary. In one jug, mix olive oil and water then pour this into flours and knead a compact dough. Leave aside to rest for 10 minutes.

Now, roll the dough out on floured work surface thinly then cut into desired shapes. We used flutted pastry wheel to cut small 3x3cm squares but feel free to cut any other shapes. Transfer them to a baking tray and bake until they are slightly brown. Your multigrain rosemary crackers are ready to nibble!


Best Selling Kitchen Tools & Gadgets
extra rolling tip
Roll out the dough as thinly as possible - 1mm. This ensures even baking and crispness of the crackers. If they are not thin enough, they will be rather chewy than crispy.

The best way to do this is to roll out the dough on a floured baking paper or pastry mat, cut the crackers and using a thin metal spatula transfer the crackers to baking tray. 

A proper rolling pin helps a lot with rolling the dough evenly. It works best with a large rolling pin with rotating handles.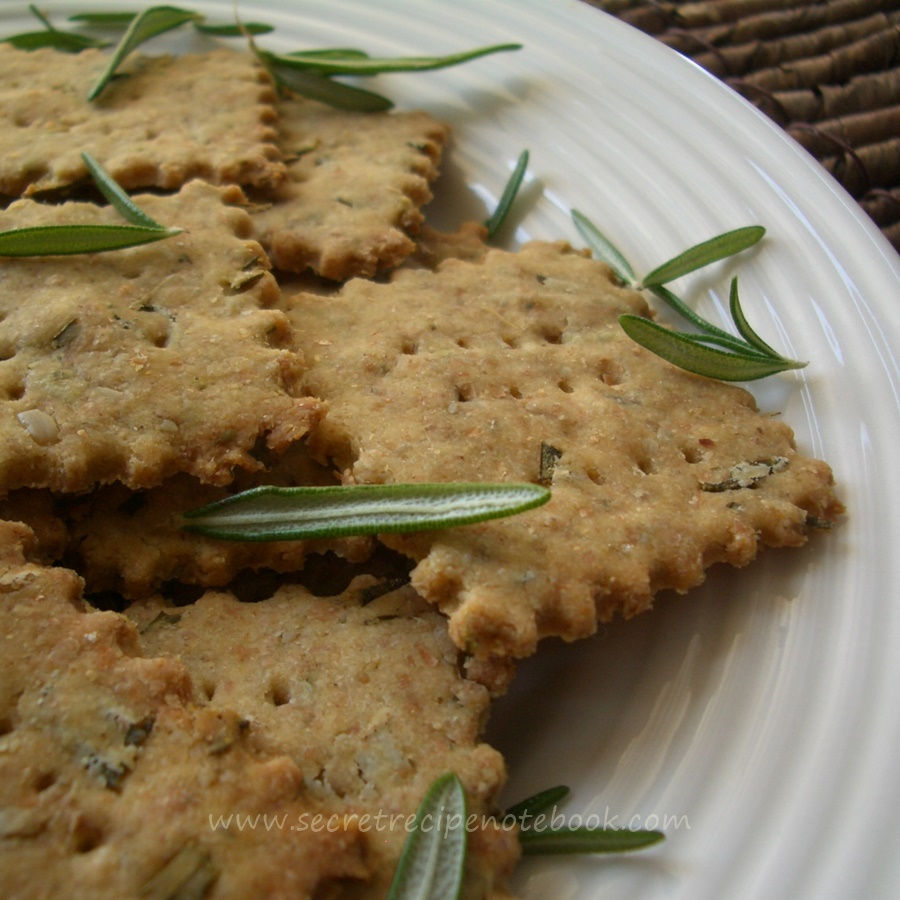 how to store Multigrain Rosemary crackers
If you happen to have any leftover of crackers and need to store them, allow them to cool fully. Place inside an airtight container and they will stay crispy up to 5 - 6 days. 


Looking for more snack recipes? Check out these recipes:
For more snack inspiration, take a look at our collection of snack recipes. Also check out our selection of other tempting bread & pizza recipes, too.

shop kitchen essentials for this recipe
Digital Kitchen Scale | Mixing Bowl | Wooden Cutting Board | Kitchen Knife | Pastry Mat | Rolling Pin | Flutted Pastry Wheel | Baking Tray | Baking Paper Sheets | Serving Bowl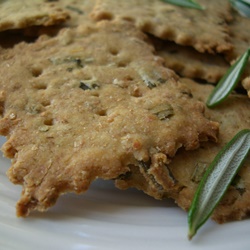 Multigrain Rosemary Crackers

MAKES: 80 small crackers
COOKS IN: 30 minutes plus resting time
LEVEL: Easy
INGREDIENTS
70g (1/2 cup) sunflower seeds
85g (3/4 cup) whole wheat or whole grain spelt flour
80g (2/3 cup) corn flour (flour that's milled from dried corn kernels)
50g (1/2 cup) oat flour
40g buckwheat flour
1/2 teaspoon baking powder
1 teaspoon salt
60ml (1/4 cup) olive oil
120ml (1/2 cup) water
5 - 6 tablespoons finely chopped rosemary leaves
METHOD
Preheat the oven to 160°C (320°F). Lay sunflower seed in a one layer on a baking tray lined with baking paper. Toast in the oven for 7 - 8 minutes or until they start to become lightly brown and fragrant, stirring occasionally. Take them from the oven, leave to cool then finely ground in a coffee grinder.


In a medium bowl combine all flours, ground sunflower seeds, fresh rosemary and salt.


Mix olive oil with water in a jug. Pour this into the dry ingredients and stir with a spoon until the dough start to come together.


Now knead the dough with your hands a few times, either in the bowl or on the work surface, until it comes together and is compact. Flatten into disk then wrap the dough in a cling film and place in the fridge for about 20 minutes.


Preheat the oven to 180°C (356°F). Line baking tray with baking paper. You will have to bake the crackers in batches.


Divide the dough into 2 pieces. Take one piece and roll out the dough with a rolling pin thinly - 1mm. Using a fluted pastry wheel, pizza cutter or a sharp knife, cut the dough into small squares 3x3cm. You will get 80 small square crackers. 


Transfer squares onto prepared baking tray, prick each with a fork several times and bake in the oven for about 6 - 7 minutes or until crisp and golden brown around edges. Remove from the oven and leave to cool crackers completely. Serve or transfer to airtight container.