Made from only 5 ingredients, these cheesy garlic bread slices are ideal snack or side dish. A baguette topped with garlicky butter and topped with lots of mozzarella cheese. Less than 15 minutes bake time.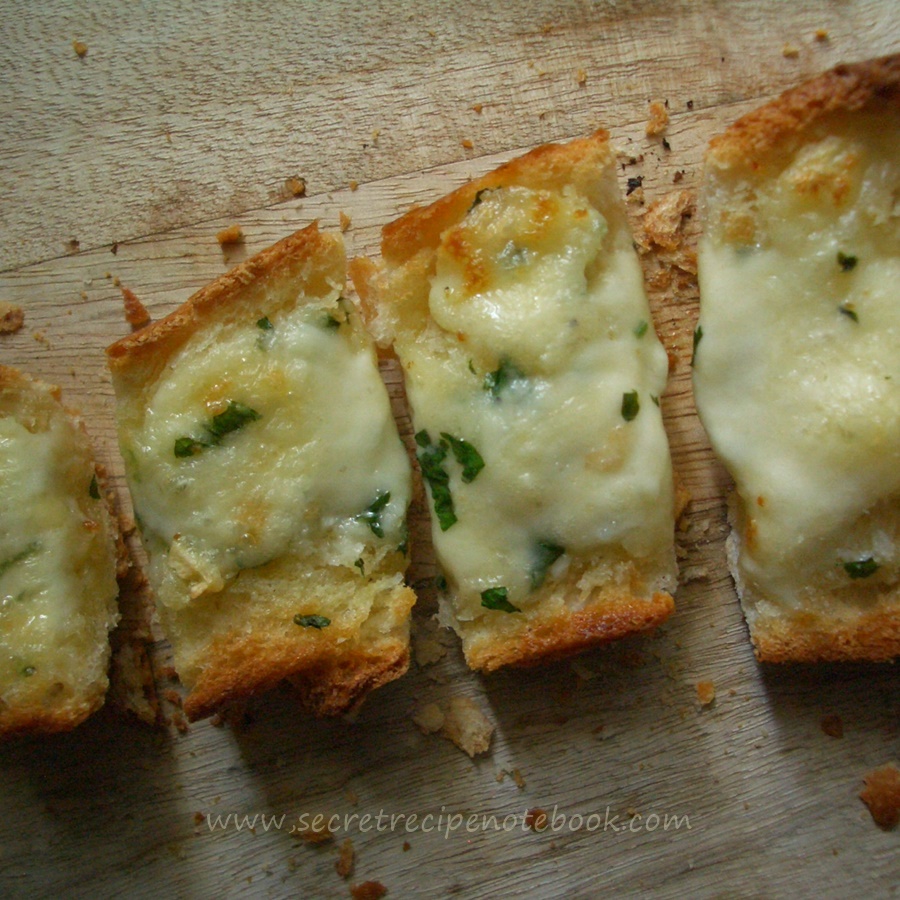 These cheesy garlic bread is covered with garlic butter and melty mozzarella cheese. Baked until cheese is melted and all flavoured are combined - it turns into simple but delicious snack or side dish. Enjoy these crusty snacks on their own or serve along soup, steak or green salade. For this recipe you will need only 30 minutes time - ideal for quick and delicious meal.
And if you make and freeze a few garlic bread slices ahead of time, you can have this cheesy snack at your disposal all the time.
These garlic bread slices are crusty on outside and have buttery interior.
This garlic bread would make a great starter or side dish along pizza. This garlic bread once prepare can be frozen then baked once you like to enjoy it. It only require 20 minutes from start to finish.


We love this bread served with a tomato based dipping sauce like marinara or pizza sauce. It almost tastes like pizza, but with plenty of garlic flavor. We also serve Cheesy Garlic Bread with our Pasta e Fagioli Soup, Ricotta and Spinach Pasta Bake, this company-worthy Lasagna casserole and even these homemade Italian Meatballs with spaghetti.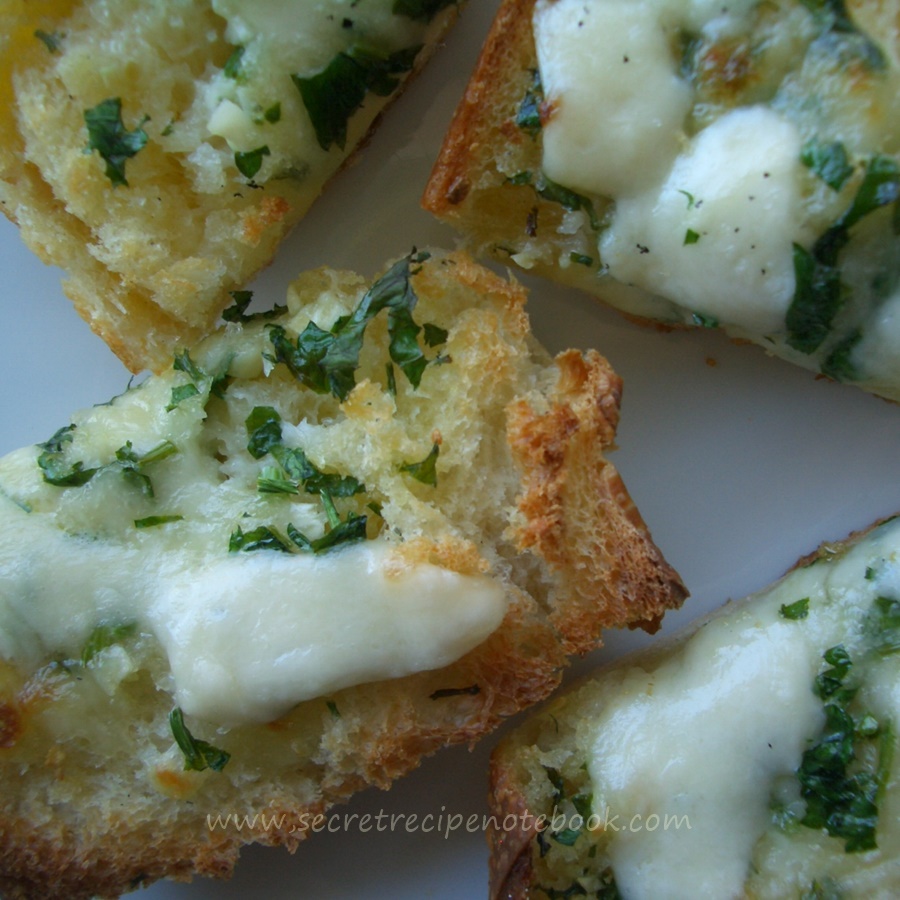 what you'll need for cheesy garlic bread
This recipe calls for only several ingredients - you will need one BAGUETTE which is a French type of bread, softened BUTTER, GARLIC, fresh PARSLEY and fresh MOZZARELLA. 

This recipe can be made with French baguettes as well as with rustic sourdoughs and Italian bread. First leave the butter at room temperature for 20 minutes to soften, so you can easily spread on the bread. For the spread you will need softened butter, minced garlic, fresh parsley and salt and pepper for seasoning. That's all!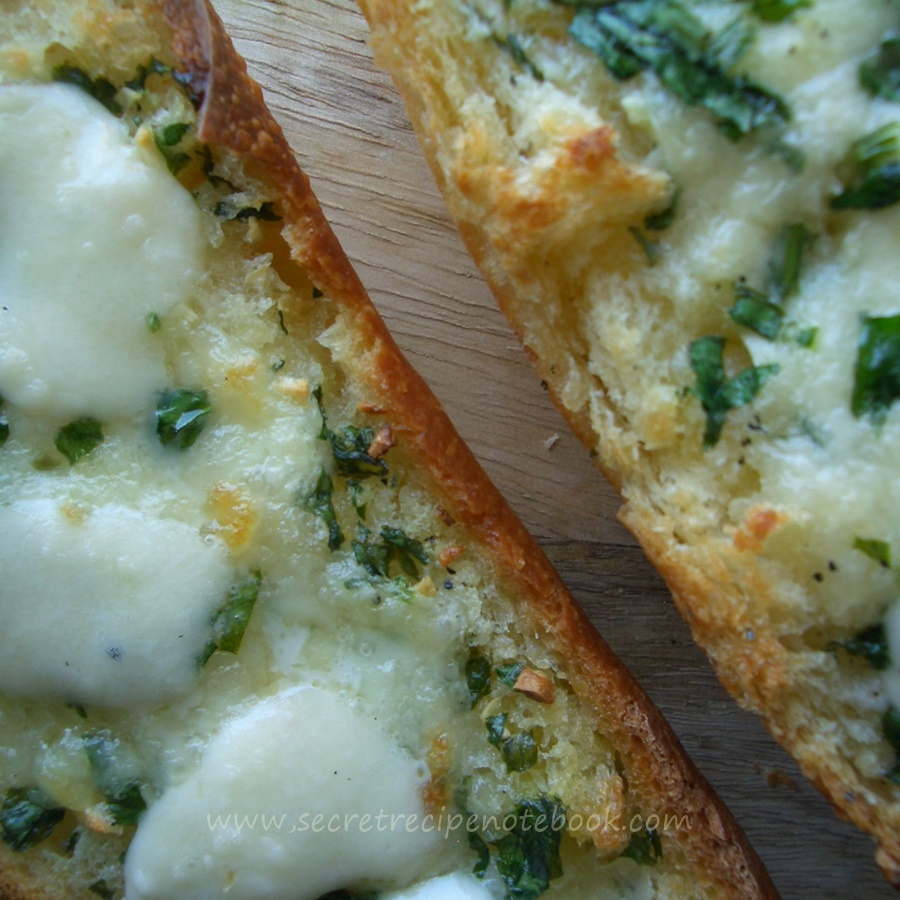 how to make cheesy garlic bread
Stir together softened butter with minced garlic, chopped parsley and season with some salt and pepper. 
Cut baguette lenghtwise using a bread knife, then cut into half again so you can easier to handle. Spread the butter on the top and sprinkle with generous amount of mozzarella cheese. Bake in the oven until the crust is brown and cheese is melted. You cheesy garlic bread is ready! Enjoy it while still hot - it's the best.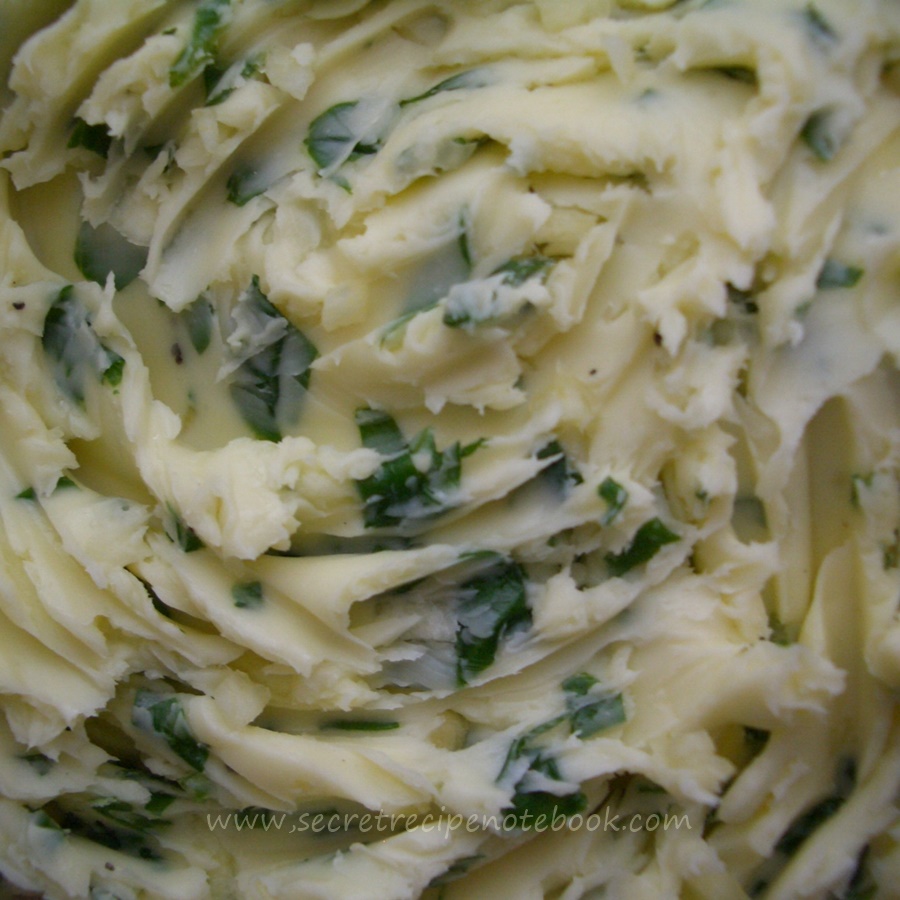 making ahead cheesy garlic bread
These garlic bread snacks are ideal for making ahead, so you have ready them at any time. Prepare everything, slice the baguette, spread with garlic butter and top with mozzarella. Then place in the freezer for 20 minutes then wrap in the foil and seal in freezer bag for up to 3 months.

Once you want to serve, bake them straight from the freezer in the oven at 200 C for 20 minutes or until the cheese is warm and melted.


The butter can be made ahead and kept up to 1 week in the fridge or 3 months in the freezer. Make the garlic bread and keep in the fridge for 1 day or the freezer for 1 month.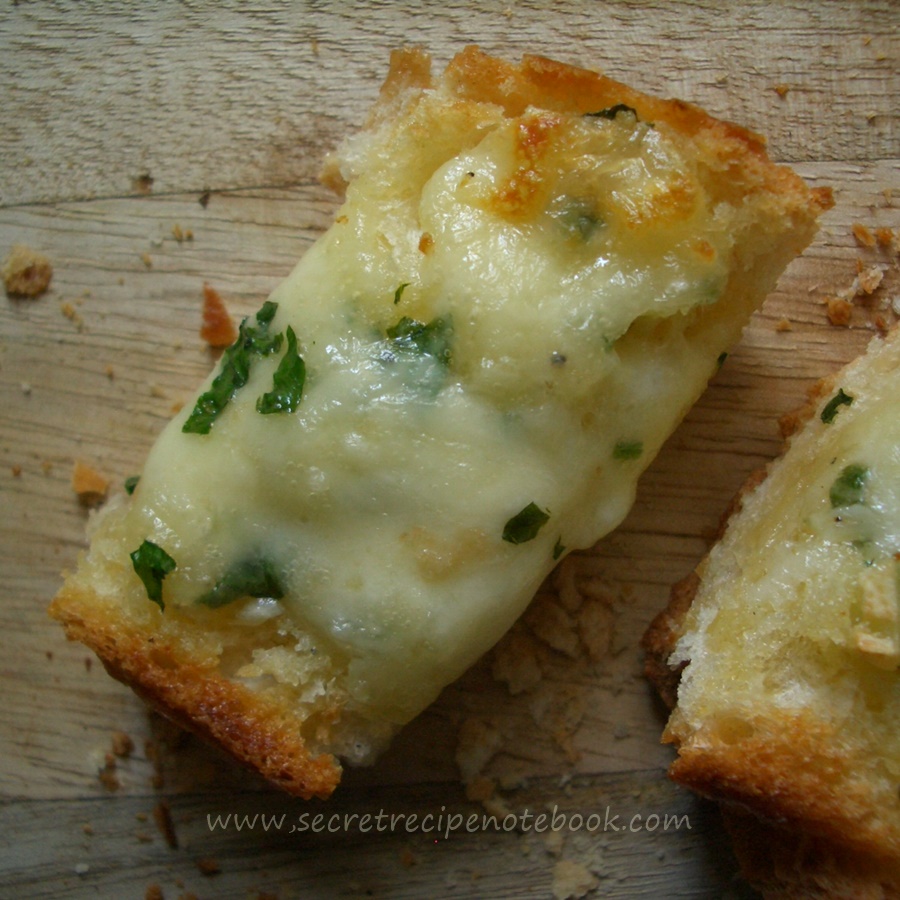 looking for more snack recipes?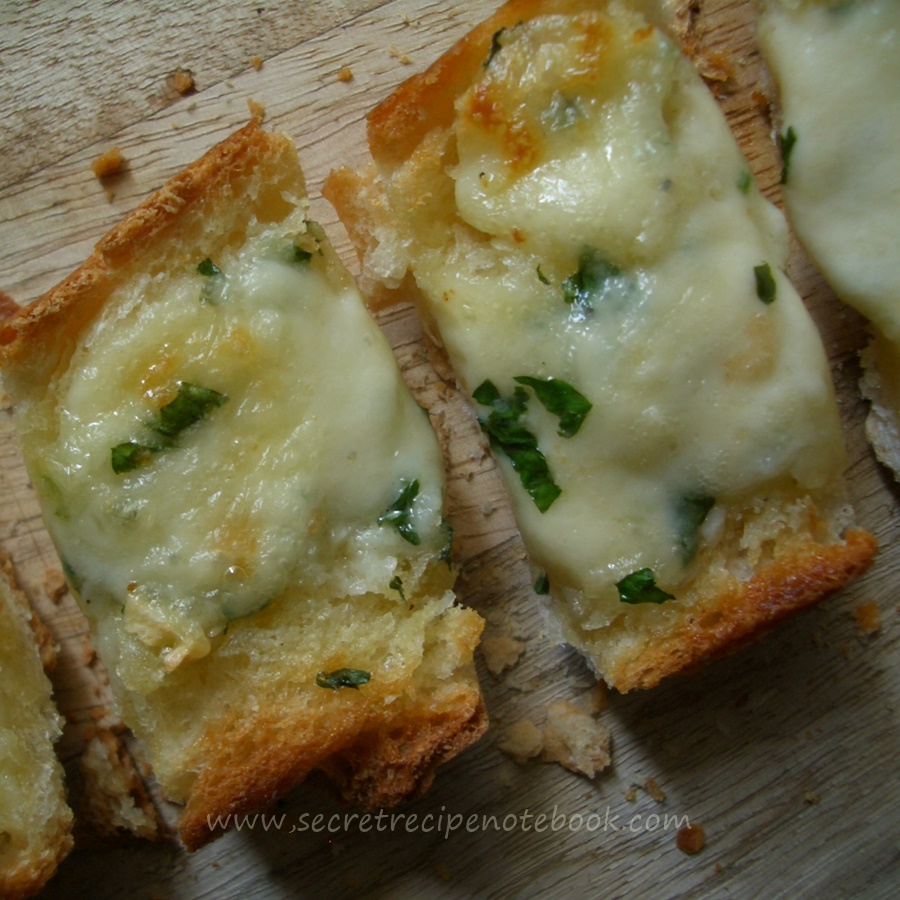 shop kitchen essentials for this recipe
Digital Kitchen Scale | Cutting Board | Bread Knife | Kitchen Knife | Small Bowl | Baking Tray | Baking Paper Sheets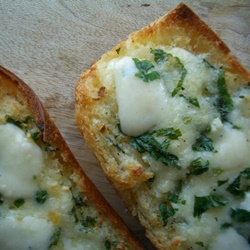 cheesy garlic bread

SERVES: 1 loaf
COOKS IN: 25 minutes
LEVEL: Super easy
INGREDIENTS
1

French baguette

100g (7 tablespoons)

 butter

, softened to room temperature
1 - 2

garlic cloves

, minced

salt &

freshly ground

black pepper

2 tablespoons finely chopped

fresh parsley

2 mozzarella balls (around 200 - 220g)
METHOD
Preheat the oven to 200°C (392°F). Line the baking tray with baking paper.


In a small bowl, stir together butter, garlic and parsley. Season with a little salt and black pepper. Set aside while you cut the baguette.

Cut the baguette into 3, then slice each piece lengthways to create 6 slices. Place them on a baking tray.


Evenly spoon the garlic butter mixture over baguette slices right to the edges. Top with mozzarella cheese.


Bake in the preheated oven for 12 - 14 minutes or until crisp and golden. Serve while still hot.