Sesame Buttermilk Crackers
You will love our crisp crackers made with a mix of flours and buttermilk and topped with aromatic sesame seeds. We love to eat these crackers with some salmon pâté on the top, but you can pair it with any dip you wish.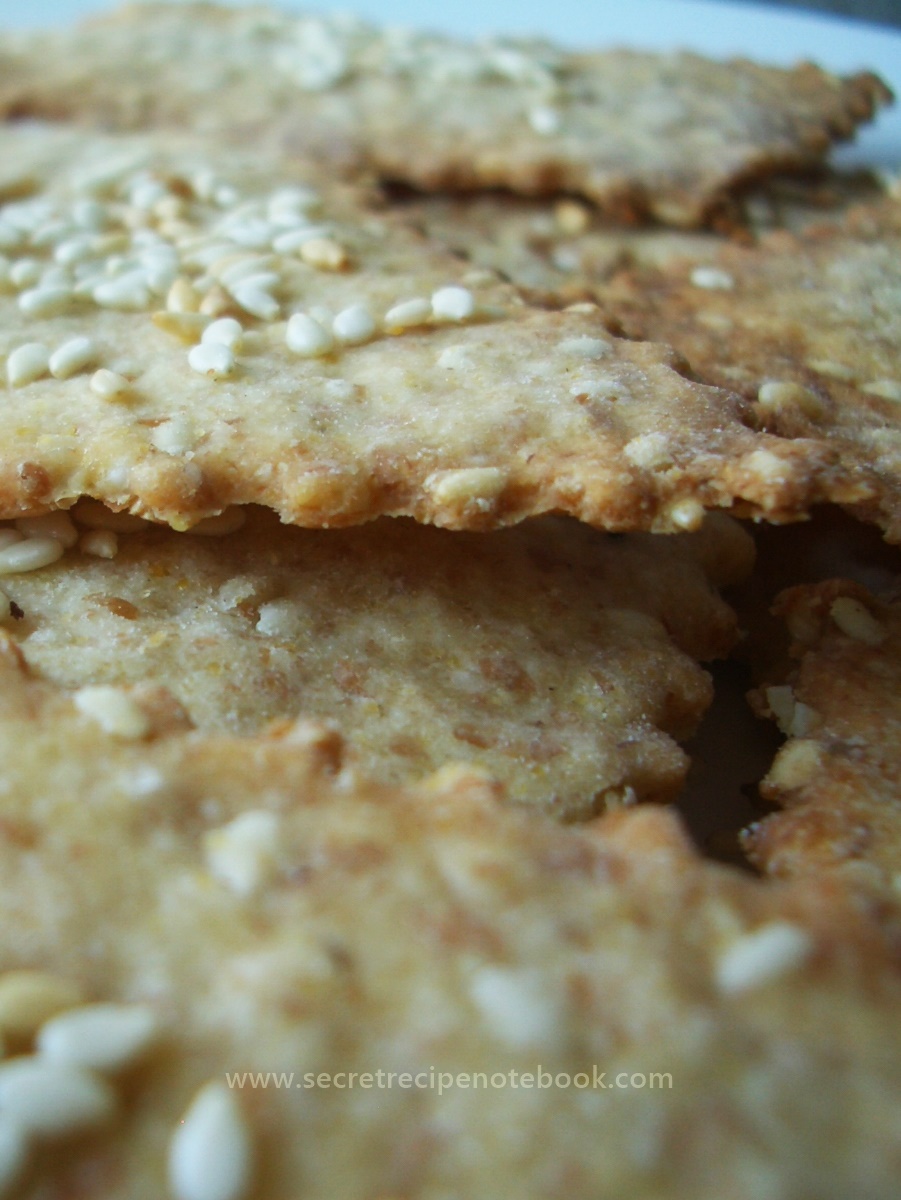 This webpage contains affiliate links. Please read our disclosure policy.

Why our sesame buttermilk crackers are so special
Making a dough for sesame buttermilk crackers, couldn't be easier. Just combine all ingredients in one bowl, roll out the dough, sprinkle with sesame seeds, cut into desired shapes and bake quickly in the oven.


Thanks to the combination of flours - plain, whole grain spelt and corn, gives crispy texture which is ideal for crackers. They are loaded with sesame seeds giving amazing nutty flavour. Thanks to the buttermilk, the dough has true buttery texture and flavour - the are like savoury cookies.

Instead of sesame seeds, you can use toasted cumin seeds, coarsely crushed coriander, a bit of chili powder or red pepper pack some punch.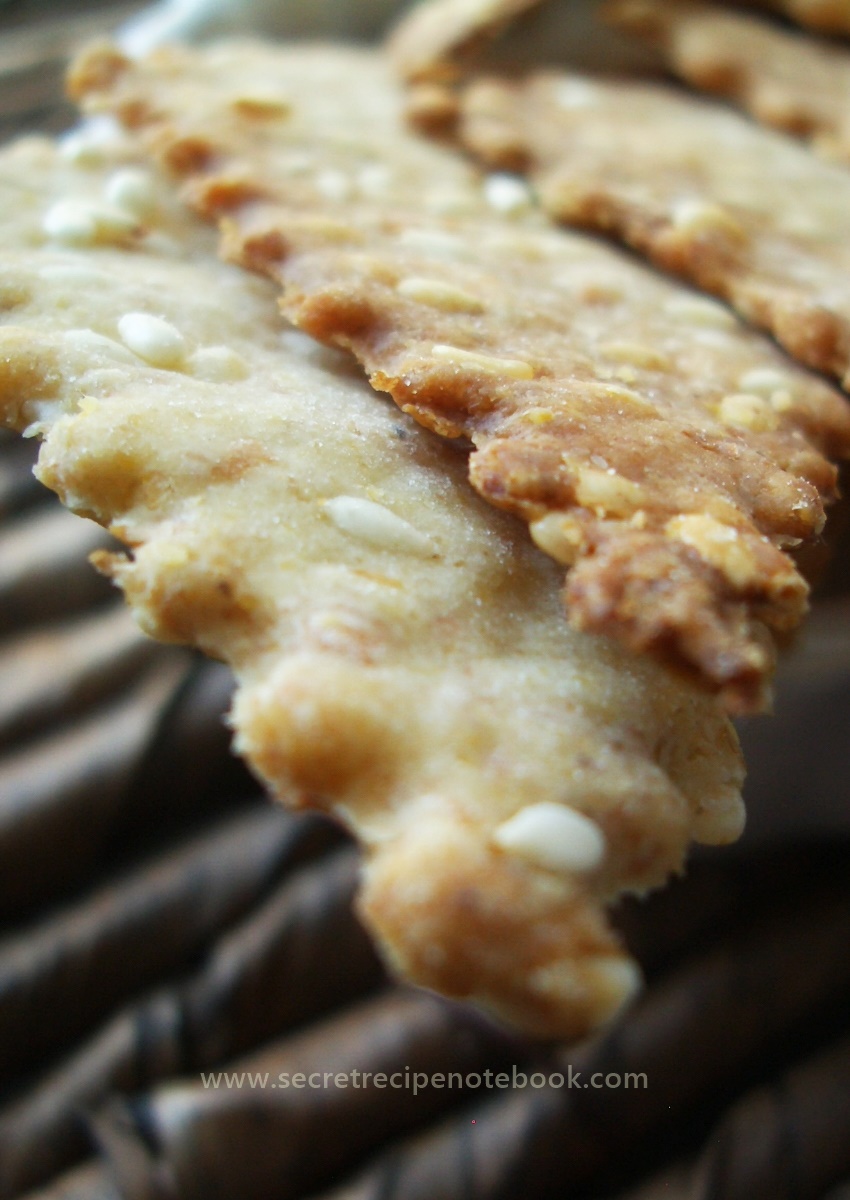 More tasty recipes
you will love:
How to make sesame buttermilk crackers
MAKING THE DOUGH: For these crackers you will need only 1 bowl in which you first combine plain, spelt and corn flours, baking powder, sesame seeds and salt. These combination of flours gives delicious flavour and crisp texture while sesame seeds adds a special kick. Add olive oil and buttermilk in the flours and using a spoon incorporate everything together. The dough should be compact and not so soft. 


SHAPING THE CRACKERS: Once you dust work surface and rolling pin, roll out the dough as thin as possible. This will make them crisp and delicious. If they are not thin enough, they will be rather chewy than crispy. Cut the dough using a fluted pastry wheel or a sharp knife into desired shapes. We like rhomboids shape for crackers which is easily done by cutting the dough into 3cm wide stripes and then into small rhomboid crackers.


BAKING THE CRACKERS: Bake in the preheated oven for about 6 - 8 minutes, but watch closely as they burnt easily. Crackers should be slightly brown in the edges and crispy. Let them cool off completely, then put them in airtight container. This way they should stay crispy and delicious for days!


Storing sesame buttermilk crackers
The crackers can be stored in an airtight container at room temperature for up to 5-6 days.  If your crackers become less crispy, arrange them on a baking tray and put in the oven to 175 C for a few minutes to re-crisp. These crackers will look great served in cute porcelain bowls on your dinner party.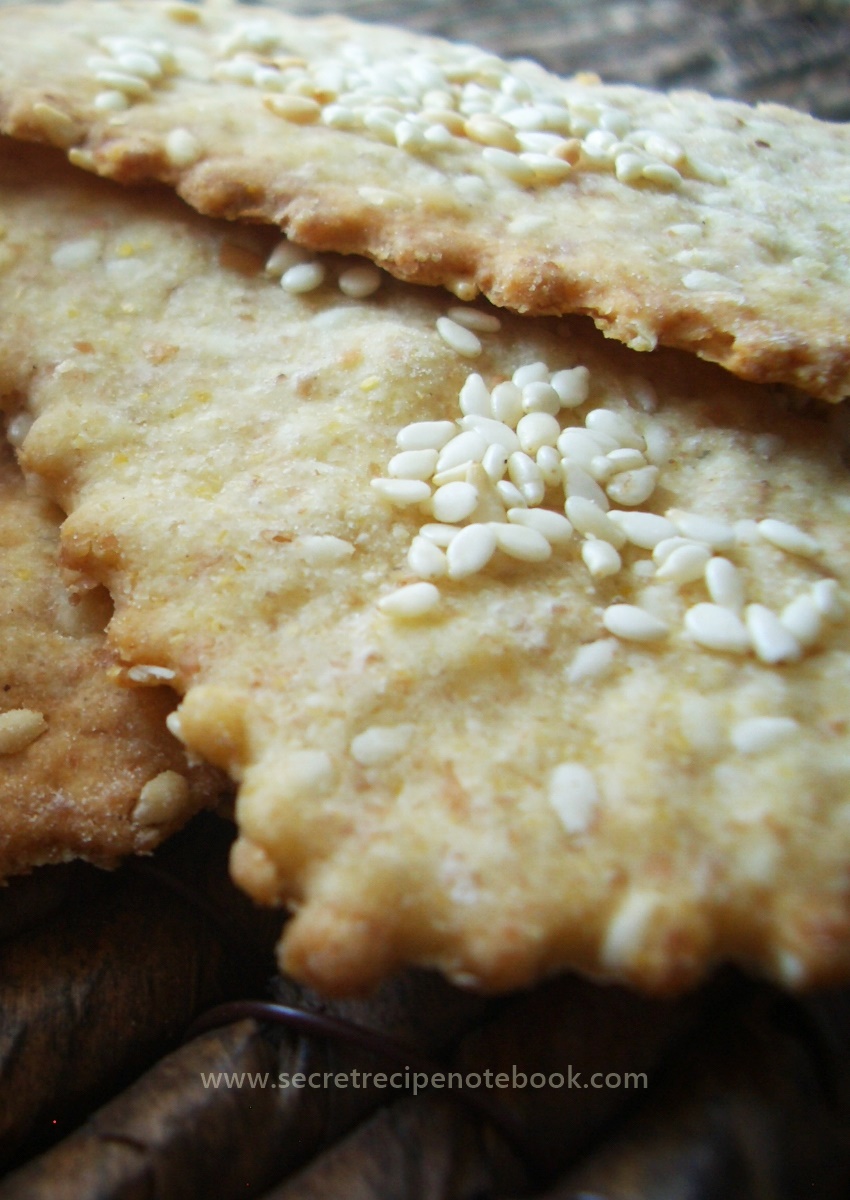 A few of our favourite snack recipes:
Sesame Buttermilk Crackers
MAKES: 35 crackers
COOKS IN: 30 minutes
LEVEL: Easy
HANDY KITCHEN TOOLS:
INGREDIENTS
40g

plain flour 

(1/3 cup)
40g whole spelt flour (1/3 cup)
30g corn flour (yellow flour that's milled from dried corn kernels) (1/4 cup)
1/4 teaspoon

baking powder

1/4 teaspoon

salt

30ml olive oil (2 tablespoons)
60ml

buttermilk 

(1/4 cup)
1

egg white

35g sesame seeds (1/4 cup)
METHOD
Preheat the oven to 175°C/347°F. Line the baking sheet with baking paper.


Combine the plain, spelt and corn fours, baking powder, sesame seeds and salt in a large bowl. 



Make a well in the centre of flours and add the olive oil and buttermilk. Stir, gradually incorporating the flour into the wet ingredients, until it forms a compact dough. Add additional buttermilk if it is too dry.




Turn the dough onto lightly floured work surface and knead for about 30 seconds. Set aside to rest for about 15 minutes.


Lightly flour the work surface and rolling pin. Roll the dough until paper thin, turning the dough as you roll to prevent sticking. Use a fluted pastry wheal or a sharp knife to cut the dough into desired shapes. 


Place the crackers on prepared baking sheet and prick each cracker with a fork 2-3 times. Brush each cracker with egg white and sprinkle generously with sesame seeds.


Bake in the oven for 6-8 minutes or until the edges of crackers turn brown and crackers are crisp, rotating the pans midway through baking. Watch carefully as crackers burn easily. Let cool on the sheet and store in an airtight container.


CATEGORIES: Snacks & Nibbles, Buttermilk
We are a participant in the Amazon Services LLC Associates Program, an affiliate advertising program designed to provide a means for us to earn fees by linking to Amazon.com and affiliated sites.