HOME > DESSERTS > PASTRIES & TARTS
Pumpkin and Walnut Filo Pastry Roll
Super simple fall dessert made up of layers of filo pastry wrapped around a filling of pumpkin purée and walnuts scented with cardamom (or cinnamon) and orange.
This recipe is done in less than an hour, once you have ready pumpkin purée in your fridge.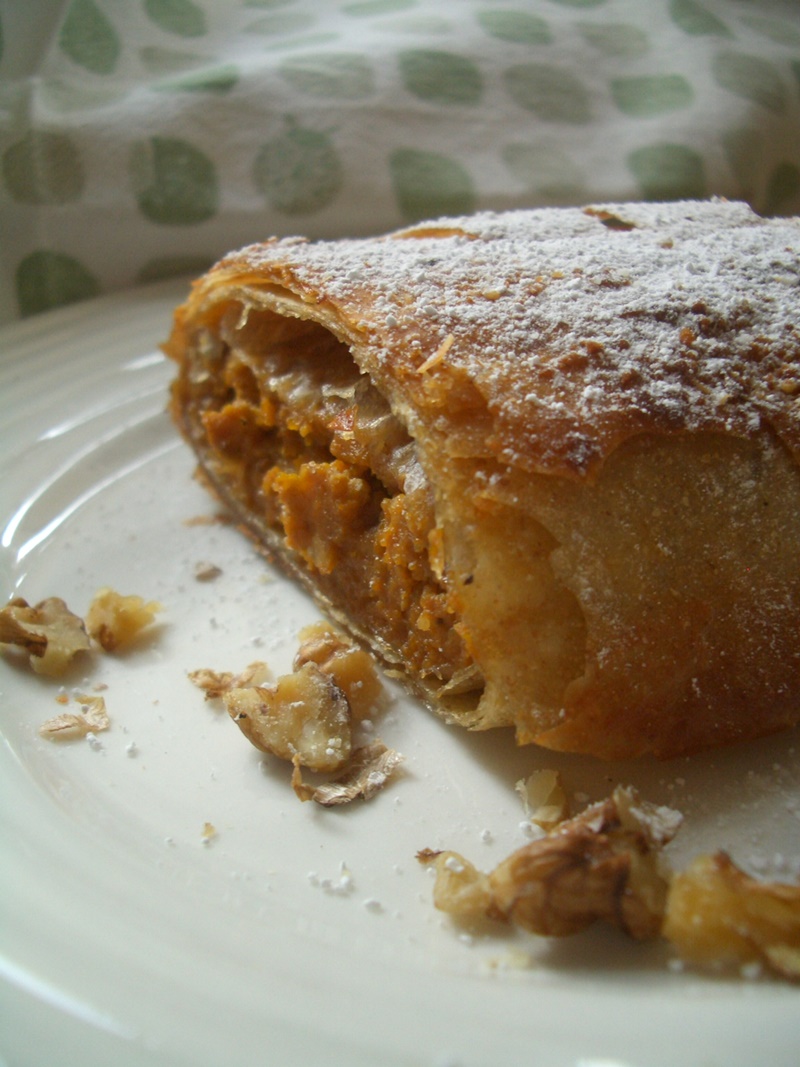 More recipes
you'll love:
What you'll need for the filling
The first step of making this roll is to prepare the filling. Filling is rich and flavourful thanks to quality ingredients this recipe uses.

Beside the pumpkin purée (made by roasting in the oven) you'll need also ground toasted walnuts (toast in the oven for 4-5 minutes then ground). Prepare also brown sugar, an egg, a few tablespoons of sour cream, ground cardamom or cinnamon (nice touch), freshly grated lemon or orange zest (adds refreshing note) and some vanilla extract.


The best way to prepare pumpkin purée
The pumpkin purée comes in handy for all kinds of pumpkin recipes, including pumpkin cookies, breakfast crêpes or snacks such as our pumpkin and ham croquettes.
Use any pumpkin you have on hand (we love hokkaido pumpkin, which we love for its nutty taste and amazing orange colour; use sugar pumpkin, kabocha squash, butternut squash or any other).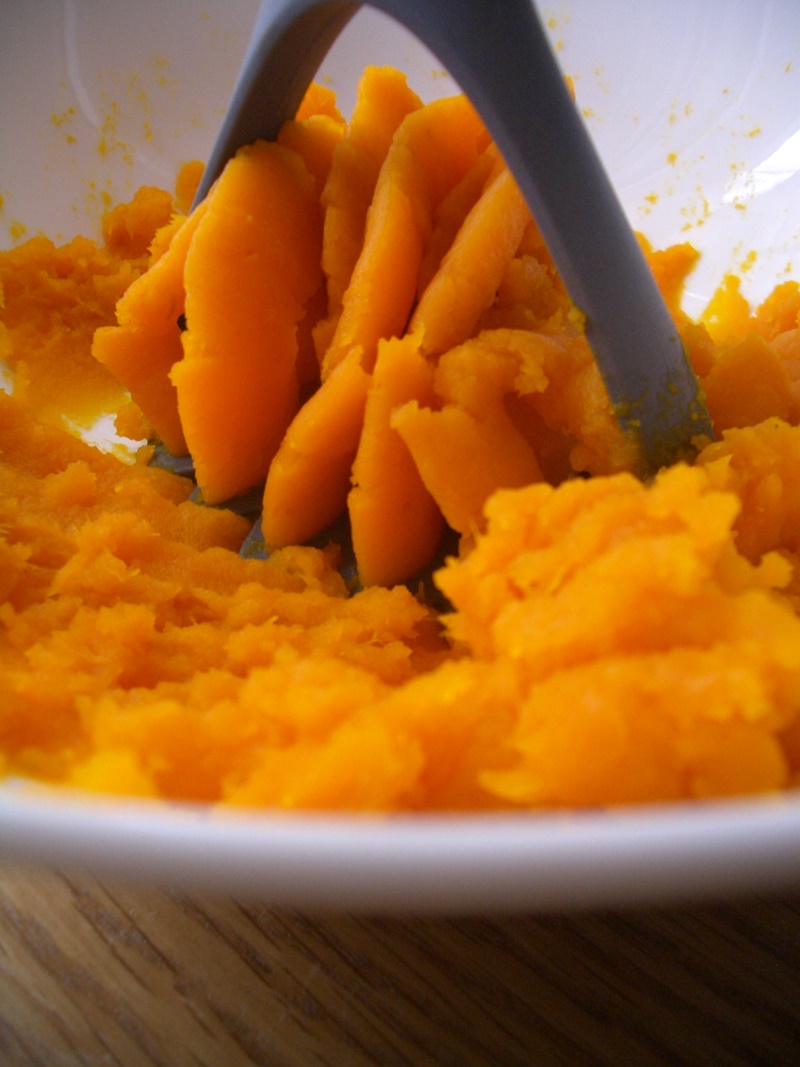 Preheat the oven to 200°C/392°F and line the baking sheet with baking paper. Cut the pumpkin into half on a wooden board (you'll need sturdy knife), scrape out the seeds and pulp (using a tablespoon), then roast in the oven for 40-50 minutes, until the flash is soft (the fork should be inserted into it without problem).
Leave to cool for 5 minutes, then scoop out the flash and transfer to a heatproof bowl. Mash using potato masher or you can use stick blender for this. The purée should be smooth.

See our complete guide with photos on making perfect pumpkin purée.


Making the filling
Preparing the filling is a breeze once you have all ingredients ready. Just place the pumpkin purée into a bowl, then add an egg, sour cream, brown sugar, ground toasted walnuts, cardamom, grated citrus zest and vanilla extract. Stir everything using a spatula until you get homogenous mixture.


Assembling/Baking filo roll
From here, it's time to assemble the roll. Don't be afraid of working with filo pastry, it's actually very simple (see our recipe for filo triangles with sweetcorn and zucchini). Once you have ready the filling it's time for assembling the roll.
Melting butter and preparing filo sheets: First melt the butter (it keeps the filo sheets from tearing) then take the filo pastry sheets from the fridge (you'll need 5-6 sheets).


Brushing sheets with butter and sprinkling with sugar: The easiest way to aseemble the roll is to do this directly on baking sheet (lined with baking paper). Place one filo pastry sheet on the sheet, brush with melted butter then sprinkle with some sugar. Repeat with the rest of the sheets, brushing each with butter and sprinkling with sugar.


Arranging the filling on the sheets: Spoon the filling along the one side of the filo sheets (leaving 2-3cm to the edge). Now gently roll the sheets up to create a log. Brush slightly with remaining butter.


Baking the filo roll: Transfer to the oven and bake for 35-40 minutes or until the filo is lightly golden. Take from the oven and cool for about 10 minutes, before slicing.


This is amazingly delicious served while still warm, but is almost as good at room temperature. Just be sure to dust with some icing sugar for some additional sweetness and appearance!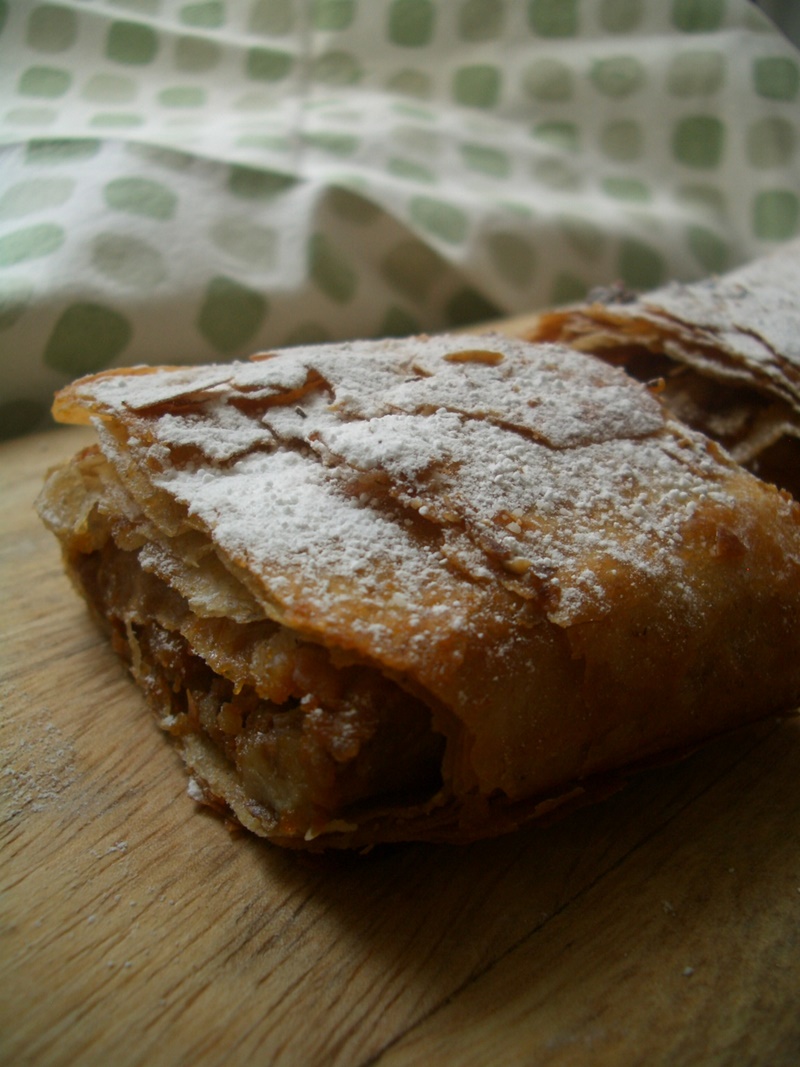 A few of our popular recipes:
Pumpkin and Walnut Filo Pastry Roll
SERVES: 8 
COOKS IN: 50 minutes
LEVEL: Easy
INGREDIENTS:
FOR THE FILLING
300g pumpkin purée (for this you'll need 1 medium pumpkin)
80g brown sugar (1/3 cup + 1 tbsp)
90g walnuts (1 cup), toasted and ground
1 egg, lightly beaten
60g sour cream (1/4 cup)
1/2 tsp ground cardamom or cinnamon
2 tablespoons grated lemon or orange zest
1 tsp vanilla extract
FOR THE ROLL
6 sheets filo pastry (250g)

100g butter (7 tbsp), melted
25g brown sugar (1/8 cup), for sprinkling
METHOD:
Place the pumpkin purée into a bowl, then add brown sugar, ground toasted walnuts, an egg, sour cream, cardamom, grated citrus zest and vanilla extract.


Heat the oven at 180°C/356°F and line the baking tray with baking paper.
 
Lay a sheet of filo pastry on it, brush with melted butter and sprinkle with a little sugar. Top with another filo then repeat this and keep going until you use all 4 sheets. Spoon the filling along one edge of the pastry, leaving about 2.5cm gap at either end. Turn up the ends, then carefully roll up the pastry to form a roll. Make sure it is sealed-side down, then tuck the ends under tightly.


Brush with the reserved butter, drizzle over any leftover butter and sprinkle with the reserved walnuts and some sugar. Bake for 35-40 mins until golden and crisp. Leave to stand for 10 minutes before slicing. Dust with icing sugar before serving.


CATEGORIES: Pastries & Tarts, Quick & Easy, Filo Recipes,
Pumpkin & Winter Squash, Walnut
We are a participant in the Amazon Services LLC Associates Program, an affiliate advertising program designed to provide a means for us to earn fees by linking to Amazon.com and affiliated sites.