HOME > DESSERTS > WAFFLES & PANCAKES & CREPES
Pumpkin Crêpes
What is the best way of starting the day? With a warm crêpes, of course. This time we'll be making the pumpkin crêpes, a twist on classic French crêpes. The batter is whipped up in a few minutes (once you have ready the pumpkin purée).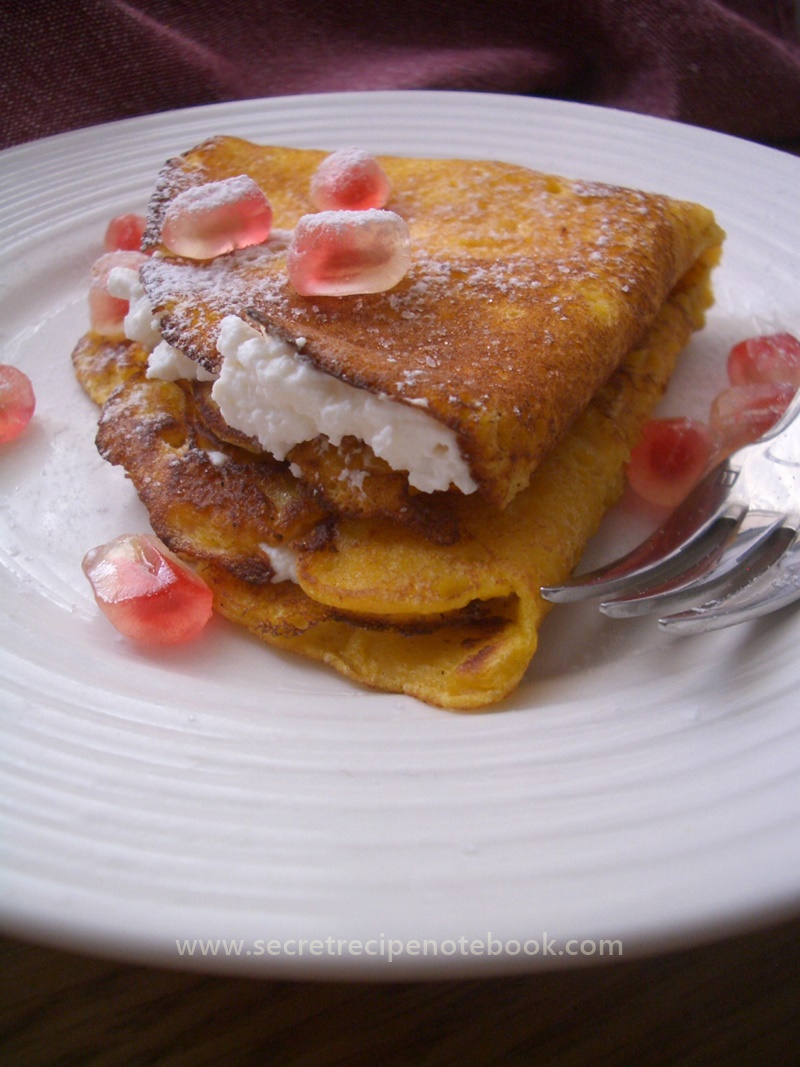 This webpage contains affiliate links. Please read our disclosure policy.

These orange-coloured crêpes are versatille and can be filled with your favourite jam (try Good Good jams made with natural sweeteners), melted chocolate, lemon curd or just drizzled with some orange juice. We love to spread them with sweetened fresh ricotta spiced with a dash of cardamom - so flavourful.


How to make the batter
Whipping up the batter for these delicious crêpes is so easy once you have ready all ingredients. Besides the regular ingredients - EGG, MILK, FLOUR and SALT, the batter is enriched with pumpkin purée which makes the crêpes flavorful, rich and slightly moist.


How to make pumpkin purée
We love to prepare homemade pumpkin purée which is also easy to prepare.

For the purée you will need small pumpkin (around 1 kg). We'll be using hokkaido pumpkin, which we love for its nutty taste and amazing orange colour.

Plus, it's small and round and easy to handle. Swap hokkaido pumpkin for any other pumpkin you have on hand (sugar pumpkin, kabocha squash or even butternut squash).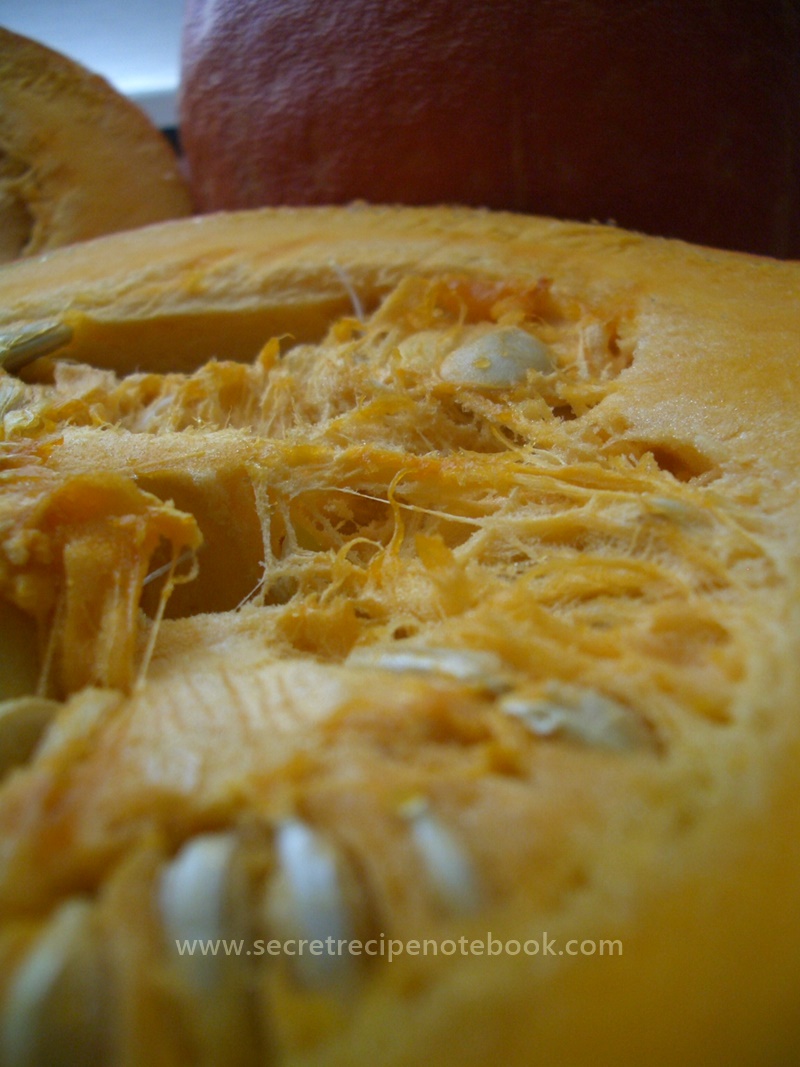 Cut the pumpkin into half, then cut it into half, roast in the oven until soft (this takes around 30-35 minutes). Scoop out the flash and mash using potato masher or stick blender. Your pumpkin purée is ready for using!

USEFUL TIP! For this recipe you will need only 60g pumpkin purée so leave the rest for other recipes. We love to use is in our pumpkin and ham croquettes, pumpkin gnocchi or soft pumpkin cookies.


It's good to freeze the leftover of purée so you have it ready at any time.
Check out our step-by-step guide on making homemade pumpkin purée with useful tips and tricks.


4 EASY STEPS FOR MAKING THE BATTER
Whisk an egg and milk in a bowl using a wire whisk (this sturdy whisk with wooden handle is great tool for this).


Add melted butter, salt and grated orange zest.


Gradually sift in flour while whisking constantly so the flour incorporates.


Finally, add prepared pumpkin purée and whisk until you get a thick batter. If the batter is too thick, add a few tablespoon of milk or water. Leave to rest for about 20 minutes.


A few more tips about pumpkin crêpes
From this batter you will get 8 medium crêpes, pretty enough for 4 people. Double the dose, if you are serving more people or want to leave part of the batter for the later (keep it in the fridge).

The key to cooking crêpes well is using a non-stick skillet that's preheated over medium heat and well-greased with butter.

These crêpes are thicker than the classic one and you will need a slightly more time for cooking (these are done when lightly brown on both sides).

These crêpes are super delicious when topped with fantastic Belgian Choco Hazel spread with no added sugar. Or for fruity option, choose one of super tasty Good Good jams.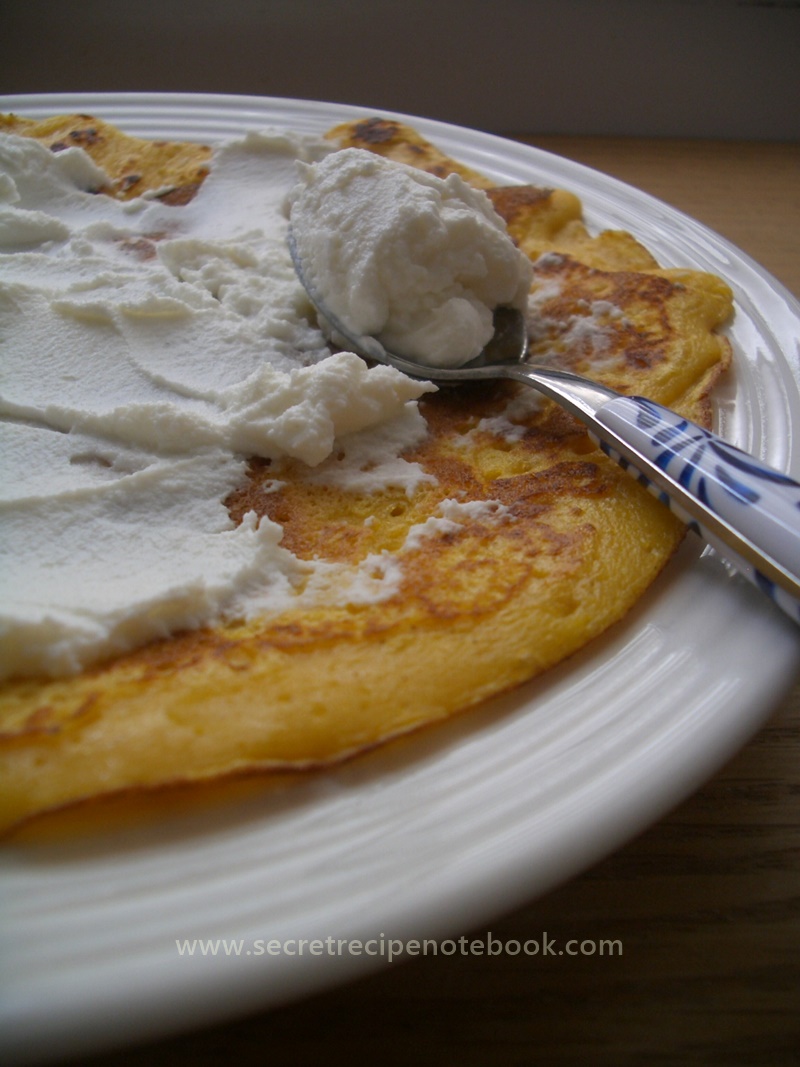 A few of our popular fall recipes:
Pumpkin Crêpes
MAKES: 8 medium crepes
COOKS IN: 40 minutes
LEVEL: Easy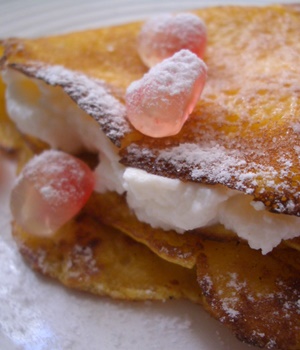 INGREDIENTS
1 egg, at room temperature
240g milk (1 cup)
42g butter (3 tablespoons),

melted

1 pinch of salt
90g plain flour (3/4 cup)
62g pumpkin purée (1/4 cup)
1 tablespoon grated orange zest
melted butter, for greasing the pan
KITCHEN ESSENTIALS:
METHOD
Whisk an egg and milk together in a medium bowl. Add melted butter and salt and whisk again until combined.


Sift in the flour, whisking constantly until all flour is incorporated.


Add  pumpkin purée and grated orange zest and whisk until smooth. If the batter is too thick, add some more milk. Set aside for 20-25 minutes.


Heat a non-stick frying pan over medium heat, and brush with butter. Pour 3-4 tablespoons of batter into pan, tilt the pan with a circular motion so the bottom is evenly coated. Cook until the top of the crêpe is no longer wet and the bottom is light brown, 1 to 2 minutes. Run a spatula around the edge of the pan to loosen the crêpe, flip and cook on the other side for 1 minute more.


CATEGORIES: Waffles & Pancakes & Crêpes, Breakfast & Brunch

We are a participant in the Amazon Services LLC Associates Program, an affiliate advertising program designed to provide a means for us to earn fees by linking to Amazon.com and affiliated sites.