Traditional Italian carnival sweets - this time made with chestnut flour, which gives them delicate nutty flavour. So easy to make and so delicious!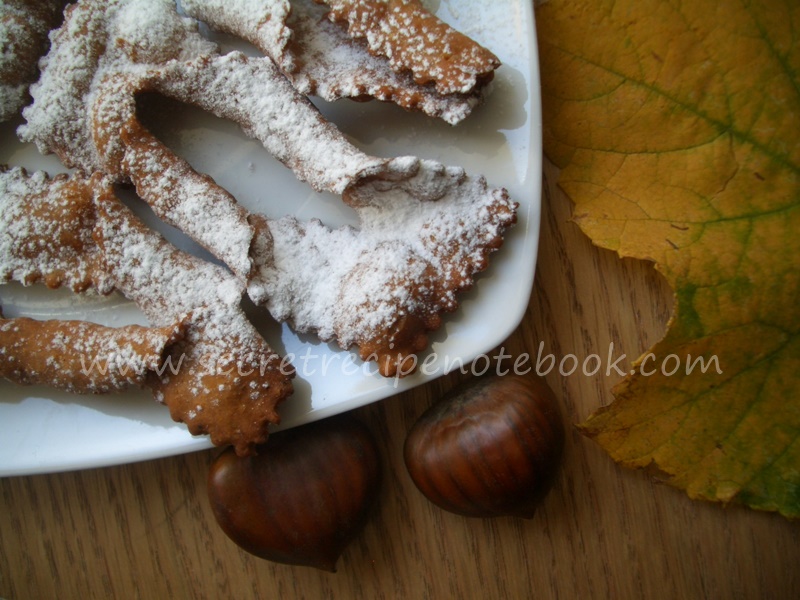 You will adore these crunchy fried pastry strips covered with a thin layer or icing sugar. These sweets are traditional treat around version of traditional Carnival time in Italy.

Our recipe use chestnut flour which makes them super sweet and delicate in flavour. A little orange zest makes them even more irresistible. These crostoli are easy to make and with this recipe you will get a large bunch of these fried dessert.


try also these tasty recipes:
how to make chestnut flour crostoli
Making these interesting Italian dessert is so easy. You will need one medium bowl for mixing ingredients, rolling pin to roll out the dough and pastry wheel.


making the dough
First sift chestnut flour, as it tends to compress into lumps, then combine it with plain flour, baking powder, sugar and salt in one bowl. Make a well in the centre and egg and egg yolk, melted butter, rum and grated orange zest. Stir first with fork then using your hands and form a compact dough. Let it rest for 20 minutes.


shaping & frying crostoli
To roll out the dough, first dust work space and prepare rolling pin. Half the dough, as it is easier to work with smaller piece of dough, and roll it out thinly - around 1 mm. Using pastry wheel cut rectangles - 8x3cm and cut each in the middle. Thread one end of each rectangle through the slit to make a bow. Fry crostoli in deep sunflower for a few minutes, then transfer to a plate lined with kitchen paper. Dust with icing sugar, once cooled.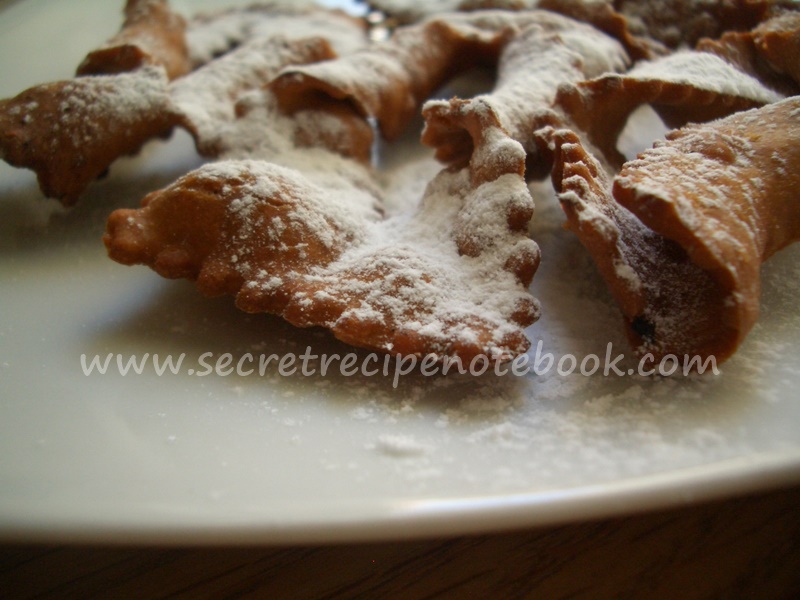 useful tips
Try different ways of shaping crostoli: instead of cutting a slit in the centre, pinch and twist the centre of the strip. Also, cut 2 - 3 slits in the centre of the strip and deep-fry without twisting or looping.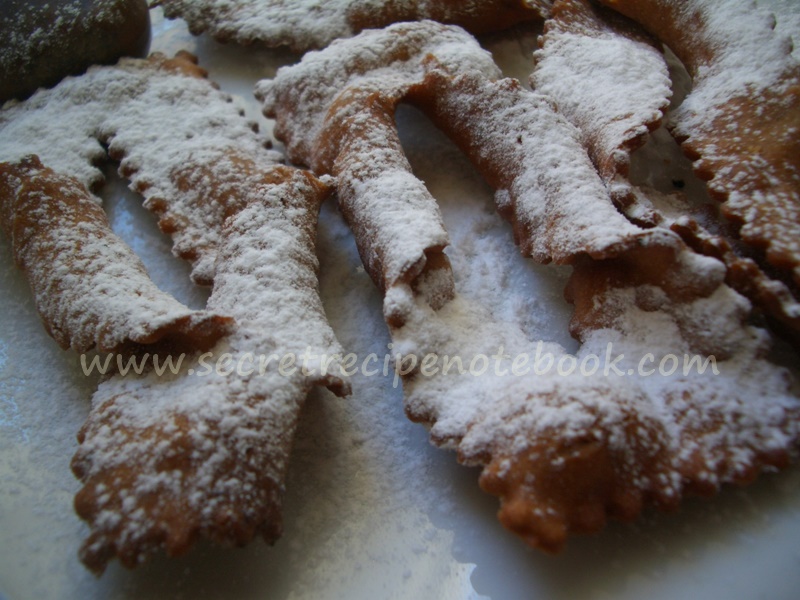 storing chestnut flour crostoli
Crostoli will be little soft but they crispen as they cool. These crostoli are great as they can last for a week if stored in airtight container.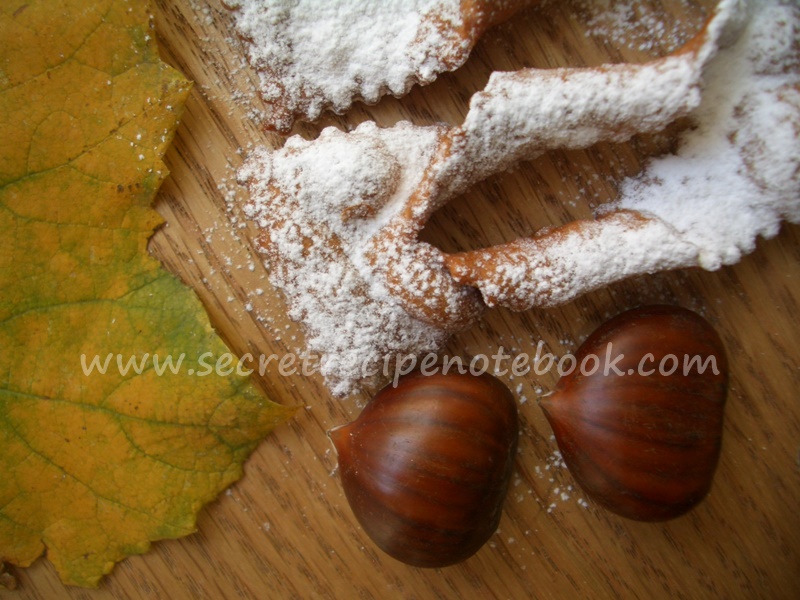 looking for more chestnut flour recipes?
shop kitchen essentials for this recipe
Kitchen Scale | Mixing Bowls | Flour Sifter | Citrus Zester | Pastry Mat | Rolling Pin | Pastry Wheel | Deep Frying Pan | Mini Sieve | Serving Tray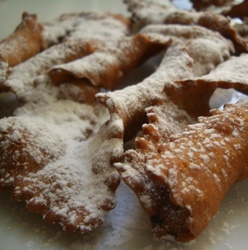 Chestnut flour crostoli
MAKES: 45 crostoli
COOKS IN: 1 hour plus resting time
LEVEL: Easy
INGREDIENTS
METHOD
In a large bowl combine together sifted chestnut and plain flours, baking powder and salt. 


In another bowl whisk eggs, sugar, melted butter, rum or Amaretto and finely grated orange zest.


Make a well in the centre of flours and pour wet ingredients. Using a fork, begin to stir while slowly incorporating flour. Carry on kneading the dough with your hands until it comes together into a smooth even ball. If the dough is too sticky add some more flour. If it is too hard, add 1 - 2 tablespoons of water or orange juice.


 Turn the down onto lightly floured work surface and knead for about 1 - 2 minutes. Cover the dough and let it rest for about 30 minutes.



Half the dough. On a lightly floured surface, roll each half into a square, turning dough and adding flour to the work surface as needed. Using a fluted cutter, cut the dough into even rectangles - each 3x8cm. Cut a small slit lengthways along the centre of each rectangle. Loop one end of the rectangle through the slit. Place rectangles on floured baking paper. Repeat with other dough.


Fill medium-sized saucepan with sunflower oil and set it over low-medium heat. When the oil reached temperature of 180 C (drop a small crumb of dough into the oil and if it start to sizzle the oil is ready), slip in 3 - 4 crostoli and fry for 30 seconds on each side, until lightly brown. Drain them with a slotted spoon and transfer to a plate lined with kitchen paper. Continue with the rest of the dough. Let them cool then transfer to a serving bowl and dust with some icing sugar.


Cook 2-3 crostoli for 1-2 minutes each side or until the pastry bubbles and the crostoli are light golden and crisp. Use tongs to remove the crostoli, allowing them to drain.Transfer to a wire rack set over a baking tray to cool completely. Repeat with remaining crostoli, reheating oil between batches. Dust with the icing sugar to serve.