chocolate chestnut muffins
Desserts | Muffins | Chocolate Recipes
You will love these chocolate chestnut muffins which are are dense, moist and have rich dark chocolate flavour. They are also packed with pieces of toasted pistachios.
The flavour pairing of chestnut and chocolate is amazing in these muffins, packed with only quality ingredients. Both the chestnut flour and the chestnut purée provide an exceptional taste.
We love to use chestnut flour in our sweet recipes - from crunchy cookies to chocolate tarts or fluffy mini pancakes. Thanks to its sweetness, there is no need for additional sugar or any other sweetener in the recipes.

Be sure to try these super chocolatey moist muffins enchanced with toasted pistachios. You won't need any other recipe!


why you'll love chocolate chestnut muffins
The intense chocolate flavour comes from the inclusion of both dark chocolate and quality cocoa powder. With the addition of chestnut purée and yogurt, these muffins turn out super moist which keeps them fresh longer. Pistachios add their specific sweet aroma and some crunchiness when you bite into the muffin.


Try also these tasty recipes:
How to make chocolate chestnut muffins
Make the batter for chocolate chestnut muffins
Making these muffins start with sifting flours with baking powder and cocoa into a large bowl. Now whisk chestnut purée until it becomes soft and creamy. Melt the chocolate and butter together and add chestnut purée and Amaretto to this.

Whisk the egg and yogurt in a cup and stir into the chocolate mixture. Now fold the dry ingredients into the wet ingredients using a spatula. Add chopped pistachios and stir until everything incorporated.


Bake the chocolate chestnut muffins
Now it's time for baking the muffins. Line the muffin tray with 6 tulip-shaped muffin cups. This is best done using a cookie scoop, fill the muffin cups 3/4 full. Bake muffins in the oven preheated to 220°C (392°F) for 5 minutes, then reduce the temperature to 175°C (347°F) and bake for another 10 minutes. The muffins are ready to serve, just leave them for a few minutes in a muffin tray to cool then transfer to wire cooling rack to cool completely, then serve.


how to store chocolate chestnut muffins
Muffins are best enjoyed the same day they are made, but can be stored in an airtight container at room temperature for up to 2 days or frozen for up to 2 months. To freeze muffins, place them in a single layer in an airtight container or freeze on a small baking tray and them move to freezer bags.


Best Selling Kitchen Tools & Gadgets
Looking for more muffins to try?
Shop Kitchen essentials for this recipe
Kitchen Scale | Mixing Bowls | Hand Mixer | Heathproof Bowl | Saucepan | Silicon Spatula | 6-hole Muffin Tray | Cooling Rack | Tulip-Shaped Muffin Cases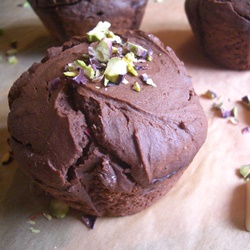 chocolate chestnut muffins

MAKES: 6 large muffins
COOKS IN: 1 hour
LEVEL: Moderate
INGREDIENTS
80g (2/3 cup) 

plain flour

90g (1 cup) chestnut flour
1 teaspoon

baking powder

20g (1/4 cup) 

unsweetened cocoa powder

100g (3.5 ounces) dark chocolate (60 - 70% cocoa)
100g

sweetened chestnut purée

(defrosted)
40g (3 tbsp) 

butter

1

egg

2dl

yogurt

50g

pistachios

1 tablespoon

Amaretto liqueur

1 pinch of

salt

chopped

pistachios

for decoration
METHOD
Preheat oven to 200°C (392°F). Line 6-hole muffin tray with tulip-shaped muffin cases.


Sift both flours together with the baking powder and cocoa into a large bowl.


Place the chestnut purée in a separate bowl and whisk with an electric hand mixer until you get a creamy texture.


Place the chocolate (broken into pieces) and butter into a heatproof bowl and place over a saucepan of gently simmering water. Stir until completely melted and smooth with a silky texture. Add the whisked chestnut purée and Amaretto and stir again.


Whisk 1 egg and yogurt in a cup and pour into the chocolate mixture.


Gradually fold the dry ingredients into the chocolate mixture using a silicon spatula until everything is incorporated. Add finely chopped pistachios.


Using a large spoon, fill the muffin cups until 3/4 full. Bake the muffins for 5 minutes then reduce the temperature to 175°C (347°F) and bake for a further 10 minutes. Once baked, remove from the oven and allow to cool for a few minutes before transferring to a wire rack to cool completely. Decorate the tops of the muffins with roughly chopped pistachios before serving.



Notes