MUFFINS | SWEET POTATO | CHOCOLATE
Sweet Potato Chocolate Chip Muffins
These sweet potato chocolate chips muffins are ideal choice for breakfast as they consist of healthy ingredients. So soft and delicious these muffins are so tempting, you won't stop at just one.

This webpage contains affiliate links. Please read our disclosure policy.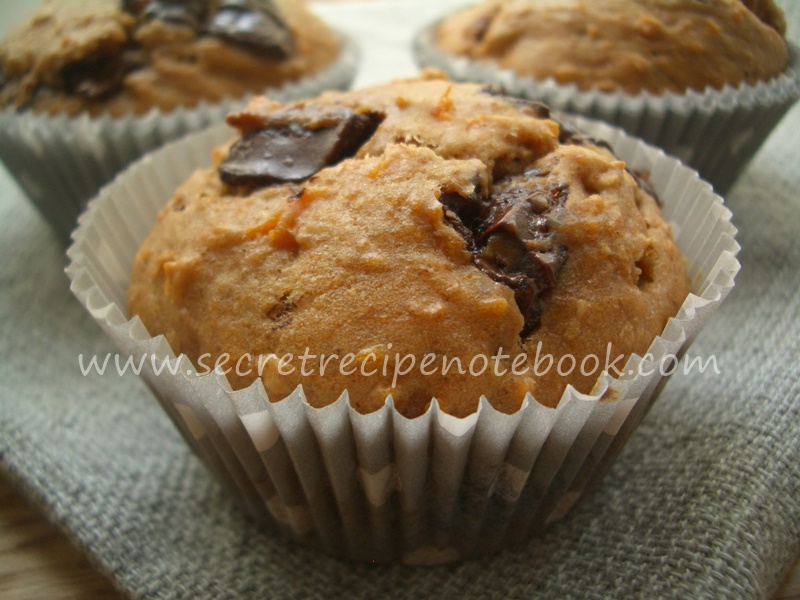 These fluffy sweet potato muffins are packed with delicious flavours and plenty of chocolate. Great for breakfast, snacks or freezing for later! The secret to making these sweet potato muffins incredibly moist and delicious?

These muffins are scented with ground cloves which pairs great with sweet potato, but you can use any other spice such as cinnamon, nutmeg or ground ginger.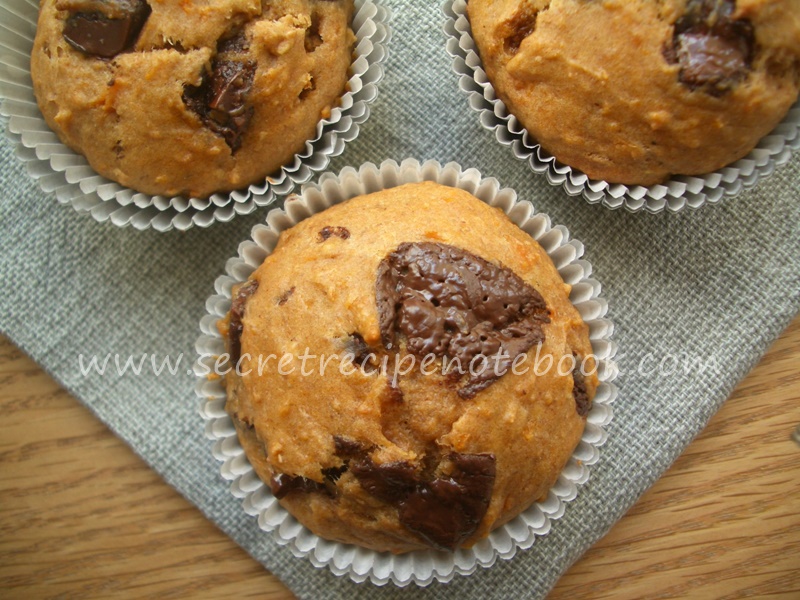 Why are these sweet potato chocolate chip muffins great
There are really lots of reasons why you should make these sweet potato chocolate chip muffins. They are soft, delicious and packed with large chunks of rich dark chocolate. These muffins are also healthy they hold sweet potato mash, whole grain spelt flour and way less sugar than lots of traditional muffin recipes.

And they are also so easy to make once you have sweet potato mash ready. Bake sweet potatoes whilst you have the oven on for dinner and then you're only a few short steps away from amazing muffins. 


How to make sweet potato chocolate chip muffins
MAKING SWEET POTATO MASH: Making the batter for these muffins start with making sweet potato mash. The easiest way to make the mash is to bake the sweet potatoes in the oven. 

For these recipe take 2 medium sweet potatoes, pierce them a few times with a fork and bake in the oven on 200°C (392°F) for about 50 - 60 minutes. You will know they are ready if you can easily insert fork into the potatoes. 
Leave them to cool for 4 - 5 minutes then remove the skin and mash using a fork or potato masher. Now, you have ready the most important ingredient for these muffins, sweet potato mash which will give softness, moistureness and delicate sweet aroma to the muffins.

MAKING THE BATTER: For the batter, first combine flours, baking soda, ground clove and salt in one bowl. If using chocolate bar, cut it into smaller chunks on a cutting board using a sharp knife.

In another bowl combine all wet ingredients using a hand whisk - eggs, muscovado sugar, Greek yogurt, melted butter and vanilla extract. Whisk everything until you get homogenous mixture. Now pour this slowly into flours, add prepared chocolate chunks and using a spatula fold together. Don't overmix, stir just until everything is combined.


Best Selling Kitchen Tools
BAKING THE MUFFINS: Now, it's time for baking these moist muffins. Prepare the muffin tray by lining it with 12 standard muffin cases. Fill each case with the batter 3/4 full. Bake the muffins in the oven preheated to 175 C for about 12-15 minutes.

Check if the muffins are ready by inserting skewer into one muffin. It should come out with some crumbs on it, so be sure not to overbake the muffins.


Storing sweet potato chocolate chip muffins
These soft bakery style muffins are best enjoyed while still warm, but can be stored in an airtight container at room temperature for up to 2 - 3 days. 

Muffins can be frozen for up to 2 months. To freeze muffins, wrap them separately with cling film and place in freezer bags. To thaw, remove the muffins from the freezer and let them thaw at room temperature for several hours or heat up before enjoying.


Looking for more muffins? Take a look at these:
Want to make a batch of fresh muffins? Try great ideas from our Muffin Recipe Collection!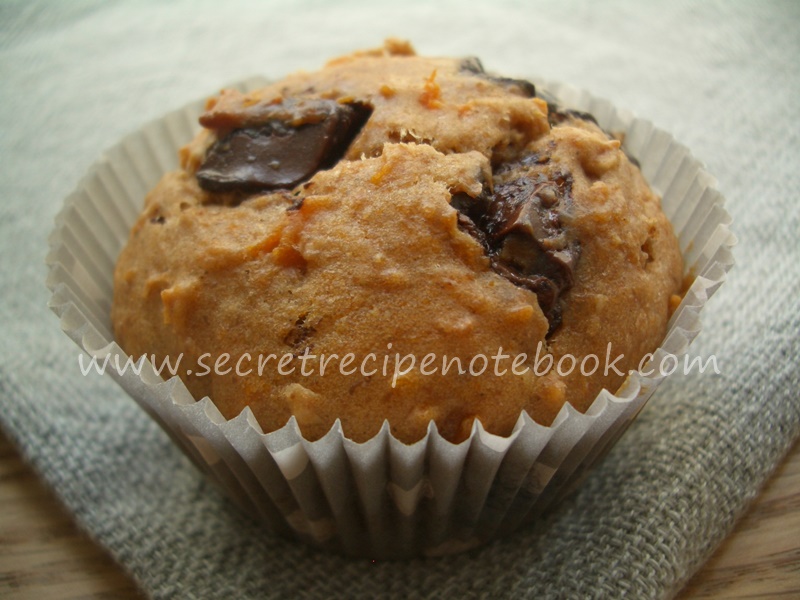 Sweet Potato Chocolate Chip Muffins

MAKES: 12 standard muffins
COOKS IN: 40 minutes plus 50-60 minutes for sweet potato mash
LEVEL: Moderate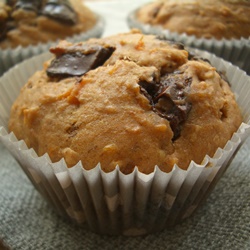 INGREDIENTS
METHOD
For the sweet potato mash, pierce the sweet potato with a fork few times and place on a baking tray lined with baking paper. Bake in the oven on  200°C/392°F for about 40-50 minutes or until soft and the skin is wrinkled. Allow to cool then remove the peel and mash using a potato

masher or fork.




Reduce the oven temperature to 175°C/347°F. Line

12-cup muffin tray

with standard paper cases.



In a large bowl combine plain and whole grain spelt flour, baking soda, ground clove and salt.





Cut chocolate bar into chocolate chunks using a sharp knife.





In another bowl whisk eg

gs, muscovado sugar, Greek yogurt, melted butter, mashed sweet potatoes and vanilla extract - until well combined and smooth. Add chopped dark chocolate.


Pour wet ingredients into flours and using a spatula fold slowly until combined. Don't overmix as muffins will be dense and tough.


Scoop the batter into muffin cases 3/4 full and bake in the oven for 13-15 minutes. Insert a skewer or toothpick in one muffin to check if they are ready. It should come out with just a few crumbs attached. Cool muffins for 3-4 minutes in the tray then transfer to a wire rack to finish cooling.


We recommend using the measurement in grams & ml (instead of cups & spoons) for more accuracy and better results.
This digital kitchen scale will make your cooking life so much easier.
Looking for more recipes?

We are a participant in the Amazon Services LLC Associates Program, an affiliate advertising program designed to provide a means for us to earn fees by linking to Amazon.com and affiliated sites.