This webpage contains affiliate links. Please view our disclosure policy for more details.

MUFFINS | CHESTNUT FLOUR | PISTACHIO
Chestnut Flour Pistachio Muffins
If you are looking for muffins bursting with flavours but still healthy then these simple muffins are your thing. Made with a mix of chestnut, almond and whole grain flours and packed with large pieces of toasted pistachios, these muffins are amazingly delicious.

The whole family will love these muffins, served for breakfast with a cup of warm milk or even as a dessert served with a dollop of your favourite jam. Not to mention they are so easy to whip up.

So let's check what we need for these muffins and how to make them.


More chestnut flour recipes you'll love:
What you'll need for chestnut flour pistachio muffins
These delicious muffins are made with an interesting combination of flours which makes them both delicious and healthy. The star of this recipe is the CHESTNUT FLOUR with addition of ALMOND and WHOLE GRAIN FLOURS.

We love to bake with chestnut flour, which has delicate nutty flavour and is naturally sweet making it ideal for reducing the sugar in recipes. The sweetness of these muffins comes from both chestnut flour and only a small amount of DARK MUSCOVADO SUGAR.
For extra moistureness, besides melted BUTTER this recipe features BUTTERMILK which is always a great substitution for milk. As finishing touch to the flavour we added a dash of Amaretto and finely grated lemon zest.


More about chestnut flour
The chestnut flour should be a regular ingredient in any cupboard, as this gluten-free flour is ideal for adding to baked goods. It adds delicate sweet taste and it's full of fibre and vitamins.
We love to combine it with other flours in our cookies recipes which gives amazing crumbly texture and taste so delicious.

Why not to try our recipes for simple gluten-free Christmas cookies or gluten-free chocolate thumbprint cookies.


The best chestnut flour comes from Italy as this is common ingredient in Italian Tuscan cuisine. Italians prepare anything you can imagine with this sweet flour, from breads, pancakes (necci), pasta etc.

One of the most popular recipes from Italy is castagnaccio - a simple but dense cake made with chestnut flour, water, raisins, pine nuts and rosemary.

The chestnut flour can be purchased from health food store. We recommend high-quality Italian chestnut flour Giannetti which can be easily bought online.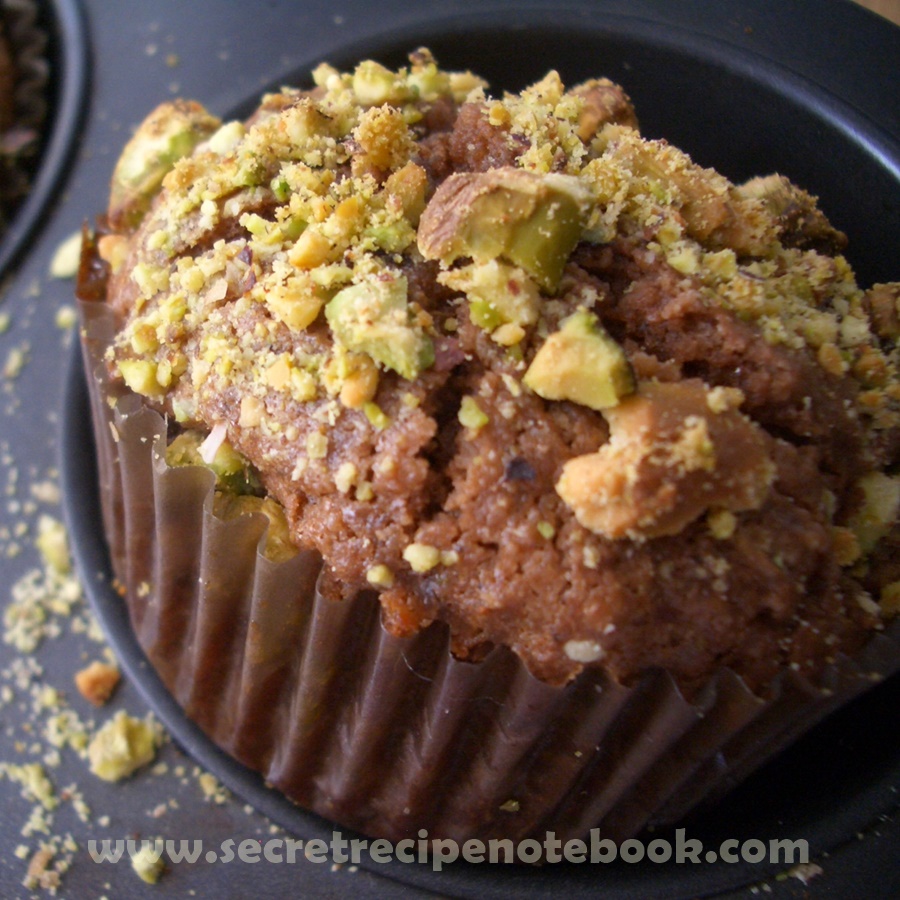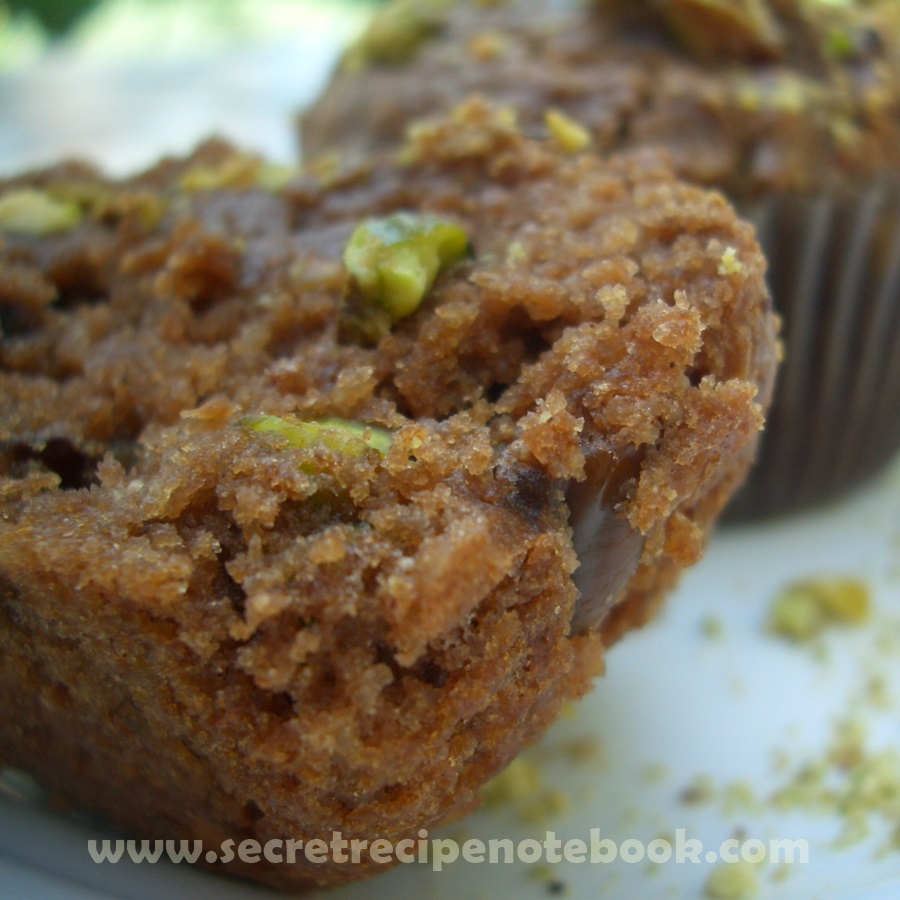 How to make chestnut flour pistachio muffins
Making these muffins is so easy and quick. You don't even need any special equipment, just 2 two mixing bowls, balloon whisk, silicon spatula and a muffin pan. Let's see what are the steps for making these muffins:

TOAST THE PISTACHIOS: First lightly toast pistachios in the oven (leaving aside some raw for the muffin tops), then coarsely chop them - you can do this on a cutting board with a sharp knife or blitz them in a mini food processor. 


MIX DRY INGREDIENTS: Combine flours (be sure to sift the chestnut flour as it tends to form the lumps), cocoa powder, baking powder and salt in one bowl. 


WHISK WET INGREDIENTS: Melt butter in a small saucepan and pour into a medium heatproof bowl. Add dark muscovado sugar, egg, buttermilk and Amaretto. Whisk with a balloon whisk until combined.


ASSEMBLE THE BATTER: Pour wet ingredients into dry mixture and stir gently with spatula. Don't forget to add chopped toasted pistachios. Your muffin batter in ready. 


FILL MUFFIN CASES/BAKE: This recipe makes 6 standard-size muffins, so line the muffin tray with paper cases and divide the batter evenly among them. These muffins are baked for around 10 - 12 minutes - don't overbake them. Muffins tops should be cracked and the skewer inserted in the muffin should come out with a few crumbs attached. Don't overbake them!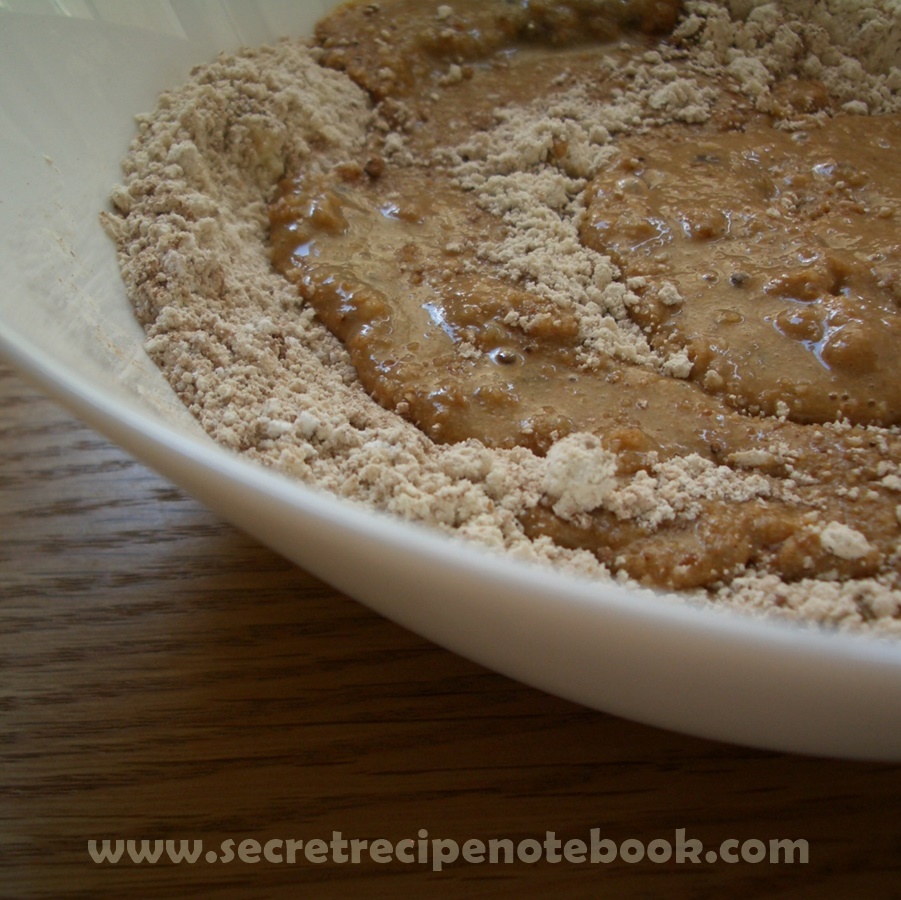 How to store chestnut flour pistachio muffins
These muffins can be stored in an airtight container for 1- 2 days and in the fridge for up to 5 days. If you want to freeze the muffins, allow them to cool completely then put in an airtight container and freeze for up to 3 months. Once you want to enjoy them, thaw at room temperature or heat them in the microwave for 30 seconds.


A few of our favourite chocolate recipes:
Want to make a batch of fresh muffins? Try great ideas from our Muffin Recipe Collection!
Chestnut Flour Pistachio Muffins
MAKES: 6 standard muffins
COOKS IN: 35 minutes
LEVEL: Easy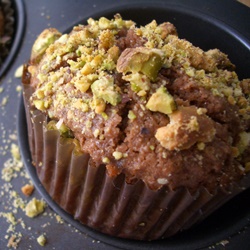 INGREDIENTS
METHOD
Spread pistachios e

venly on a

baking sheet

(leaving one handful on the side for muffin tops) and toast in the oven on 175°C/347°F for about 5-6 minutes. Once toasted, remove from the tray and, cool and coarsely chop on the cutting board. Set aside.





Rise the oven temperature to 200°C/

392°F. Line 6-hole muffins tray with standard paper cases.



Combine chestnut, almond and wh

ole grain flours together with cocoa powder, baking powder and salt in a

large bowl

.





In another bowl, whisk melted butter, muscovado sugar, egg, buttermilk, Amaretto until everything combined. Add lemon zest and whisk again.





Gradually pour wet mixture into the dry ingredients stirring with

silicon spatula

until everything combined. Fold in chopped pistachios stirring until just combined. Don't overmix the batter.




Divide the batter among prepared muffin cases all the way to the top. Top with remaining pistachios and bake in the oven for 10-12 minutes. Check if the muffins are ready by inserting skewer into one muffin - it should come out with some crumbs attached. Leave the muffins in the tray for 1 minute then remove and place on the wire rack to cool.


We recommend using the measurement in grams & ml (instead of cups & spoons) for more accuracy and better results.