This webpage contains affiliate links. Please view our disclosure policy for more details.

CAKES & BROWNIES & BARS | CHESTNUT FLOUR | ITALIAN INSPIRED RECIPES
Castagnaccio Cake
Do you love the sweetness and nuttiness of chestnut flour? Then you will adore castagnaccio, one of the most popular treats made with this gluten-free flour, raisins, pine nuts and fresh rosemary. This dense cake is best served with a dollop of fresh ricotta and alongside a sweet wine like Vin Santo.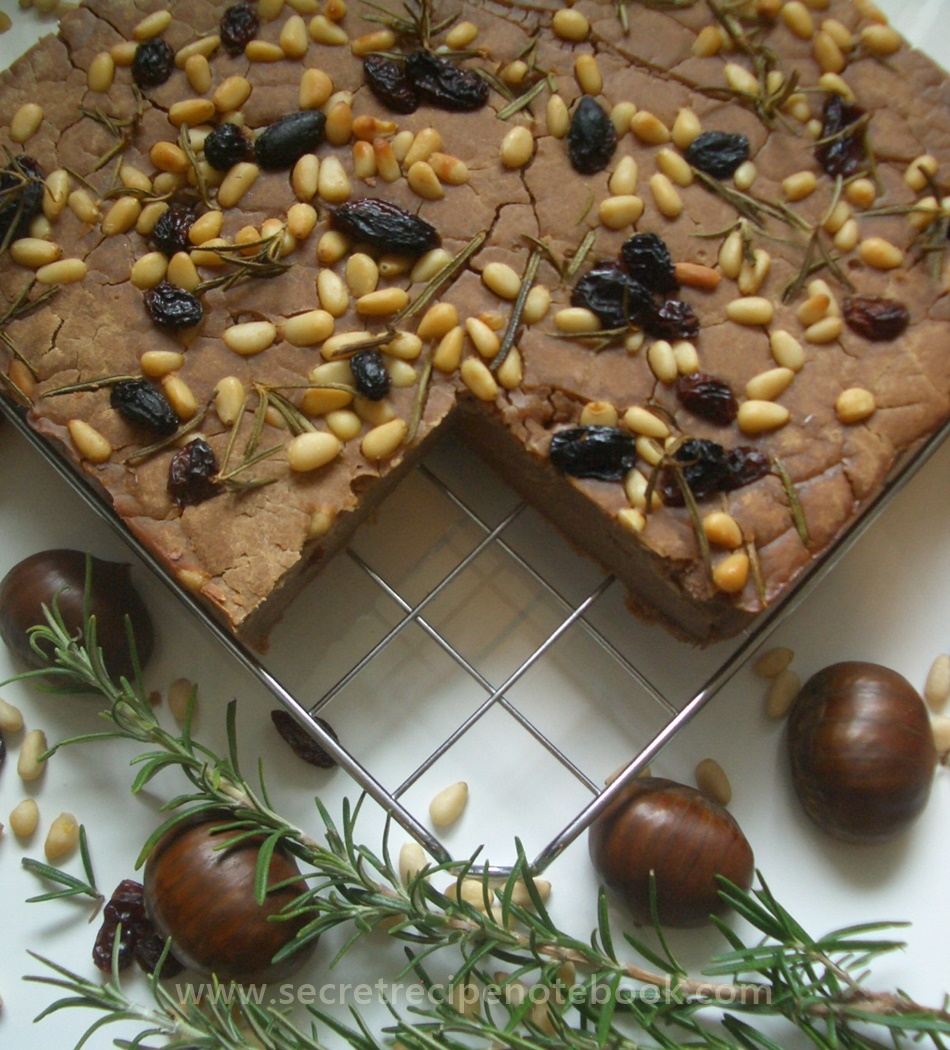 Our recipe brings you the most popular version of this cake, made with CHESTNUT FLOUR, WATER, PINE NUTS, RAISINS and FRESH ROSEMARY leaves.

Some versions of recipes call for walnuts and grated orange zest, which turns the castagnaccio into a sweet treat with a typical Christmasy flavour.


Why you'll love castagnaccio
It's sugar-free and gluten-free cake
The chestnut flour has unique flavour and blending it into pie crust, cookies or sweet bakes adds nutty flavour and density. Also notice that there is no need for sugar in this recipe as chestnut flour has its own sweetness. Also castagnaccio is ideal for those on gluten-free diet, as chestnut flour is gluten-free flour.


More chestnut flour recipes
you'll want to try:
More about chestnut flour
The chestnut flour is made from dried ground chestnuts and is ideal addition to the baked goods. This flour is light brown and has its own sweetness meaning that if added to the recipe you can reduce the amount of sugar or any other sweetener.

The chestnut flour has unique flavour and blending it into pie crust, cookies or sweet bakes adds nutty flavour and density. You can find chestnut flour in organic food stores or you can buy it online. 


How to make castagnaccio cake
Making castagnaccio is so easy once you get a quality chestnut flour from your organic food store.

MAKING THE BATTER: Combine sifted chestnut flour with salt in one bowl then gradually pour water, whisking with balloon whisk continously until you get a smooth batter - thicker than those for regular pancakes. Add olive oil and whisk to combine. Set aside for 30 minutes.


BAKING CASTAGNACCIO: Pour the batter into 23x23 cm cake pan lined with baking paper. The batter shouldn't be higher than 1 cm. Sprinkle with pine nuts, raisins (previously soaked in the water), rosemary leaves and 2 tablespoons of olive oil. Bake for 30 minutes or until you see the little cracks on the top. Let it cool in the pan, then cut into squares and serve.


Best selling kitchen tools
Storing castagnaccio
Castagnaccio keeps well for a few days in an airtight container at room temperature. We don't recommend keeping it in the fridge as this cake would become rubbery.


Looking for more Italian sweet recipes? Check these out: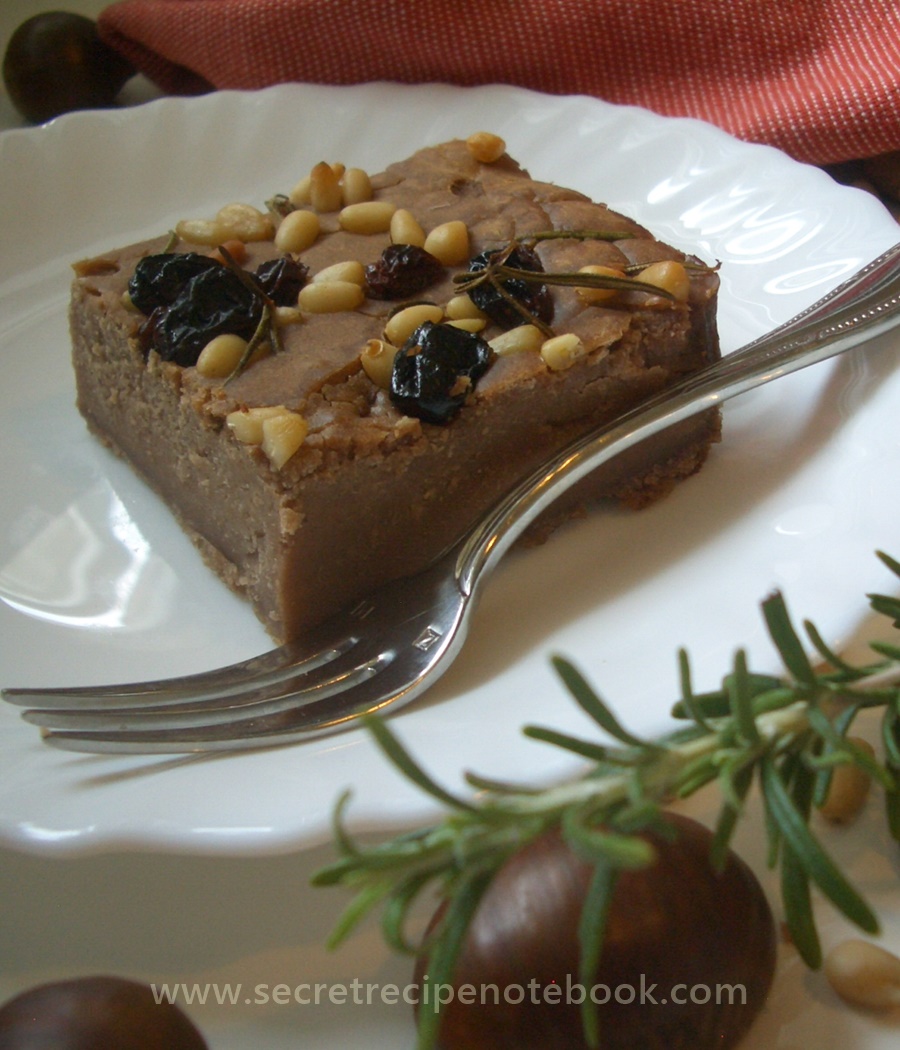 Castagnaccio Cake
SERVES: 10 servings
COOKS IN: 40 minutes
LEVEL: Easy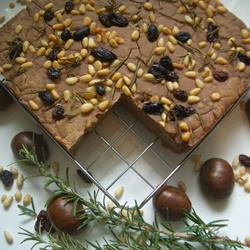 INGREDIENTS
400g 

chestnut flour

 (4 1/2 cup)
600ml

water 

(2 1/2 cups), cold

50g

pine nuts

 (1/3 cup)
50g

raisins 

(1/3 cup)
1-2 sprigs of

rosemary

60ml

olive oil

 (4 tablespoons)
1 pinch of

salt
Kitchen essentials for this recipe:
Kitchen Scale | Mixing Bowl | Balloon Whisk | Square Baking Pan | Serving Tray
METHOD
Soak the raisins in the warm water for about 15 minutes and then drain.



Sift the chestnut flour in a medium bowl and add salt. Add the water gradually, stirring with

hand whisk

to avoid lumps. Depending on the chestnut flour quality you may need a little more or a little less water. The batter should be thicker than the one for pancakes. 



When smooth add 2 tablespoons of olive oil. Let the mixture rest for about 30 minutes.





In the meantime, preheat the oven to 180°C/356°F. Pour the batter into 23x23 cm

square baking pan

, lined with baking paper. It should be no more than 1 cm thick. Sprinkle with

pine nuts

, raisins, rosemary leaves and the 2 tablespoons of olive oil on the top.





Bake for about 30 minutes or until you see little cracks all over the top of the cake. Do not overbake or i

t will become too dry. Let cool in the pan then slice into squares and serve.


We recommend using the measurement in grams & ml (instead of cups & spoons) for more accuracy and better results.