Chocolate Hazelnut Biscotti
Chocolate and hazelnuts are perfect partners and you will find that these biscotti are no exception. These hides a hint of cardamom, what makes them super tasty.

The biscotti are rich and chocolatey and of course with the satisfying crunch that biscotti delivers. Toasted hazelnuts are a great way to add a bit of crunch to the recipe.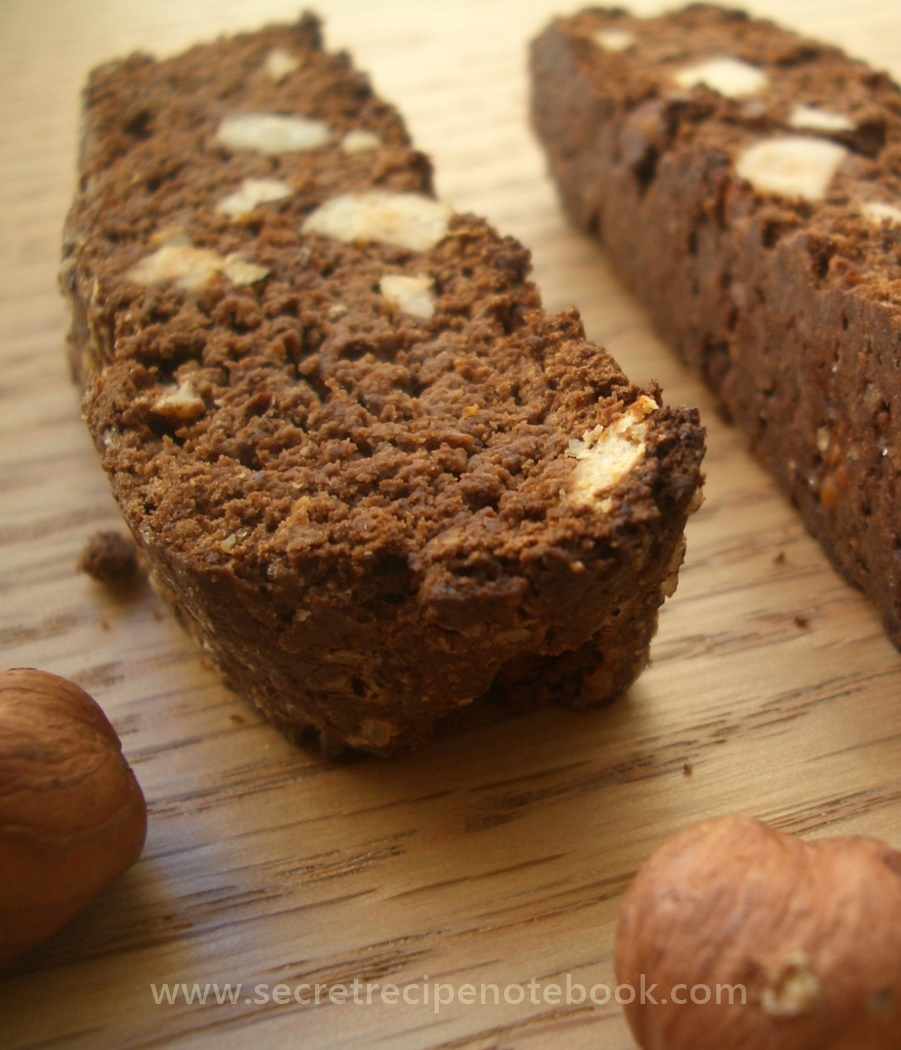 This webpage contains affiliate links. Please read our disclosure policy.

About biscotti
The term "biscotti" comes from the Latin word bis coctus, meaning "twice baked". The biscotti is first baked in a log, then sliced and baked again.

This double process makes the cookies dry and crunchy, and ideal for dipping in coffee, tea, hot cocoa, dessert wine or liqueur. Biscotti are ideal to bake ahead as they keep well for weeks.
Although, biscotti is traditionally with almonds, these days you can find a huge variety of flavours. We love our classic biscotti with almonds, chocolate version with almonds and gluten-free with almond flour.


See more of our
Italian sweet recipes:
How to make chocolate hazelnut biscotti
If you've never made biscotti before it may seem complicated, but you will be surprised at how easy biscotti it to make.

The dough is very much like a cookie dough. The difference is that you form two large logs from the dough, then bake them, slice and bake again. Super easy!

We use three eggs in biscotti. The eggs have two jobs: structure and texture. They help the biscotti keep its shape and keep the biscotti from tasting too dry. We love all flavours in these biscotti.

The most important are TOASTED HAZELNUTS which adds great flavour. Make sure you toast them: that's where all the flavour comes from.

This recipe features DEMERARA SUGAR to sweeten the biscotti. It's caramel flavour and crunchy texture are ideal for making these biscotti delicious. Instead of demerara sugar, you can use any other coarse brown sugar or even granulated sugar.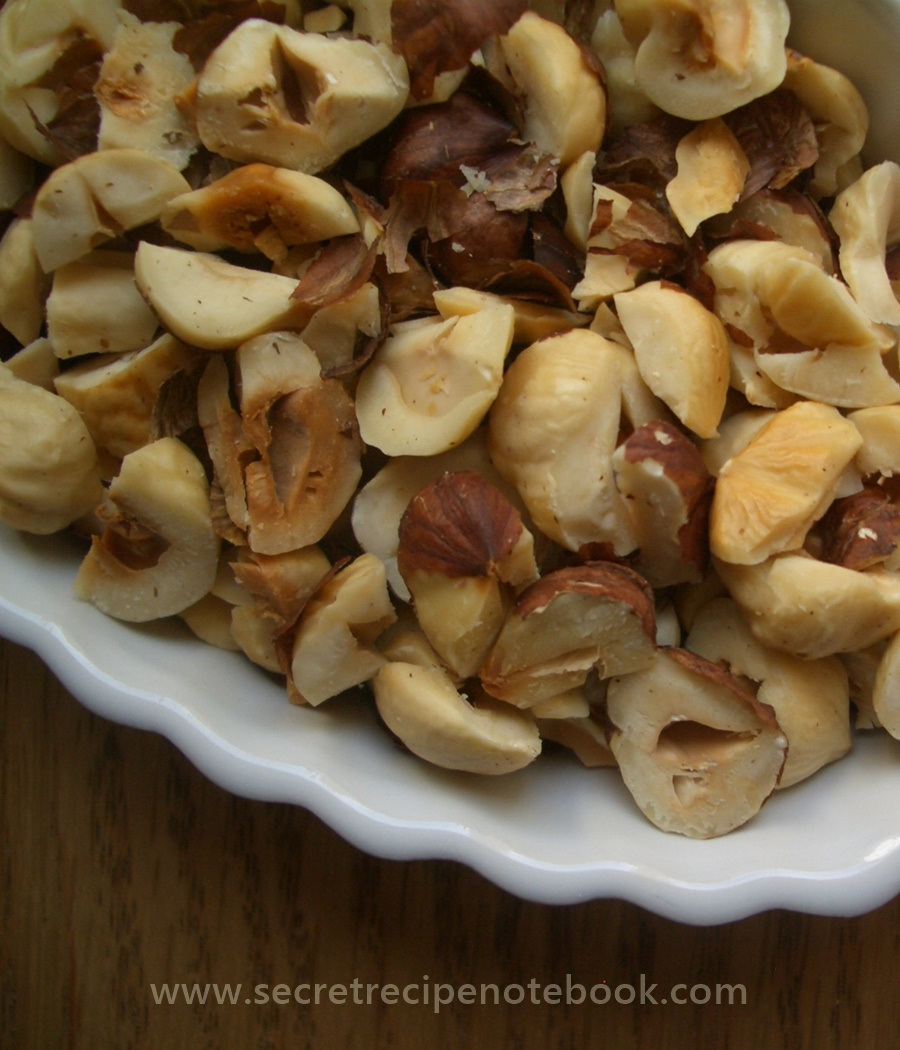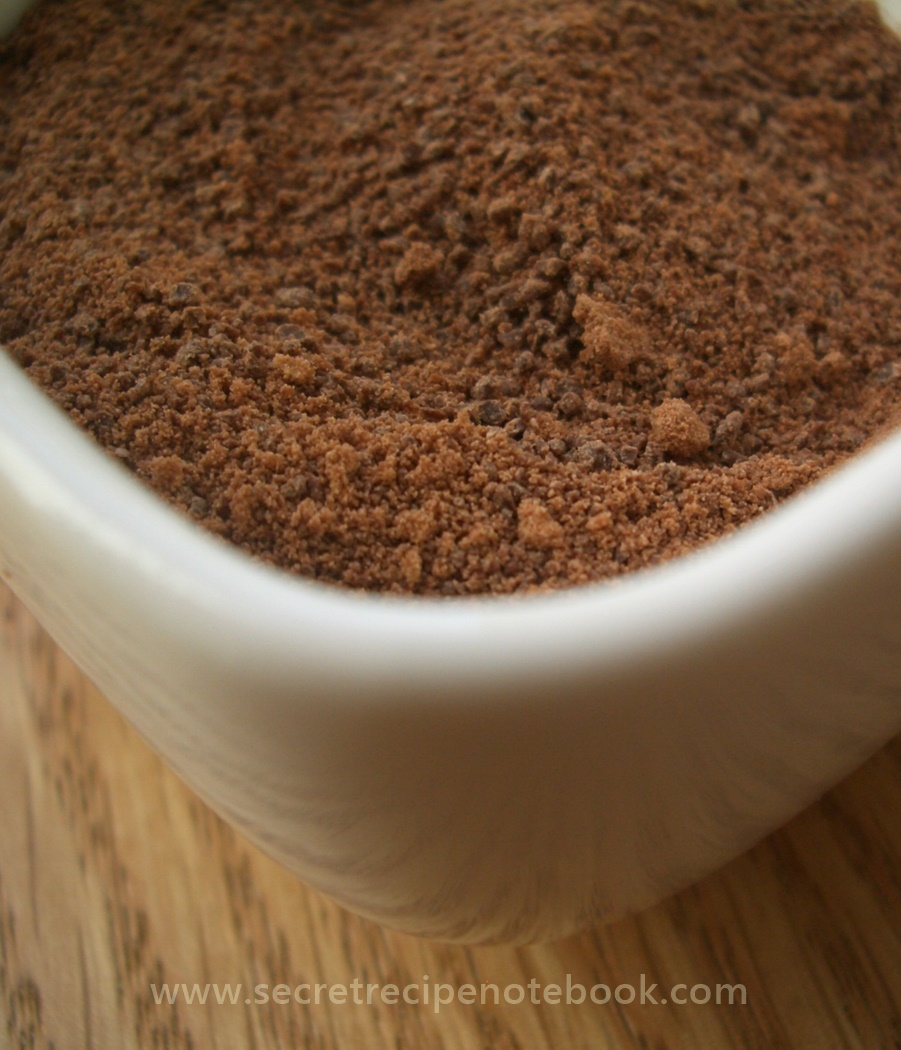 Making the dough
Making the dough for these chocolate biscotti is so easy and quick. In one bowl combine all dry ingredients - PLAIN and ALMOND FLOUR, BAKING POWDER, COCOA POWDER, DARK CHOCOLATE (finely ground), SUGAR, GROUND CARDAMOM, SALT and grated ORANGE ZEST.
In another bowl whisk EGGS then pour into dry ingredients and stir with a fork until the flour in incorporated. Fold in chopped HAZELNUTS and work with your hands until you get a compact slightly sticky dough.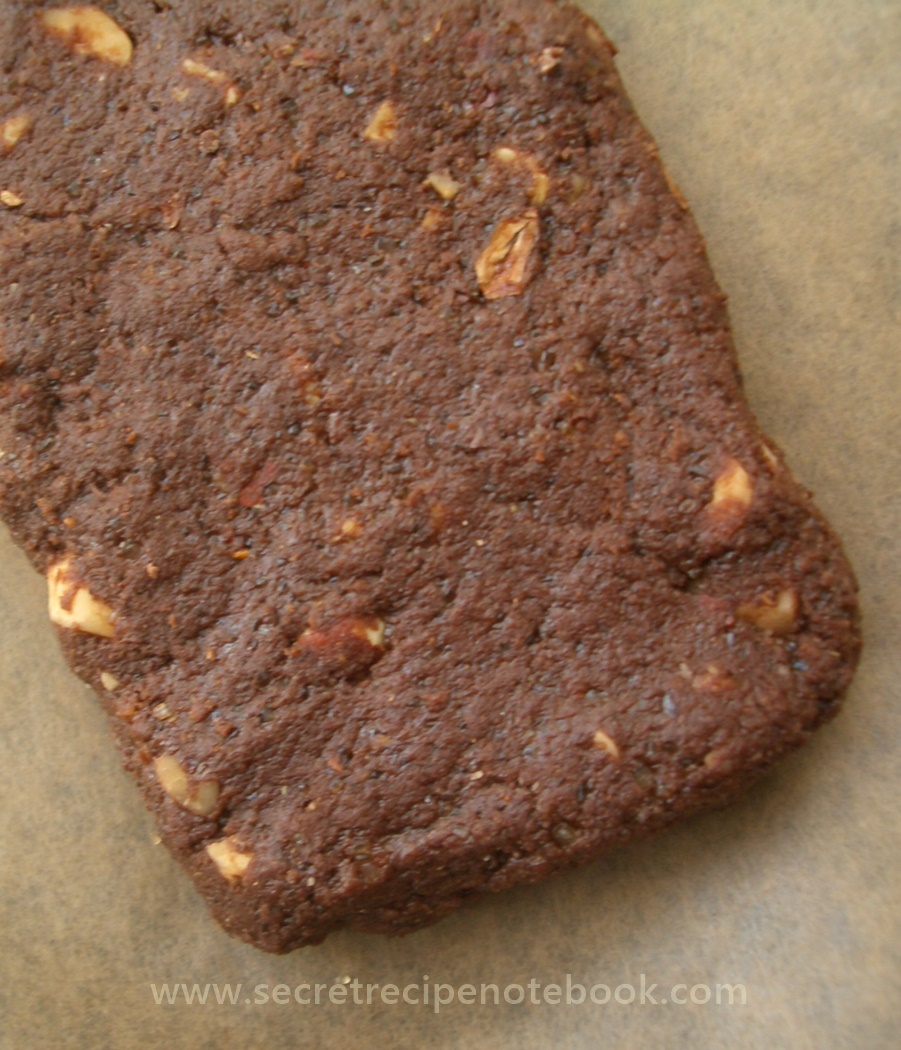 Baking biscotti
Halve dough and place on baking sheet lined with baking paper. Shape each half into a 5cm x 25cm log. Bake logs about 20 minutes or until they harden a bit. Remove from the oven and cool logs for about 5 minutes, then using serrated knife, cut each log diagonally into 1.5cm slices. 
Place slices back on the sheet and bake for another 10 minutes, then turn and bake for another 10 minutes or until dry and crisp. If you prefer softer biscotti you can skip the second step and leave them softer.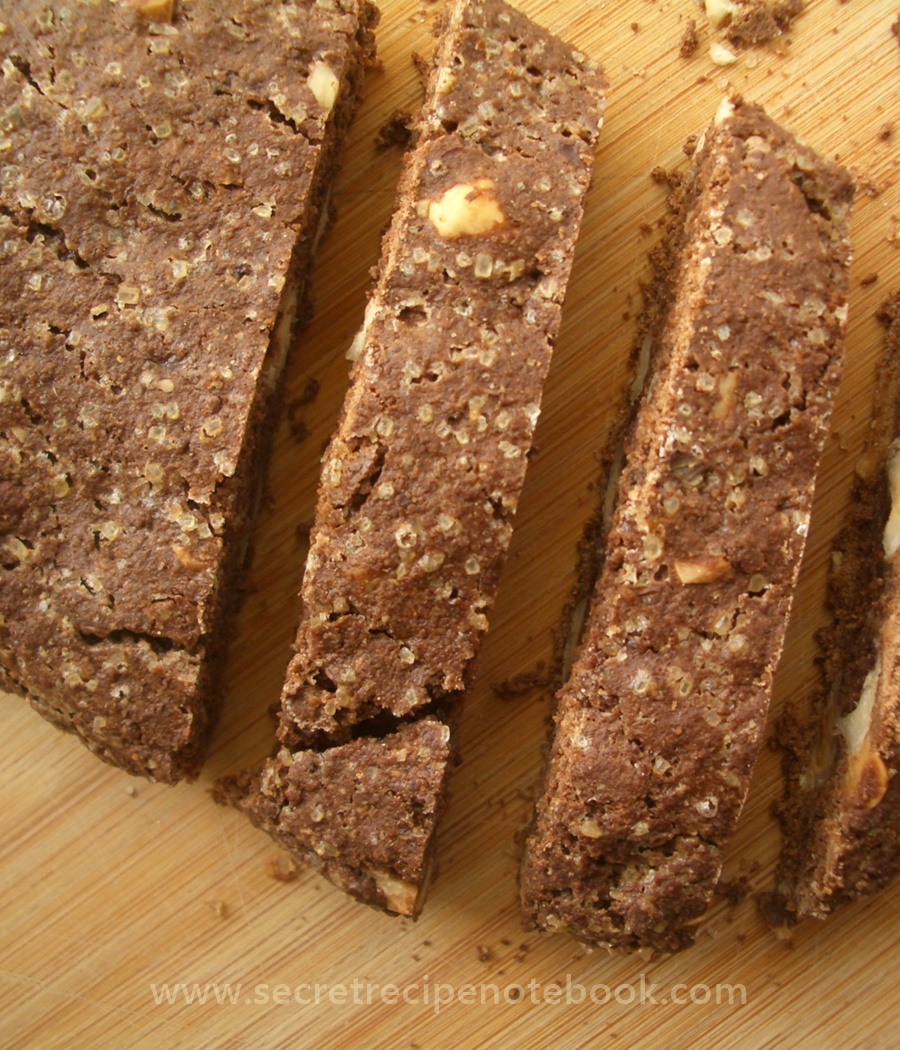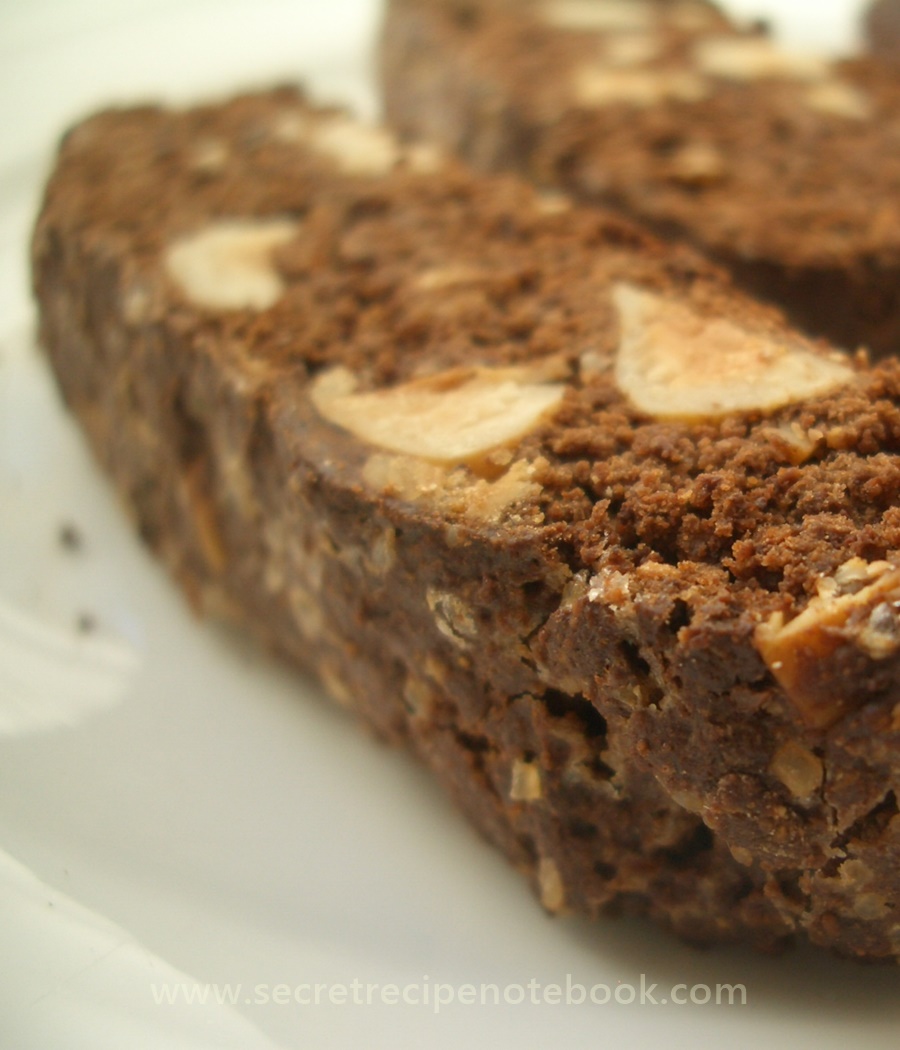 Top tips for making chocolate hazelnut biscotti
The trickiest part about making biscotti is handling the dough. It's soft and sticky so we advise to form the logs directly on the baking sheet.




For a richer aroma, toast t

he

hazelnuts

before adding to the dough.





Cut the logs into slices at the right temperature. It is best to let them cool after the first bake until they can easily handled. But don't wait to long as the logs will become hard and can break while slicing. Use a 

serrated knife

 to cut the logs.





Be careful when turning the biscotti in the oven during the second bake to prevent cracking and crumbling. It's best to use 

tongs

 to turn them.





The final texture of the biscotti depends on the amount of time spent in the oven. For a slightly softer texture, decrease the time of the second bake. If the biscotti are too soft, increase the duration of the second bake to get dry crunchy biscotti.
Storing chocolate hazelnut biscotti
To keep the biscotti crisp, store them in a glass cookie jar at room temperature. If they should lose their crispness, simply toast them in the oven for a few minutes on 150°C/300°F.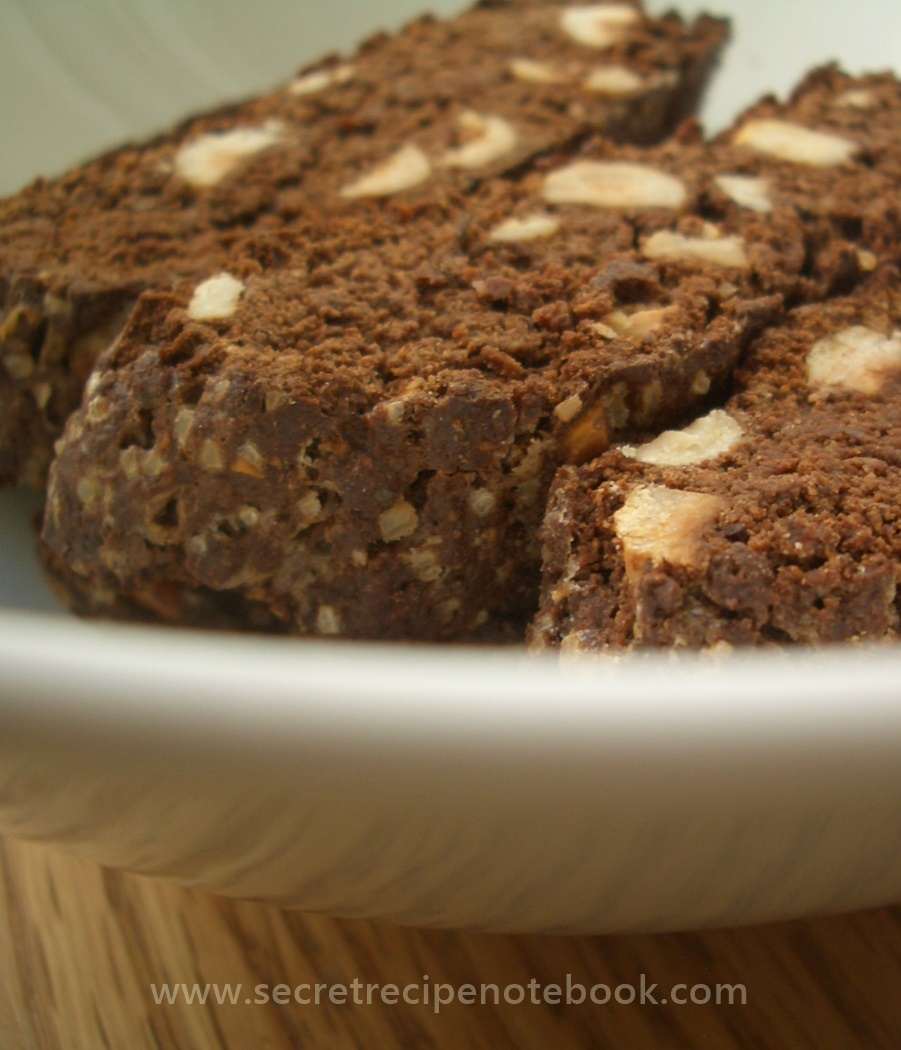 Try out popular cookie recipes:
Chocolate Hazelnut Biscotti
MAKES: 28 biscotti
COOKS IN: 30 minutes plus cooling time
LEVEL: Moderate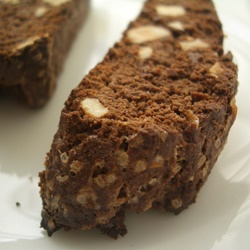 HANDY KITCHEN PRODUCTS:
INGREDIENTS
METHOD
Preheat the oven to 180°C/356°F. Spread hazelnuts on a baking sheet and bake for about 8-10 minutes until lightly browned and fragrant and the the skins start to crack. Remove from the oven and place nuts in a clean tea towel and gently rub together until the most of the skin comes off. Cool and chop coarsely.


Reduce the oven to 175°C/320°F and line the baking sheet with baking paper.


Place coarsely chopped chocolate in a food processor and blitz until the chocolate is very fine.


Combine flours, sugar, cocoa powder, baking powder, finely ground chocolate, ground cardamom and grated orange zest in a large bowl. 


In a separate bowl, whisk the eggs for 1 minute.


Make a well in the middle of dry ingredients and pour the eggs into this incorporating gradually using a spatula. Mix with spatula until a dough form, adding the chopped hazelnuts halfway.


On a baking sheet, shape the dough into 2 logs about 5cm wide. The dough may be quite sticky so you can dust your hands. They don't have to be perfect, they will smooth out and expand in the oven, but leave enough space between the logs as they will spread.


Bake in the oven for about 18-20 minutes or until logs are almost firm to touch. Remove the logs from the oven, and when cool enough to handle but still slightly warm, slice the logs diagonally into slices about 1.5 cm wide using a serrated knife.


Return slices to baking sheet and bake for another 10 minutes on one side, then turn and bake for additional 10 minutes on the other side until the biscotti are quite firm and brown. Let them cool completely.


CATEGORIES: Cookies, Italian Inspired, Chocolate, Hazelnut
We are a participant in the Amazon Services LLC Associates Program, an affiliate advertising program designed to provide a means for us to earn fees by linking to Amazon.com and affiliated sites.