Walnut Spelt Chocolate Chip Cookies
You will love these rustic chocolate chip cookies made with whole grain spelt flour and packed with dark chocolate and toasted walnuts. Ideal pair with a cup of warm milk!
This webpage contains affiliate links. Please view our disclosure policy for more details.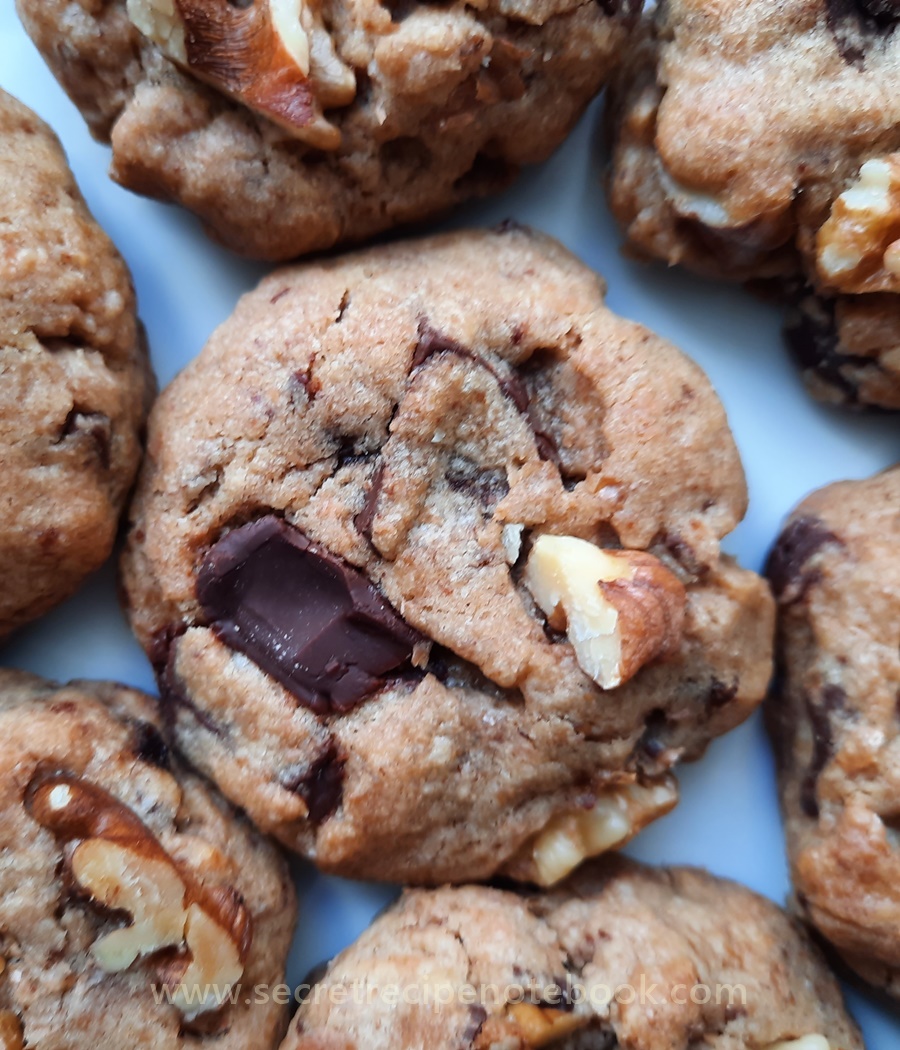 For those looking something different, this walnut spelt chocolate chip cookies would be a true find. Made from whole grain spelt flour and studded with large chocolate chunks and pieces of toasted walnuts, these cookies are so delicious.

Spelt flour does a nice job in keeping the texture light but also provides a deeper and nuttier flavour than regular plain flour. Dark muscovado sugar we used in this recipe, lends amazing caramel taste to the cookies.

These healthy rustic chocolate chip cookies are worth giving a try.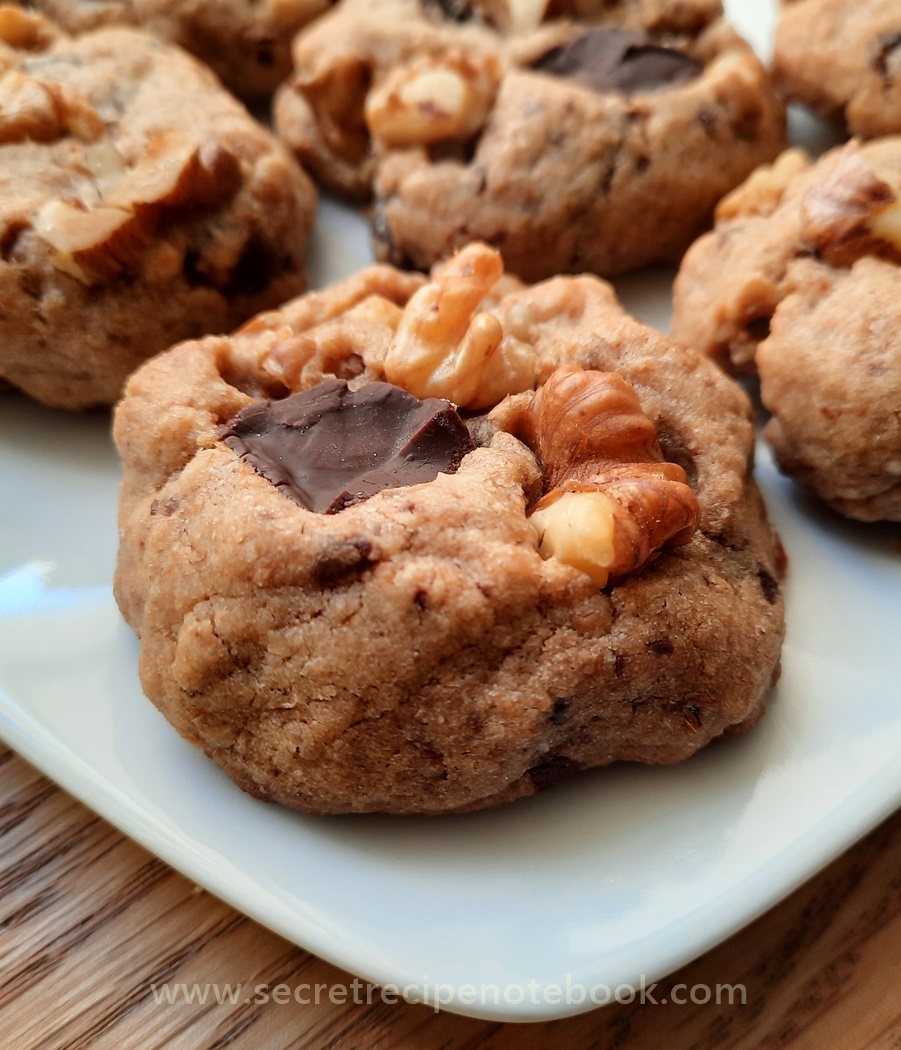 More cookie recipes you will love:
How to make walnut spelt chocolate chip cookies
Making these chocolate chip cookies is so easy and quick. You don't even need an electric mixer as we use melted butter in this recipe.

First prepare WALNUTS by lightly toasting them and chocolate by chopping it on a cutting board into smaller pieces. Set both aside.


Combine SPELT FLOUR with BAKING SODA and SALT in one bowl. 


Melt

BUTTER

on a low heat then transfer to a heatproof bowl. Add MUSCOVADO SUGAR, EGG YOLK and VANILLA EXTRACT and whisk until combined. Gradually fold in flour, chocolate and walnuts. 


Shaping cookies is so easy. Scoop the dough of the size of walnut and roll into balls. Place them on the baking sheet, apart and flatten slightly. Bake for about 7-8 minutes and your cookies are done. From this dough we got 24 cookies.


Best selling kitchen tools
Extra baking tip
Take cookies from the oven while still slightly underbaked, as they will continue to bake on the baking sheet. This way they are going to have a great texture once they cool.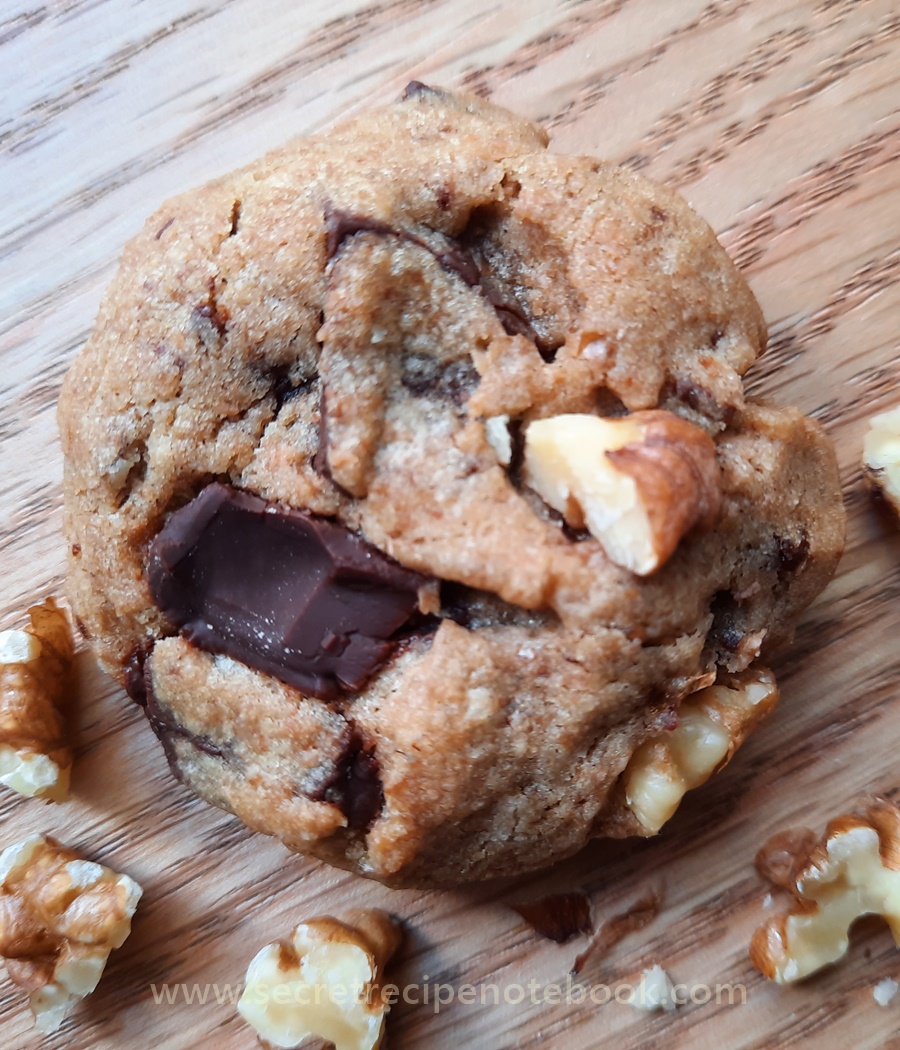 Storing walnut spelt chocolate chip cookies
If you have some leftover cookies store them in a stainless steel cookie container or a glass cookie jar at room temperature for up to 7 days. You can also freeze the baked or unbaked cookies. If freezing the dough, portion it out into balls first, freeze, then place in plastic freezer bag and return to the freezer.


Looking for more cookie recipes? Check these out: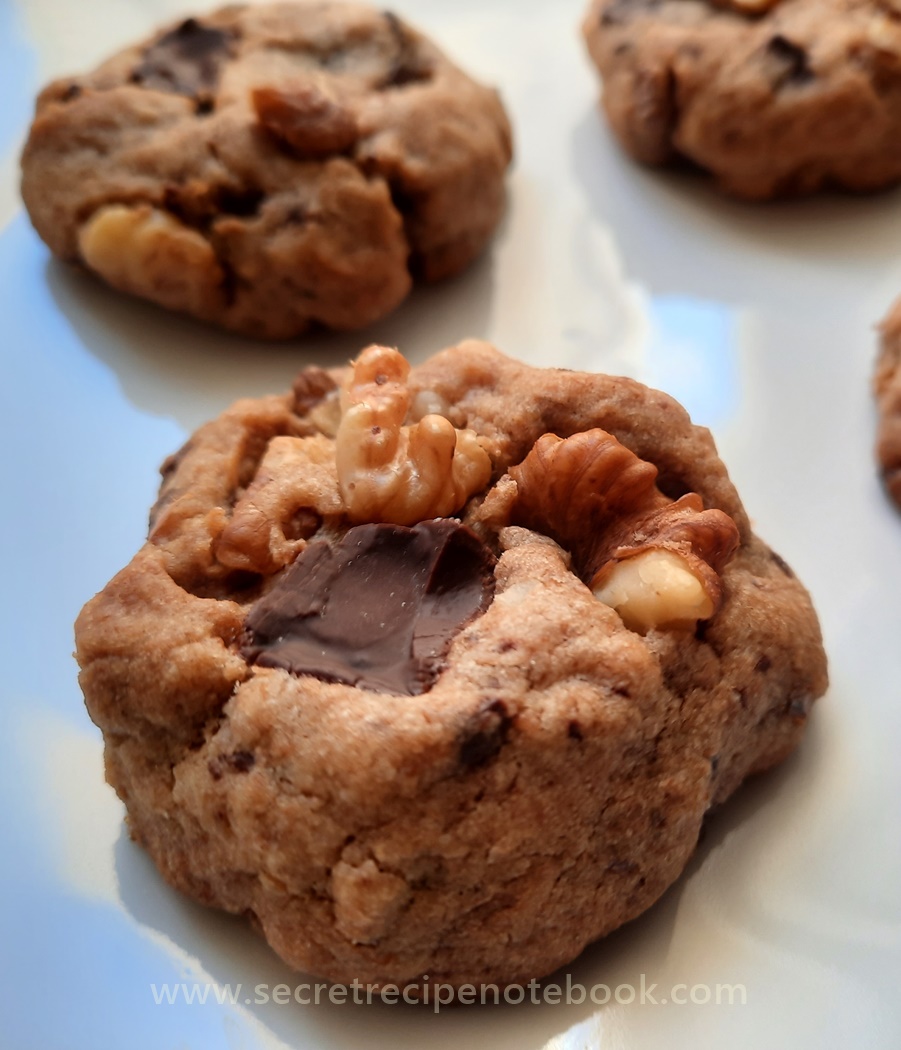 Walnut Spelt Chocolate Chip Cookies

MAKES: 24 cookies
COOKS IN: 40 cookies
LEVEL: Easy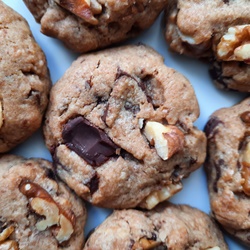 INGREDIENTS
Ideal for baking perfect cookies and other baked goods!
METHOD
Preheat the oven to 160°C (320°F) and arrange walnuts in a single layer on the baking sheet lined with baking paper. Toast walnuts for only 3-4 minutes, or until lightly browned and fragrant. Cool them and chop coarsely. Set aside.


If using chocolate bar, chop it into smaller pieces on a cutting board with a kitchen knife.


Combine whole grain spelt flour, baking soda and sal

t in a

medium bowl

.






Cube butter and place in a small saucepan. Heat on a low heat until completely melted then transfer to a

heatproof bowl

. Add muscovado sugar, egg yolk and vanilla extract and whisk until everything combined.





Fold flour and stir with

silicon spatula

or spoon until wet and dry ingredients are incorporated. Add walnuts and chocolate

and stir again until combined.


Preheat the oven to 180°C (356°F) and line 2 baking sheets with baking paper.


Scoop the dough and form a balls of the size of walnuts. Place balls on prepared baking tray 2-3 cm apart. Flatten slightly each ball and top each one with 1-2 pieces of chocolate chip and chopped walnut. This is for nicer look of the cookies.


Bake in the preheated oven for about 8-9 minutes. The cookies will be still soft on the top while bottoms will be browned. Be sure not to overbake them.



Allow cookies to cool on the baking sheet for 2-3 minutes, then transfer to

cooling rack

to cool completely. Cookies will crisp up as

they cool.