This webpage contains affiliate links. Please view our disclosure policy for more details.

Whole Grain Orange Chocolate Cookies
These cookies, made with healthy flours, are a great choice for a homemade breakfast or wholesome snack. The use of whole wheat and whole grain spelt flours instead of plain flour results in hearty cookies with a deeper flavour. They are crunchy from outside with chewy centers.
What is good that these cookies are not overly sweet, just enough to enjoy. What makes them extra tasteful is the zesty orange in combination with the rich dark chocolate flavour.

If you find these crunchy cookies appealing, you may also like our walnut spelt chocolate chip cookies.


What you'll need for whole grain orange chocolate cookies
For these cookies we use a mix of WHOLE WHEAT and WHOLE GRAIN SPELT flours, both nutritiously rich and a good choice when preparing healthy sweet treats.

To sweeten the cookies, we use a mix of DEMERARA and DARK MUSCOVADO sugar instead of refined white sugar. While demerara, with its coarse texture, gives crunch, muscovado sugar, which is slightly moist thanks to the molasses, adds chewiness to the cookies.

Both sugars have an amazing caramel flavour which you can taste in every bite. If you can't get these two kind of sugars, feel free to use any other brown sugar - it will also work well.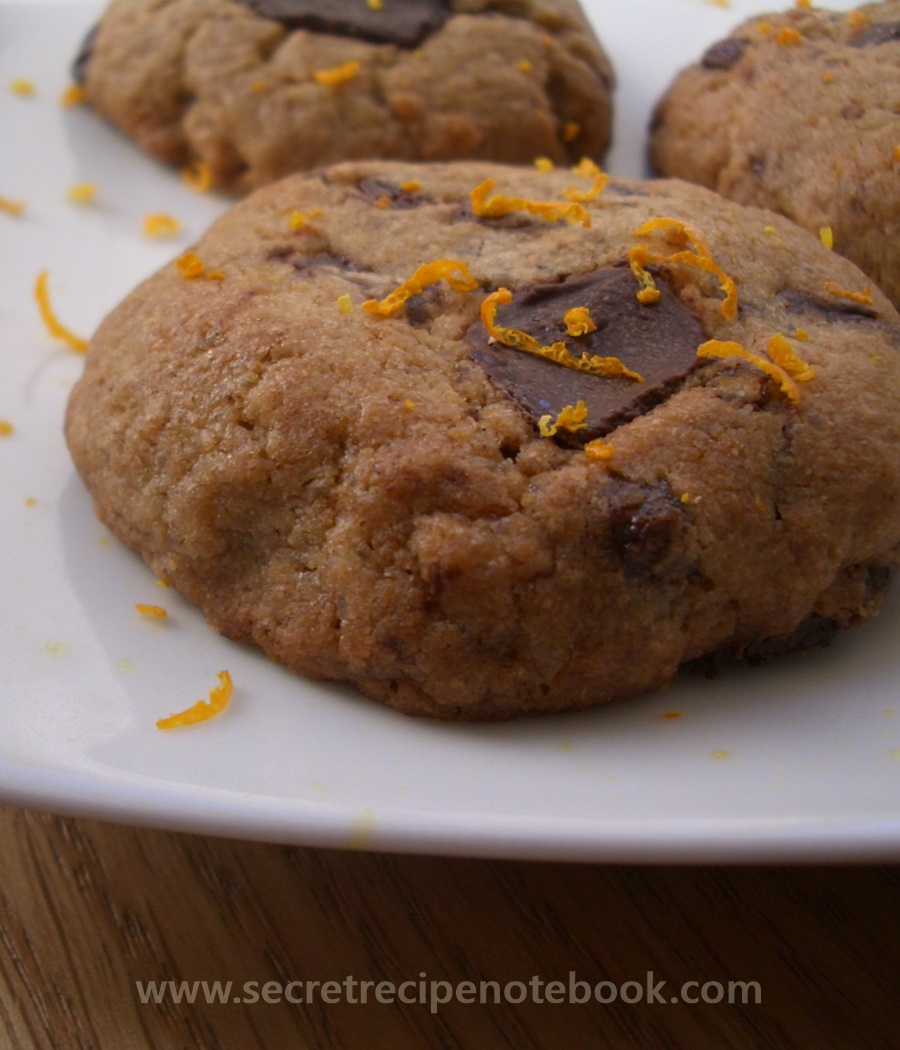 More tasty recipes you'll love:
How to make whole grain orange chocolate cookies
Making these healthy cookies is easy and quick. You don't even need an electric mixer and the dough is whipped up in only 10 minutes.

MAKING THE DOUGH: First measure and combine both flours, then add baking soda and salt in one bowl. These cookies need melted butter, so cube it and melt over a low heat in a small saucepan. Transfer into a heatproof bowl and whisk together with both sugars, egg yolk, vanilla extract and finely grated orange zest. Now, fold flours and chocolate into this and stir until just combined. Leave the dough in the fridge for about 20 minutes.


BAKING THE COOKIES: Using a medium cookie scoop or a tablespoon, scoop the dough and place 3-4 cm apart on the baking sheet. Bake in a preheated oven for about 10 minutes and, while cookies are still soft to the touch, take them from the oven. Leave on the tray to cool for a few minutes. These cookies are absolutely the best when just from the oven with their crunchy texture and melty chocolate pockets in every bite.


Storing whole grain chocolate cookies
If you have some leftover cookies store them in a stainless steel cookie container or a glass cookie jar at room temperature for up to 7 days. You can also freeze the baked or unbaked cookies. If freezing the dough, portion it out into balls first, freeze, then place in a plastic freezer bag and return to the freezer.


A few of our favourite cookie recipes:
Whole Grain Orange Chocolate Cookies
MAKES: 24 cookies
COOKS IN: 40 minutes plus cooling time
LEVEL: Easy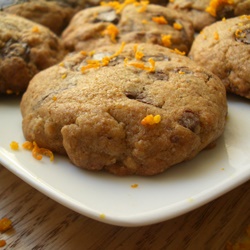 Kitchen products that we recommend:
METHOD
Combine whole wheat flour, whole grain spelt flour, baking soda and salt in a medium bowl.


If using chocolate bar, cut it into smaller pieces on a cutting board with a knife.


In a 

large heatproof bowl

 whisk melted butter, both sugars, egg yolk, vanilla extract and finely grated orange zest. Fold flours gradually into wet ingredients using a 

spatula

 until just combined. Stir in chocolate, leaving some for the top of the cookies. Cover the bowl and place in the fridge for 20 minutes to cool.


Preheat the oven to 180°C/356°F. Line 2 

baking sheets

 with baking paper.



Take the dough and using a 

medium cookie scoop

 (approximately 1.5 tablespoon) form balls of dough. Place onto prepared baking tray, leaving some space between them, as they will spread. Flatten each ball with your fingers and press a few more chocolate pieces into the tops - for decoration.




Bake for about 9-10 minutes or until the cookies are lightly brown. Cookies should be still soft to the touch. Remove from the oven and leave them to cool on the tray for 3-4 minutes then transfer to 

cooling rack

 to cool completely.


We recommend using the measurement in grams & ml (instead of cups & spoons) for more accuracy and better results.