Sugar-Free
Chocolate Chip Cookies
If you're looking for a cookie with the perfect texture that's just the right amount of sweet, this recipe is for you. For these cookies we used a mix of chestnut four and spelt flour, making them slightly nutty.

Dark chocolate chunks, of course in this case sugar-free, make ideal combination with these flours. To sweeten, we used only honey, no any added sugars.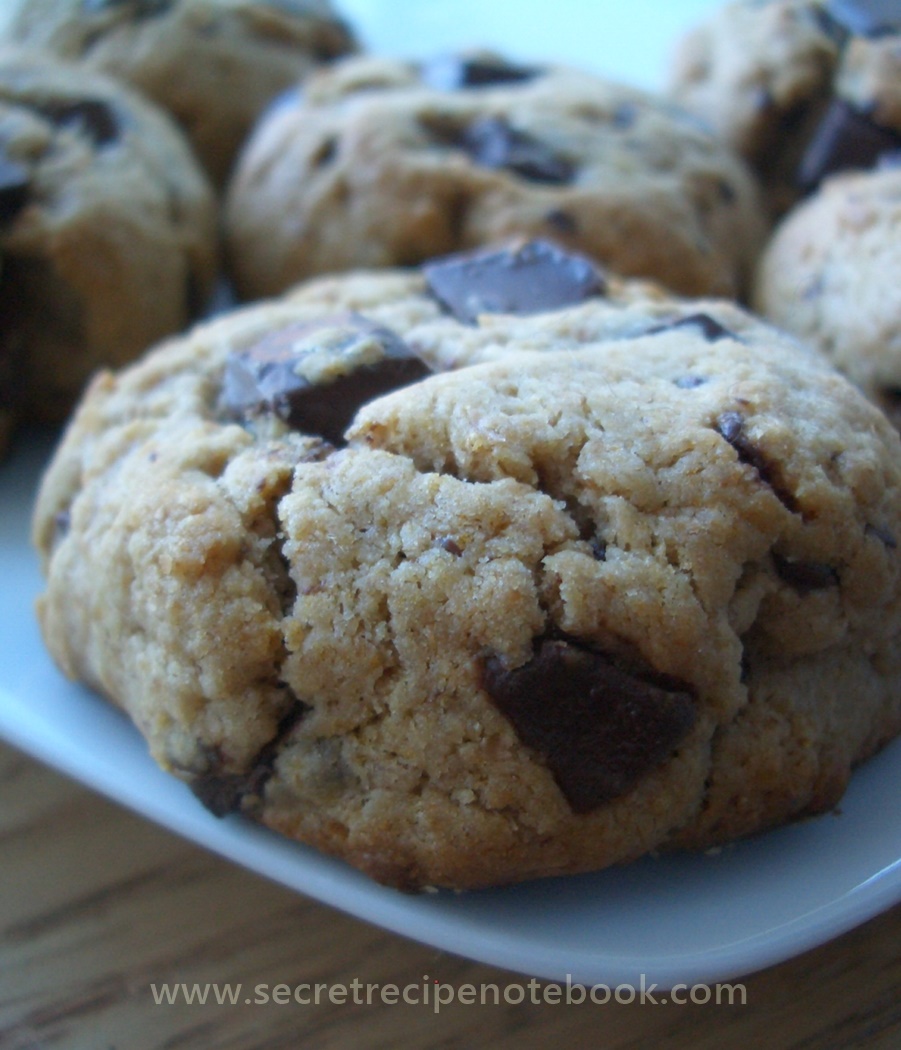 This webpage contains affiliate links. Please read our disclosure policy.

More cookie recipes
you'll love:
Why are these cookies completely sugar-free
As the name of the cookies suggest, they don't contain any added sugar, neither refined or unrefined. But still, these cookies still taste sweet thanks to few tablespoons of HONEY we used in the recipe.


In addition, CHESTNUT FLOUR, which we used in the recipe adds sweetness to the cookies. This flour is naturally sweet and is a great addition to the cookies and cakes, making them nutritiously rich and healthier.

The chestnut flour can be found at organic food stores or ordered online.


Chocolate used in this recipe
The only sweetness in this recipe comes from chestnut flour. The chocolate we use in this recipe is a sugar-free chocolate bar cutted into smaller chunks.

You can find these chocolates online or at your local organic food store. The chocolate is sweeten with stevia, but just as tasty as the regular one.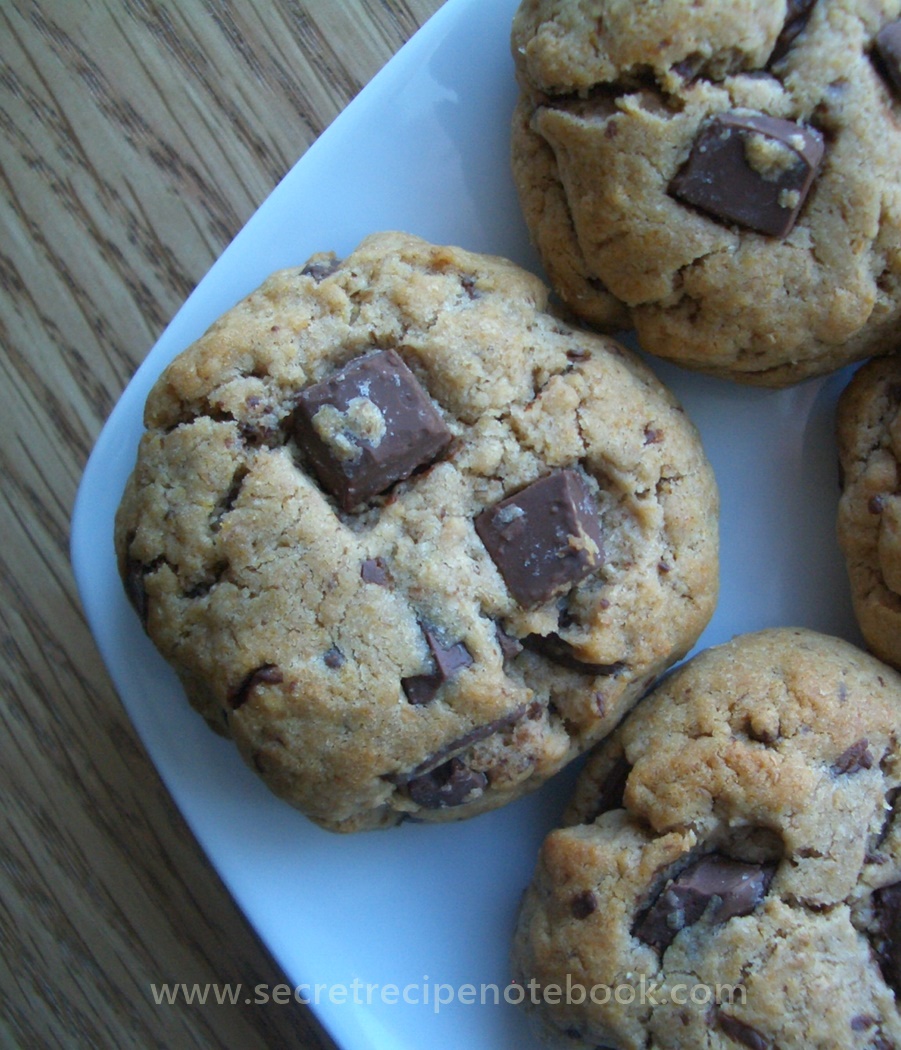 How to make sugar-free chocolate chip cookies
Making these cookies is so easy and quick. For this recipe you don't even need electric mixer, just two bowls, small saucepan for melting butter and hand whisk.

Start with sifting CHESTNUT FLOUR in one bowl, then add SPELT FLOUR, BAKING SODA and SALT and stir everything.


Melt cubed butter and transfer to a heatproof bowl. Add egg and vanilla extract and whisk until combined. Gradually add flours to the bowl with wet ingredients and stir to combined. The dough you get will not be compact but this is fine.


Scoop tablespoon of the dough and press with your palms until you get a ball of the size of walnut. Arrange balls on the baking sheet 4-5 cm apart. Flatten each ball, as these cookies will not spread too much, as they don't contain any sugar. Bake in the oven for 10 minutes or until lightly brown.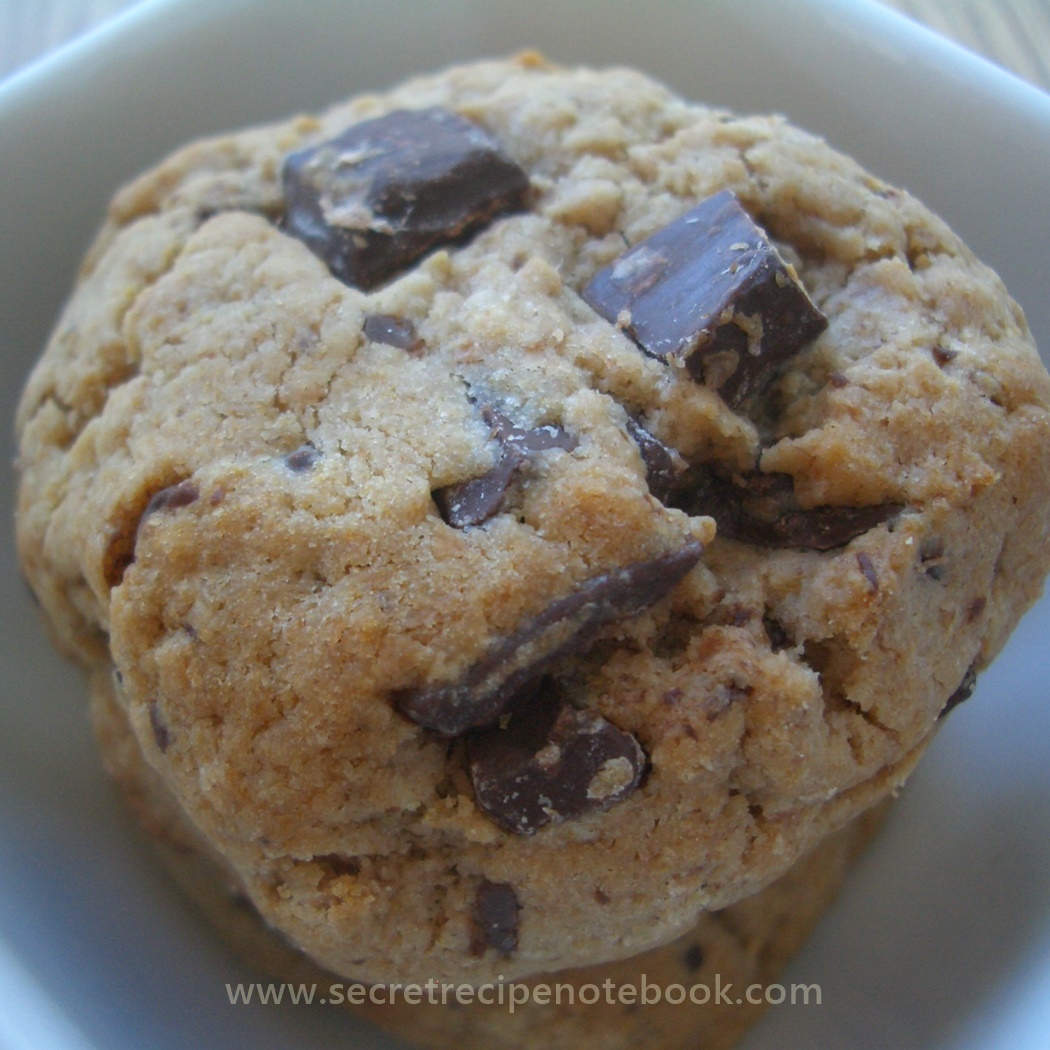 Storing sugar-free chocolate chip cookies
Store these cookies in an airtight container at room temperature for a week. We love this cute glass jar with airtight lid which keeps cookies fresh for days.


A few of our favourite cookie recipes:
Sugar-Free Chocolate Chip Cookies

MAKES: 18 cookies
COOKS IN: 30 minutes
LEVEL: Easy
Handy equipment:
INGREDIENTS
120g whole wheat flour (1 cup)
90g chestnut flour (1 cup)

1/2 teaspoon baking soda

1 pinch of salt

126g butter 

(9 tbsp), melted
1 egg, at room temperature
1 teaspoon vanilla extract
60g honey (3 tbsp)
170g sugar-free chocolate chunks (6 ounces)
METHOD
Preheat the oven to 175°C/356°F. Line 2 baking sheets with baking paper.



Sift the chestnut flour and combine with whole grain spelt flour, baking soda and salt in one bowl. Set aside.




Prepare chocolate, by chopping the chocolate bar into chunks. Set aside.


Place the butter to the heatproof bowl, add egg, honey and vanilla extract and whisk using a balloon whisk until combined.


Fold the flours into wet ingredients with a silicon spatula, then add chocolate chunks.


Scoop the dough using tablespoon, 1 tablespoon per cookie, roll into balls and arrange them on a baking sheet, 3-4 cm apart. Flatten slightly each ball with your hands. Bake for about 6-7 minutes or until cookies start to brown on top and around the edges.  Remove from the oven and allow cookies to cool on the baking sheet for 2-3 minutes then transfer to a wire rack to cool completely. Cookies crispy up as they cool.


CATEGORIES: Cookies, Chestnut Flour
We are a participant in the Amazon Services LLC Associates Program, an affiliate advertising program designed to provide a means for us to earn fees by linking to Amazon.com and affiliated sites.