These decadent chocolate cookies are a chocolate lovers dream. Made with spelt and hazelnut flours and packed with quality dark chocolate, these cookies are ideal pair with a cup of warm milk.
If you are fan of super rich chocolatey cookies, then these double chocolate spelt cookies are ideal choice for you. Made with a mix of spelt and hazelnut flours, these cookies has amazing nutty flavour and brownie-like centers. Each bite of the cookie is packed with dark chocolate chunks, which are the best parts of these cookies.


These cookies makes a great breakfast along a cup of warm milk. They also turn easily into a delicious dessert when served still warm with one scoop of vanilla ice-cream on the top. So yummy! We are sure you will love these double chocolate cookies as they are surprisingly easy to make. For a crunchy version of these cookies, try our double chocolate cookies with crunchy hazelnuts.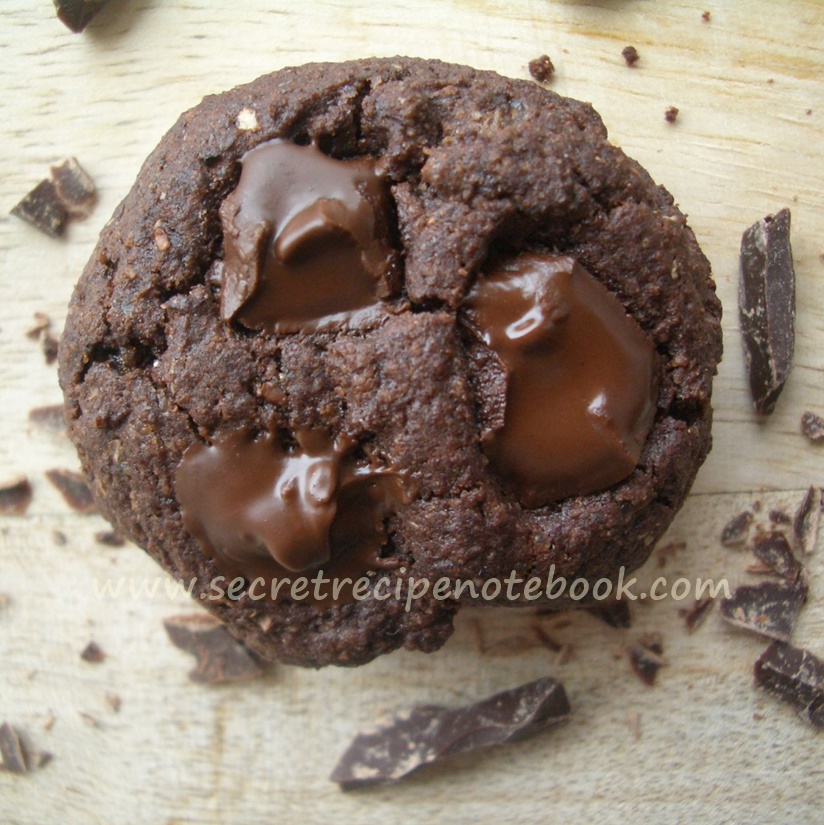 Try also these tasty recipes:
what makes these cookies so special
For these cookies we combined whole grain spelt and hazelnut flours, which gives cookies deep nutty flavour and dense texture. We love cookies made with whole grain spelt flour like in our crunchy cookies packed with toasted walnuts.

In this recipe we choose to use whole-grain spelt flour, but standard white spelt flour will also work fine. You can also swap hazelnut meal for hazelnut flour or just skip it and use only spelt flour. These healthy flours can be bought at organic food stores.
Cookies are sweetened with dark muscovado sugar, which gives them slightly caramel taste and chewy texture once combined with the rest of ingredients. We recommend using good quality chocolate with at least 55% cocoa and unsweetened cocoa powder to make these cookies super chocolatey.


how to make double chocolate spelt cookies
To make these chocolate cookies, start with combining whole grain spelt flour, hazelnut flour (or hazelnut meal), cocoa powder (sifted), baking powder and salt in one bowl.
In another larger bowl, whisk muscovado sugar, melted butter, egg, vanilla extract and some finely grated citrus zest. Now, fold slowly dry ingredients into wet ingredients and stir using silicon spatula until you get a smooth and sticky dough. Add chocolate chunks and stir until incorporated.

Shaping cookies is easy, just scoop the dough of the size of large walnut and roll into balls. Place balls on the baking tray, flatten slightly and bake for only 5 - 6 minutes. They should still be soft on touch when taken from the oven.

Leave them to cool on the tray shortly then transfer to a cooling rack. Your double chocolate spelt cookies are ready to dunk into warm milk!


best selling kitchen tools & gadgets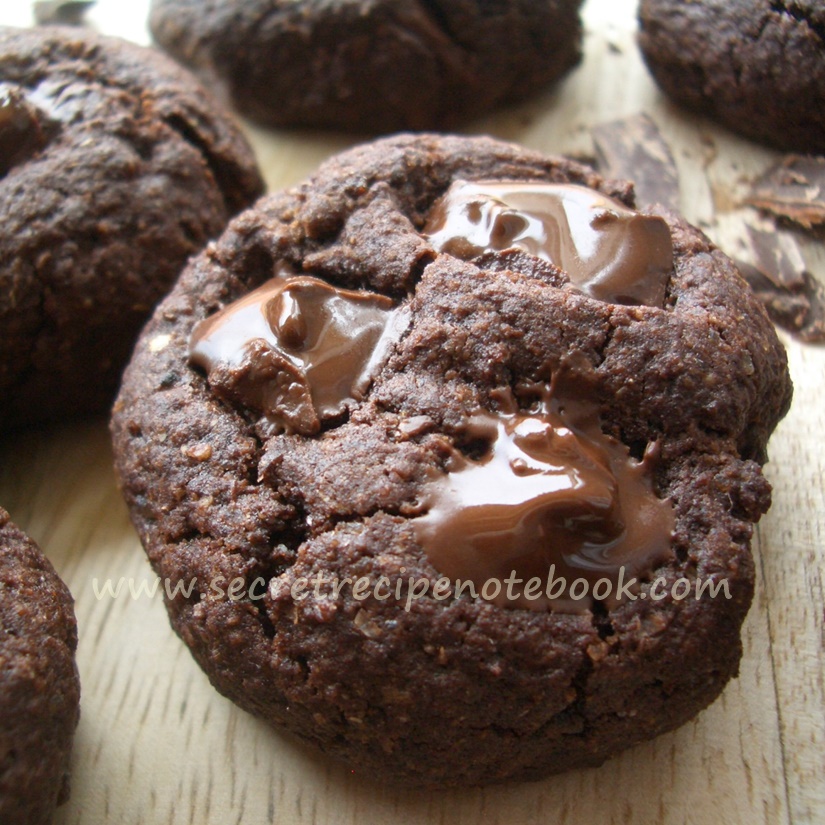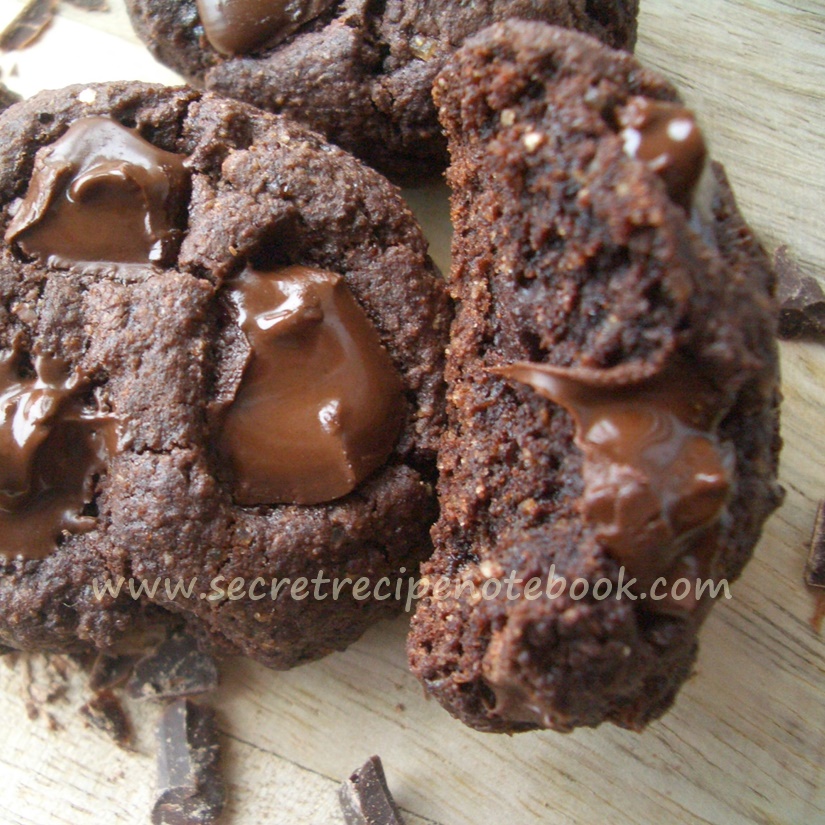 storing / Making ahead double chocolate spelt cookies
Cookies are the best on the day they are made. If you have some leftover cookies store them in an airtight container for about 5 days.

If you want to have fresh cookies, the best is to make a batch of cookie dough and refrigerate or freeze it, then just bake however many you plan to serve that day. Unbaked cookies dough balls freeze well for up to 3 months. Bake frozen cookie balls for an extra minute, no need to thaw.


looking for more cookie recipes!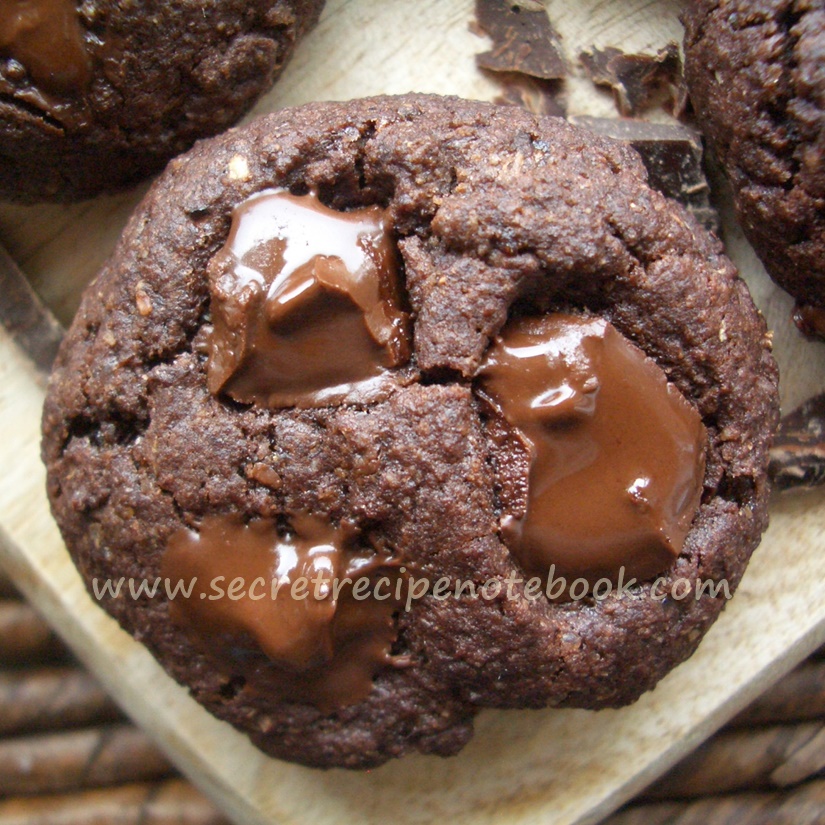 shop kitchen essentials for this recipe
Kitchen Scale | Mixing Bowls | Measuring Spoons | Wire Whisk | Baking Tray | Baking Paper Sheets | Cookie Spatula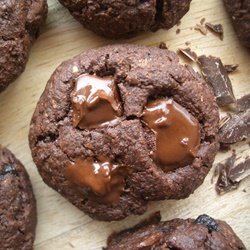 double chocolate spelt cookies
MAKES: 18 cookies
COOKS IN: 30 minutes
LEVEL: Easy
INGREDIENTS
METHOD
Preheat the oven to 175°C (347°F) and line two baking trays with baking paper. You can bake the whole batch in 2 rounds.


Combine whole grain spelt flour, cocoa powder, baking powder and salt in a medium bowl.


In a large bowl whisk together sugar, melted butter, egg, vanilla extract and grated citrus zest. 


Fold flours into wet ingredients in two batches, stirring with silicon spatula until just combined. Fold in prepared chocolate and stir until everything combined.



Using a tablespoon scoop the dough into balls of the size of large walnuts and arrange them on a baking tray, leaving 2 - 3 cm between each ball. The dough is slightly sticky, so expect to make a little mess on your hands as you shape the cookies. Flatten slightly each ball using your fingers. Press additional chocolate on the top of each ball for better look.


Bake for 5 - 6 minutes until the edges are set. Remove from the oven, cool shortly on the tray then transfer cookies to a wire rack to cool completely.