Chocolate Almond Biscotti
Rich dark chocolate combined with cocoa powder give the biscotti a flavour which will satisfy the most demanding chocolate lovers. The toasted almonds, which pair well with brown sugar, give an extra flavour kick.

Baking Italian biscotti might look a little tricky but we assure you that by following our recipe you will manage it easily.

If you love these, you'll also adore our chocolate biscotti enriched with hazelnuts.


This webpage contains affiliate links. Please read our disclosure policy.

More Italian
cookie recipes:
Making the dough for these biscotti
For these biscotti, you first need to toast almond until lightly brown and fragrant. You can do this in the oven, toasting them for about 5-10 minutes. Once ready, remove them from the oven and set aside.

In this recipe beside cocoa powder, we added some quality dark chocolate to accent the chocolate flavour. Broke the chocolate and process together with brown sugar in the food processor until you get a fine texture.


In one large bowl (we love these durable stainless steel bowls) combine all dry ingredients - flours, cocoa powder, baking powder, salt and prepared chocolate/sugar mixture. In another bowl, beat the eggs and vanilla extract for about 1 minute, then fold in dry ingredients in two separate additions.
Transfer the dough to the floured work surface and fold in toasted almond. Work with your hands until the compact dough forms but be careful not the overmix the dough since you want a light and crispy biscotti, not hard one.


How to bake biscotti
For the first bake, divide the dough into half and form each half into a log shape 30 cm long and 5 cm wide directly on the baking sheet. Bake for 20 - 25 minutes, until slightly risen, firm to touch and you can see some cracks on the top. Remove from the oven and leave to cool for about 10 minutes.

Using a serrated knife, slice each log on the diagonal into 1.5 cm thick slices. Return the slices cut-side up to the baking tray and bake for another 5 minutes. Turn the slices over and bake for an additional 5 minutes or until crisp. Remove from the oven and cool on a wire rack.

The longer the chocolate biscotti stay in the oven the crisper they become, so if you like them softer you can remove them earlier from the oven. Serve with a warm drink for dunking or just eat them by themselves.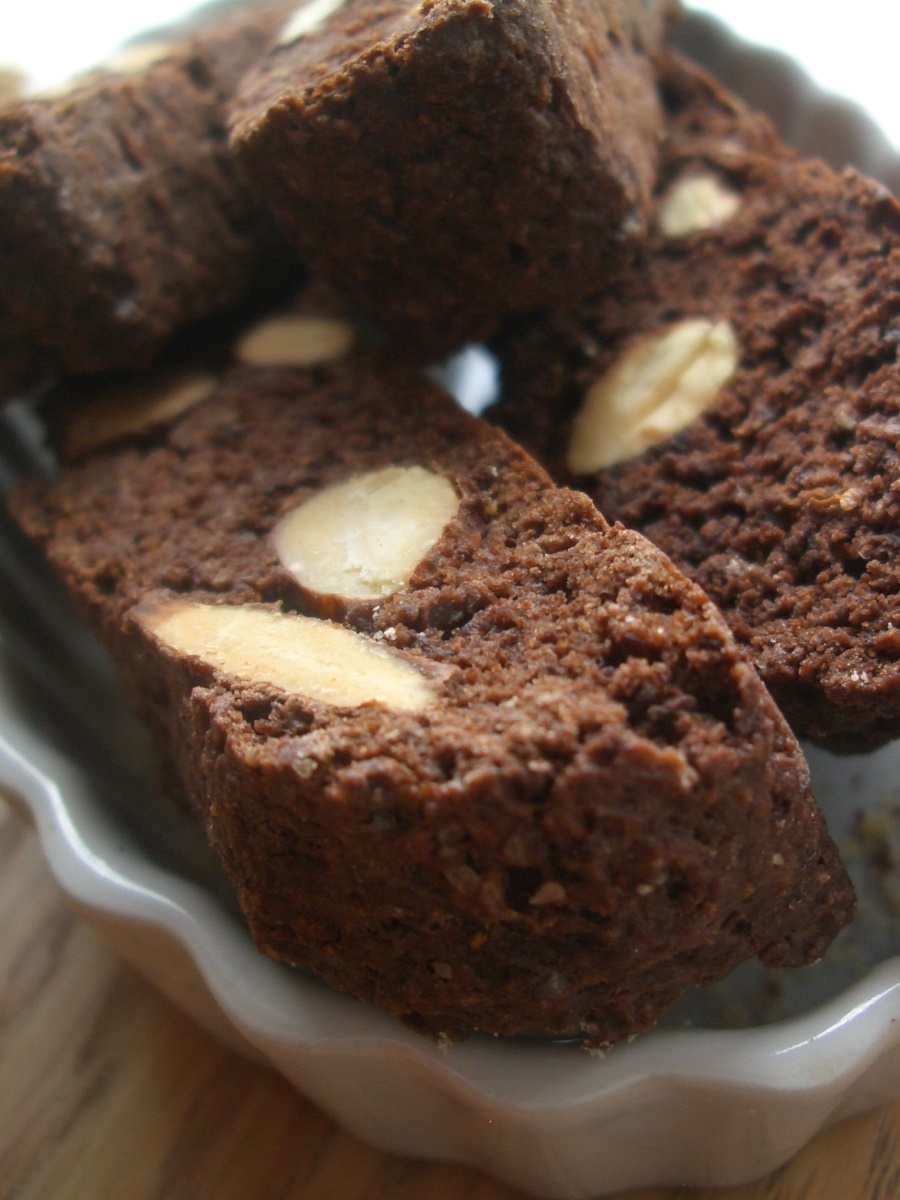 A few tips for successful biscotti making:
Storing chocolate almond biscotti
To keep the biscotti crisp, store them in a glass cookie jar at room temperature. If they should lose their crispness, simply toast them in the oven for a few minutes on 150°C/300°F.


A few of our popular cookie recipes:
Chocolate Almond Biscotti

MAKES: 20 biscotti
COOKS IN: 1 hour
LEVEL: Moderate
INGREDIENTS
Handy equipment:
METHOD
Spread the almonds on the baking sheet and toast at 160°C/320°F for about 5-7 minutes or until lightly browned and fragrant. Remove from the oven, cool completely and set aside. Reduce the oven temperature to 150°C/302°F. Line the baking sheet with baking paper.


Place broken chocolate and brown sugar in a food processor and process until the chocolate is very fine.



In a large bowl combine plain and hazelnut flours, baking powder, cocoa powder and salt. Add chocolate and sugar mixture into this.




In another bowl whisk the eggs and vanilla extract for about 1 minute and then add to the dry ingredients.


Tip onto a floured work surface, add toasted almonds and work with your hands until compact dough forms.



With floured hands divide the dough in half. Roll each half of dough into a log shape (30 cm long and 5 cm wide) directly on the baking sheet. Bake for about 20-25 minutes (logs will spread during baking). Remove from the oven, place on the wire rack and let cool for 10 minutes.




Transfer the logs onto a cutting board. Using serrated knife, cut the logs into slices 1.5cm thick on the diagonal.


Place slices cut-side down onto the baking sheet and bake for another 5 minutes. Turn the slices over and bake for an additional 5 minutes. Remove from the oven and cool on a wire rack.


CATEGORIES: Cookies, Italian Inspired, Chocolate, Almonds
We are a participant in the Amazon Services LLC Associates Program, an affiliate advertising program designed to provide a means for us to earn fees by linking to Amazon.com and affiliated sites.