Almond Polenta Cookies
Everybody loves these simple rustic cookies made with plain flour, polenta and almonds. They are crunchy with a sweet flavour thanks to the polenta. Fresh rosemary leaves add aromatic hint to the cookie dough.

Try also our gluten-free version of polenta cookies, which are also tasty and super simple to make.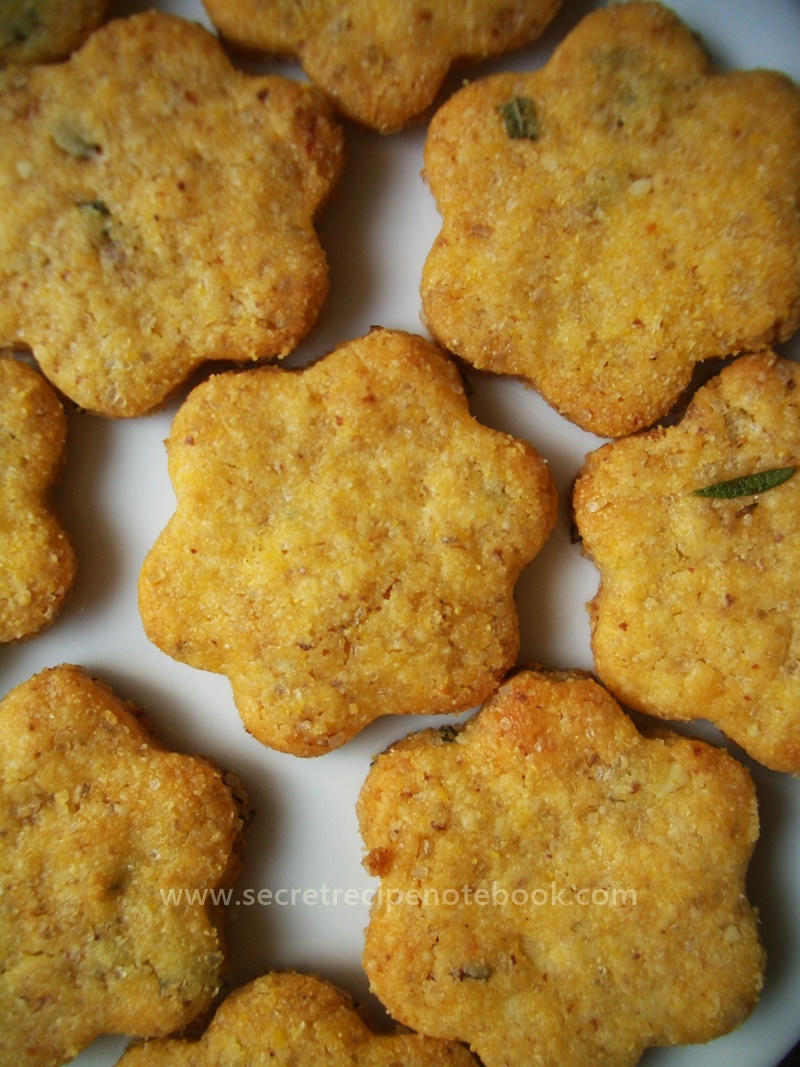 This webpage contains affiliate links. Please read our disclosure policy.

How to make almond polenta cookies
The good news is that the dough for these cookie comes together easily (in one bowl). Next, prepare a rolling pin and some cute cookie cutters for shaping the cookies.
First toast the almonds on a frying pan or in the oven until fragrant, cool them and finely grind. Shop high-quality nuts online!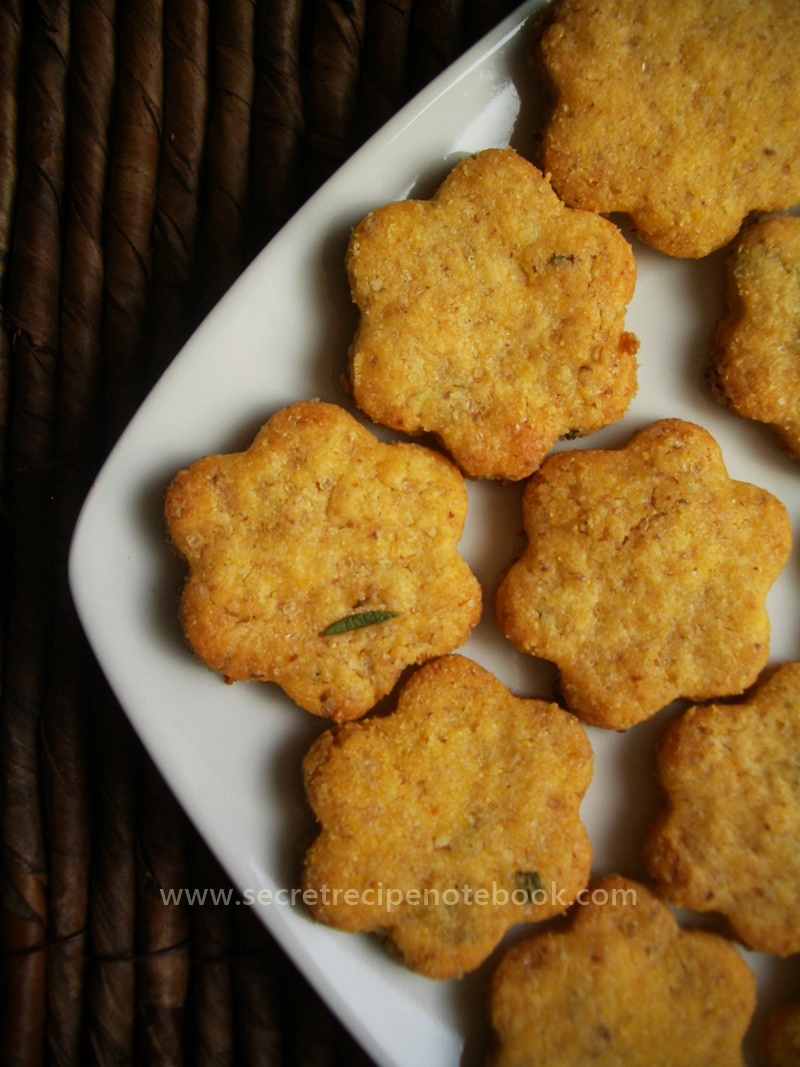 More cookie recipes
you'll love:
Making the dough
In one bowl combine FLOUR, SUGAR, SALT, ground ALMONDS, POLENTA and chopped ROSEMARY LEAVES. For this recipe use instant polenta which is coarsely grounded as this gives rustic appearance to the cookies.

Add cubed butter to the dry ingredients and rub it until you get a texture like coarse breadcrumbs. Add EGG YOLKS and finely grated LEMON ZEST and form a dough with your hands. The dough should rest in the fridge for about 30 minutes.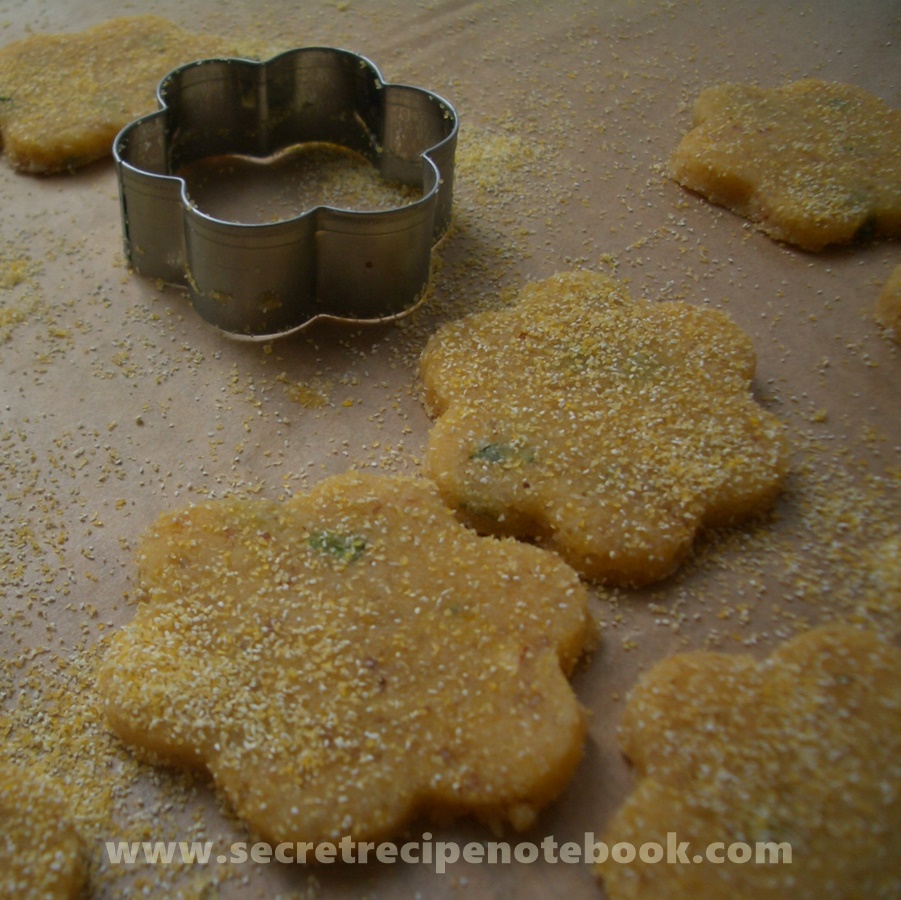 Baking the cookies
Prepare the work surface and a rolling pin for a fun part. Sprinkle some polenta on the work surface and roll out the dough thinly, 3-4 mm.

Take your favourite cookie cutters and cut the cookies from the dough (we used small flower cookie cutter and get 80 small cookies). Place them on a baking sheet covered with baking paper and bake for only 7-8 minutes.

Be sure to check out our top cookie baking tips for the perfect cookies every single time.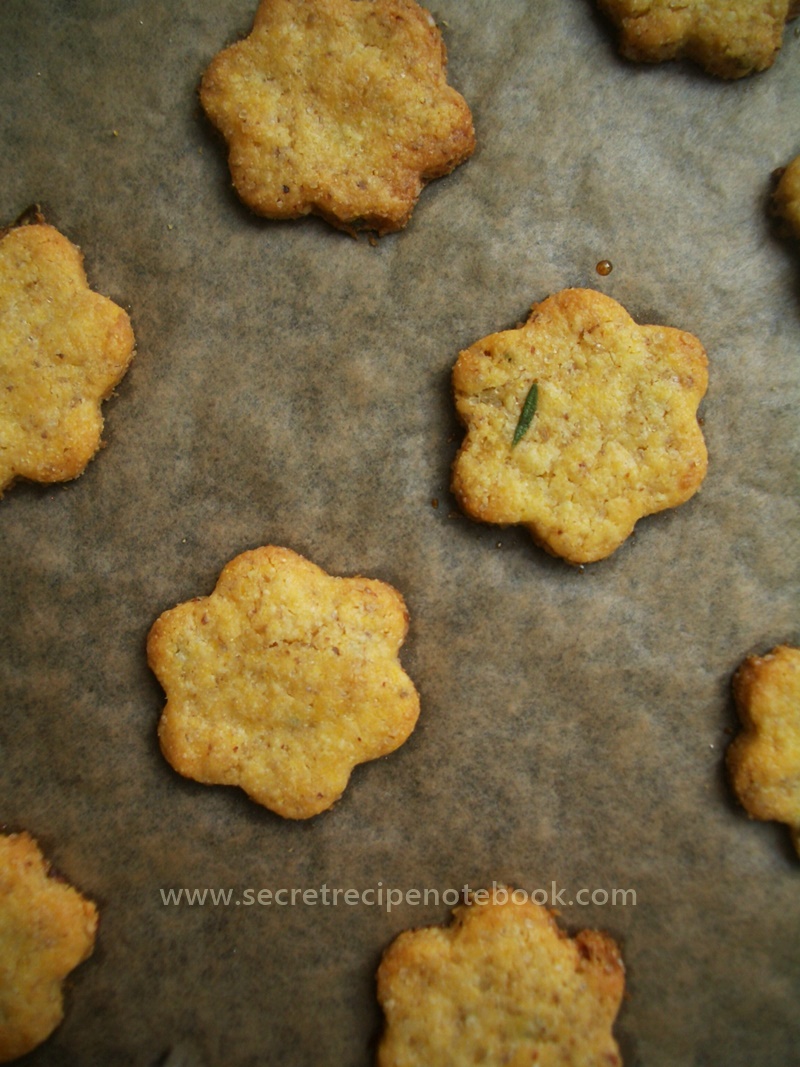 Extra baking tip
Watch carefully while baking the cookies as they brown quickly. Once baked, take the sheet from the oven and leave cookies to cool for a few minutes as cookies will be very soft and crumbly. Once cooled they will firm up and you can transfer them onto a wire rack to cool completely.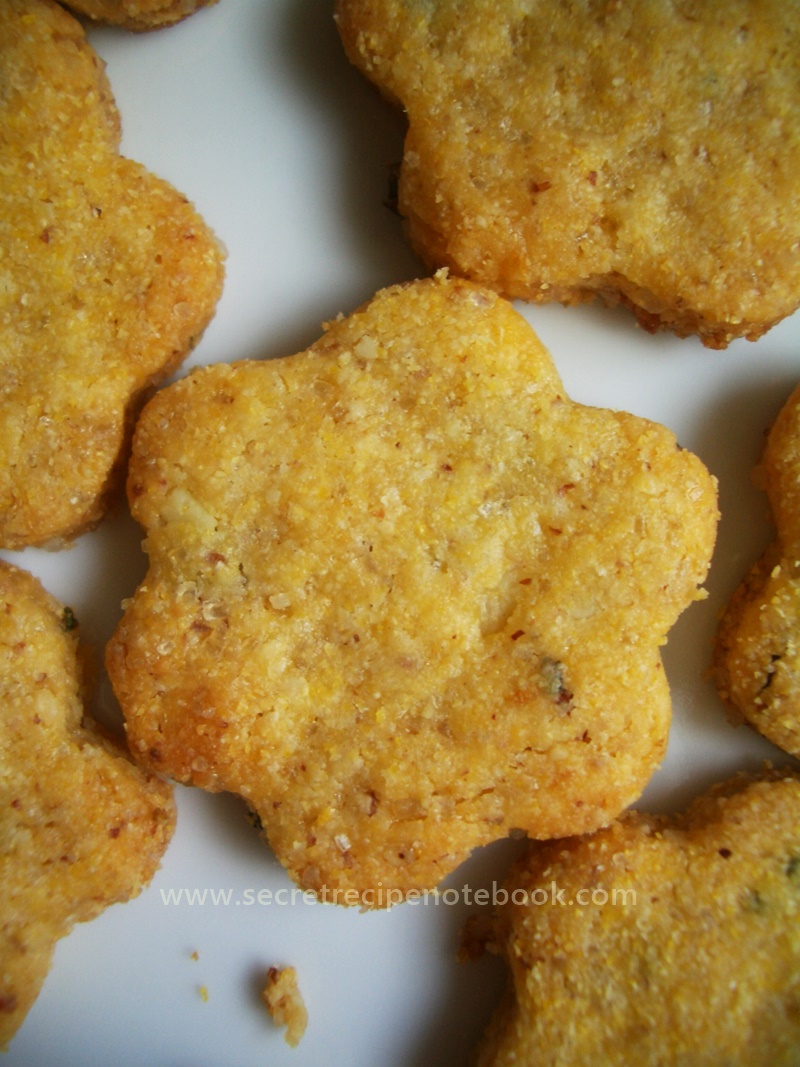 How to store almond polenta cookies
Cookies need to be completely cool before they are stored. If you store them while they're still warm, they will become soggy.

Once cooled, store them in a stainless steel cookie container or a glass cookie jar at room temperature for up to 7 days.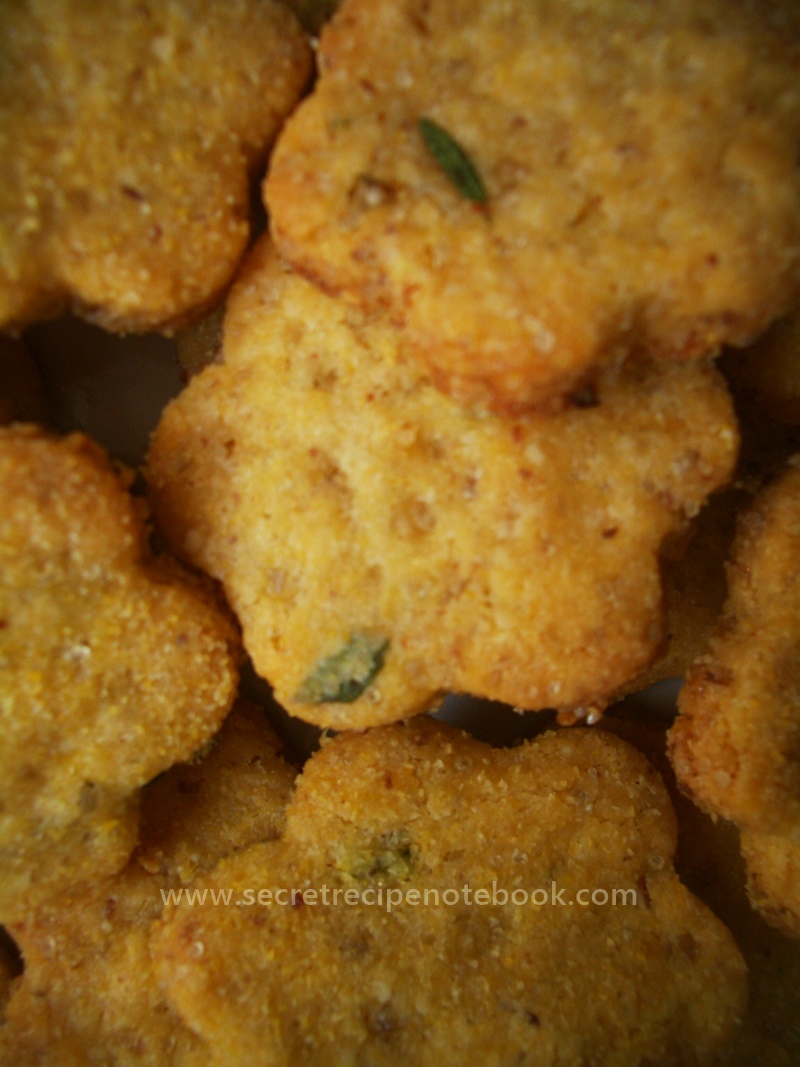 A few of our favourite cookie recipes:
Almond Polenta Cookies
MAKES: 80 cookies
COOKS IN: 30 minutes plus cooling time
LEVEL: Easy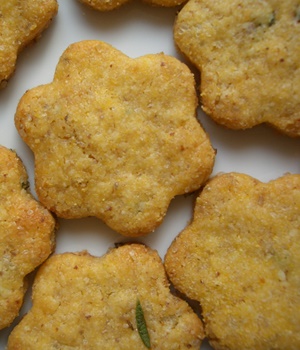 HANDY TOOLS:
INGREDIENTS
150g 

plain flour 

(1 1/4 cup)
80g instant polenta (cornmeal) (1/2 cup)
75g whole almonds (1/2 cup)
80g demerara or other brown sugar (1/4 cup + 2 tbsp)
2 tablespoons

fresh rosemary leaves

, finely chopped
1 tablespoon finely grated lemon zest
1 pinch of

salt

154g 

butter (11 tbsp)

, cold and cubed
2

egg yolks

, at room temperature
METHOD
Place the almonds in a non-stick frying pan and heat over a medium heat, stirring them frequently until they turn golden brown and start to smell nutty (2-3 minutes). Cool completely and grind finely in a food processor.


Combine the flour, sugar, salt, ground almonds, polenta and finely chopped rosemary leaves in a medium bowl. 



Add the cubed butter and rub into the dry ingredients until the mixture looks like coarse breadcrumbs.




Add the egg yolks and grated lemon zest and form a smooth and compact dough. If the dough is too crumbly add 1-2 tablespoons of milk or water. Wrap in cling film and place in the fridge for about 30 minutes to rest.


Preheat the oven to 175°C/347°F. Line 2 cookie sheets with baking paper. If baking with one sheet, leave it to cool completely before placing another batch of cookies.


Sprinkle some polenta on the work surface and roll out the dough until it's about 3-4 mm thick. Cut the dough using a small cookie cutter and place the cookies on the baking sheet.


Bake in the oven for about 7-8 minutes or until they start to brown. Take the baking sheet from the oven and leave the cookies for a few minutes to cool then transfer to a cooling rack to cool completely.


CATEGORIES: Cookies, Quick & Easy,
Almond, Polenta
More recipes you'll love:
We are a participant in the Amazon Services LLC Associates Program, an affiliate advertising program designed to provide a means for us to earn fees by linking to Amazon.com and affiliated sites.