Chestnut Flour Cookies
These simple gluten-free cookies are soft, dense and flavourful. Plus, so easy to make! For making them you'll need one bowl and one baking sheet! An ideal pair with a cup of hot tea!
If you love these, you will also adore our chestnut cookies topped with rich dark chocolate!


This webpage contains affiliate links. Please read our disclosure policy.

More cookie recipes
you'll love:
For these cookies you'll need only 8 ingredients, including the chestnut and buckwheat flours (this set of containers is a great for keeping flours fresh for months), both gluten-free and nutritiously rich.

If you don't have buckwheat flour on hand, use freely spelt flour (in this case the cookies won't be gluten-free).


What you'll need for the dough
We don't use much sugar in this recipe, thanks to the chestnut flour which is naturally sweet so it's great for reducing the sugar when preparing cookies and cakes. This unique flour can be bought from organic food stores. If you find yourself in Rome, head to Castroni shop, where you'll always find freshly ground chestnut flour.

Don't skip adding freshly squeezed orange juice and grated orange zest, for refreshing citrus aroma.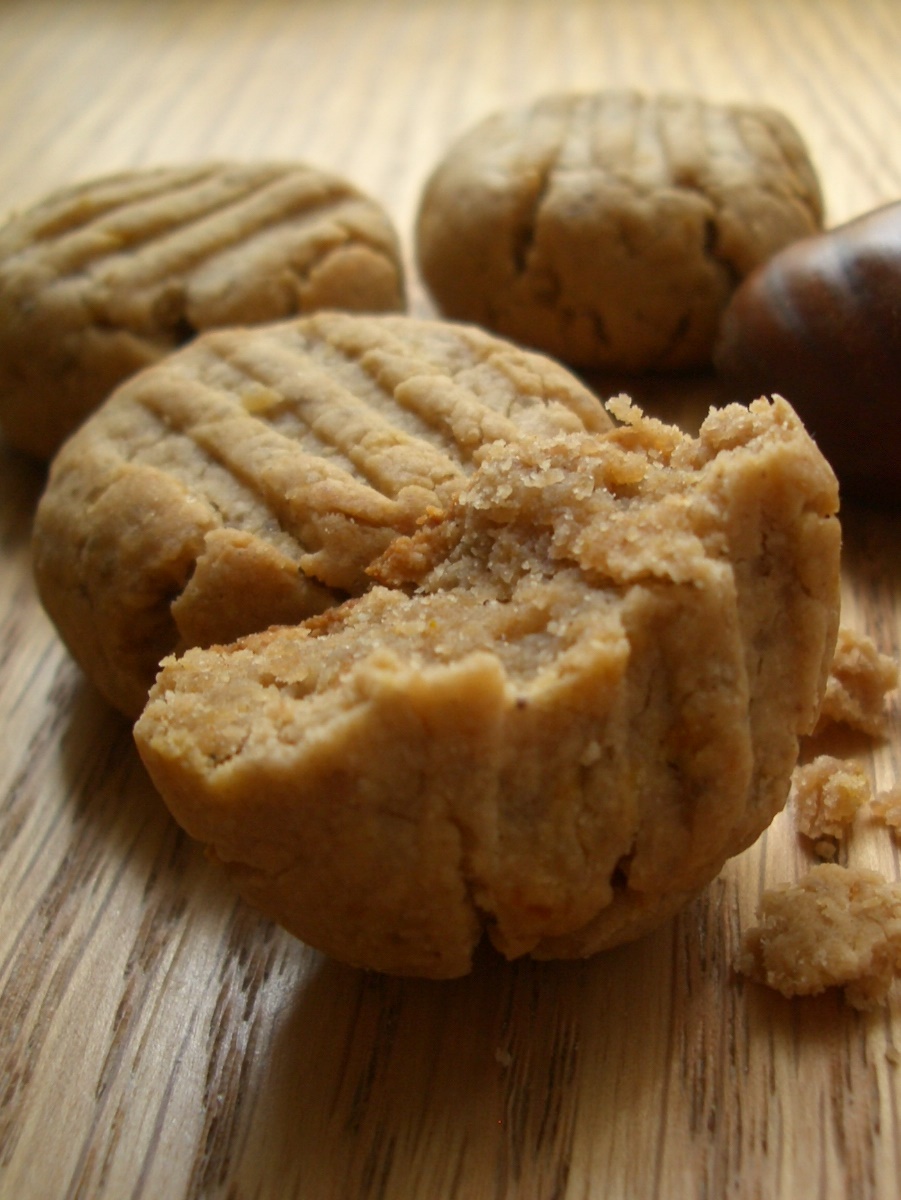 How to make chestnut flour cookies
For this recipe you won't need much equipment, just one mixing bowl. Once you get all needed ingredients, you can start making the dough for these simple cookies.
Making the dough: Combine chestnut and buckwheat flours, demerara sugar and a pinch of salt. Next, rub cold butter into dry ingredients using your fingers or a pastry cutter. Add orange juice and zest and form a compact dough.


Shaping the cookies: Just pinch the dough (size of walnut) and roll into balls. Arrange them on the baking sheet, then press with a fork on the tops (to flatten them).


Baking the cookies: Cookies are baked in only 6-7 minutes. The cookies will still be soft once baked. So, cool them on the sheet for a while, then transfer using a thin metal spatula to a cooling rack.
Be sure to check out our top cookie baking tips for the perfect cookies every single time


More about chestnut flour
If you haven't used chestnut flour for baking, you should definitely start. This flour is great addition to the dough and batters. We love to combine this flour with plain, whole wheat, spelt and rice flours. Nut flours, such as almond and hazelnut flours are also great pair with chestnut flour.

Looking for more great ways to use chestnut flour? We've got a bunch of smashing chestnut flour recipes for you to try. For a cookie lovers, we have gluten-free hazelnut cookies, simple Christmas cookies and gluten-free chocolate thumbprint cookies.

Don't skip also our recipe for muffins with pistachios, so flavourful and delicious.


Storing chestnut flour cookies
Chestnut flour cookies need to be completely cool before they are stored. If you store them while they're still warm, they will become soggy. Once cooled, store them in a glass cookie jar at room temperature for up to 7 days.


A few of our favourite cookie recipes:
Chestnut Flour Cookies
MAKES: 24 cookies
COOKS IN: 30 minutes
LEVEL: Easy
Handy equipment:
INGREDIENTS
120g chestnut flour (1 1/3 cup)
85g buckwheat flour (2/3 cups)
50g demerara sugar (1/4 cup)
1 pinch of salt
112g butter (8 tbsp), cold and cubed 
2 tablespoons orange juice, freshly squeezed
1 tablespoon grated orange zest
METHOD
Preheat the oven to 175°C/347°F. Line the baking sheet with baking paper.


Sift both flours and combine them with demerara sugar and salt in a medium bowl.


Add cubed butter and rub it into the dry ingredients with your fingertips until the mixture resembles coarse breadcrumbs. Add orange juice, finely grated orange zest and with your hands form a compact stiff dough.


Pinch pieces from the dough, about the size of a small walnut and roll between the palms into a ball. Place them on the prepared baking sheet, then using a fork flatten each one and leaving a print on the top.


Bake for about 6-8 minutes roughly or until the cookies are very pale golden. Be careful not to overbake them. Let the cookies cool on a sheet for a few minutes, then transfer them using cookie spatula to a cooling rack.


CATEGORIES: Cookies, Gluten-Free, Quick & Easy
Chestnut Flour
We are a participant in the Amazon Services LLC Associates Program, an affiliate advertising program designed to provide a means for us to earn fees by linking to Amazon.com and affiliated sites.