This webpage contains affiliate links. Please read our disclosure policy.

Pistachio Christmas Tree Cookies
Our crumbly pistachio cookies made with shortcrust dough enriched with pistachios and drizzled with white chocolate are so adorable.
Looking for more inspiration for your Christmas baking? Why not to try our recipes for vanilla crescent cookies or simple gluten-free cookies, both so delicious and decorative.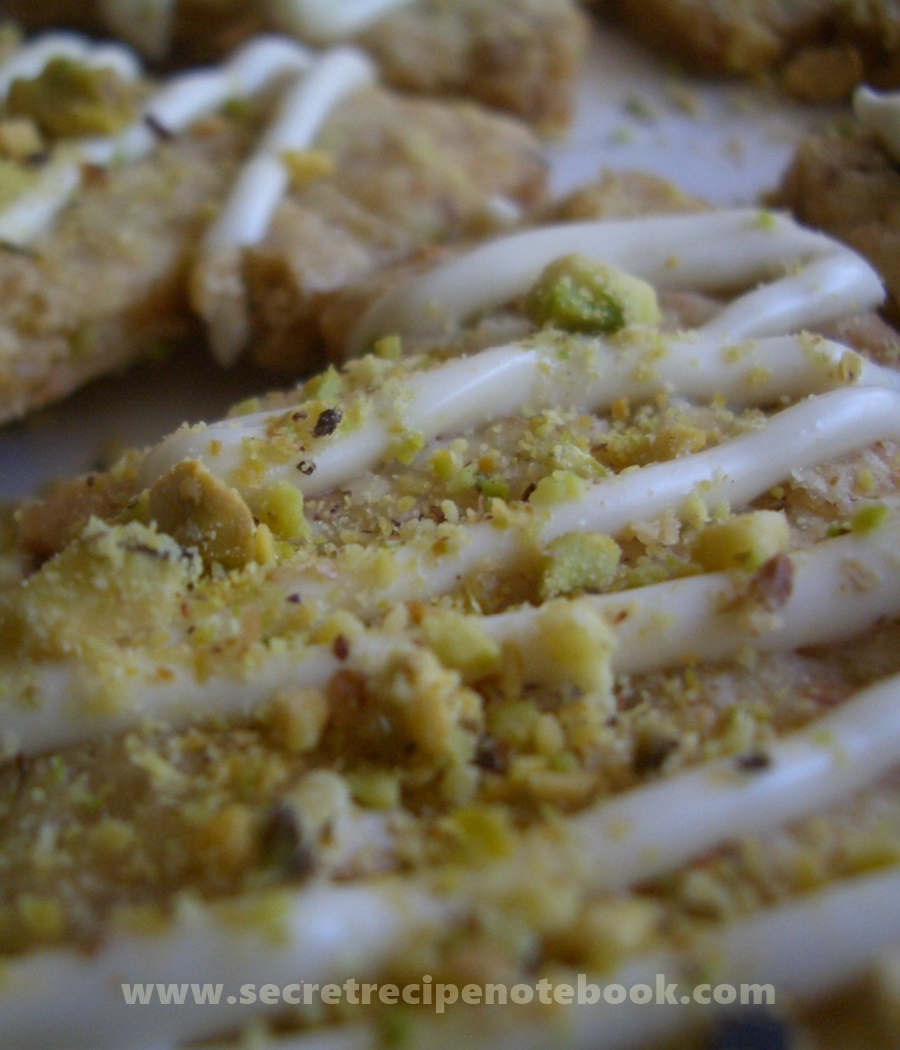 More cookie recipes
you'll love:
What you'll need for these decorative Christmas cookies
SHELLED PISTACHIOS: Adds amazing aroma and nice crunch to the cookies (like in our homemade chocolate pistachio truffles). Toast them in the oven until fragrant and lightly brown, then process in a food processor until finely chopped. Raw pistachios can be found at grocery stores or health food stores or can be easily ordered online.

A mix of PLAIN and SPELT FLOURS: We used this mix to add some extra taste to the cookies. The spelt flour makes cookies richer and more healthy.


COARSE BROWN SUGAR: Sugar gives super crispy texture to these cookies and slightly caramel flavour. Instead of brown sugar you can use also granulated sugar.


COLD BUTTER: We rubbed the butter into dry ingredients to get coarse crumbs. This way you will get small pockets of butter in the dough which makes them crunchy and delicious.


EGG YOLK: One egg yolk helps to bind the dough and give some texture to the cookies.


LEMON ZEST: Adds zesty refreshing flavour to the cookies.


WHITE CHOCOLATE: Broke into smaller pieces and melt in a double boiler. Be careful when melting, as this chocolate burn easily.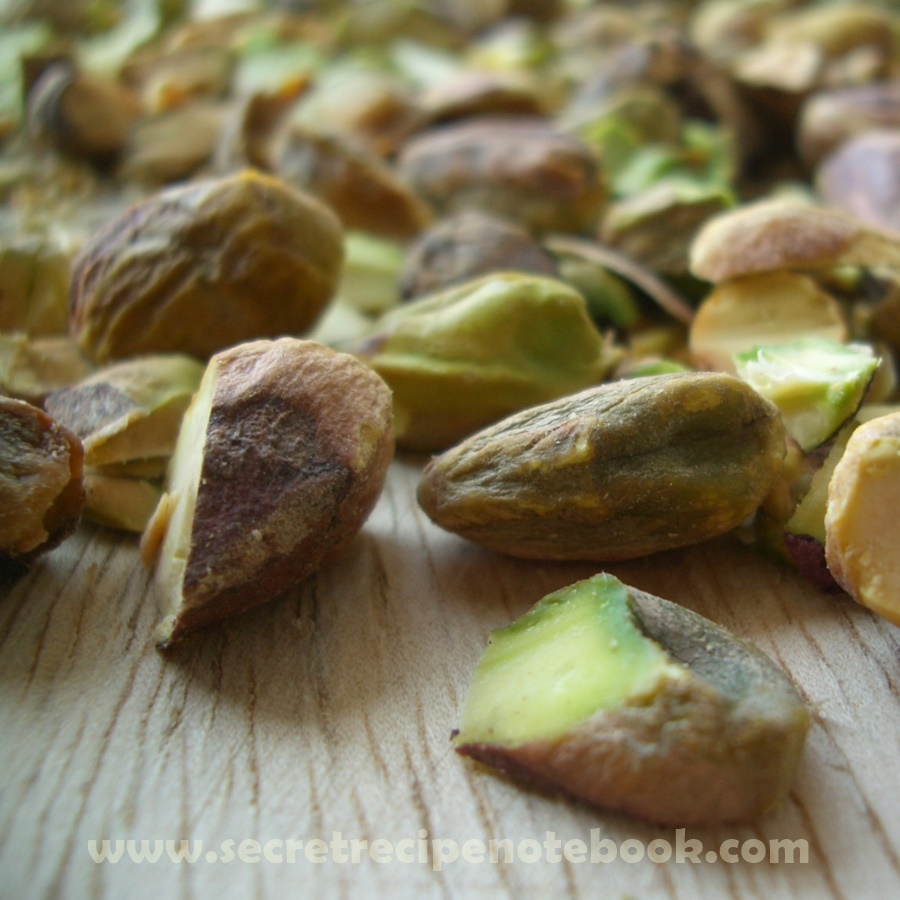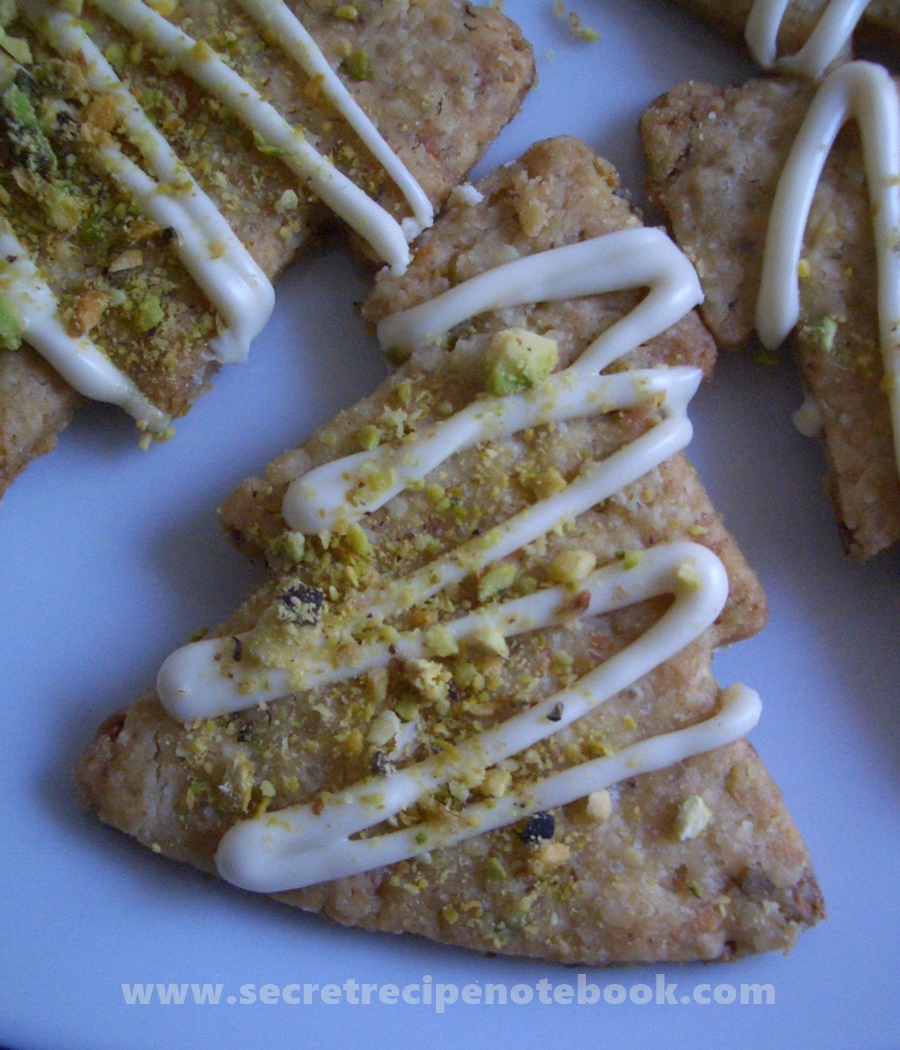 4 easy steps for making the dough:
First, toast the pistachios and then process them in a food processor to get coarse texture. 


Combine plain flour, sugar and salt in one bowl. 


Add cold cut butter to the flour/sugar mixture and rub using your fingers until you get a coarse crumbs. 


Now, add egg yolk and grated lemon zest and form a dough. Leave it to set in the fridge for 1 hour.


Cutting out & Baking tips and tricks
Rolling the dough is the fun part of the making these cookies. You can do this on a floured work surface or a pastry mat.

We prefer crispy cookies so we rolled out the dough very thinly (3-4mm). Be sure to use quality rolling pin to ensure even dough thickness. For cutting our cookies we used large Christmas tree cookie cutter and get 24 cookies.

Cut as much as possible cookies from the dough then knead the scraps again and cut again cookies as much as possible.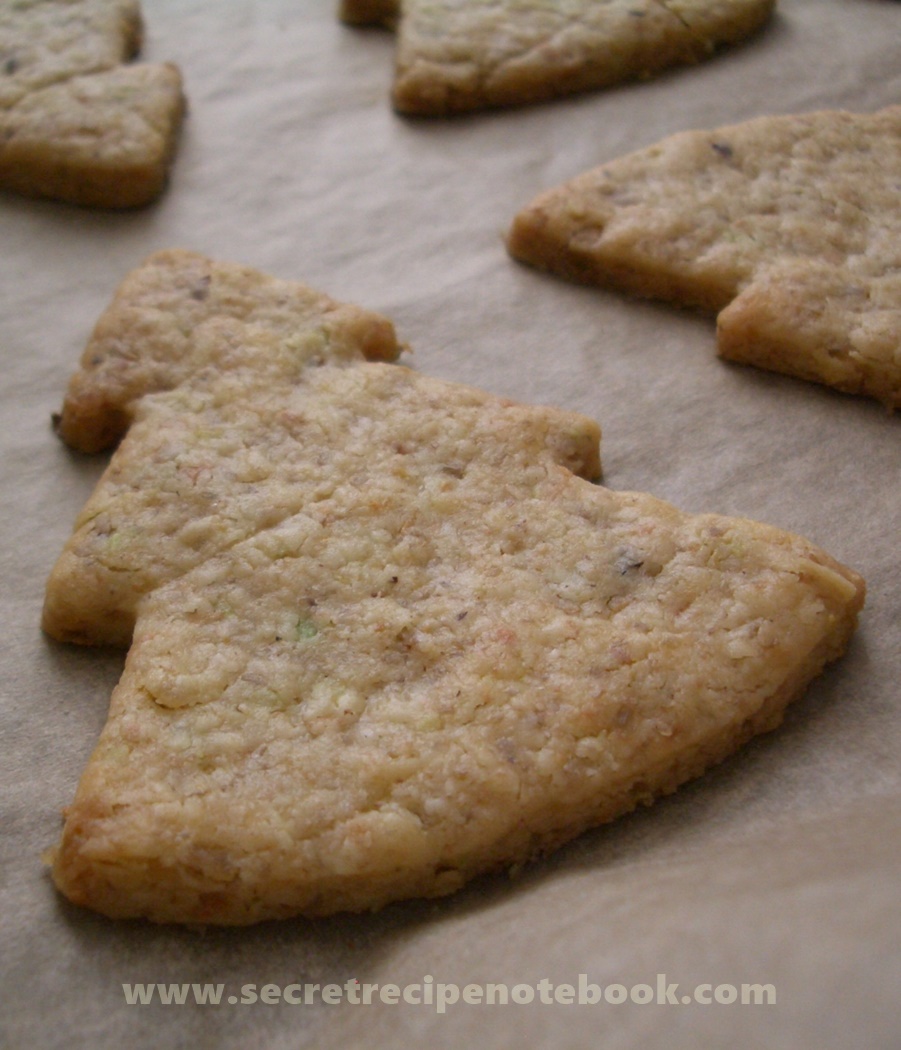 Decorating these cookies is easy
For decoration we use melted white chocolate, which is a great simple way to decorate any cookie. Use any quality white chocolate you can find in your grocery store. Broke the chocolate, then melt over a double boiler. 
Place melted chocolate into a disposable piping bag or a ziplock bag, cut off a bit of the corner, then drizzle over the cookies in zig-zag motion. In the end, sprinkle with remaining pistachios and leave to settle.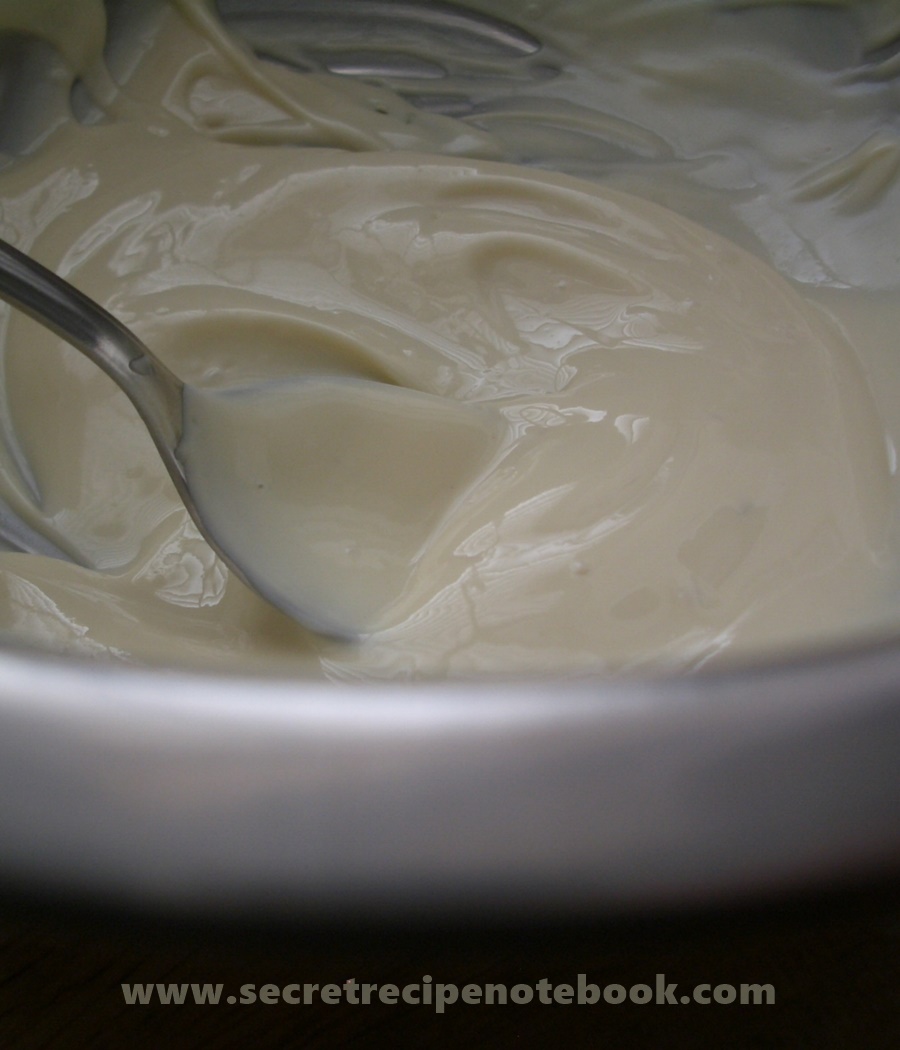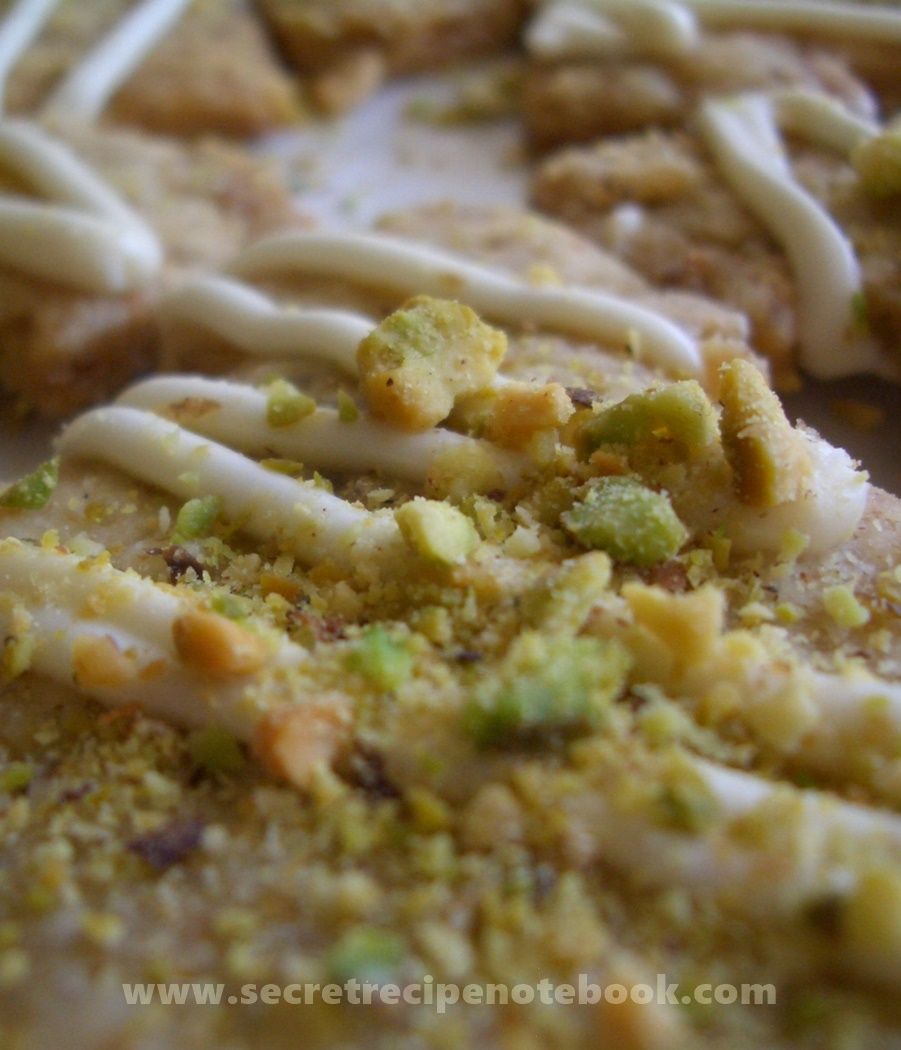 Storing pistachio Christmas tree cookies
These cookies stores well in a airtight cookie-jar like this one. Also you can keep them in a metal box for 1 month. These cookies also freeze well but don't decorate them - just cookies.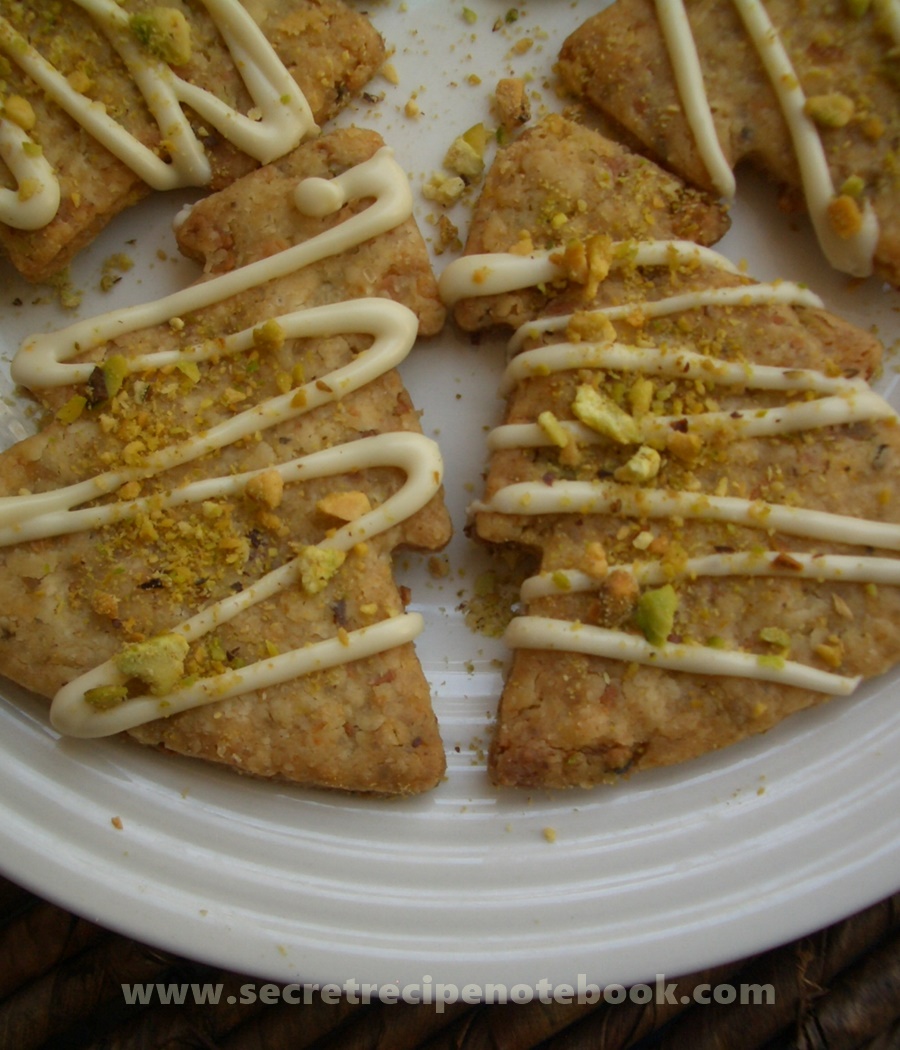 Making ahead pistachio Christmas tree cookies
These cookies are also great for making ahead. Once you cut the cookies, place them on the small tray and put in the freezer for 15 minutes then transfer to a ziplock bag.

Once you want to prepare them, leave for 5-6 minutes at room temperature then bake as described in the recipe and decorate afterwards.

Keep baked and decorated cookies in an airtight container for up to 5 days (layer with parchment or waxed paper to keep the decorations in tact).
The dough does not require refrigeration, however if you want you can make it up to 2 days ahead of time. Wrap tightly in two layers of plastic wrap and keep chilled. Before rolling, bring the dough fully to room temperature (let it sit out 1 to 2 hours), otherwise it will crack as you try to roll it.


A few of our favourite cookie recipes:
Pistachio Christmas Tree Cookies
MAKES: 24 cookies
COOKS IN: 1 hour plus cooling time
LEVEL: Moderate
HANDY KITCHEN PRODUCTS:
INGREDIENTS
For the cookies
105g shelled pistachios (3/4 for the dough + 1/4 for decoration) (3/4 cup)

120g plain flour (1 cup)
120g spelt flour (1 cup)
75g coarse brown sugar (1/3 cup)
1 pinch of salt
170g butter (12 tbsp), cold and cubed
1 egg yolk
1 tablespoon of grated lemon zest
For the drizzling
METHOD
FOR THE DOUGH, spread pistachios evenly on a baking sheet and toast in the oven on 175°C/347°F for about 4-5 minutes. Once toasted, remove from the sheet and cool. Blitz pistachios in a food processor until very finely chopped.


In a large bowl, combine both flours, coarse brown sugar and salt.


Add cubed butter and rub into the dry ingredients until the mixture resemble fine crumbs. Add 3/4 pistachios (leaving the rest for the decoration) and an egg yolk and gently squeeze the mixture with your palms until it just comes together. Form the disc from the dough, wrap into a cling film and cool in the fridge for 1 hour.


Heat the oven to 175°C/347°F and line 2 baking sheets with baking paper. If you are baking with just one sheet, leave it to cool completely before placing another batch of cookies.


Dust the work surface and roll out the dough until 3-4 mm thick. Using a Christmas tree cookie cutter cut out the cookies then arrange them on prepared baking sheet.


Bake for 8-10 minutes or until the bottoms just begin to brown. Remove the tray from the oven and leave cookies to cool on the sheet completely. 


TO MAKE THE DRIZZLE, broke the white chocolate into smaller pieces and place in a small heatproof bowl. Set the bowl over a saucepan of gently simmering water and stir until melted. Leave to cool for 1-2 minute.


Pour it into a ziplock bag, cut off a bit of the corner of the bag, then drizzle over the cookies in zig-zag motion. Sprinkle the cookies with remaining chopped pistachios. Leave to settle then serve.


CATEGORIES: Cookies, Christmas, Pistachios, White Chocolate
Looking for more recipes?

We are a participant in the Amazon Services LLC Associates Program, an affiliate advertising program designed to provide a means for us to earn fees by linking to Amazon.com and affiliated sites.