Soft Lemon Cookies
with Almond Flakes
If you are looking for light and refreshing cookies then this simple recipe is just the thing.

Super lemony and not too sweet, they are the ideal spring version of cookies. The texture is soft, buttery and crumbly, with a nice crunch from the almond flakes on the top.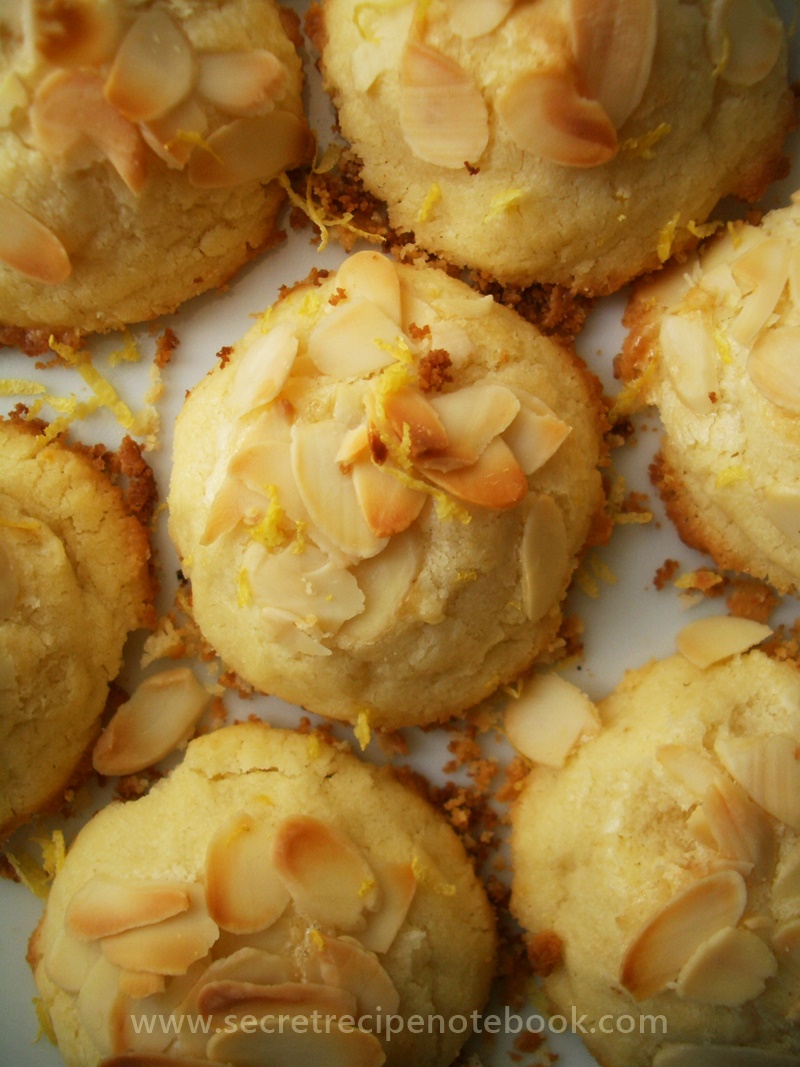 This webpage contains affiliate links. Please read our disclosure policy.

The recipe is simple as the dough comes together quickly and the baking time is less than 10 minutes. These are the perfect cookies to go with a cup of tea. Or, serve them on single dessert plates along with some lemon curd and you have an amazing dessert.
You'll also love our gluten-free lemony cookies made with almond flour and topped with lemon icing.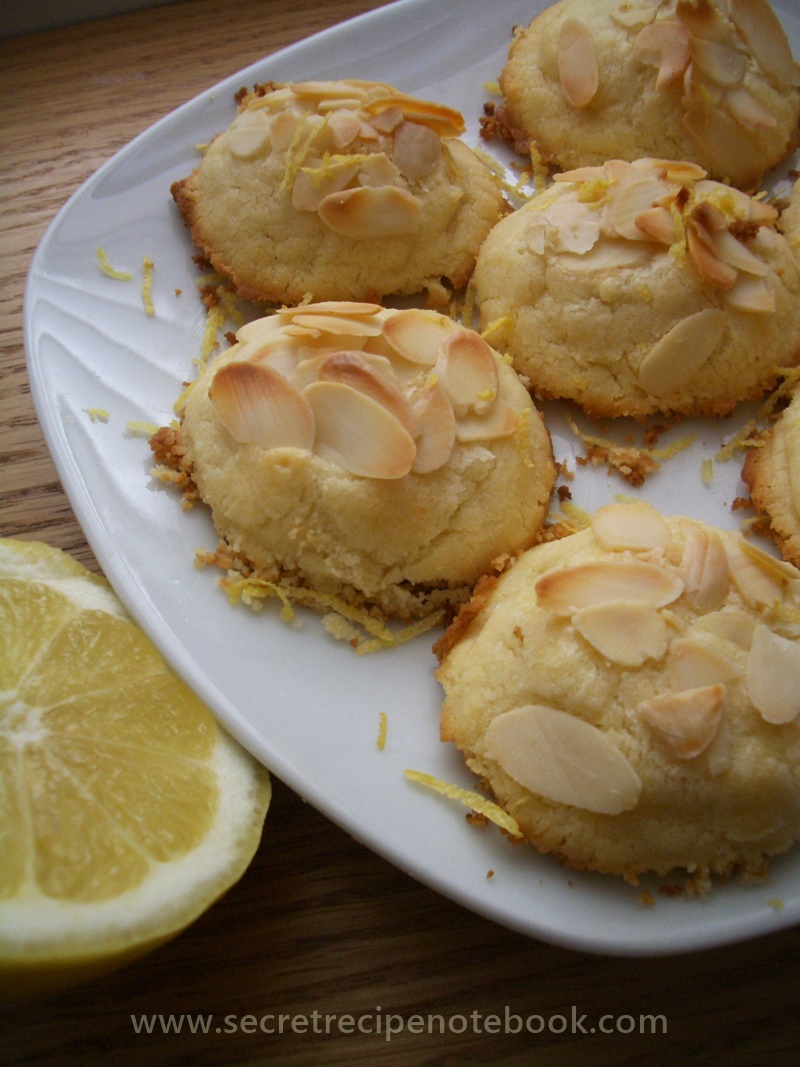 Lemons - The key ingredient in these cookies
Lemons are really the only special ingredient here (besides almond flakes) - the rest are pretty basic like flour, cornstarch, butter, icing sugar and egg yolk.
Just be sure to use organic lemons as the recipe uses both lemon zest and lemon juice. Lemon juice gives tartness while freshly grated lemon zest (full of essential oils) adds a refreshing lemon aroma.


Want more lemon flavoured sweet recipes? Try these: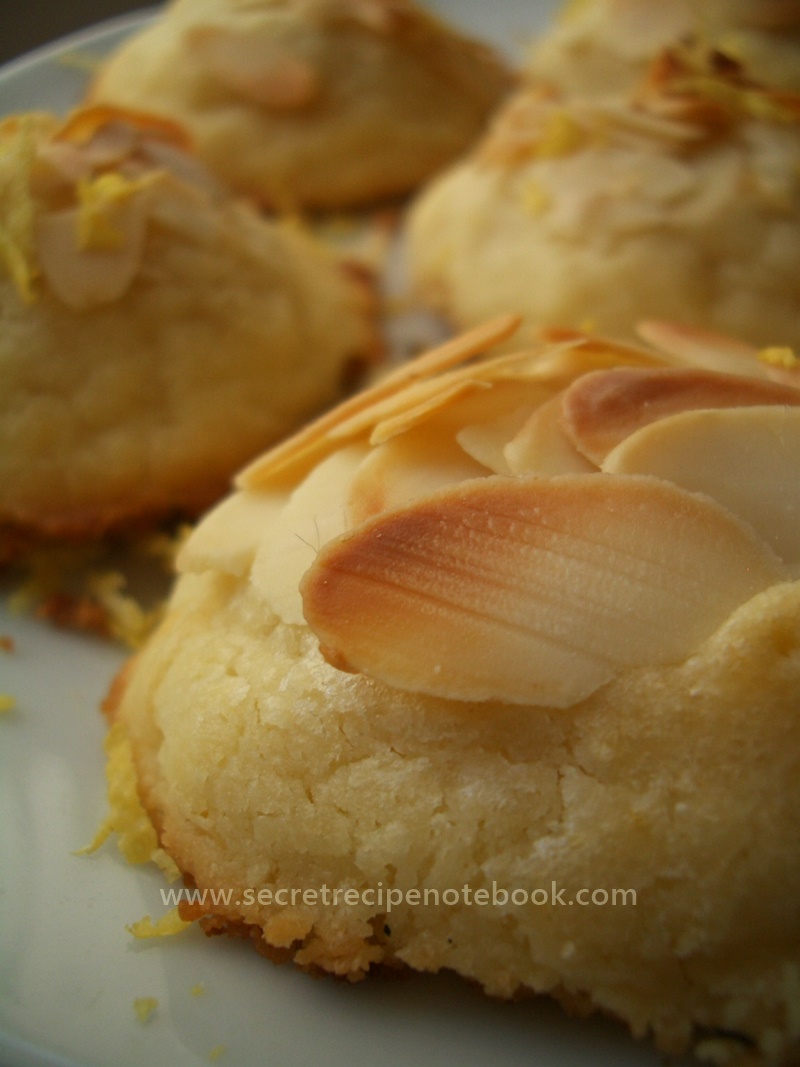 More cookie recipes
you'll love:
Making the dough for these soft lemon cookies
Making the dough for these lemony cookies is simple and quick once you have ready all the ingredients. Just prepare 2 mixing bowls (one medium, one larger), electric hand mixer and baking sheet.
MIX DRY INGREDIENTS: Simply mix together plain flour, cornstarch, baking powder and salt in one bowl.


BEAT WET INGREDIENTS: Beat together butter (softened to room temperature) and icing sugar until creamy, then add egg yolk (at room temperature), lemon juice and lemon zest and beat for a few minutes.


COMBINE BOTH: Lower the hand mixer and mix dry ingredients into butter/sugar mixture in two additions until you get a smooth dough. Now, it's time for shaping the cookies!


Shaping the cookies
Shaping these soft lemon cookies is so easy. First, prepare the coating by whisking lightly the egg white in one small bowl and placing almond flakes in second bowl.

Using a tablespoon scoop some dough (size of walnut), roll into balls then dip one side into the egg white then press into the almond flakes.
Place the balls on a plate (coated side up) and keep in the freezer for 10 minutes (don't skip this step, it helps cookies to stay thick and soft once baked).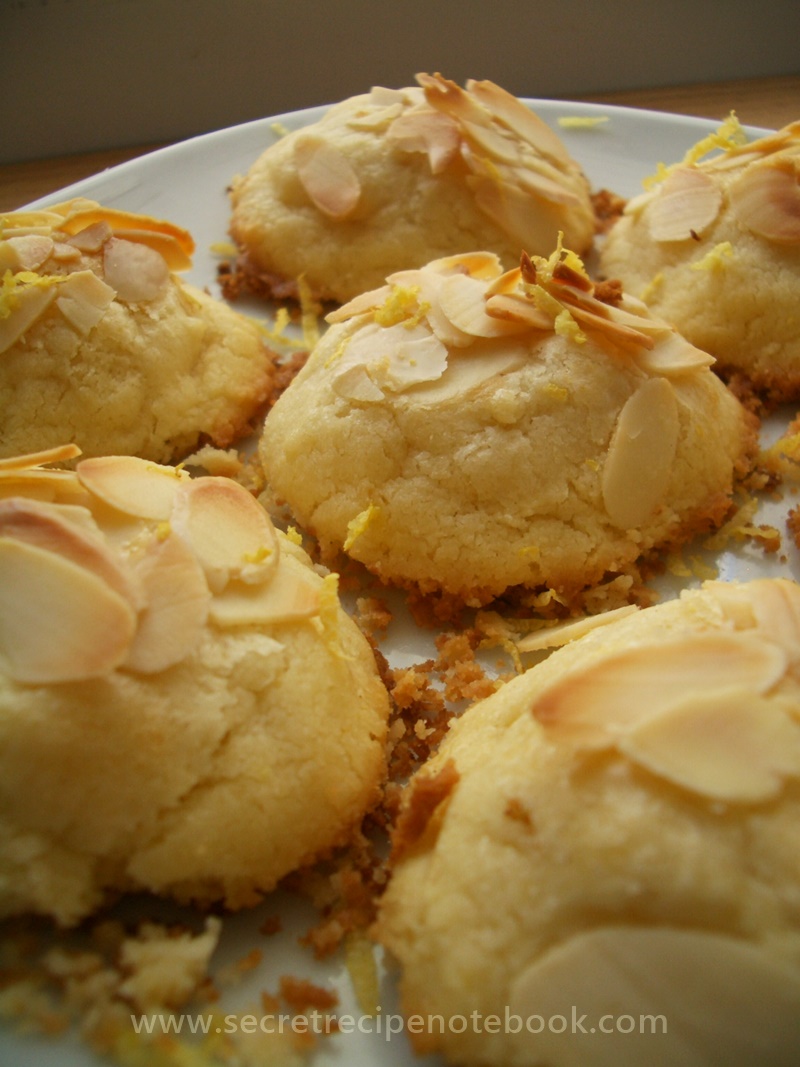 Baking tips & tricks
Now, it's baking time. Prepare a baking sheet lined with baking paper then arrange the balls, leaving space in between. These cookies only take 7-8 minutes to bake. You will know they are done once the almond flakes are crispy and brown.

Our lemon cookies will be very soft and fragile when you take them out from the oven, so leave them on the sheet to set and cool completely. They will firm up while cooling but will still be amazingly soft and crumbly. So tempting!

Be sure to check out our TOP COOKIE BAKING TIPS for the perfect cookies every single time.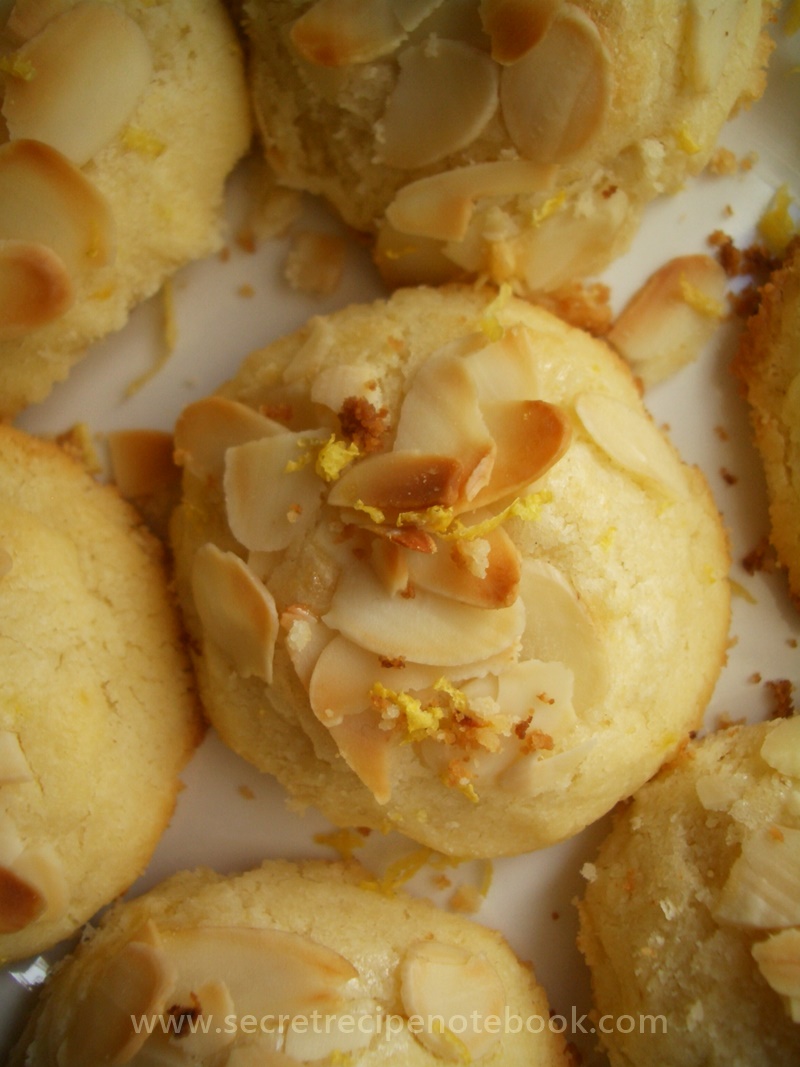 Storing soft lemon cookies with almond flakes
Our lemony cookies are delicate so if you have some leftover cookies, carefully transfer them to an airtight container. This way they can be stored for up to 2 weeks. Separate layers of cookies with baking paper.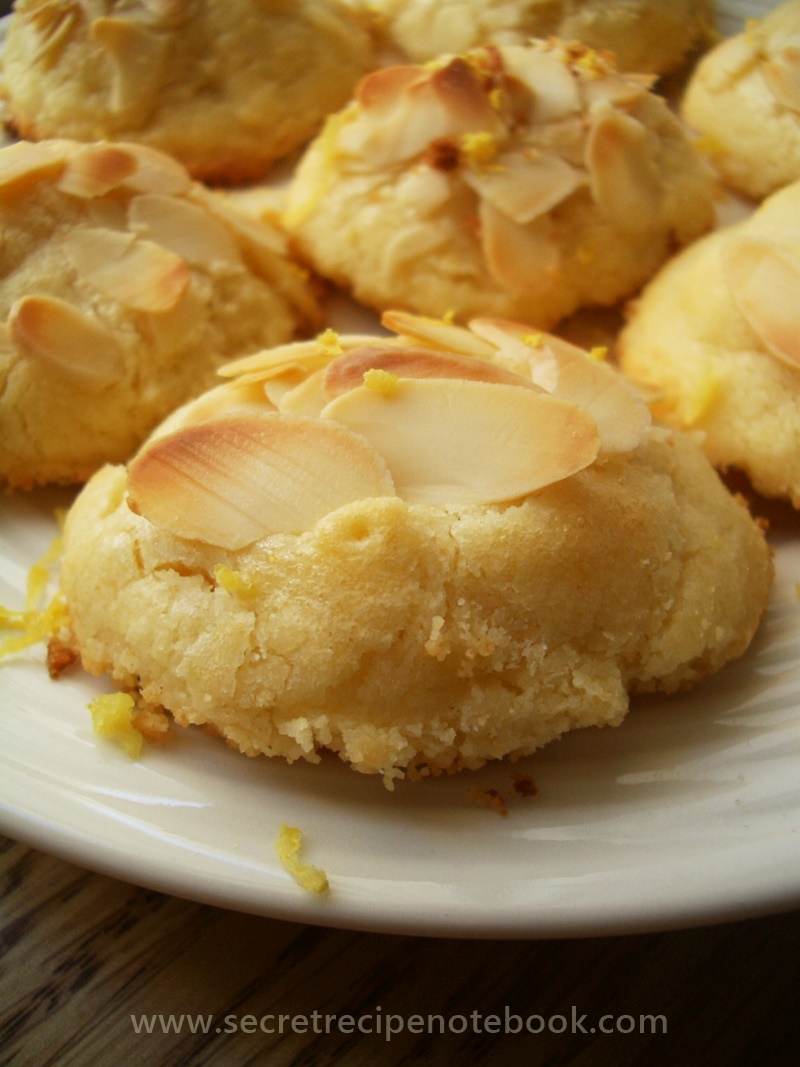 A few of our favourite cookie recipes:
UP TO 40% OFF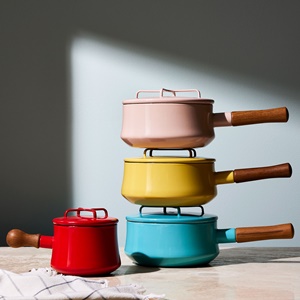 Soft Lemon Cookies with Almond Flakes
MAKES: 16 cookies
COOKS IN: 30 minutes
LEVEL: Easy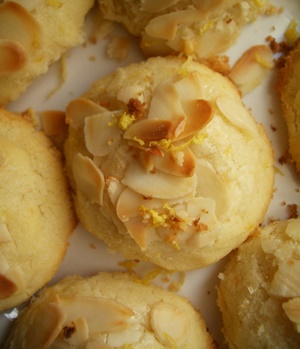 HANDY KITCHEN PRODUCTS:
INGREDIENTS
For the dough
160g plain flour (1 1/3 cup)

30g cornstarch (1/4 cup)

1/2 teaspoon baking powder

1 pinch of salt

180g butter (13 tablespoons)

40g

icing sugar

(1/3 cup)

1 egg yolk

30ml fresh lemon juice (2 tablespoons)

2 tablespoons finely grated

lemon zest
For the tops
METHOD
Preheat the oven to 180°C/356°F and line the baking sheet with baking paper.



Combine plain flour, baking powder, cornstarch and salt in a medium bowl.




Beat together the butter and icing sugar using an electric hand mixer until the mixture is light and fluffy.



Add egg yolk, lemon juice and lemon zest and beat again until combined.




Add half the dry ingredients and beat on low speed until just starting to clump. Add the remaining dry ingredients and continue beating until a smooth dough forms.


Whisk an egg white in a small bowl and place almond flakes in another one.


Scoop the dough using a tablespoon and using the palms of your hands roll them into even balls. Dip the top of each cookie into egg whites, then press into almond flakes.



Put balls on one plate (coated side up) and keep in the freezer for 10 minutes. This helps the cookies to stay thick and soft and not to spread too much during baking.




Arrange the balls on the baking sheet leaving space in between. Bake for 7-8 minutes or until the tops are lightly brown and almonds are toasted. Cookies will be very soft and fragile just from the oven, so leave them to cool completely on the sheet.


CATEGORIES: Cookies, Spring & Summer, Quick & Easy
Lemon
Looking for more recipes?

We are a participant in the Amazon Services LLC Associates Program, an affiliate advertising program designed to provide a means for us to earn fees by linking to Amazon.com and affiliated sites.