Orange Curd Almond Cookies
These amazing cookies combine crumbly almond pastry with zesty orange curd, which is always a winner. Plus, they look so attractive and are ideal addition to any cookie tray.
For those who love creaminess of citrus curds, we have interesting recipes for soft mini doughnuts and hazelnut crust tarts both filled with lemon curd.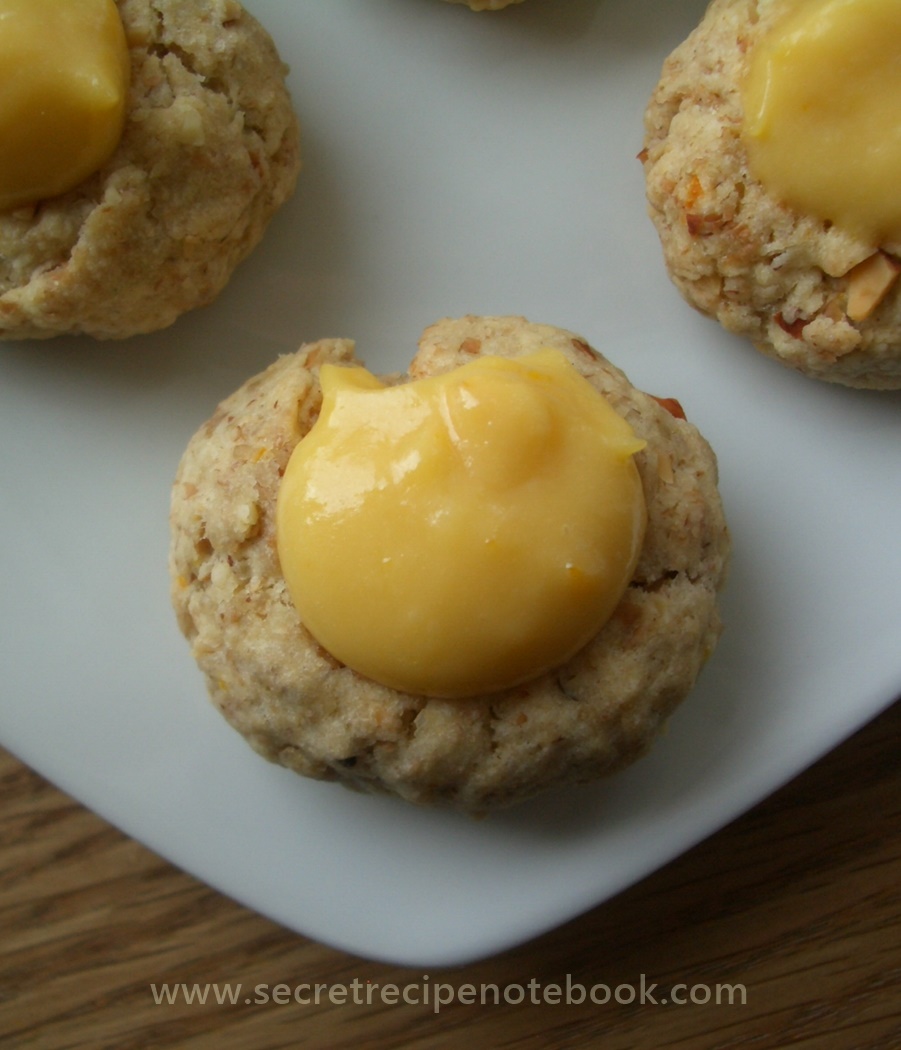 This webpage contains affiliate links. Please read our disclosure policy.

More recipes
you'll love:
How to make orange curd almond cookies
These cookies is made of crumbly dough topped with zesty homemade orange curd. Making them start with making orange curd, then while it cools, we will prepare simple dough enriched with toasted almonds.


Making the orange curd
Orange curd on the top of these cookies is made from EGGS, SUGAR, CORNSTARCH, ORANGE JUICE & ZEST, SALT and BUTTER. This recipe uses combination of eggs and egg yolks making the curd more gelatinous rather than creamy.


Making the curd is easy - just whisk all ingredients together until blended then pour in a saucepan and cook on a low heat until thickens. It takes only 10 minutes for this. Once done, strain the curd through the fine sieve and cover with cling film and keep in the fridge until the cookies are ready.


Making the crumbly almond dough
The dough for these cookies is simple once you have measured all the ingredients.

First toast the almonds, then blitz them in a food processor to make them finely chopped (you can do this also on a cutting board with a sharp knife). Then, combine PLAIN and WHOLE SPELT flours with baking powder and salt.

The next step is beating BUTTER (at room temperature) with COARSE BROWN SUGAR, then adding an EGG, AMARETTO and GRATED ORANGE ZEST - to enchance the flavours. 

The final steps are adding flours and almonds into the creamed mixture and your dough is ready for shaping.


Shaping & baking cookies
Shaping these cookies is easy. Just pinch a dough (size of a walnut), roll them into balls and place on the baking sheet. As these cookies will be topped with ORANGE CURD, they have a indentation on the top. Do this with a end of wooden spoon, a small measuring cup or your thumb.

Bake in the oven for about 10 minutes (cookies should still be SOFT when taken from the oven), then press again into the centre of each cookies to make more room for the filling. Once the cookies are completely cool, using a teaspoon fill each one with the delicious and creamy orange curd.


Storing orange curd almond cookies
These thumbprint cookies are the best on the same day but stay fresh at room temperature for up to 1 day or in the fridge for up to 1 week. Cookies topped with orange curd will need cooler temperature, so keep them in the fridge covered until serving.


A few of our favourite cookie recipes:
Orange Curd Almond Cookies

MAKES: 20 small cookies
COOKS IN: 40 minutes
LEVEL: Moderate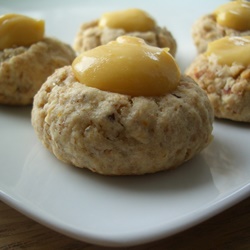 Handy equipment:
INGREDIENTS
For the orange curd
1 egg, at room temperature
2 egg yolks, at room temperature

75g caster sugar (1/3 cup)

1 tablespoon

cornstarch

160ml orange juice (2/3 cup), freshly squeezed

2 tablespoons grated orange zest

1 pinch of salt

56g butter (4 tbsp), cubed
For the cookies
90g almonds (3/4 cup), finely chopped
90g

plain flour 

(3/4 cup)
90g whole grain spelt flour (3/4 cup)

1 teaspoon

baking powder

1 pinch of

salt

126g 

butter 

(9 tbsp), at room temperature

65g brown sugar (coarse) 

(1/3 cup)
1 

egg

, at room temperature

1 teaspoon Amaretto liqu

eur
1 tablespoon grated

orange zest
METHOD
FOR THE ORANGE CURD, whisk together egg, egg yolks, sugar, cornstarch, salt and orange

zest in a

medium bowl

. 




Pour the orange juice and whisk until blended. Transfer into a heavy-bottom saucepan and place over a low heat. Cook gently stirring continuously for 3-4 minutes, then add butter and continue cooking until until the curd thickens, 3-4 minutes more. 


Remove from the heat and transfer to a clean bowl. Leave to cool slightly then place a piece of cling film directly on the top of the curd (this prevents a skin from forming on the top). Put in the fridge until using. The curd will continue to thicken as it cools.


FOR THE COOKIES, preheat the oven to 175°C/347°F and line the baking sheet with baking paper.


Combine plain flour, whole grain spelt flour, baking powder and salt in a medium bowl.


Beat butter and sugar using electric hand mixer on a medium speed until creamy. Add egg, Amaretto and orange zest and continue to mix for a few minutes.


Add flours in two additions, mixing on a low speed just until incorporated.


Add chopped almonds and incorporate with hands until you get a compact dough.


Scoop the dough into 2cm balls using a teaspoon. Roll into balls then arrange on the prepared baking sheet leaving 2-3 cm in between. Make an indentation into the centre of each ball using your thumb or the end of a wooden spoon.



Bake for 10-12 minutes then remove from the oven and again press gently into the centre of each cookie to ma

ke more room for the filling. Cookies should be lightly brown. Let the cookies cool completely on the baking sheet.


Using a teaspoon fill each cookie with orange curd and leave to set.


CATEGORIES: Cookies, Almond, Orange
We are a participant in the Amazon Services LLC Associates Program, an affiliate advertising program designed to provide a means for us to earn fees by linking to Amazon.com and affiliated sites.