Vanilla Crescent Cookies
These cookies are crumbly, packed with toasted almonds and hazelnuts and rolled into vanilla-scented sugar. Plus, they are so easy to make. Vanilla crescents are perfect cookies for your festive cookie platter or everyday tea-time cookies.


This webpage contains affiliate links. Please read our disclosure policy.

Ingredients you'll need
The dough is a shortcrust dough enriched with combination of almonds and hazelnuts. Nuts always enrich the cookies adding flavour and crunchiness. Shop high-quality nuts easily online!
We love to add toasted nuts, both ground and chopped into our cookie recipes such as hazelnut cookies packed with chocolate chunks or elegant Italian cookies sandwiched with rich dark chocolate - baci di dama.

FULL LIST OF INGREDIENTS:
ALMONDS and HAZELNUTS: Both are toasted to enchance the flavour. The easiest way to do this is to place them on the baking sheet and toast in the oven for 5-6 minutes (160°C/320°F). Do this separately!

PLAIN FLOUR: We use plain flour here and haven't try them with other flours, but assume that whole wheat or spelt flours will work well (just slightly different texture).


BUTTER: The cold butter is used here. Take the butter block and cut into slices (2-3mm) on a cutting board before adding to the flours.


SUGAR: Both caster and granulated sugar will work great in this recipe.


GRATED ORANGE ZEST: Use freshly grated orange zest to add some citrus note to the cookies.



MILK

or

WATER

: This recipe don't call for eggs so some milk or water is necessary to bind the dough. Add only a few of tablespoons!


ICING SUGAR and VANILLA SUGAR: Mix those two and dust cookies once baked. Buy vanilla sugar in the store in the baking aisle or make your own (keep vanilla bean in the white granulated or caster sugar for 2 weeks). We love Dr Oetker Vanilla Bourbon sugar found in the baking aisle with intensive vanilla flavour and scent.


How to make the dough for vanilla crescents
Once you have ready almonds and hazelnuts, making the dough is fairly easy. You don't need any special equipment, everything you need is one large bowl and your hands.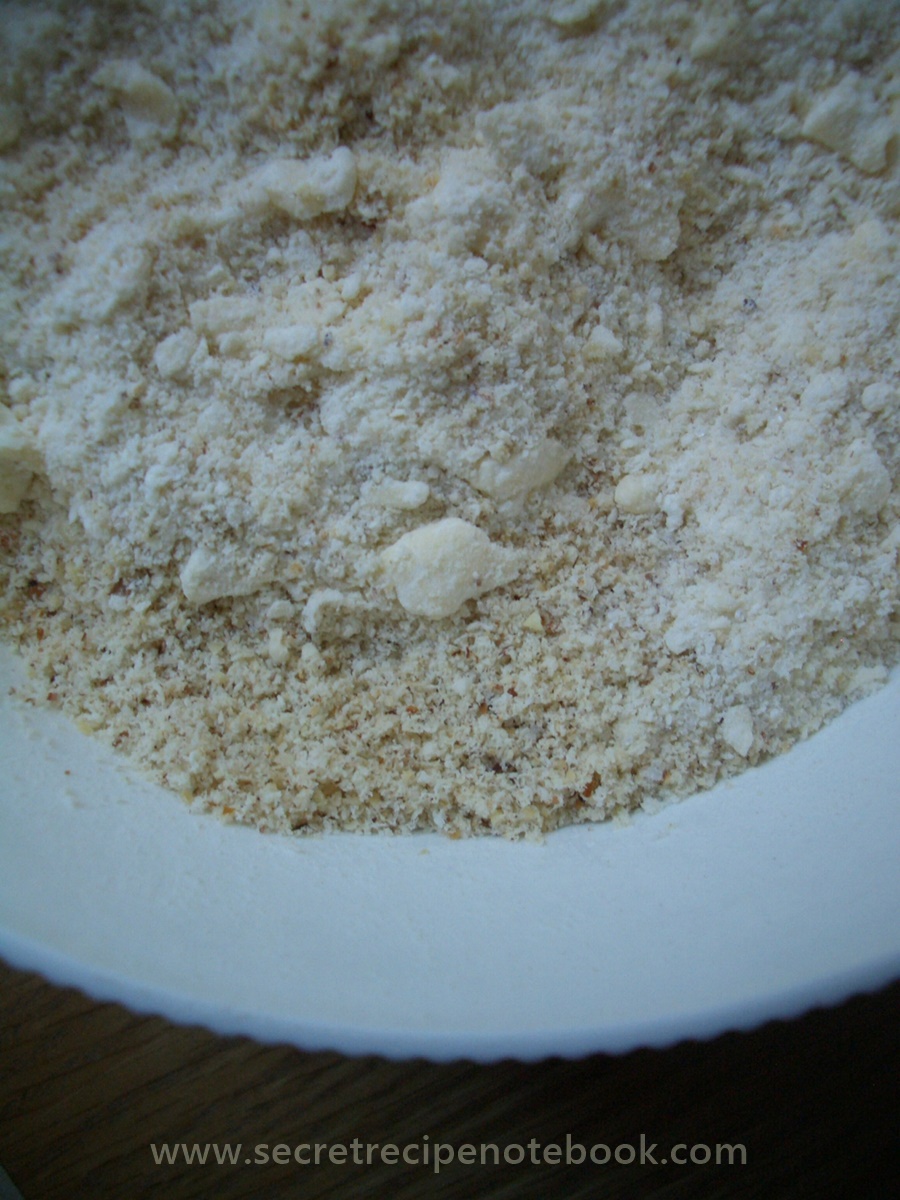 3 easy steps for making vanilla-crescent dough:
First stir all dry ingredients (plain flour, sugar, salt, ground almonds and ground hazelnuts) in a large bowl.


Next, cut the cold butter into cubes and run with your fingers into dry ingredients until you get a coarse crumbs.


Add grated orange zest and milk, then bring the mixture together forming a ball (this will take around 5-6 minutes). It will first look it won't come together, but keep going and at some point the dough will come together. The crumbly dough will result later on with melt-in-your-mouth cookies.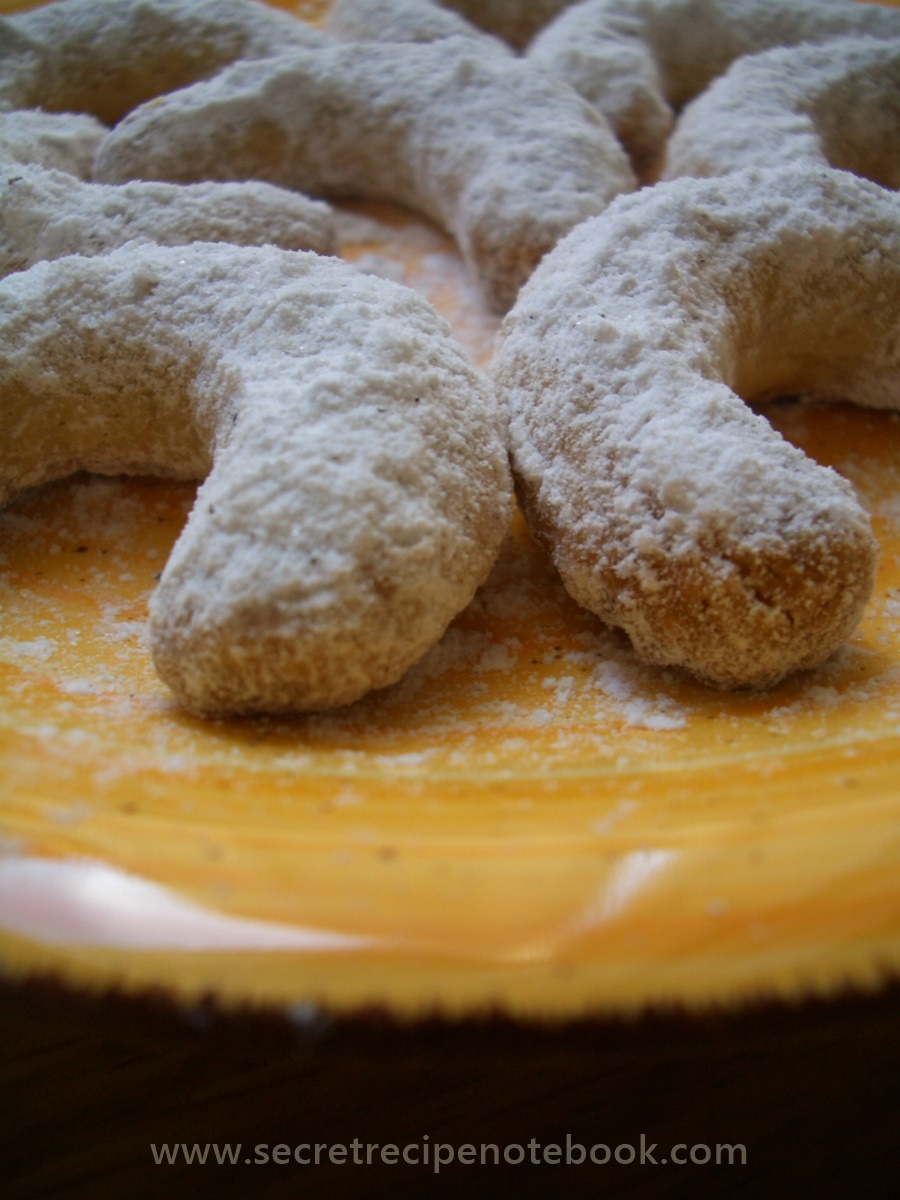 Shaping the vanilla crescents
Start to shape the cookies immediately. Divide the dough into thirds, then wrap 2 of them with aluminium foil or cling film and place in the fridge while leave 1 to work with.

The most important thing is to make uniform cookies so they bake evenly and don't burn. Here are the best way to do so:

Half the dough you are working with, then roll into sausage shape (2.5cm in diameter).


Now, using a knife or a dough scraper cut small pieces of 2cm.


Next, roll each piece into a thin rope (7-8cm) with slightly thinner ends and shape into crescents.

Shaping the crescents
photo guide:
Useful tip
From this dough we made 60 vanilla crescents. You can also make larger cookies to save on time. It depends on your preferences.

The dough can be kept in the fridge for 2-3 days then baked once you are ready. Cookies with be the same delicious and beautiful.

Be sure to check out our TOP COOKIE BAKING TIPS for the perfect cookies every single time.


Storing vanilla crescent cookies
These cookies are ideal for making ahead as they can be stored in an airtight container for weeks. Just put some baking paper between the layers of cookies.

We love this cute glass jar which will look amazing filled with our vanilla crescent cookies.


A few of our favourite cookie recipes:
Vanilla
Crescent Cookies
MAKES: 60 cookies
COOKS IN: 1 hour
LEVEL: Easy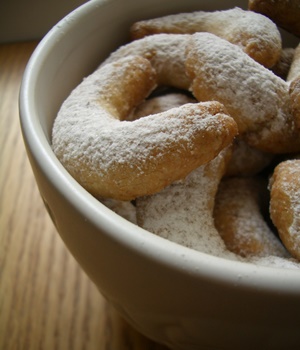 HANDY EQUIPMENT:
INGREDIENTS
For the dough
300g plain flour

60g caster or granulated sugar
1 pinch of salt
50g almonds, toasted and ground
50g hazelnuts, toasted and ground
200g butter, at room temperature
1 tablespoon of finely grated orange zest
3 tablespoons milk or water
For the coating
METHOD
MAKING THE DOUGH: Combine the plain flour, sugar, salt, ground almonds and hazelnuts in a large bowl.


Add butter and rub it with your fingers into the dry ingredients until you get a coarse crumbs. 


Add grated orange zest and milk and start to squeeze the mixture with your palms until the dough forms (you will need about 5-6 minutes). The dough will be crumbly and firm but this is how it should be.


SHAPING COOKIES: Cut the dough into thirds, wrap 2 of them into cling film and keep in the fridge, while leave one to work with.


Preheat the oven to 175°C/347°F. Line 2 baking sheets with baking paper.


Half the dough then roll each half on the work surface into logs 2.5cm in diameter. Now using a small knife or a dough scraper, cut logs into 2cm long pieces. Roll gently each piece to about 6-7cm long rope with slightly thinner ends and shape into crescent. 


BAKING COOKIES: Place them on the baking sheet and bake for 10-12 minutes or until the edges are just lightly brown.


Mix icing sugar with vanilla scented sugar in one bowl then dust generously crescents on the baking sheet 1-2 minutes after taken from the oven. Leave to cool completely then transfer to a serving bowl or airtight container.


CATEGORIES: Cookies, Christmas,
Almond, Hazelnut
More recipes
you'll love:
We are a participant in the Amazon Services LLC Associates Program, an affiliate advertising program designed to provide a means for us to earn fees by linking to Amazon.com and affiliated sites.