Hazelnut Chocolate Chunk Cookies
These cookies are soft and studded with large pieces of hazelnuts and dark chocolate. The dough comes together in a minutes once you have ready all the ingredients.

Why not to try also our double chocolate hazelnut cookies.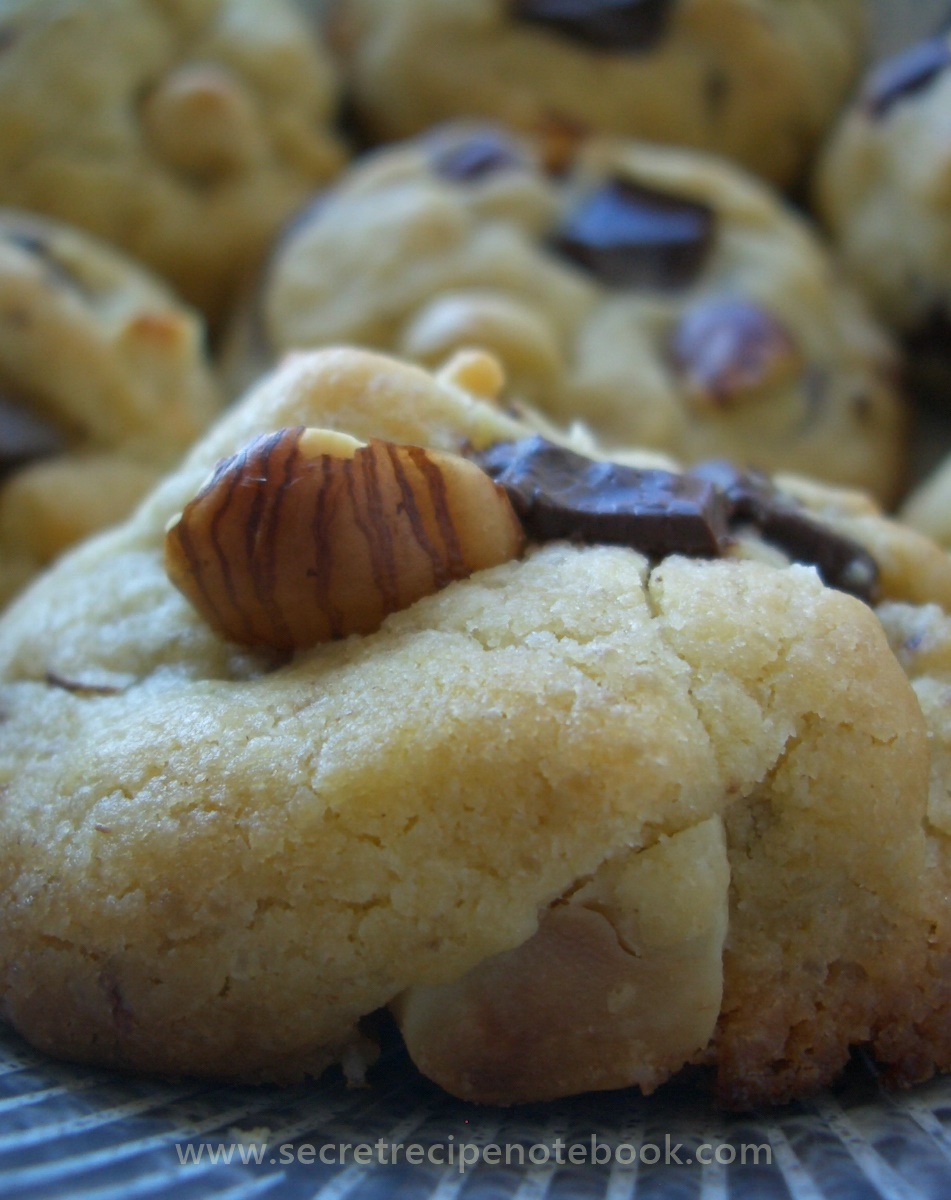 This webpage contains affiliate links. Please read our disclosure policy.

More cookie recipes
you'll love:
We love hazelnuts in the cookies
Hazelnuts are the star of this recipe, as they give amazing nutty flavour. In this recipe, we enriched the dough with ground toasted hazelnuts.


Also, we topped cookies with chopped hazelnuts, and once baked they gives amazing scent and flavour. For those who love hazelnuts in cookies, we suggest our recipes for chocolate-dipped hazelnut cookies or classic Italian baci di dama cookies.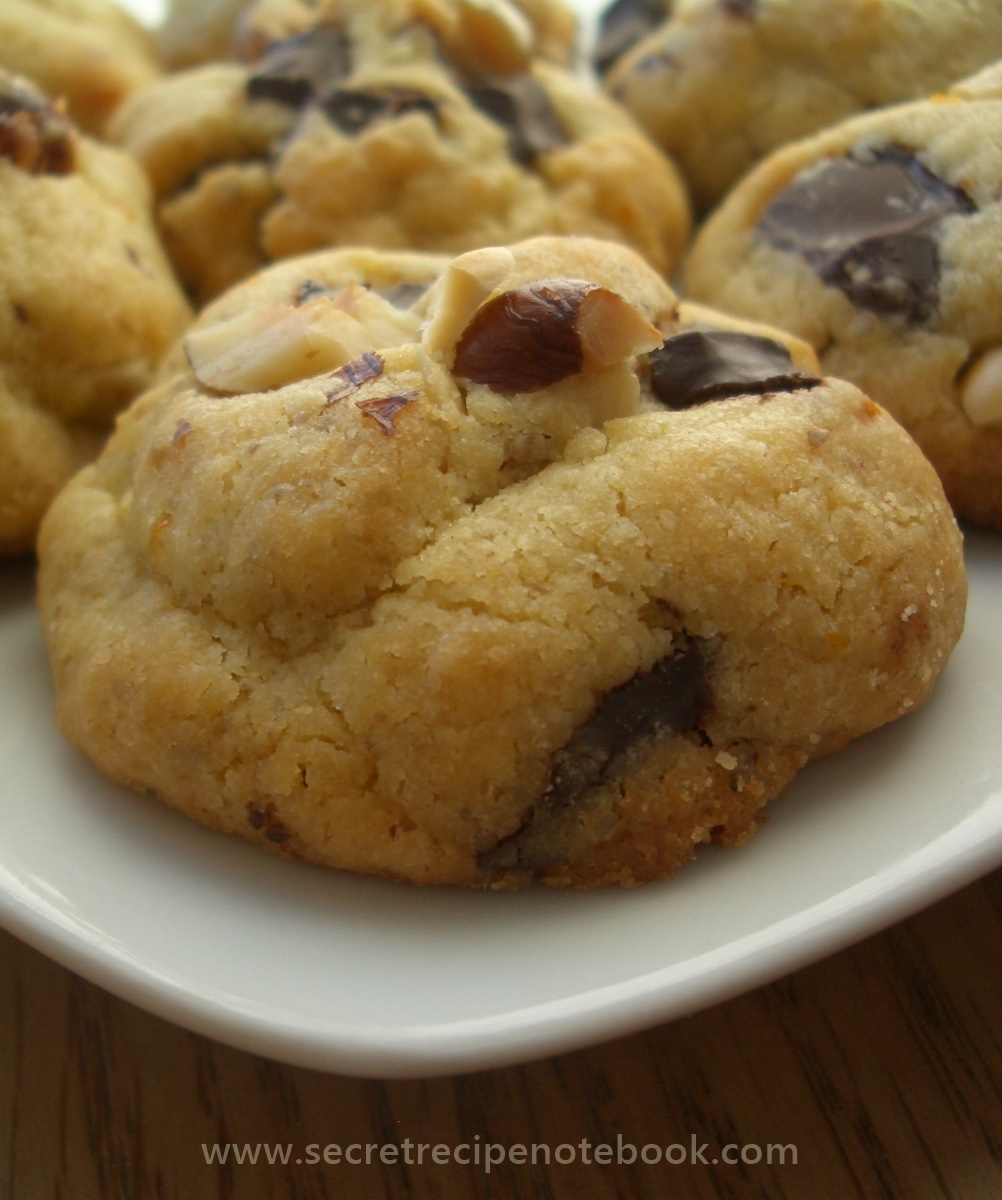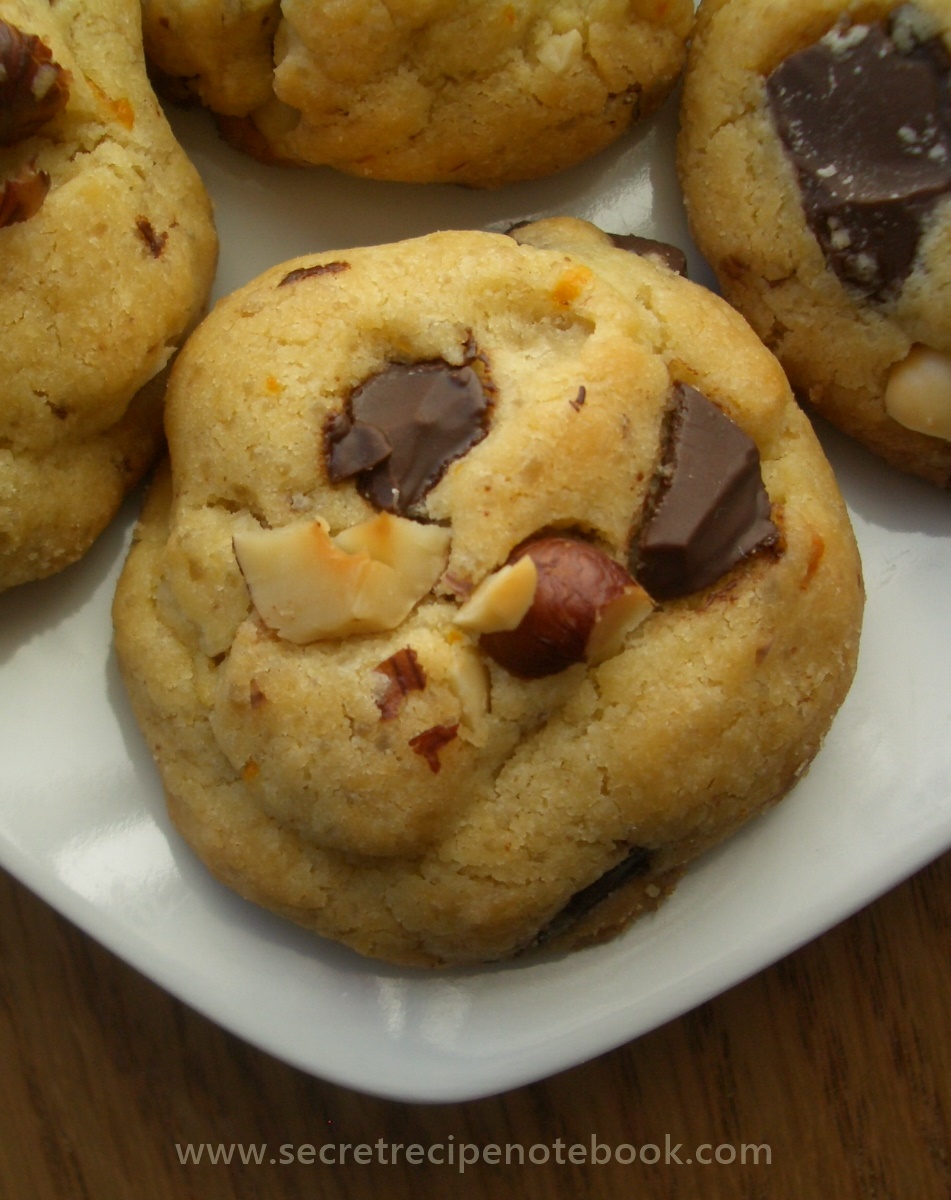 How to make hazelnut chocolate chunk cookies
Making these yummy cookies is so easy and quickly. You don't have even to use mixer, as we use melted butter in this recipe. 

First prepare HAZELNUTS by toasting them in the oven, then ground half of the amount while other half coarsely chop. Cut CHOCOLATE into chunks and set aside.


Mix PLAIN FLOUR with GROUND HAZELNUTS, BAKING SODA and SALT in one bowl. 


In another whisk MELTED BUTTER, BOTH SUGARS, EGG YOLK and VANILLA EXTRACT and add some GRATED ORANGE ZEST. Now pour this into flour and stir using spatula. Fold chocolate and stir again until combined.


Scoop with a tablespoon dough and roll into balls (size of walnut). Press each ball into chopped hazelnuts and arrange balls on the cookie sheet with 3-4 cm apart. These cookies are baked only 7-8 minutes, and they are still very soft when taken from the oven. Leave them on the tray for 4-5 minutes - they will harden as they cool. Your cookies are ready to enjoy!


Useful baking tip
Cookies will still look under-baked once you take them from the oven. But this is fine, they will set and firm up as they cool. They only need 7-8 minutes in the oven, and will firm up quite a bit as they cool.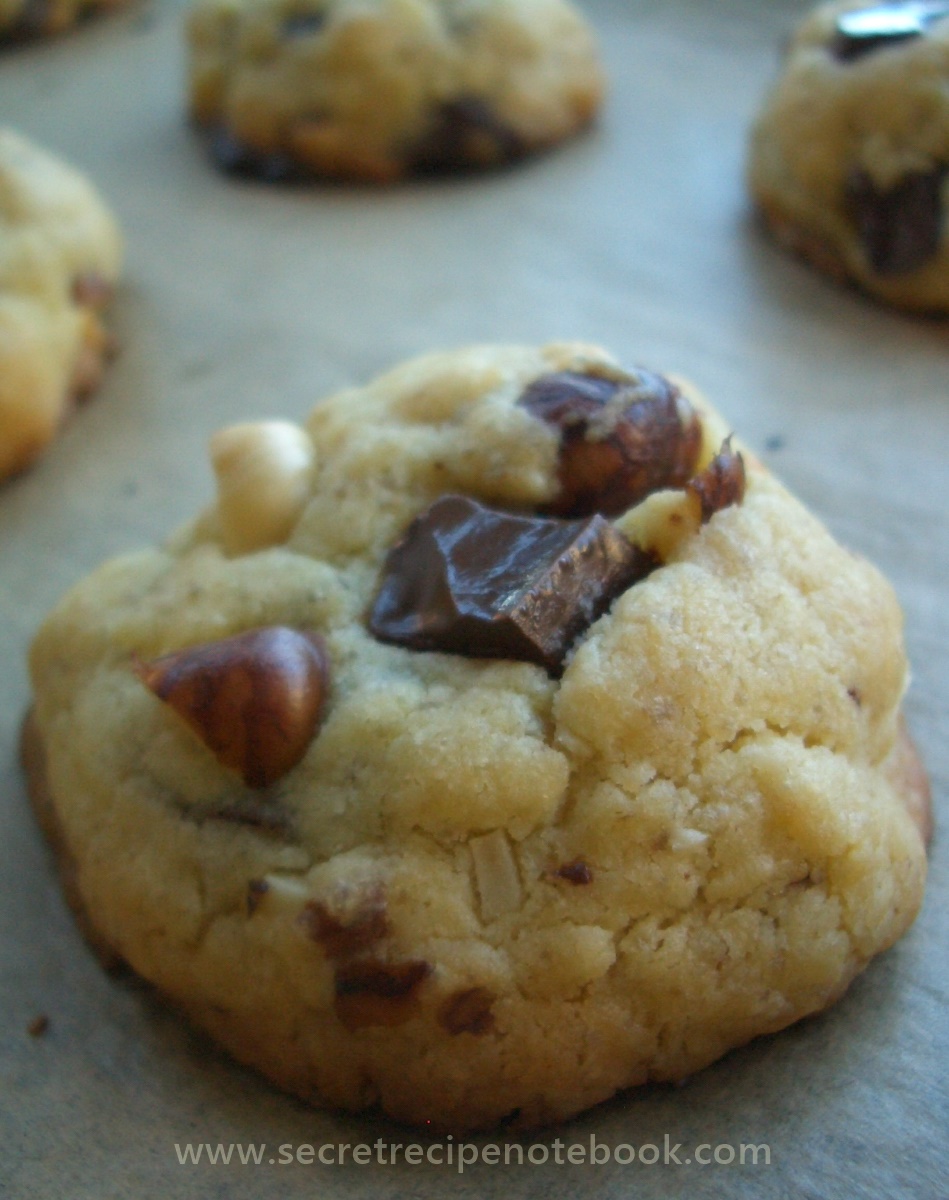 Storing hazelnut chocolate chunk cookies
These cookies stay fresh if stored in an airtights container for up to 1 week. They will look great in this glass cookie jar on your kitchen counter.

For making these cookies ahead, make the dough and keep in the fridge for up to 4 days. Unbaked cookie dough balls freeze well for up to 3 months. Bake frozen cookie dough balls for an extra minute.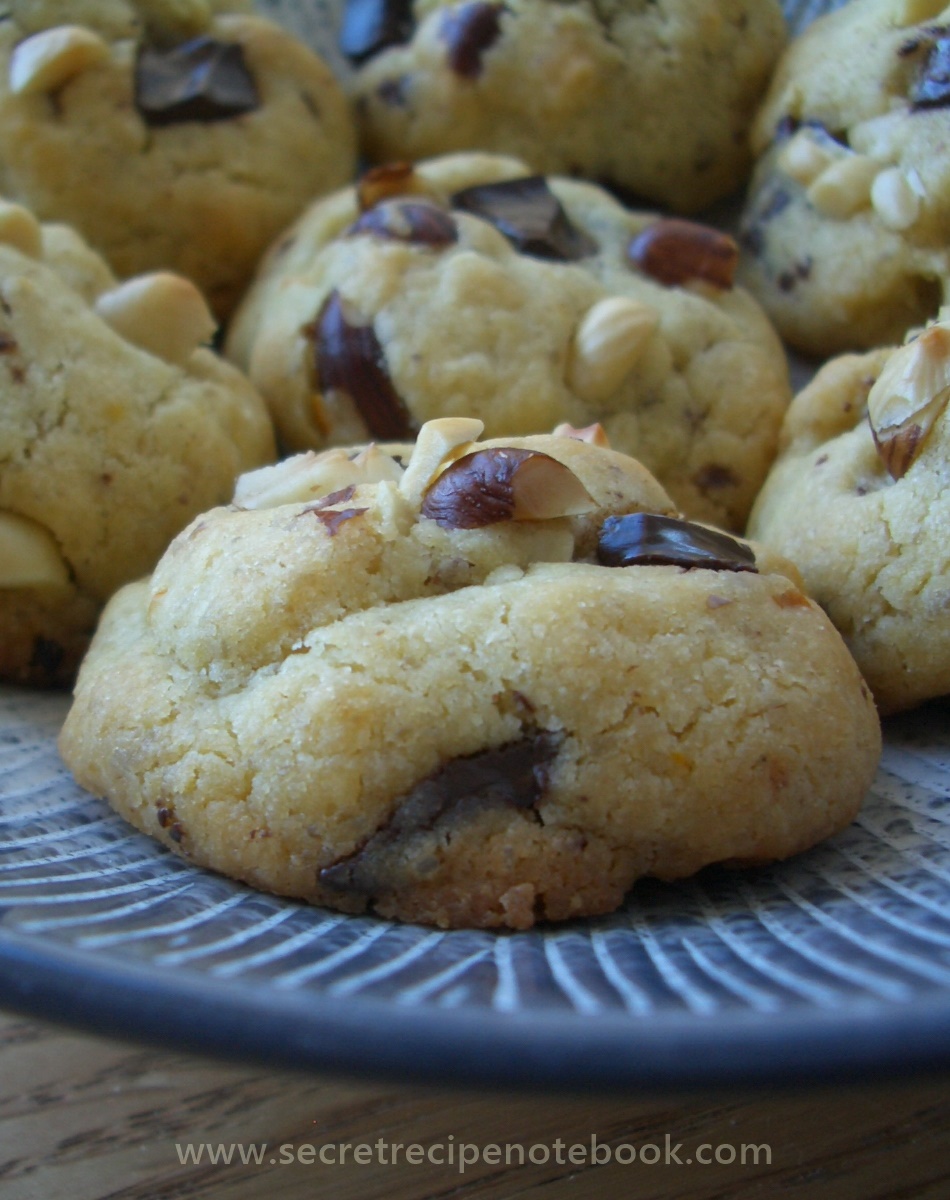 A few of our popular cookie recipes:
Hazelnut Chocolate Chunk Cookies

MAKES: 24 cookies
COOKS IN: 1 hour plus cooling time
LEVEL: Easy
HANDY KITCHEN PRODUCTS:
INGREDIENTS
METHOD
Preheat the oven to 160°C/320°F. Spread hazelnuts on a baking sheet and toast for 7-8 minutes until lightly browned and fragrant. Remove from the oven and place nuts in a clean tea towel and gently rub together until the most of the skin comes off. Once cooled, coarsely chop the hazelnuts on a cutting board. Set aside. 


Line the baking sheet with baking paper and rise the oven temperature on 180°C/356°F.


Combine the flour, baking soda and salt in a medium bowl.


In a heatproof bowl whisk together egg yolk, melted butter, sugars, vanilla extract and grated orange zest. 


Fold flour into wet ingredients stir with silicon spatula until completely combined. Fold in prepared chocolate and stir until everything combined.


Using a tablespoon scoop the dough into balls of the size of walnuts, top each ball with coarsely chopped hazelnuts and arrange them on a baking sheet, leaving 3-4 cm between each ball. 


Bake for 7-8 minutes or until browned on the top and around the sides. Remove from the oven and allow cookies to cool on the baking sheet for 3 minutes before transferring to a wire rack to cool completely. Cookies crisp up as they cool.


CATEGORIES: Cookies, Hazelnuts, Chocolate
We are a participant in the Amazon Services LLC Associates Program, an affiliate advertising program designed to provide a means for us to earn fees by linking to Amazon.com and affiliated sites.