These cookies are sweet, delicious, crunchy and so simple and quick to make. This recipe makes 24 cookies packed with large chunks of white chocolate and toasted pecans. 
For those in love with crispy cookies, these will become your favourites. Crispy dough packed with white chocolate and pieces of toasted pecans, make these cookies so adorable.

Once you bite into cookie, your mouth are full of flavours with dominant pecan aroma accent with toasting. Additional plus is crunchiness from the pecans. Hurry to make these delicious cookies. If you love these cookies, you will also like our walnut spelt chocolate chip cookies.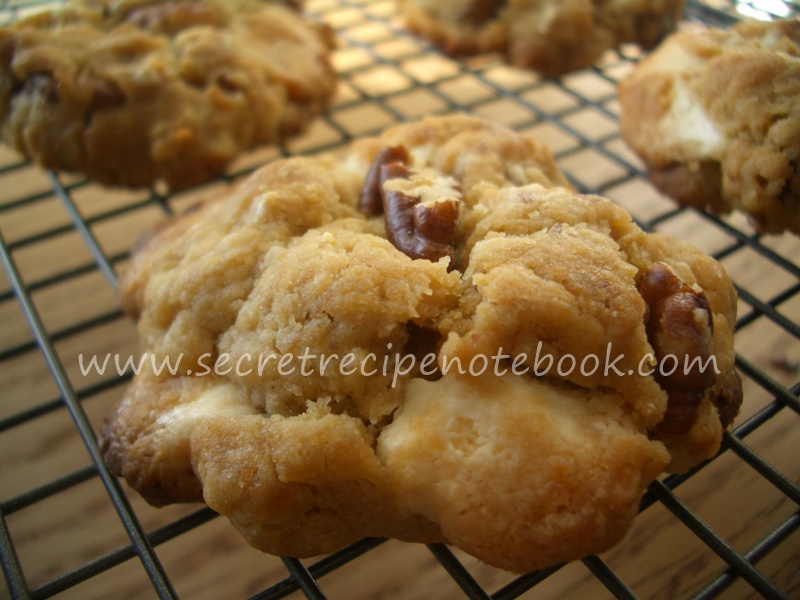 what You'll need for these cookies
For the cookie dough you will need a few quality ingredients resulting in crispy and delicious nutty cookies:
WHITE CHOCOLATE: Use white chocolate bar and chop into the chunks yourself. It will taste better than white chocolate chips. Plus, chunks add way more to the texture than small chips do. It will make a huge difference to the overall flavour of your white chocolate cookies!


PECANS: these nuts gives amazing nutty flavour to the cookies plus adds some crunchiness. For amazing taste, be sure to toast pecans in the oven for 10 minutes, to accent their nuttiness and make them crunchy.


MELTED BUTTER: this recipe calls for melted butter which gives crispy and dense texture to the cookies.


DARK MUSCOVADO SUGAR: this moist sugar adds amazing caramel aroma to the cookies that you can't get from anything else and don't allow cookies to spread much.


EGG YOLK: we skipped egg white in this recipe and use only egg yolk. This is because egg whites fluff up when beaten or whisked, and we didn't want soft puffed cookies this time.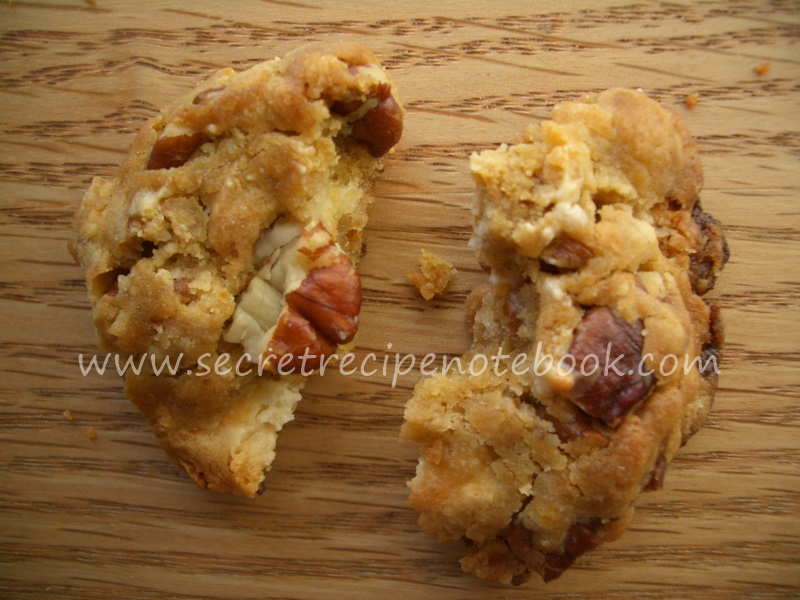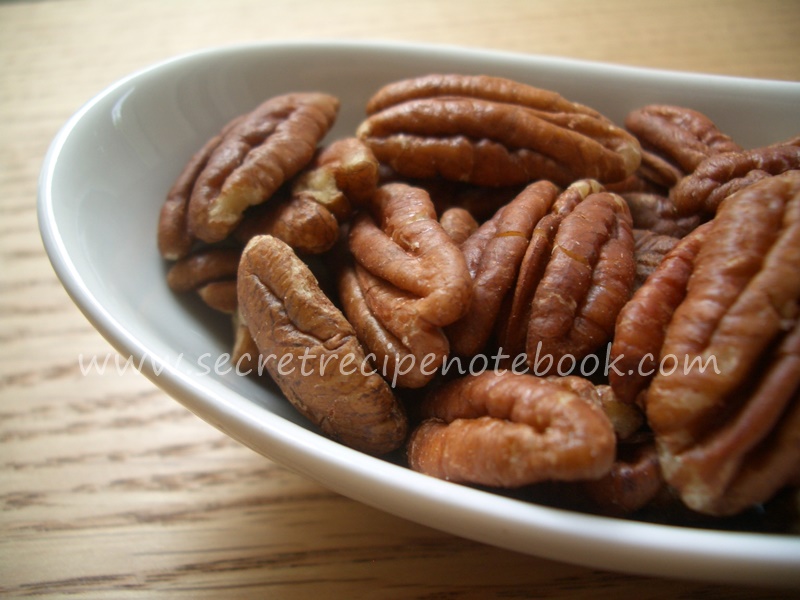 Try also these tasty recipes:
how to make White Chocolate Pecan cookies
Making these cookies is so easy, you don't even need electric mixer or cookie cutters. First prepare pecans by toasting them lightly in the oven, then chopping coarsely. Chop also white chocolate bar on a cutting board.

For the dough, first combine dry ingredients in one bowl and whisk wet ingredients (egg yolk, muscovado sugar, melted butter, Amaretto) in another one. Pour this into flour and stir with spatula until you get a dough.

Simply grab with a tablespoon mixture, form balls and arrange on baking tray. Flatten slightly each ball and bake in the oven for 8 - 10 minutes. Be sure you don't overbake these cookies. They only need 8 - 10 minutes in the oven, and will firm up quite a bit as they cool. Over baked cookies will be too dry.
Cookies will spread and become crispy and chewy. Leave them to cool for a few minutes on a baking tray before transferring to wire rack to cool completely.


best selling kitchen tools & gadgets
secret baking tip
For that pleasing crunch when you bite the cookie, let them cool completely. The cookies will be very crumbly when you take them from the oven so be sure not to touch them until cool. The longer the cookies cool, the crispier they'll be. Transfer them to a cooling rack so the air circulates to the bottoms of cookies.

storing white chocolate pecan cookies
These cookies stay fresh in an airtight container for 5 - 7 days. Baked cookies freeze well - up to 2 months.


Looking for more cookie recipes?
For more cookie inspiration, take a look at our collection of yummy cookie recipes. Also check out our selection of interesting gluten-free cookies, too.

shop kitchen essentials for this recipe
Digital Kitchen Scale | Wooden Cutting Board | Measuring Spoons | Kitchen Knife | Mixing Bowls | Wire Whisk | Silicon Spatula | Baking Tray | Baking Paper Sheets | Cookie Spatula
White chocolate pecan cookies

MAKES: 24 cookies
COOKS IN: 40 minutes plus cooling time
LEVEL: Easy
INGREDIENTS
120g (1 cup) pecans
180g (1 1/2 cup) 

plain flour

110g (4 ounces) white chocolate
1/2 teaspoon

baking soda

1/4 teaspoon

fine sea salt

140g (10 tbsp) 

butter

, melted
50g (1/4 cup) dark muscovado sugar
1

egg yolk

1 tablespoon

Amaretto liqueur

1 tablespoon of orange zest, finely grated
METHOD
Preheat the oven to 160°C (320°F) and line the baking tray with baking paper. Arrange pecans in a single layer on the baking tray. Toast until browned and fragrant, stirring occasionally. This will take around 8 - 10 minutes. Remove them from the tray, cool and chop coarsely on a cutting board with a sharp knife. Set aside.


Chop the white chocolate into smaller chunks on a cutting board and set aside.


Combine plain flour, baking soda and salt in one bowl. 



Using hand whisk, whisk melted butter, muscovado sugar, egg yolk and Amaretto until sugar dissolves and everything is combined. Add grated orange zest to this and stir.


Pour this mixture into dry ingredients and stir using spatula or spoon until everything incorporated. Fold in white chocolate chunks and chopped pecans and continue to mix with a spoon or hands until incorporated into the dough. Chill it in the fridge for about 20 minutes.


Preheat the oven to 160°C (320°F)  and prepare two baking trays with baking paper.


Scoop the dough using tablespoon - 1 tablespoon per cookie and place dough balls on the baking tray, 3 - 4 cm apart. Flatten each balls slightly with a spoon. Bake for about 8 - 10 minutes or until browned on top and around the edges. 


Remove from the oven and allow cookies to cool on the baking tray for 5 minutes then transfer to a wire rack to cool completely.