Soft Chocolate Hazelnut Cookies
You will love these soft chocolate hazelnut cookies that are easy to make. Made with hazelnut flour, chopped hazelnuts and dark chocolate, these cookies are so delicious.
If you love chocolate and hazelnut combo, try our recipe for double chocolate cookies with hazelnuts.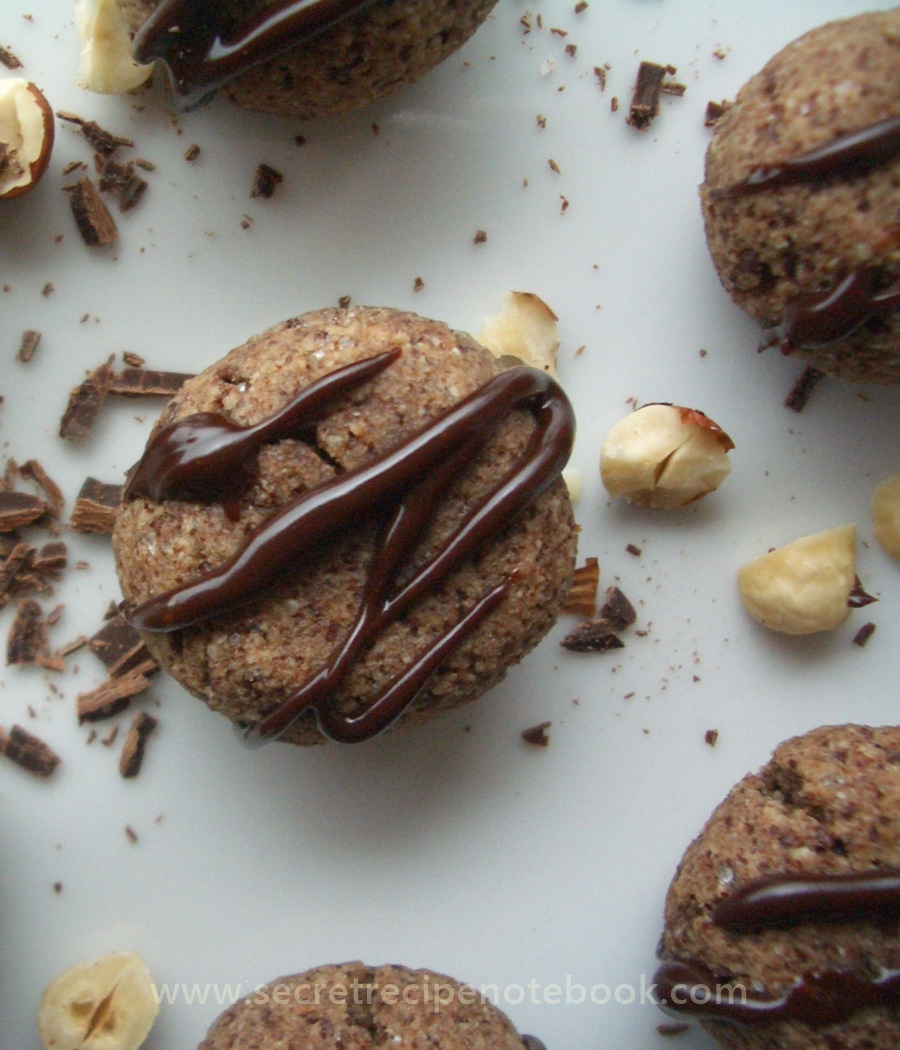 This webpage contains affiliate links. Please read our disclosure policy.

More cookie recipes
you'll love:
Why you'll love hazelnut flour
Hazelnut flour is one of the best gluten-free flours for baking and other desserts and cookies. This flour adds nuttiness to the cakes, cookies, muffins and brownies. It goes well in any recipe and especially in combination with any kind of chocolate - milk, white or dark one.

If you don't find it in your local food store, buy it easily online.

We love to make cookies with it, such as hazelnut amaretti cookies or combine with other flours in brownies.


How to make soft chocolate hazelnut cookies
Making these cookies is so easy and the dough is whipped up in only 5 minutes, once you have all ingredients ready.


First toast hazelnuts in the oven and finely grind them. Broke chocolate into smaller pieces and together with demerara sugar, process in the food processor. If you don't have one, you can grate the chocolate on box grater and grind hazelnuts with nut grinder. Now, combine hazelnut flour with hazelnut/chocolate mixture. 


Using electric hand mixer beat egg whites with a pinch of salt in another bowl, add Amaretto and grated orange zest to flavour the cookies. Now slowly fold dry ingredients into egg whites using silicon spatula until everything incorporated and you get light and airy texture.


For shaping the cookies just scoop mixture with teaspoon and roll into balls. Arrange on the baking sheet and slightly flatten on the top. These cookies are baked for only 5-6 minutes.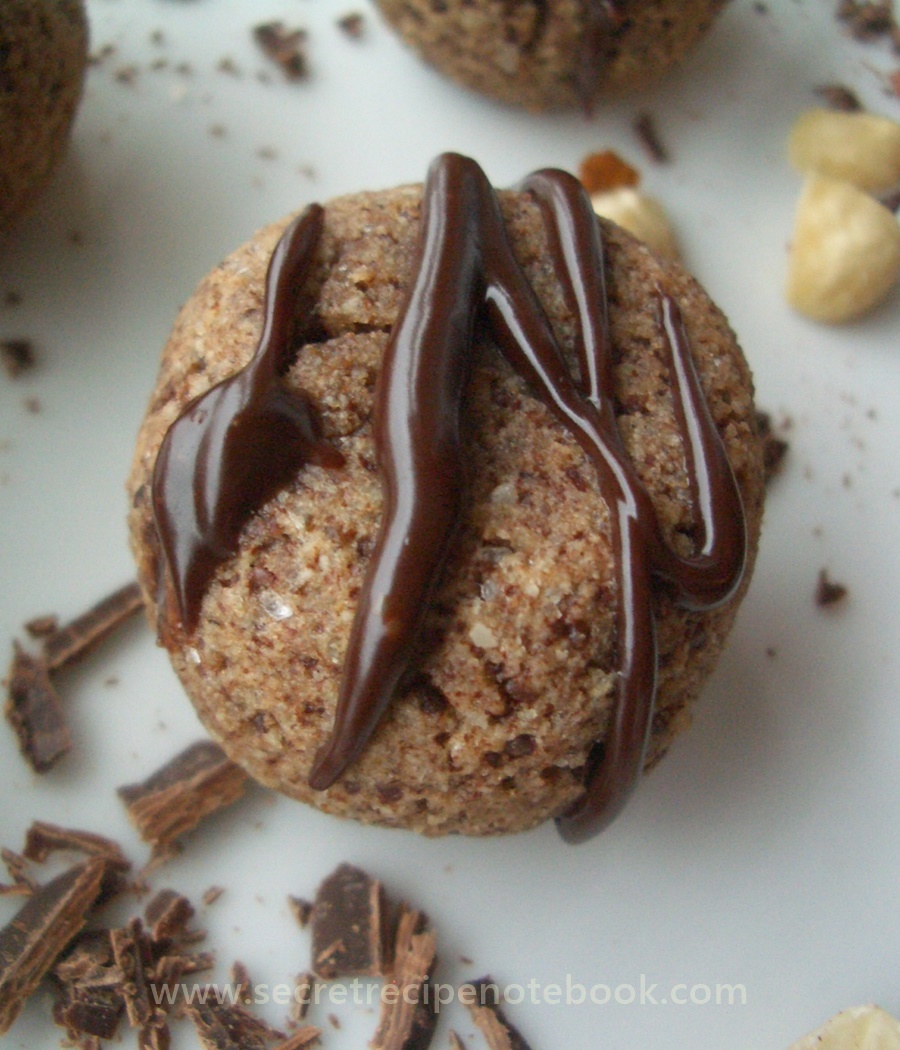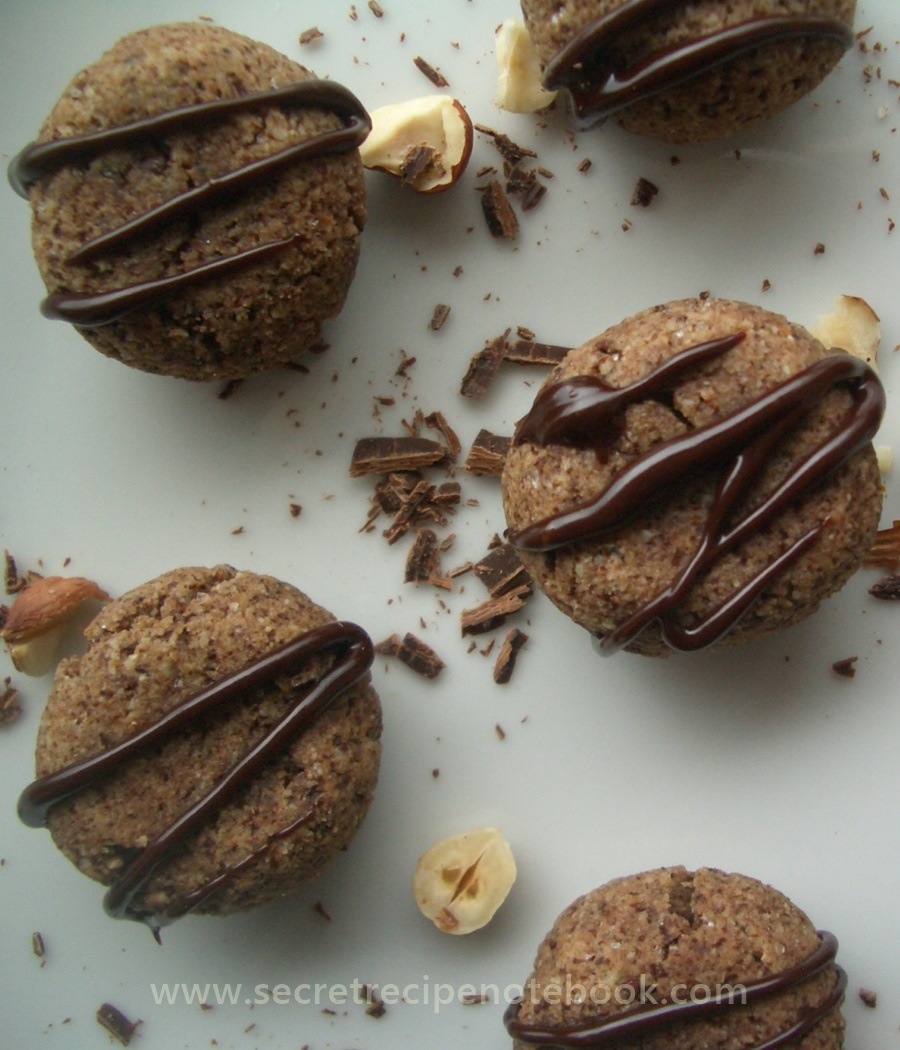 How to store soft chocolate hazelnut cookies
Store these cookies at the room temperature for up to 7 days. You can also keep them in the fridge or freeze for up to 1 month. These brown cookies will look great stored in this glass cookie jar.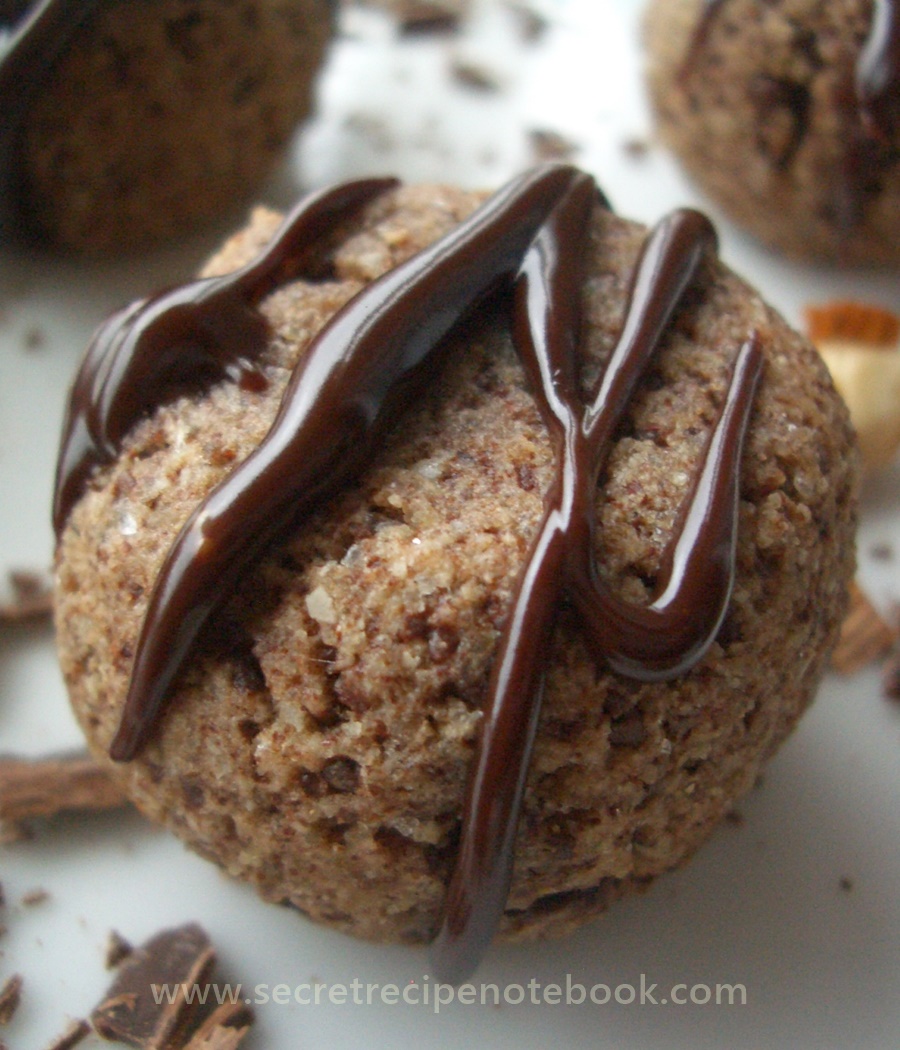 A few of our popular cookie recipes:
Soft Chocolate Hazelnut Cookies

MAKES: 16 cookies
COOKS IN: 25 minutes
LEVEL: Easy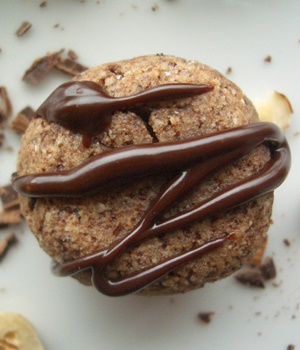 Kitchen essentials:
INGREDIENTS
For the cookies
For the chocolate drizzle
METHOD
FOR THE COOKIES, preheat the oven to 160°C/320°F. Spread hazelnuts on a baking sheet and toast for about 8-10 minutes until lightly browned and fragrant and the the skins start to crack. Remove from the oven and place nuts in a clean tea towel and gently rub together until the most of the skin comes off. Cool and finely chop or grind in nut grinder.


Adjust the oven temperature to 175°C/347°F. Line baking sheet with baking paper.



Break chocolate into smaller pieces and together with sugar process in a food processor until fine. You can also do this in coffee grinder if you have one. As alternative grate the chocolate on a

box grater - smaller holes. 



Combine together hazelnut flour, ground hazelnuts, chocolate sugar mixture and finely grated orange zest in one bowl.




In a mixing bowl using a hand mixer beat egg whites with a pinch of salt until they hold stiff peaks. Add Amaretto liqueur and stir with silicon spatula.


Fold gradually dry ingredients into egg whites until the soft dough forms.


Using a teaspoon portion a dough of the size of small walnuts and roll into a ball. Arrange on baking sheet and lightly press each ball using a teaspoon.


Bake in oven for about 5-6 minutes. Remove the cookies from the oven and leave on the baking sheet to cool. They will cool quickly as they are small and light.


FOR THE CHOCOLATE DRIZZLE, place broken chocolate in a heatproof bowl over a saucepan of simmering water. Add milk and stir until smooth and shiny. 


Let the melted chocolate cool for 1 minute, then pour it into a ziplock bag. Cut off a bit of the corner of the bag, then drizzle over the cookies in zig-zag motion. Leave to settle then serve.


CATEGORIES: Cookies, Hazelnuts, Chocolate
We are a participant in the Amazon Services LLC Associates Program, an affiliate advertising program designed to provide a means for us to earn fees by linking to Amazon.com and affiliated sites.