This webpage contains affiliate links. Please view our disclosure policy for more details.

COOKIES | GLUTEN-FREE | ALMOND FLOUR | CHOCOLATE
Almond Flour Chocolate Chip Cookies

You will adore these simple gluten-free cookies made with only 9 ingredients. The star of the recipe, almond flour makes these cookies amazingly soft and delicious. Large dark chocolate chunks pair great with the nuttiness of the almond flour. The cookies are done in only 30 minutes.
So, after all these good reasons to make them, we hope you give them a try!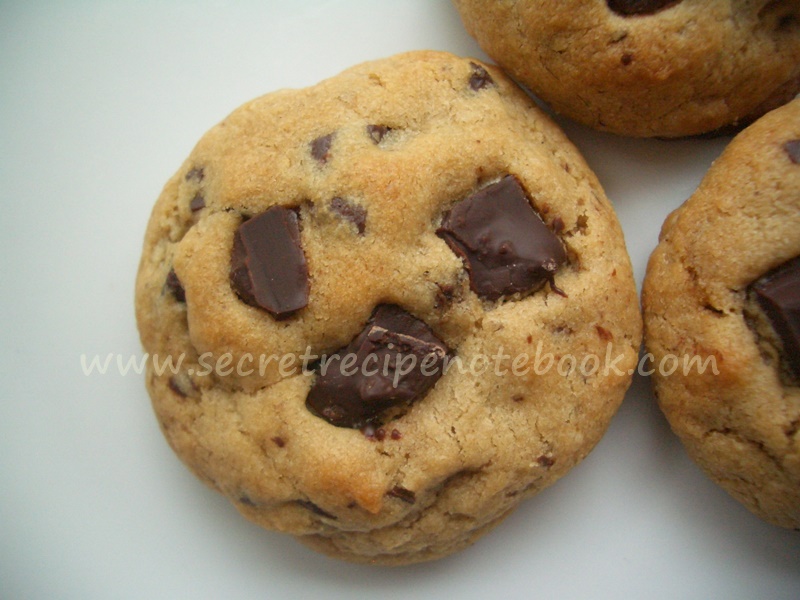 About almond flour
We love to use almond flour for making delicious cookies, muffins and cake. This gluten-free flour with its pale yellow colour and nutty flavour make baked goods extra delicious.

When buying almond flour, be sure to buy fresh and finely ground. This flour can be found at organic food stores or can be ordered online.

Why not to try our simple recipes with almond flour: gluten-free almond flour cookies, bakery-style chocolate chip muffins or almond flour biscotti.


More cookie recipes you'll love:
Reasons you'll love almond flour
It is a great source of proteins
It is gluten-free, grain-free and low-carb
It has a delicious nutty flavour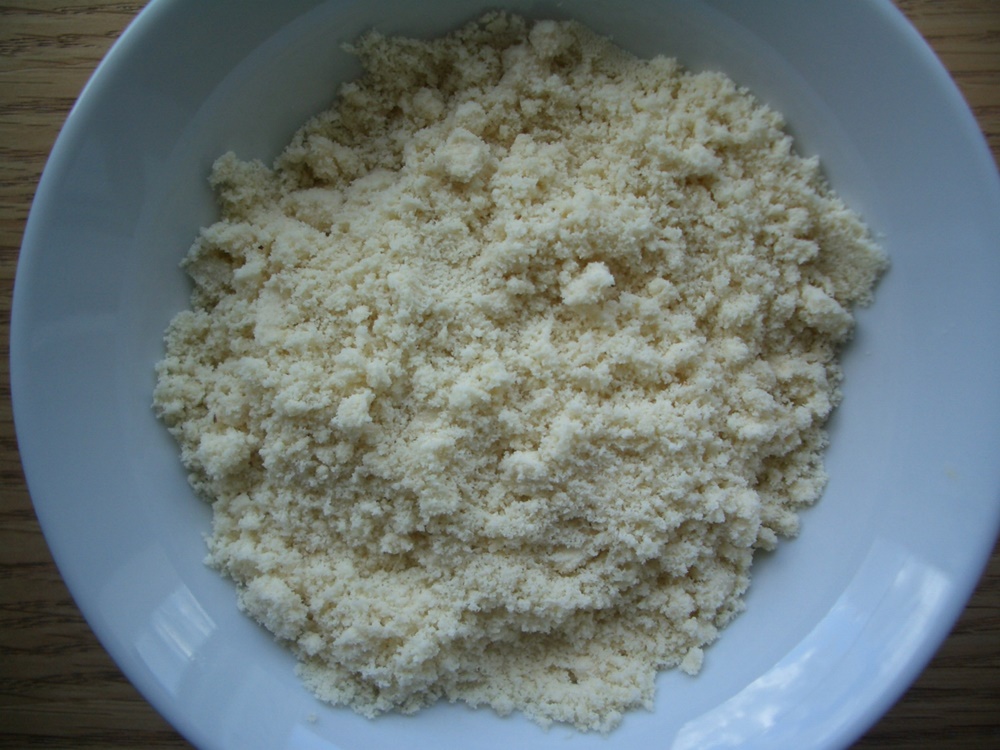 How to make almond flour chocolate chip cookies
For making these cookies you will need only 9 ingredients. For the start, stir together in one bowl all dry ingredients: almond flour, corn starch, baking soda and salt.


In another bowl, beat together butter and sugar in a large mixing bowl until you have a light and fluffy mixture. Continue by adding egg and vanilla extract and beat for another few minutes. 


Add almond flour into the butter mixture and mix on a low speed for 1 minute until a soft dough forms. Now, fold chocolate chunks using a wooden spoon until everything combined. 


Use a tablespoon or cookie scoop to scoop dough and roll into balls. Place balls on the baking sheet with some space between each. The cookies will spread as they bake so it's important to leave some space between. Bake the cookies in the oven for 10 minutes and that's it. They will look slightly under baked but they will continue to bake on the baking sheet. Cookies will have chewy centres.


USEFUL BAKING TIP! Take the cookies from the oven when they're still very soft and underbaked. They will continue to bake on the sheet and stay soft and chewy later on.


Storing almond flour chocolate chip cookies
If you have some leftover cookies store, them in an airtight container for up to 7 days. We love these decorative set of vintage metal containers which keeps cookies fresh for days (you can use these also for cereal, nuts, chocolate chips or any other treats.


A few of our favourite cookie recipes:
Almond Flour Chocolate Chip Cookies
MAKES: 18 cookies
COOKS IN: 30 minutes
LEVEL: Easy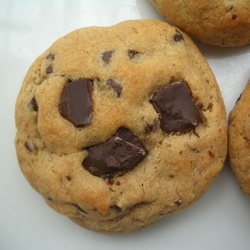 INGREDIENTS
METHOD
Preheat the oven to 165°C/329°F and line 2 

baking sheets

with baking paper. If baking with one tray, leave it to cool completely before placing another batch of cookies.



If using chocolate bar, cut it into smaller pieces on a cutting board with a sharp knife.




In a medium mixing bowl, combine together almond flour, baking soda and salt.



Using electric hand mixer beat softened butter and sugar until creamy and fluffy. Add egg and vanilla extract and beat for another few minutes. 


Add almond flour and beat on a low speed until incorporated. Fold in chocolate chips and stir with spatula.



Using a tablespoon scoop the dough, roll between your palms into balls and place them on the baking sheet, a few centimeters apart as they will spread while baking. Flatten each ball slightly with the back of the spoon, and press few pieces of chocolate on the top, just for look.


Bake in the oven for about 10 to 12 minutes or until they start to become lightly brown. Take the tray from the ov

en and leave cookies on the tray to cool. They will still be very soft at this point, but this is fine. Transfer them to a

cooling rack

to cool completely.




We recommend using the measurement in grams & ml (instead of cups & spoons) for more accuracy and better results.