Raspberry Jam Almond Cookies
These pretty thumbprint cookies are made with simple shortcrust dough. They are flavoured with refreshing lemon zest, rolled in chopped almonds for a little crunch and filled with raspberry jam.
These easy cookies with a fruity jam filling are perfect teatime treats. Make a batch as a weekend project and fill your biscuit tin with sweet bites.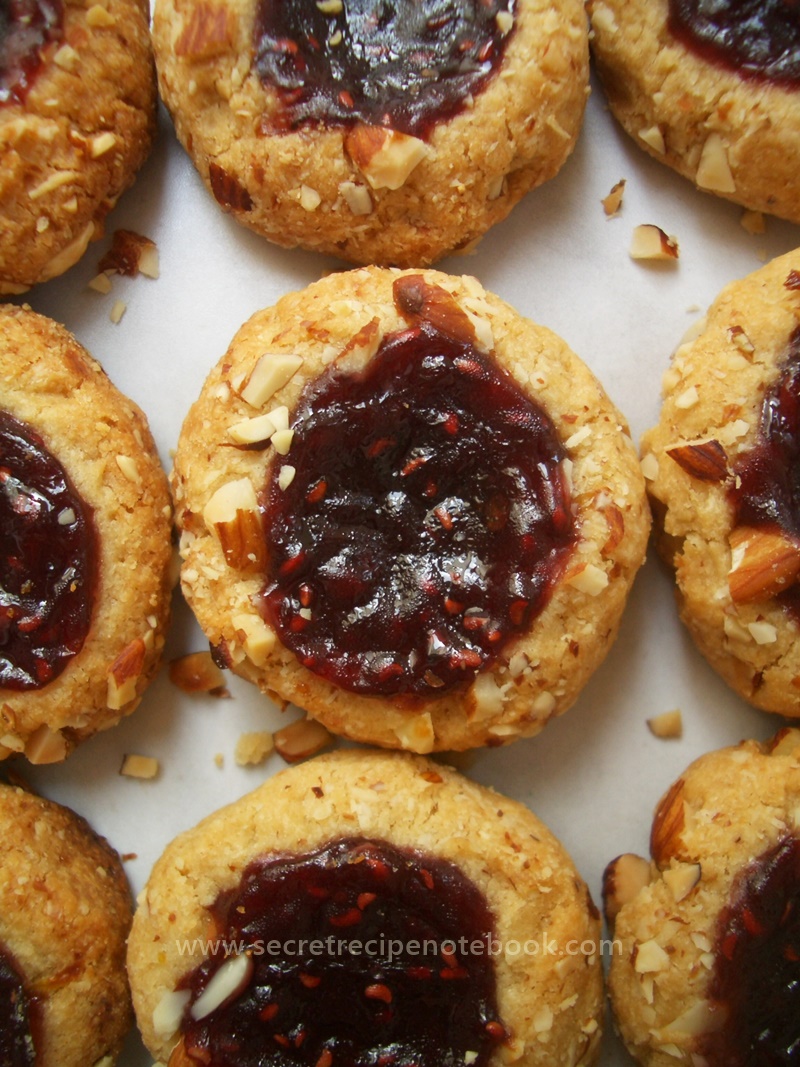 This webpage contains affiliate links. Please read our disclosure policy.

More cookie recipes
you'll love:
What you'll need for the dough
The list of ingredients for this recipe is short. Besides plain flour, we use here almond flour which is always a great addition to cookie dough. This nut flour is worth buying, as it brings chewiness to the cookies (try one of the best brands of almond flour - Blue Diamond). The almond flour can be freely swapped for ground almonds. The texture will be slightly different but still delicious.

We'll be using a combo of granulated and dark muscovado sugar, which works well together. Dark muscovado sugar is moist sugar with sandy texture, giving caramel flavour to anything added. We used it for making our fudgy hazelnut brownies.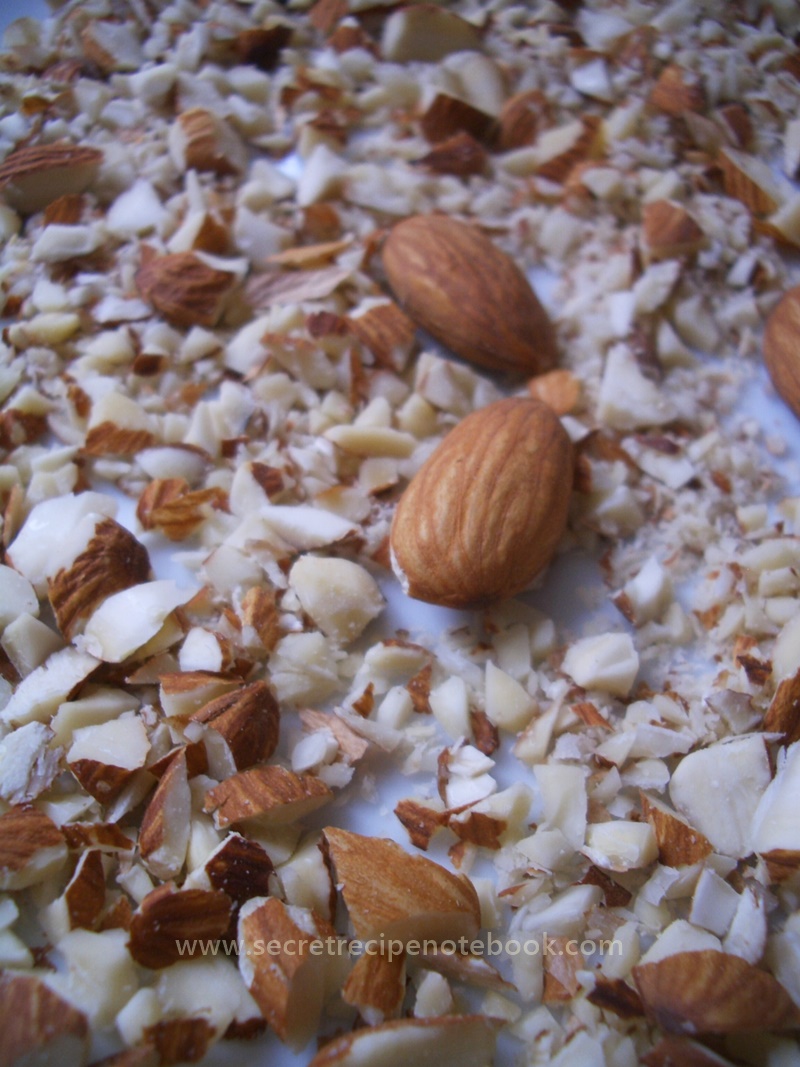 Making the cookie dough
For making the dough, first prepare a couple of mixing bowls and a hand mixer. Start with combining all dry ingredients in one bowl and set aside for later. Next beat softened butter and both sugar using hand mixer, until creamy, then add egg and grated lemon zest and beat for another minute.

Next step is folding flours into this mixture. First add half of the amount and beat until almost incorporated, then add the rest and beat until it just start to clump. Now, it's the best to knead with your hands until the compact dough forms. You have ready the dough!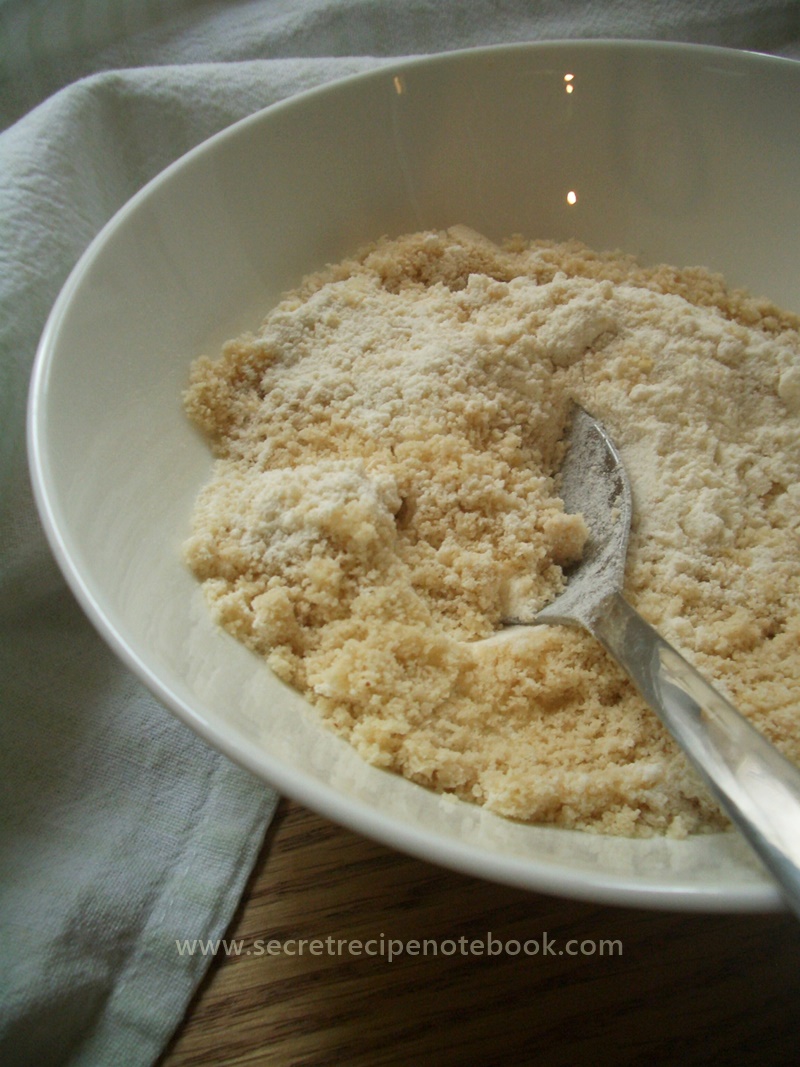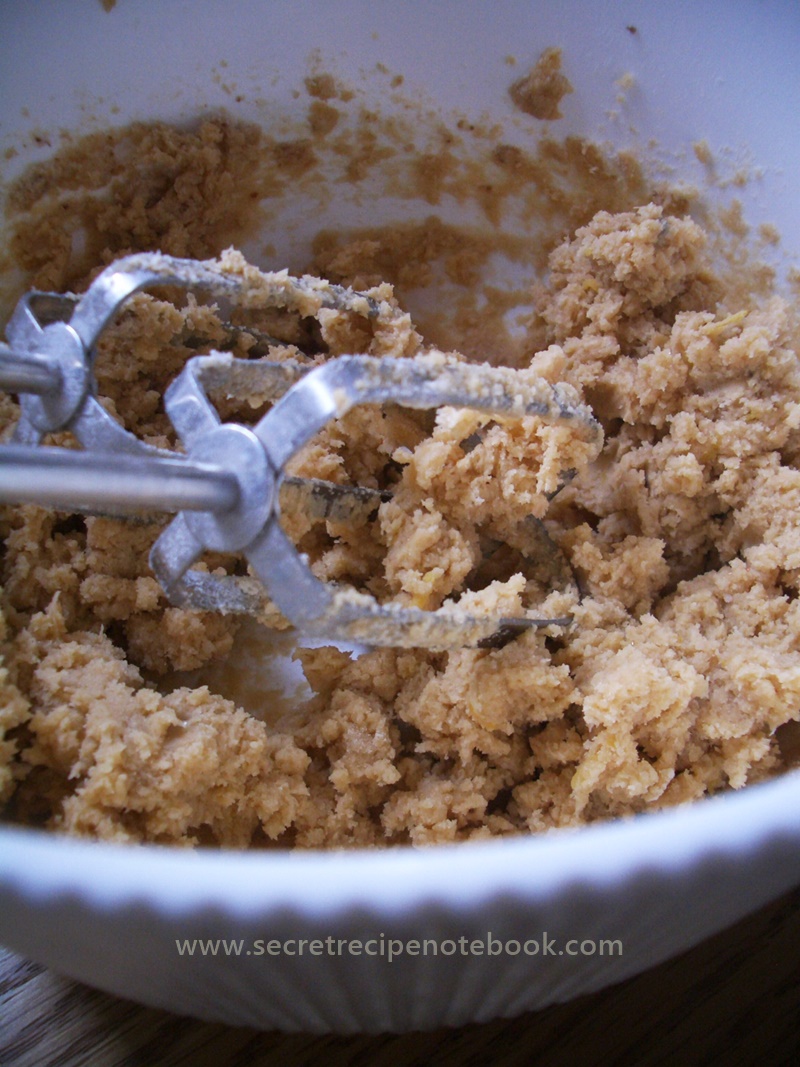 Shaping cookies
Once you have the dough ready, shaping cookies is so easy. We are shaping these cookies into thumbprint cookie shapes (like in our soft orange marmalade cookies).

The easiest way to do this is to shape the dough into long rolls. Divide the dough into half and roll each half into 30cm long and 4cm in diameter roll. Next, using small knife cut into small portions (size of walnut, 20g each) and roll between the palms into balls.


Roll each dough ball into chopped almonds (previously prepared), and then make an indent in the centre of balls (we'll fill with raspberry jam). Shop high-quality nuts easily online!

You can do this using your thumb or end of a wooden spoon or rubber spatula. Place cookies on a large plate, cover with aluminium foil and place in the fridge for 1 hour.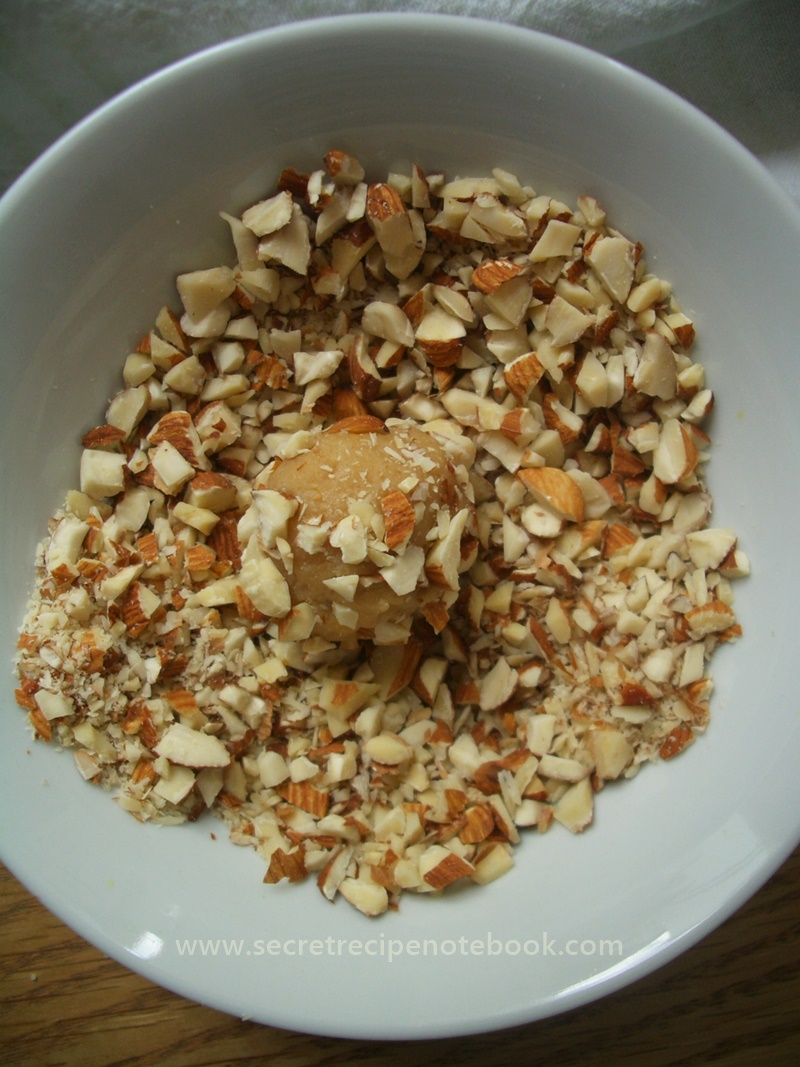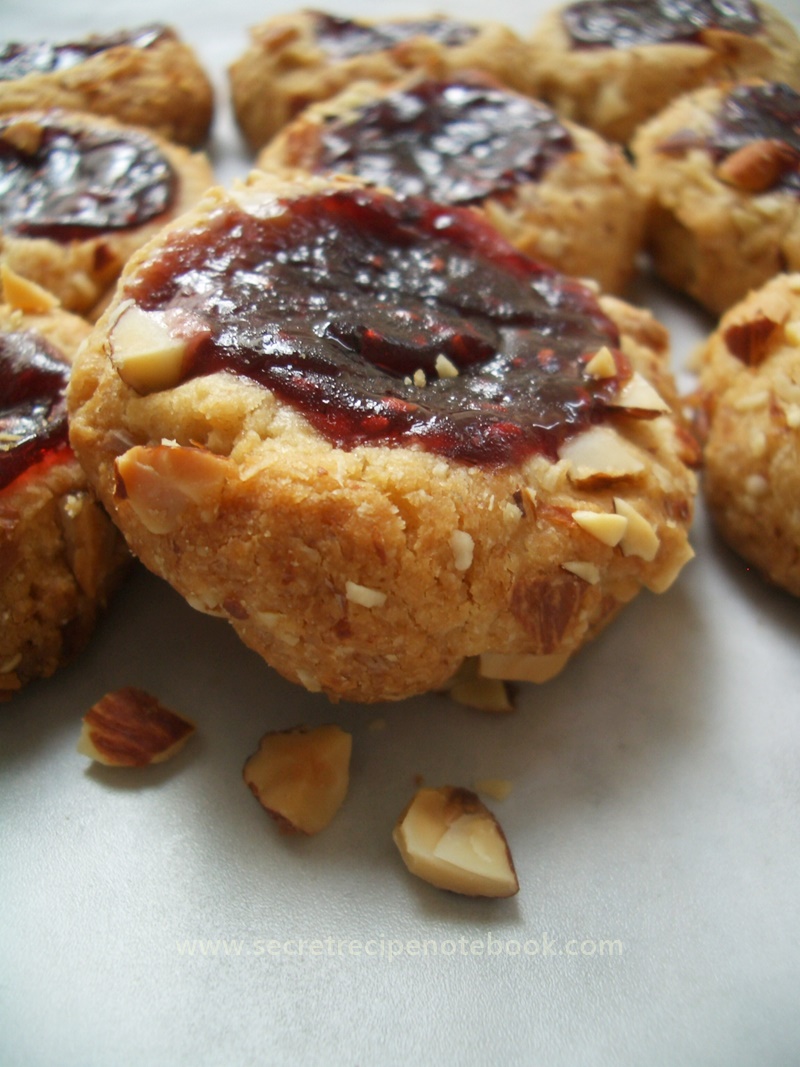 About the filling
It's time for filling the cookies. We'll be using raspberry jam here, it's refreshing and pairs great with almonds in this recipe. But, strawberry, cherry or any other jam will work well here. Once ready to bake, spoon 1/3 teaspoon of raspberry jam into each indent.


Baking cookies
For baking cookies, prepare one large baking sheet, lined with baking paper. Arrange cookies, around 3-4cm apart and bake for about 10-12 minutes. Cookies should be lightly brown on the edges and chopped almonds toasted.


Be sure to check out our TOP COOKIE BAKING TIPS for the perfect cookies every single time.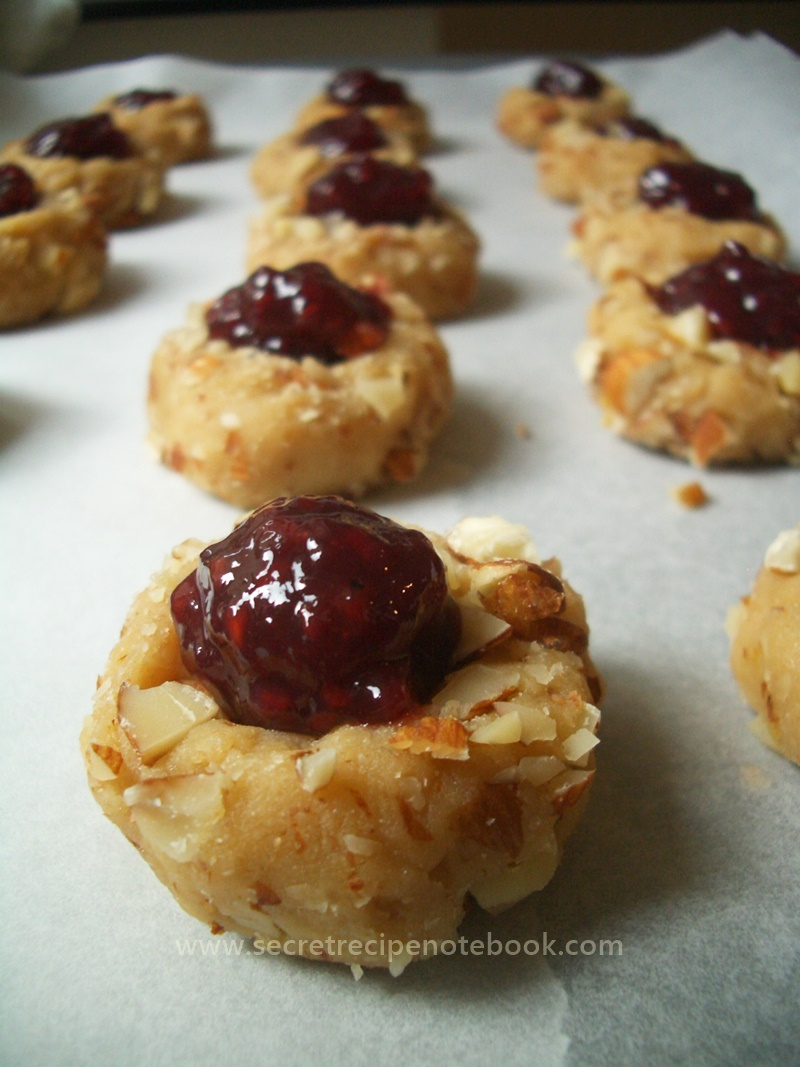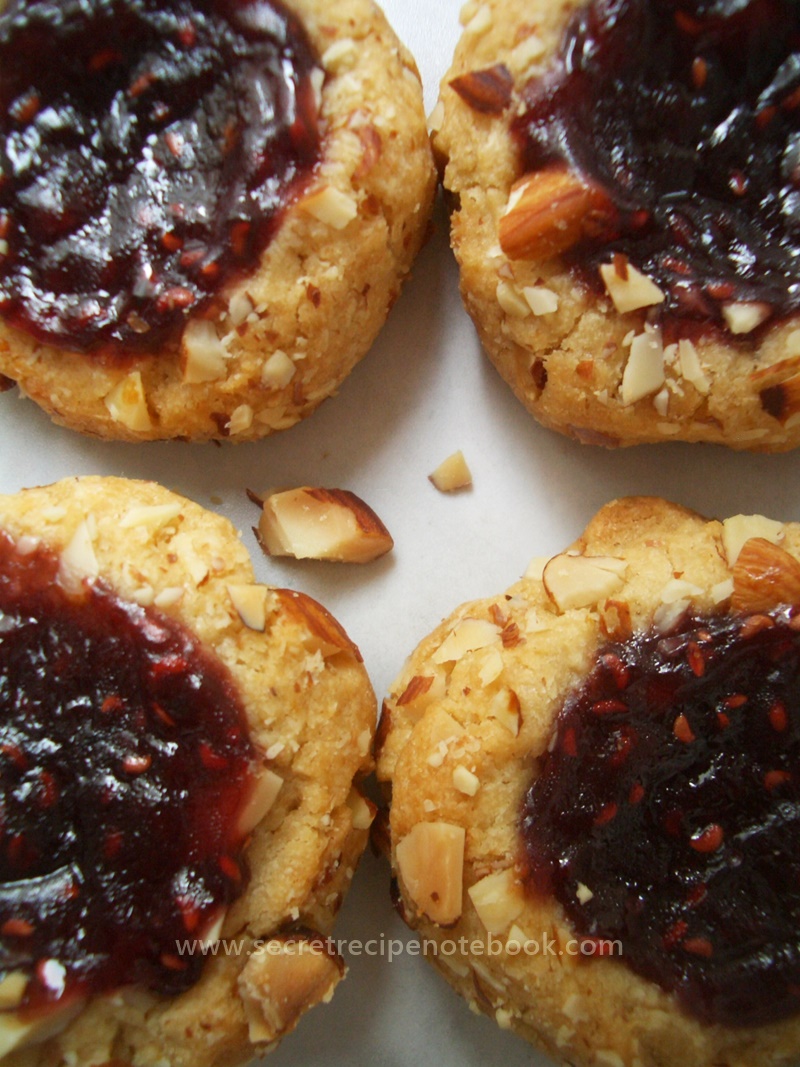 Storing raspberry and almond cookies
These raspberry jam cookies will stay soft and fresh for days in these Kook Glass Cookie Jars (and will look pretty on your kitchen counter).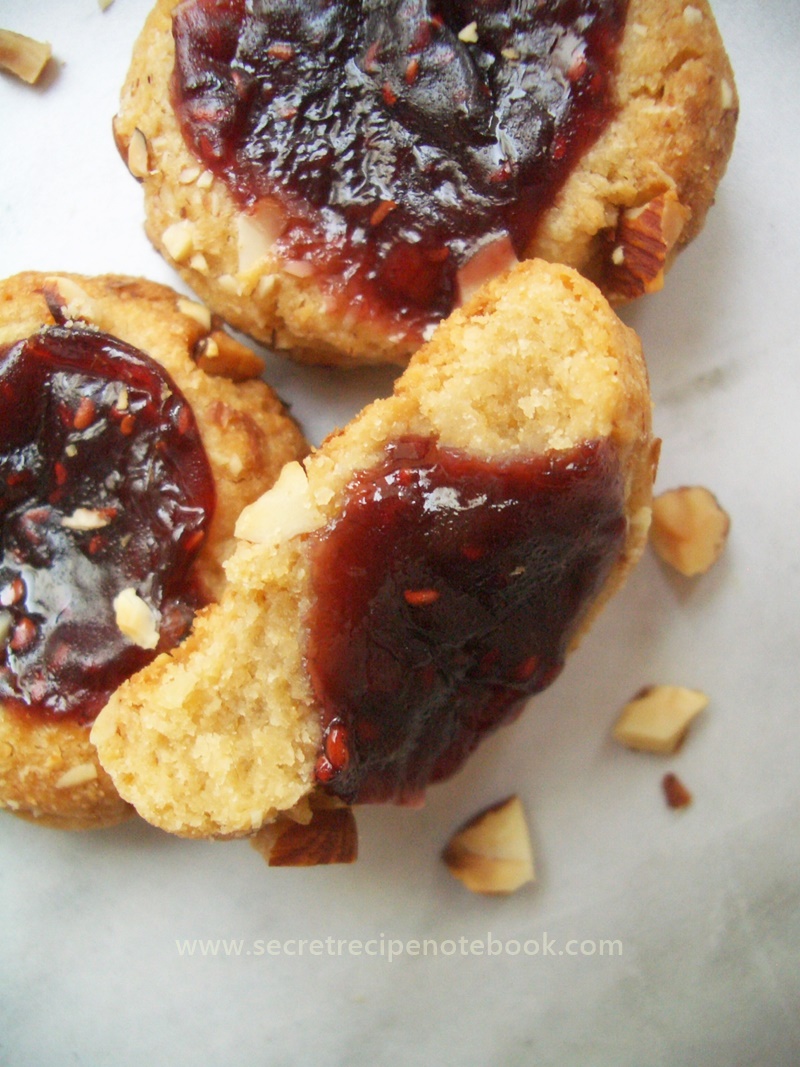 A few of our favourite cookie recipes:
Raspberry Jam Almond Cookies
MAKES: 36 cookies
COOKS IN: 40 minutes
LEVEL: Easy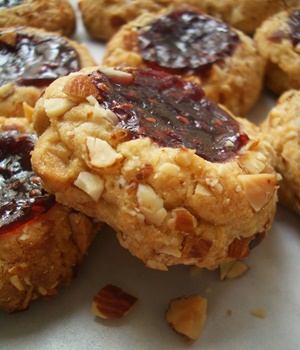 Handy equipment:
INGREDIENTS
For the cookie dough
240g plain flour (2 cups)
100g almond flour or ground almonds
1/2 teaspoon baking powder
pinch of salt
210g butter, at room temperature
50g granulated sugar (1/4 cup)
25g dark muscovado sugar (1/8 cup)
1 egg, at room temperature
1 tablespoon grated lemon zest
80g almonds, chopped
For the filling
METHOD
Combine plain flour and almond flour together with baking powder and salt in a medium bowl.


In a large bowl, using a hand or stand mixer, beat softened butter, both sugars on a medium speed until smooth and creamy.


Add an egg and grated lemon zest and continue to beat on a high speed for 1-2 minutes, until smooth. Scrape down the sides and bottom of the bowl as needed, and continue to beat until fully combined.


Add half of the flours and beat on low speed until crumbly texture forms.


Add remaining flours and continue to beat until just starting to clump. Leave the mixer and knead a compact dough using your hands.


Preheat the oven to 180°C/320°F and line the baking sheet with baking paper.


Turn the dough onto a floured surface and divide or cut into two. Shape each half into a long roll (4 cm in diameter). Cut rolls into small pieces (size of a walnut), then roll into balls. Roll each ball into chopped almonds so the almonds stick to all sides. Make an indent into each ball with a handle of wooden spoon or your thumb. Place cookie dough onto a large plate, wrap into aluminium foil and keep in the fridge for 1 hour.


Preheat the oven to 180°C/320°F and line the baking sheet with baking paper.


Spoon a heaping 1/2 teaspoon of raspberry jam into each indent.


Bake for 10-12 minutes, or until brown around the edges. Remove from the oven and allow cookies to cool on the baking sheet for 5 minutes before transferring to a wire rack to cool completely.


CATEGORIES: Cookies, Christmas, Almond
We are a participant in the Amazon Services LLC Associates Program, an affiliate advertising program designed to provide a means for us to earn fees by linking to Amazon.com and affiliated sites.