This webpage contains affiliate links. Please read our disclosure policy.

Pumpkin and Orange Cookies
These dense cookies burst with flavours. Caramel, nutty and citrus flavours, all in one, rounded with warm aromas of cloves and all spice. Zesty orange topping complements great with rich cookie dough. Cookies with true winter vibe!

They're great all day! We love them as an afternoon snack, for breakfast or even a dessert! These cookies are incredibly filling!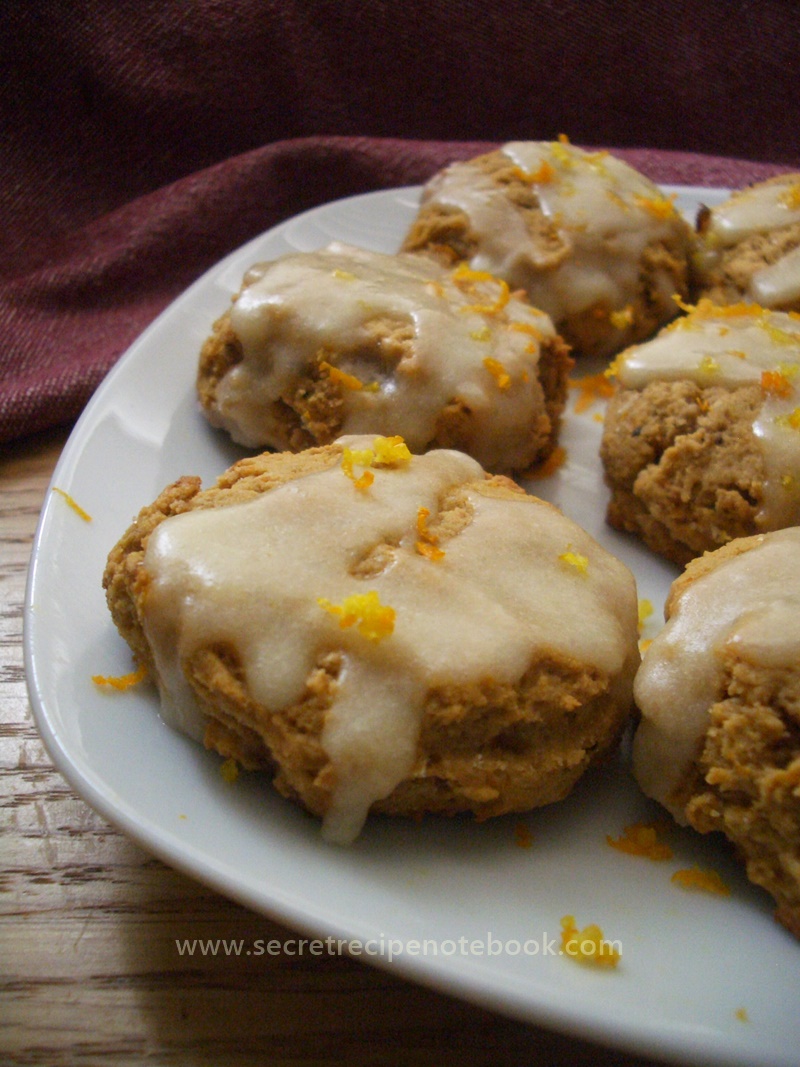 The main ingredients for these cookies
PUMPKIN PUREE: Makes these cookies so moist and tasteful and healthy.


PLAIN, ALMOND and CHESTNUT FLOURS: A mix of these flours gives dense texture and super delicious flavour. The almond flour is light and gives chewy texture, while chestnut flour gives that unique smoky flavour. Both are ideal for adding to baked goods and are a worth buying. We love to make tasty cookies using these gluten-free flours (why not to try our simple chestnut flour cookies or sugar-free chocolate chip cookies).


MELTED BUTTER: We are using melted butter for these cookies to get dense texture.


DARK MUSCOVADO and DEMERARA SUGARS: Made with these two sugars instead of refined sugar, you get a naturally sweet flavour that won't overpower other flavours. They bring amazing caramel flavour and dense cookie texture. Both sugars are available in most grocery stores these days (or just easily order them online: shop muscovado & shop demerara). We've also used dark muscovado sugar in our fudgy hazelnut brownies).


EGG YOLK: Just one egg yolk is enough for the dough. Leave the egg white for soft amaretti cookies.


ALLSPICE and CLOVES: The spices are what gives these fall cookies amazing aroma. Here, we used a mix of ground cloves and allspice, both warm and sweet. We suggest you to take whole cloves and allspice, and grind them in a coffee grinder, leaving slightly coarse texture. This way you will get the most of the scent and aroma.


ORANGE JUICE and ORANGE ZEST (for the dough): We used both orange juice and zest in the dough, and topped the cookies with orange scented icing. So citrusy! Fresh citrus zest always give a nice kick to the nutty cookies.


For the full list of ingredients with measurements please, check the recipe card below.


Making the pumpkin purée
Before making the dough, you'll need to prepare pumpkin purée which is super easy.

Cut the pumpkin into half (we love to use hokkaido pumpkin, small with chestnut-like flavour), scoop out the seeds then place on the baking sheet and roast in the oven until soft (30-40 minutes). Scoop the flash and mash until soft and creamy. So easy!
For more useful tips about making pumpkin purée from scratch, see our detailed guide.
One good idea...
The good idea is to make the pumpkin purée in advance, when you have the time then freeze in plastic bags. This way you have the puree whenever you need it for your recipes.

We love to use the pumpkin puree for making pumpkin crepes or pumpkin and ham croquettes.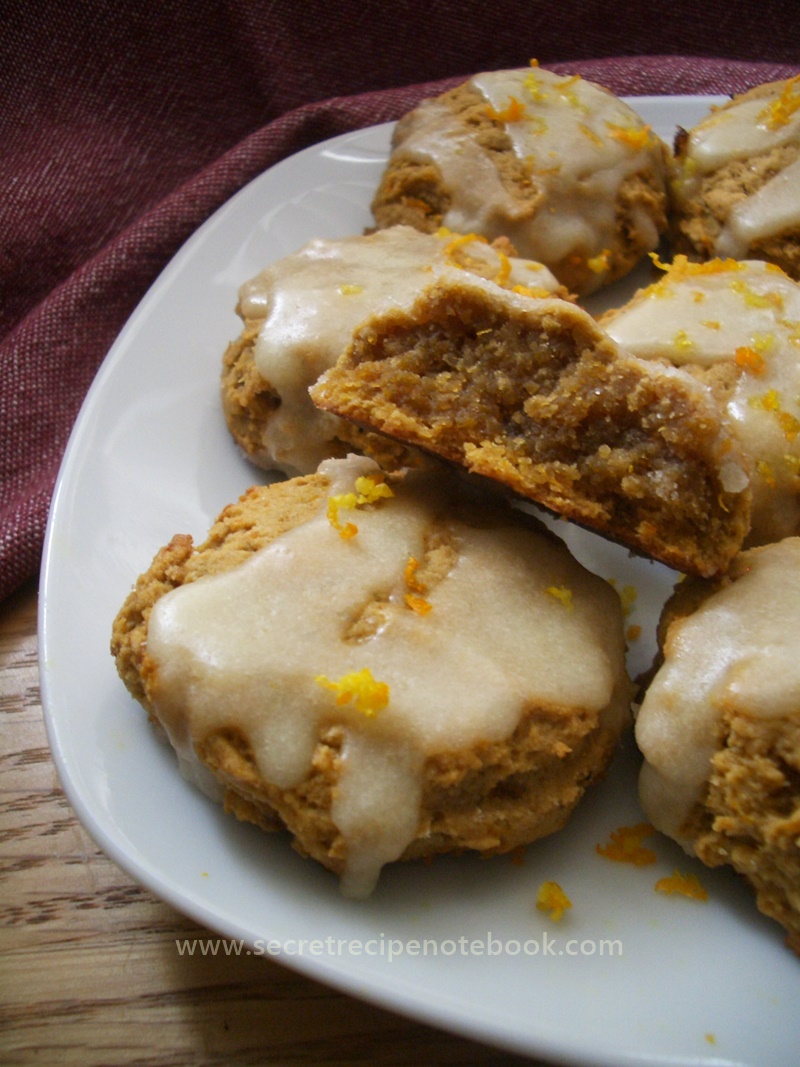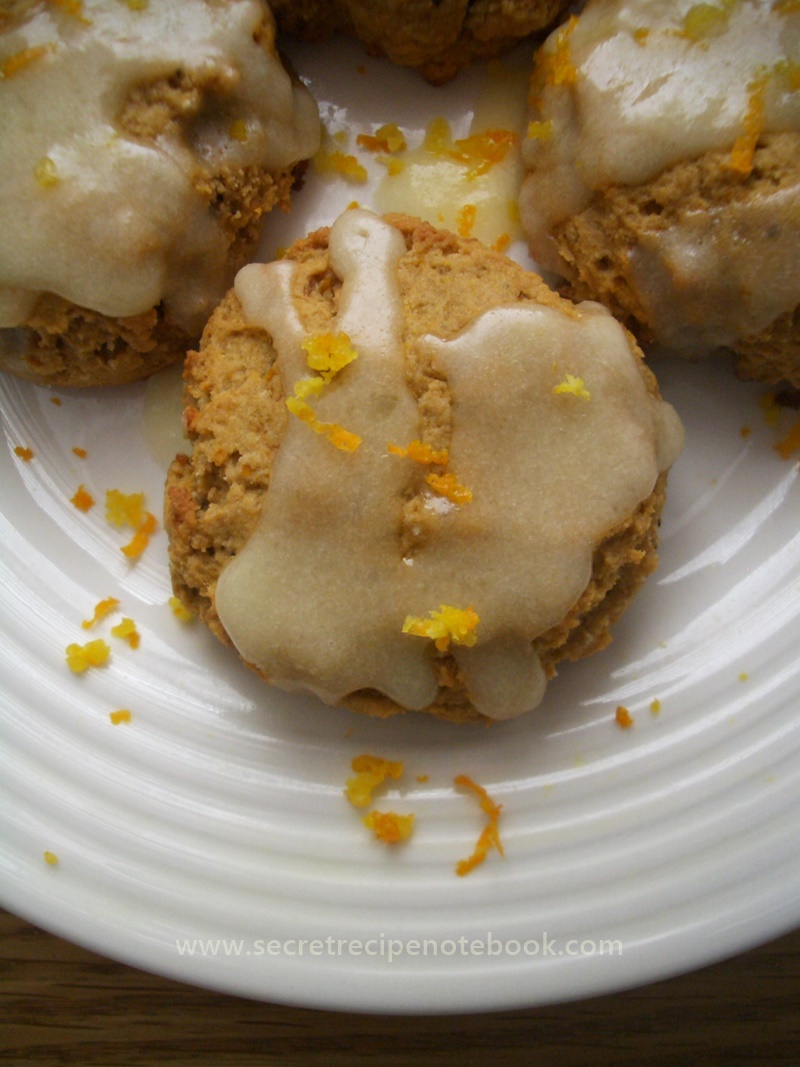 Making the dough for the cookies
Once you prepare all the ingredients, making the dough is a breeze. We'll be using melted butter in this recipe, so there is no need for using mixer, just a couple of bowls and balloon whisk.
Place all flours in a large bowl (be sure to sift the chestnut flour), add cornstarch, salt, ground allspice and ground cloves). Stir with a spoon or spatula.


Next, place melted butter, muscovado and demerara sugars and orange juice in another bowl. Whisk for a minute, then add egg yolk and pumpkin purée and whisk again. Finally add grated orange zest.


Pour wet ingredients into the flours and stir using a silicon spatula until combined. Your dough for the cookies is ready!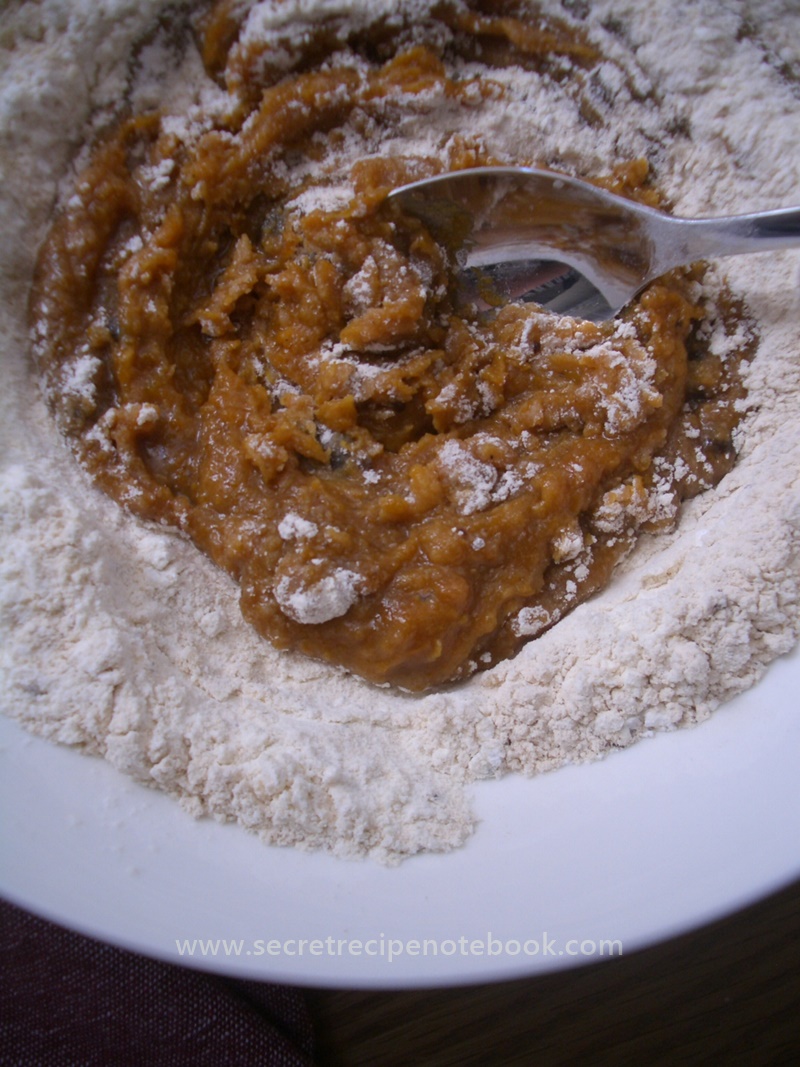 Shaping the cookie is so easy...
The easiest meathod to shape these cookies is to use a cookie scoop. We used the cookie scoop #30 here (that holds 2 tablespoons of dough).

Just, scoop the dough, then place mounds onto the baking sheet with spaces between (you will get around 14 cookies).
Now flatten the tops of each cookies with your palms or back of the spoon, to make discs. The cookies won't spread, so this helps give them some shape. Cookie are then baked for about 10 minutes.

USEFUL TIP: Avoid over-baking these cookies, you want them soft and moist in the centers!


The longer the cookies stay, the even better they taste! The flavours get stronger and the texture becomes chewier. Cookies stay fresh if kept in metal container with lid. Just be sure to separate the cookie layers with baking paper. These cookies are true gems!
A few of our favourite cookie recipes:
Pumpkin and Orange Cookies
MAKES: 14 cookies
COOKS IN: 30 minutes
LEVEL: Easy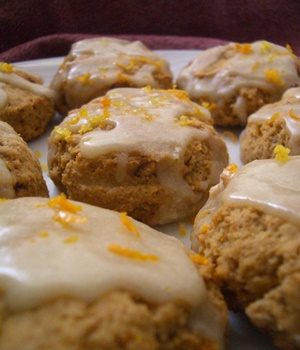 INGREDIENTS
For the cookies
125g

pumpkin purée

(1/2 cup)

120g plain flour (1 cup)

48g almond flour (1/2 cup)

22g chestnut flour (1/4 cup), sifted

1 pinch of salt

1 tablespoon cornstarch

1/2 teaspoon allspice

1/4 teaspoon ground cloves

110g butter (8 tbsp), melted
66g dark muscovado sugar (1/3 cup)

30g demerara sugar (1/8 cup)

45ml orange juice (2 tablespoons)

1 egg yolk

1 tablespoon finely grated orange zest
For the glaze
90 g icing sugar (3/4 cup)




30ml fresh orange juice (2 tablespoons)

1 tablespoon butter, melted
METHOD
Combine plain, chestnut and almond flours together with cornstarch, ground cloves, ground allspice and salt in a large bowl.





Whisk melted butter with muscovado sugar, demerara sugar and orange juice in a medium bowl. Whisk in an egg yolk and pumpkin purée until you get a smooth texture. Add grated orange zest and whisk again.





Slowly pour the wet ingredients into the flours then stir using a wooden spoon or silicon spatula until you get a soft compact dough.





Preheat the oven to 175 C. Line 1 large baking sheets with baking paper.





Scoop the dough (about 2 tablespoons of dough per cookie) on the baking sheets, 2-3 cm apart. Flatten each cookie to 1.5cm thickness.





Bake for about 10 minutes or until the edges are set. Cookies will still be moist. Remove from the oven and leave cookies to cool completely on the sheet.





For the glaze, stir together icing sugar, orange juice and butter. Leave aside while cookies cooling.





Once cookies are completely cool, drizzle generously tops of the cookies with glaze, sprinkle with some zest and leave to set.




Looking for more recipes?
We are a participant in the Amazon Services LLC Associates Program, an affiliate advertising program designed to provide a means for us to earn fees by linking to Amazon.com and affiliated sites.