This webpage contains affiliate links. Please view our disclosure policy for more details.

TRUFFLES & CANDY | CHOCOLATE | PISTACHIO | NO-BAKE DESSERTS
Chocolate Pistachio Truffles
Luscious, silky, rich and nutty, these easy-to-make truffles are great as an indulgent end to a meal or as a gift for any occasion. A must try for anyone who loves the combination of pistachio and chocolate. You will be surprised how easy these truffles can be made. 

For truffles lovers, we have recipes for dark chocolate amaretto truffles and almond cheesecake truffles.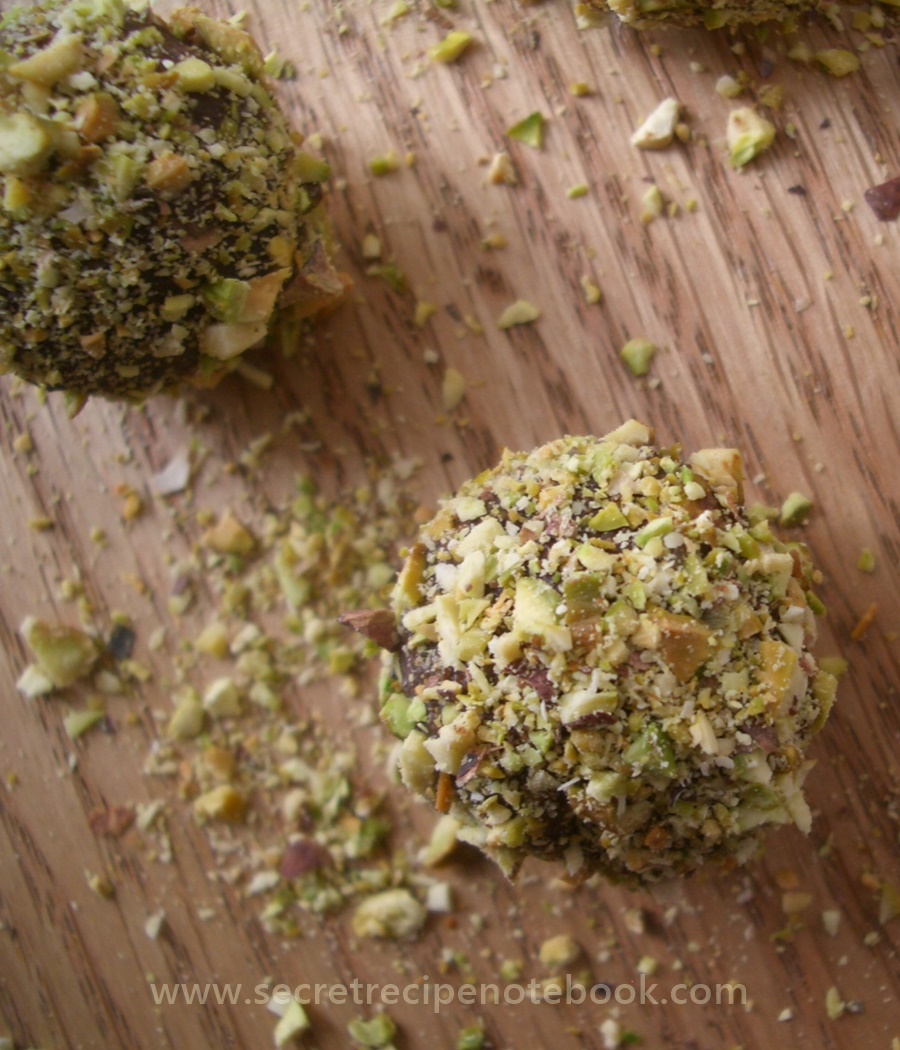 What you'll need for these truffles
When recipes have very few ingredients, it's important to choose quality ones. In this recipe we used a Lindt 70% chocolate bar but feel free to use any other kind of quality dark chocolate (Baker's chocolate, Lindt, Ghirardelli, Guittard, Valrhona) you have on hand.

We don't recommend using chocolate chips for the truffles as they don't melt easily. Prepare the chocolate by chopping it finely on a cutting board using a kitchen knife.

These truffles are packed with pistachios. The truffle mixture is packed with them and then again they are coated into finely chopped pistachios. Nice and crunchy!


See more of our truffle recipes:
How to make chocolate pistachio truffles
Preparing pistachios
This recipe start with toasting pistachios to enchanced aroma and makes them crunchy. Spread pistachios in one layer on the baking sheet and toast in the oven on 175°C/347°F for about 8-10 minutes.

Pistachios should start to release aroma and become lightly brown. Once toasted, finely chop on the cutting board or blitz in a food processor.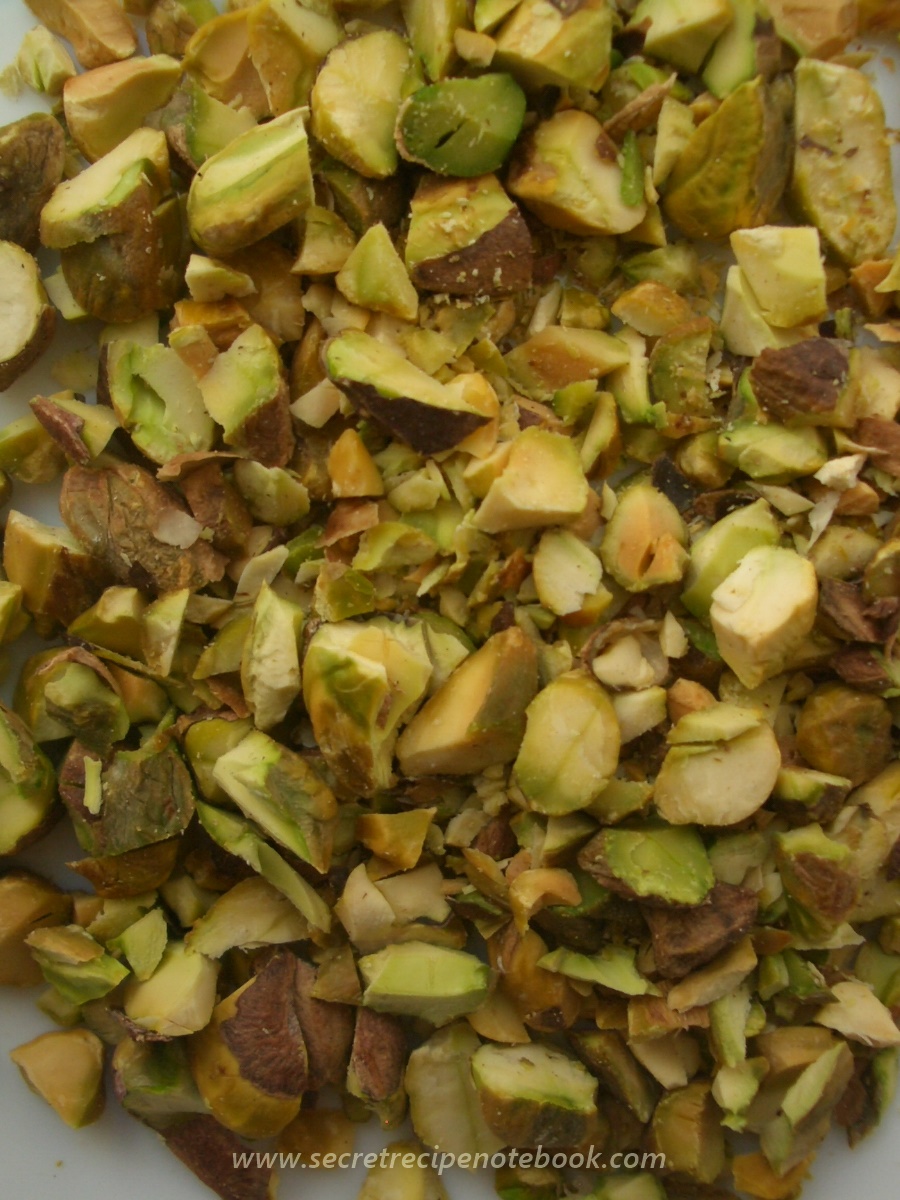 Making chocolate ganache
Place the chopped chocolate into a heatproof bowl then heat the whipping cream on a low heat until it just start to simmer and pour over the chocolate. Leave for 2-3 minutes then stir with a silicon spatula until you get a smooth texture.

If the chocolate doesn't melt completely (70% cocoa chocolate is pretty solid), then place the bowl with chocolate mixture over a saucepan of simmering water and stir until melted.

Add butter and coarsely chopped pistachios and stir again until everything combined. Place the ganache in the fridge for 30-40 minutes to firm enough for rolling.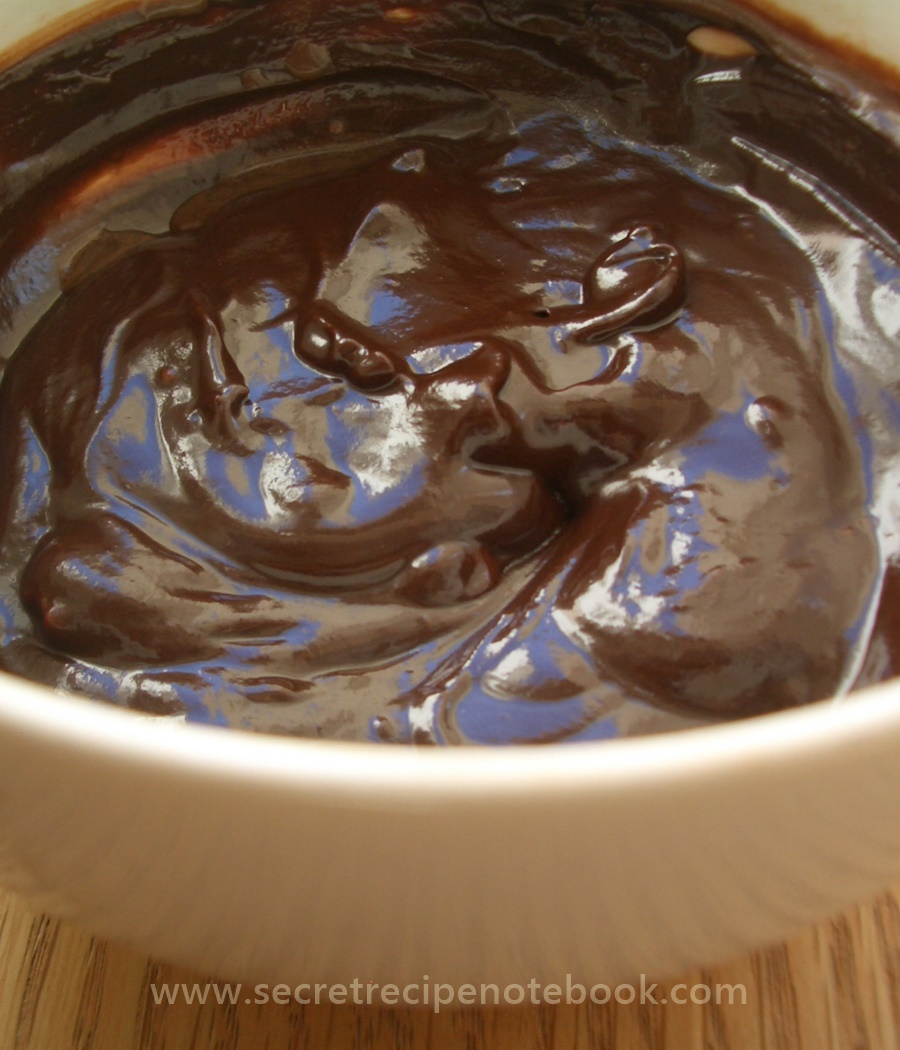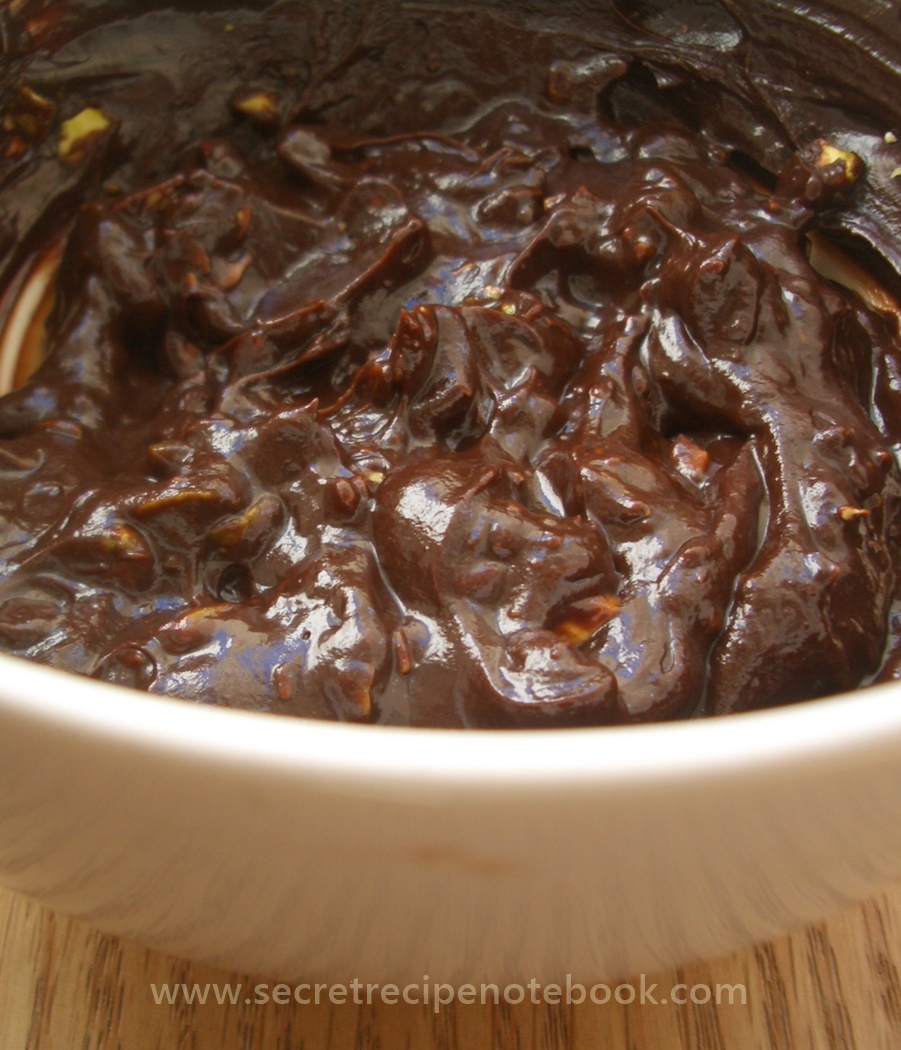 Rolling the truffles
Now, it's fun part of rolling the truffles. Place finely chopped pistachios into shallow bowl or plate. Take the chocolate ganache from the fridge, measure one teaspoon and roll into ball between your palms as best as you can.

Roll the truffle in chopped pistachios and place on a tray. Repeat with the rest of the ganache. You can serve truffles immediately - if not keep the truffles in the fridge until serving.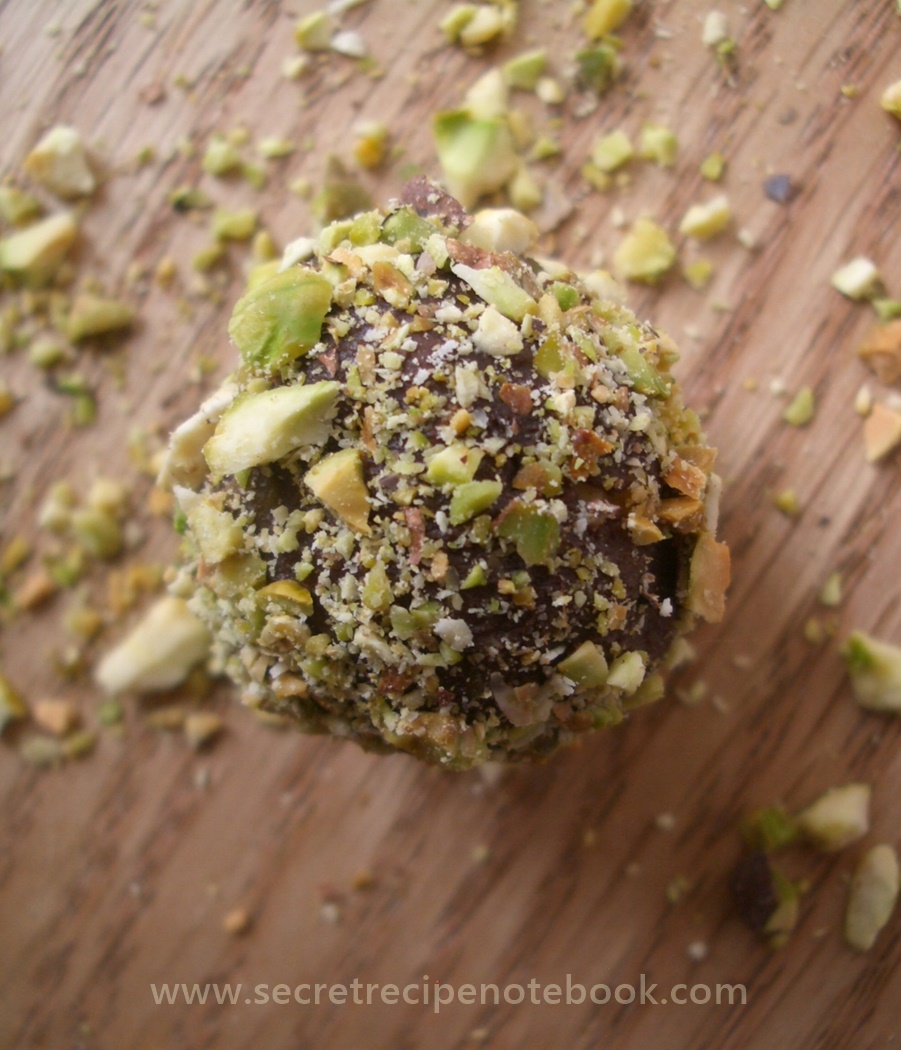 How to store chocolate pistachio truffles
It's the best to keep the truffles in a storage container between sheets of baking paper and store in the fridge for about 1 week. For the best texture and flavour take out from the fridge 30 minutes before serving.

Freeze for up to 2 months, then defrost overnight in the fridge.


Looking for more chocolate recipes? Check these out:
Find great ideas for homemade truffles in our Candy Recipe Collection!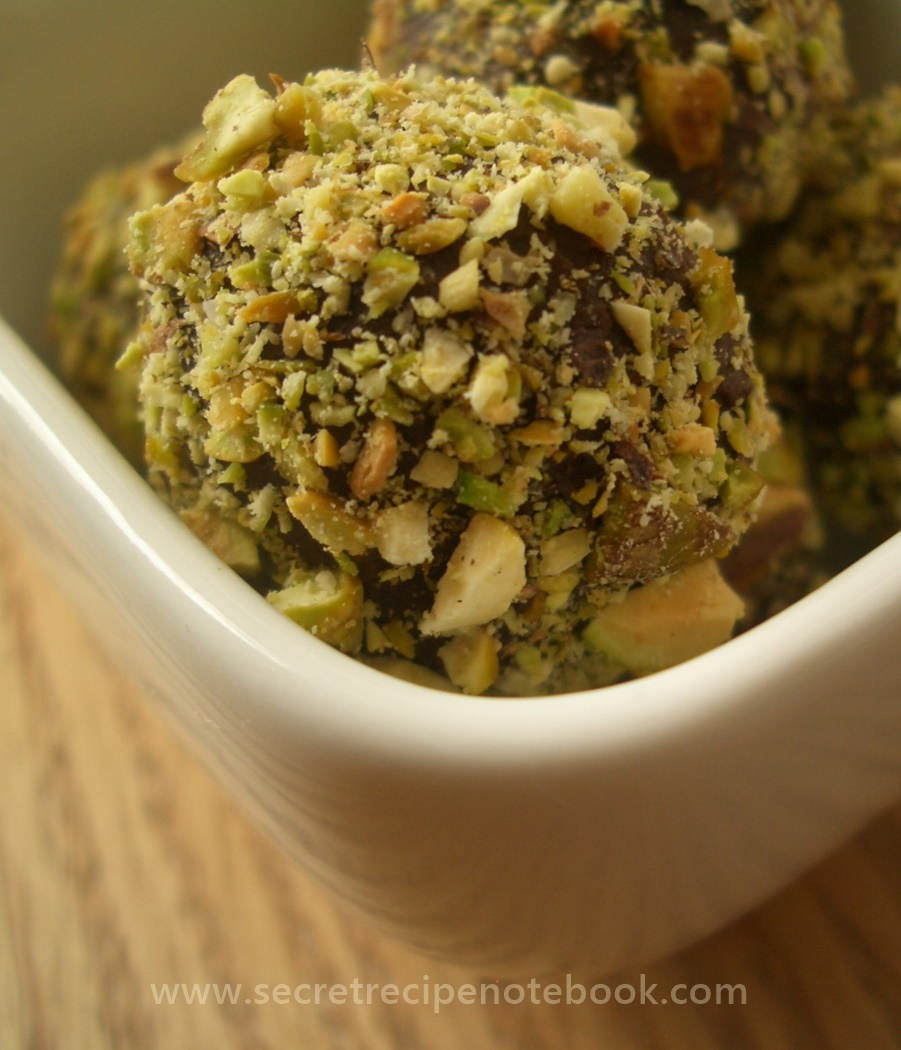 Chocolate Pistachio Truffles
MAKES: 24 truffles
COOKS IN: 30 minutes plus cooling time
LEVEL: Easy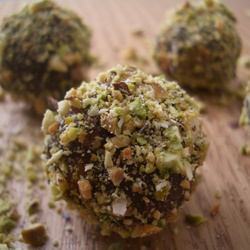 INGREDIENTS
For the truffles
200g

dark chocolate

 70% 

(7 ounces)

95ml whipping cream 33-36% milk fat (1/3 cup + 1 tbsp)

30g butter 

(2 tbsp)

60g

pistachios

, toasted and coarsely chopped

1 teaspoon vanilla extract
For the coating
60g pistachios, toasted and finely chopped
METHOD
Spread 120g of pistachio evenly on a baking sheet and toast in the oven on 175°C/347°F for about 8-10 minutes. Once toasted, remove from the tray and cool. Divide into two, one half chop coarsely while the other half chop finely and set aside.


Chop finely the chocolate on

a

wooden board

and place in a heatproof bowl.



Place the whipping cream in a small 

saucepan

 and heat over a low heat until it just starts to simmer. 




Pour over chopped chocolate, leave for a few minutes then slowly stir with

silicon spatula

until completely melted. Add butter and vanilla extract and continue to stir until incorporated. Add finely chopped pistachios and combine. Cover the mixture with cling film over the top and place in the fridge for 1-2 hours until firm enough to scoop.


Place finely chopped pistachio

s in a shallow dish or a plate. Scoop the ganache using a teaspoon or a

small cookies scoop

and roll into balls about the size of walnut. Roll each ball in the pistachios until evenly coated. Place truffles on the tray and keep in the fridge until serving.


We recommend using the measurement in grams & ml (instead of cups & spoons) for more accuracy and better results.
Chocolate Pistachio Truffles