Double Chocolate Muffins
Our ultimate double chocolate muffins are soft and moist thanks to the ingredients we use. They are so chocolatey thanks to the real cocoa powder and huge chocolate chunks.
This webpage contains affiliate links. Please read our disclosure policy.

Muffins are one of our favourite things to make in any occasion, either for lazy weekend breakfast or afternoon gathering with a friends. We would like to share with you the recipe for ultimate double chocolate muffins packed with huge chocolate chunks and flavoured with real cocoa powder.

Not to mention that these muffins are nutritiously richer than regular ones, as they are made with mostly whole grain spelt flour. Why not to test our proven recipe and make a dozen of these soggy chocolate muffins.


What double chocolate muffins makes so tempting
Chocolate lovers will adore these muffins thanks to the true chocolate flavour. We achieve this adding quality unsweetened cocoa powder to the batter.
To make these muffins "double chocolate", we added dark chocolate chunks made of chocolate with 65% cocoa. When muffins are from the oven, these chocolate chunks become melty chocolate pockets which makes these muffins so tempting and delicious.

These moist muffins are not for those who like soft fluffy muffins, but compact muffins with dense texture, and we achieve this with a mix of whole grain spelt and plain flour. Addition of Greek yogurt and melted butter, gives these muffins extra moisture and keep them fresh longer.
Muffins are not so sweet, so if you like you can add some additional sugar or any other sweetener to the batter.


More tasty recipes you will love:
How to make ultimate double chocolate muffins
MAKING THE BATTER: Whipping up these ultimate double chocolate muffins is so easy, you can do it in 10 minutes. The batter starts with mixing flours, cocoa powder, baking powder and salt in one bowl. 

In another bowl, whisk eggs, melted butter, brown sugar, Greek yogurt and vanilla extract. After a few minutes when the mixture becomes homogenouse, make a well in the dry ingredients and pour this slowly, folding with silicon spatula. At this point add chocolate chunks and stir in. Don't overmix butter - just fold until the flours are incorporated into the wet mixture.


BAKING THE MUFFINS: Once you have batter ready, line baking tray with 12 standard muffin cases (5cm in diameter). We always double each muffin case to avoid looking them grease once muffins are baked.
Scoop the batter into the muffin cases using tablespoon or a medium cookie scoop and bake in the oven - first 5 minutes on 220°C/430°F then reduce the temperature to 180°C/360°F and bake for another 8 - 10 minutes.

Check if the muffins are ready by inserting skewer into one muffin. For these muffins it should come out with some crumbs attached - this means that muffins are still moist inside. Allow muffins to cool in the muffin tray for a few minutes then transfer to a wire rack until ready to eat.


Best Selling Kitchen Tools
Serving and storing double chocolate muffins
These muffins stay fresh for a couple of days on room temperature, but keep them in and airtight container or on a plate covered with aluminium foil. 
They also can be frozen for up to 2 months. To freeze muffins, wrap each muffin in cling film and place to freezer bag. Thaw overnight in the refrigerator and heat up before enjoying.


Looking for more muffins? Take a look at these recipes:
Double Chocolate Muffins

MAKES: 12 standard muffins
COOKS IN: 40 minutes
LEVEL: Moderate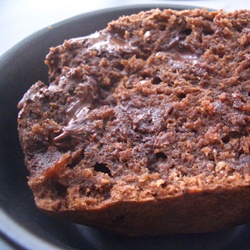 INGREDIENTS
KITCHEN ESSENTIALS:
METHOD
Preheat the oven to 220°C/430°F. Line 

12-cup muffin tray

 with standard paper cases.



In a large bowl combine flours, unsweetened cocoa powder, baking powder and salt. Stir in dark chocolate chunks.





In another bowl, whisk with hand whi

sk the eggs, sugar, melted butter, Greek yogurt and vanilla extract until the sugar is completely dissolved and the mixture is combined.
 

Make a well in the dry ingredients and pour in wet ingredients. Fold using a

silicon spatula

until just incorporated. Be sure not to overmix. The dough should be very thick. Spoon the batter evenly into prepared

muffin cases

filling all the way to the top. 





Bake muffins at 220°C/

430°F for 5 minutes, then reduce the oven temperature to 180°C/360°F and continue to bake for another 8-10 minutes. Check if the muffins are ready by inserting a skewer into the centre of a muffin. It should come out with few slightly fudgy crumbs. Leave the muffins to cool in a muffin tray for 3-4 minutes then remove them on a wire rack to cool completely until ready to eat.



We are a participant in the Amazon Services LLC Associates Program, an affiliate advertising program designed to provide a means for us to earn fees by linking to Amazon.com and affiliated sites.