For an easy gluten-free cookies look no further than these gluten-free chocolate thumbprint cookies. They are made of soft crumbly dough and rich dark chocolate filling, which makes an ideal combination.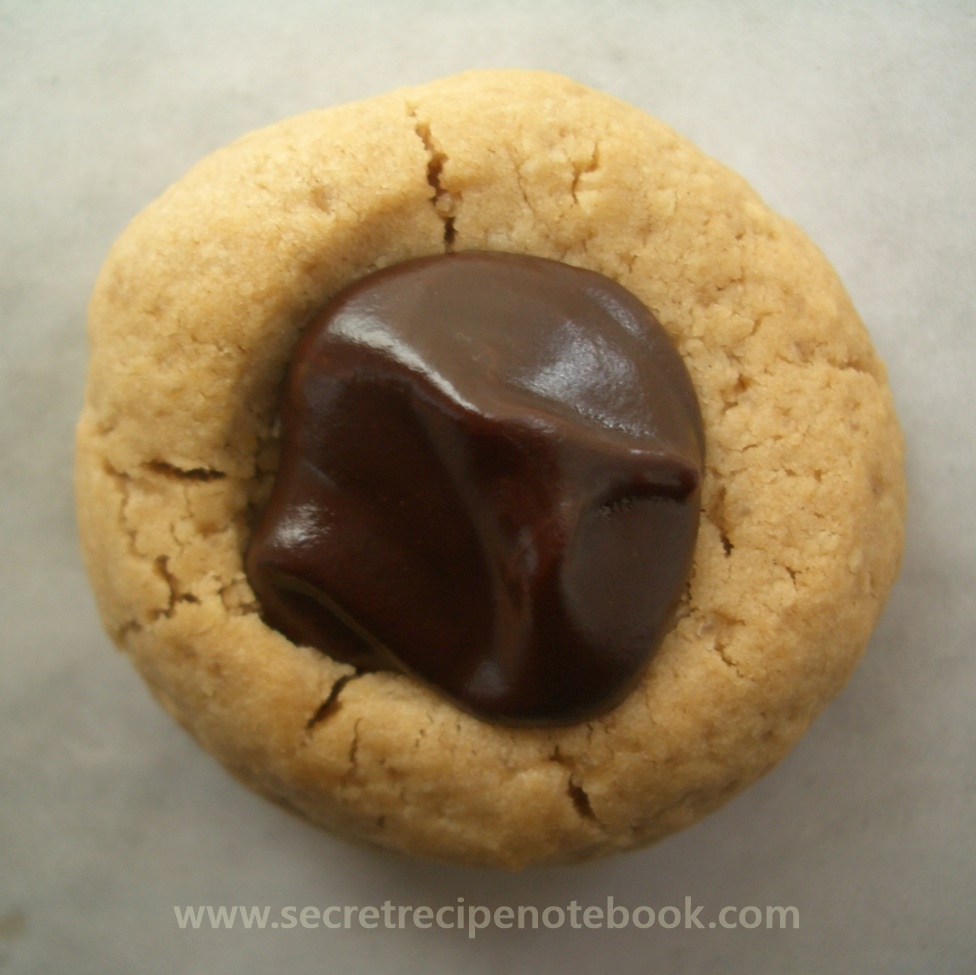 These lovely gluten-free cookies are perfect treat with a glass of milk or cup of coffee. Made from a combination of flours, all gluten-free and with small amount of sugar, these cookies are also healthy bite.
These cookies are ideal combination of soft nutty dough and rich dark chocolate filling. For those who love thumbprint cookies, why not to check out gluten-free orange cookies or orange curd thumbprint cookies.


try also these tasty recipes:
what you'll need for gluten-free chocolate thumbprint cookies
These cookies have soft texture thanks to the combination of three gluten-free flours we used in this recipe. We combined chestnut, millet and almond flours.

We used chestnut flour which adds nuttiness and great brown colour to the cookies. Millet flour is another great gluten-free flour, finely ground and has similar texture to wheat flour. Almond flour gives fluffy texture and great flavour.

When you pair all this with rich chocolate ganache, the result are amazingly delicious cookies. For additional flavour we added grated orange zest and a dash of Amaretto liqueur.


how to make gluten-free chocolate thumbprint cookies
making the dough
This recipe start with sifting the chestnut flour, which compress into lumps and need to be sifted to become airy. Once sifted, combine the chestnut flour with millet and almond flours, baking powder and a pinch of salt in one bowl. 
Beat with electric mixer butter and demerara sugar until creamy then add an egg which gives consistency, and Amaretto liqueur and finely grated orange zest to add some extra flavours to the cookies.

Continue to beat for a few minutes then fold the flours gradually, mixing on a low speed. The dough will be soft and sticky so be sure to cool it in the fridge for about 30 minutes to set and harden.


baking the cookies
Now it's time for shaping the cookies. Scoop a full teaspoon of dough and roll into balls. Place them on baking tray lined with baking paper and press your thumb (or handle of a large wooden spoon) into the centre of each balls to make an indentation.

Bake the cookies for about 8 - 10 minutes then make the indentation in the cookies again, as they will puff up and loose the indent. Leave cookies on the tray until you prepare chocolate filling.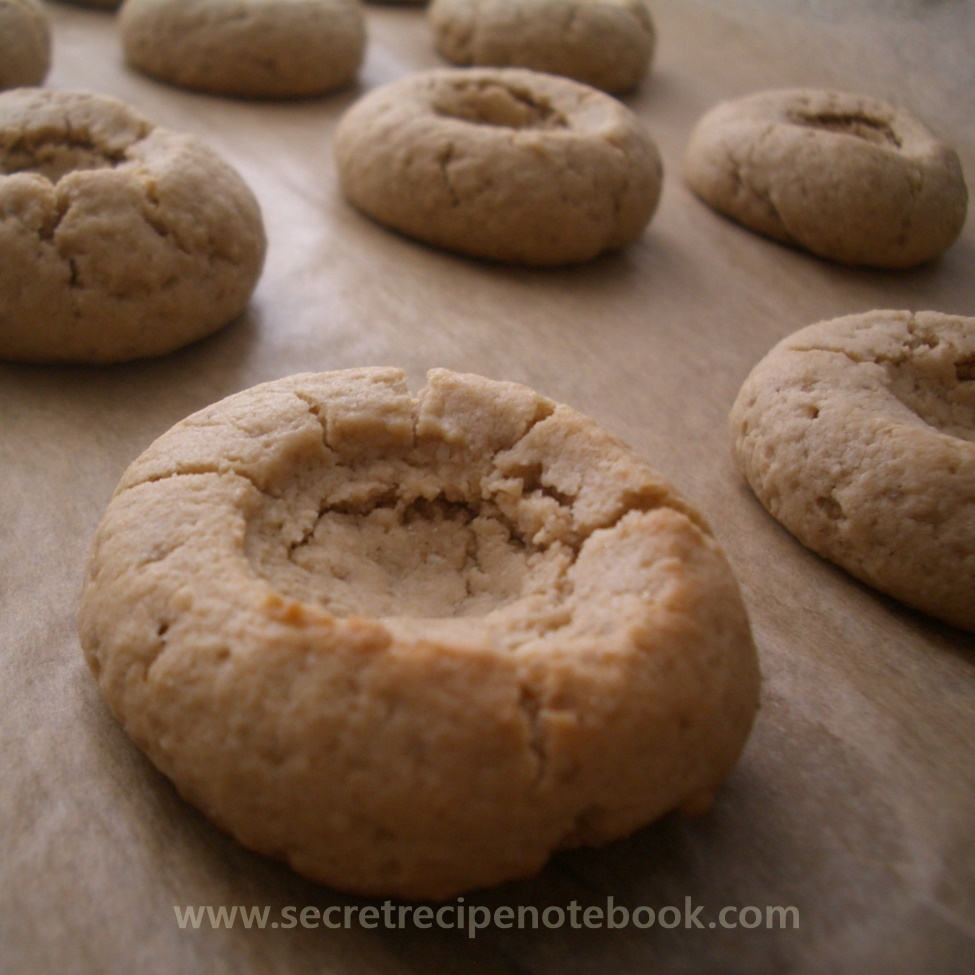 making chocolate filling
For the chocolate filling, chop finely dark chocolate on a cutting board. The best tool for this is a serrated knife. Place chocolate in a heatproof bowl.

Heat the whipping cream on a low heat until it just start to simmer and pour it over chocolate. Leave for 1 minute then stir until completely melted. Leave to cool for 5 minutes then fill each indent using a teaspoon. Chocolate ganache will set on the cookies but will still be creamy and delicious.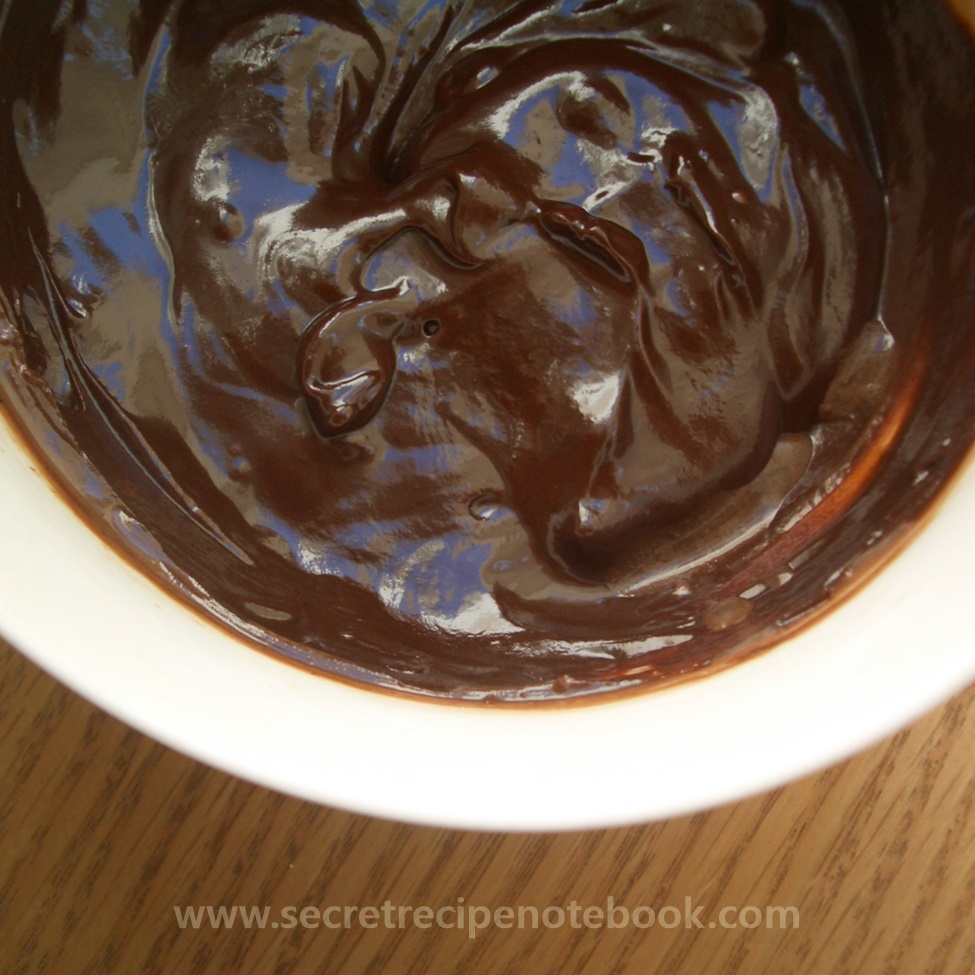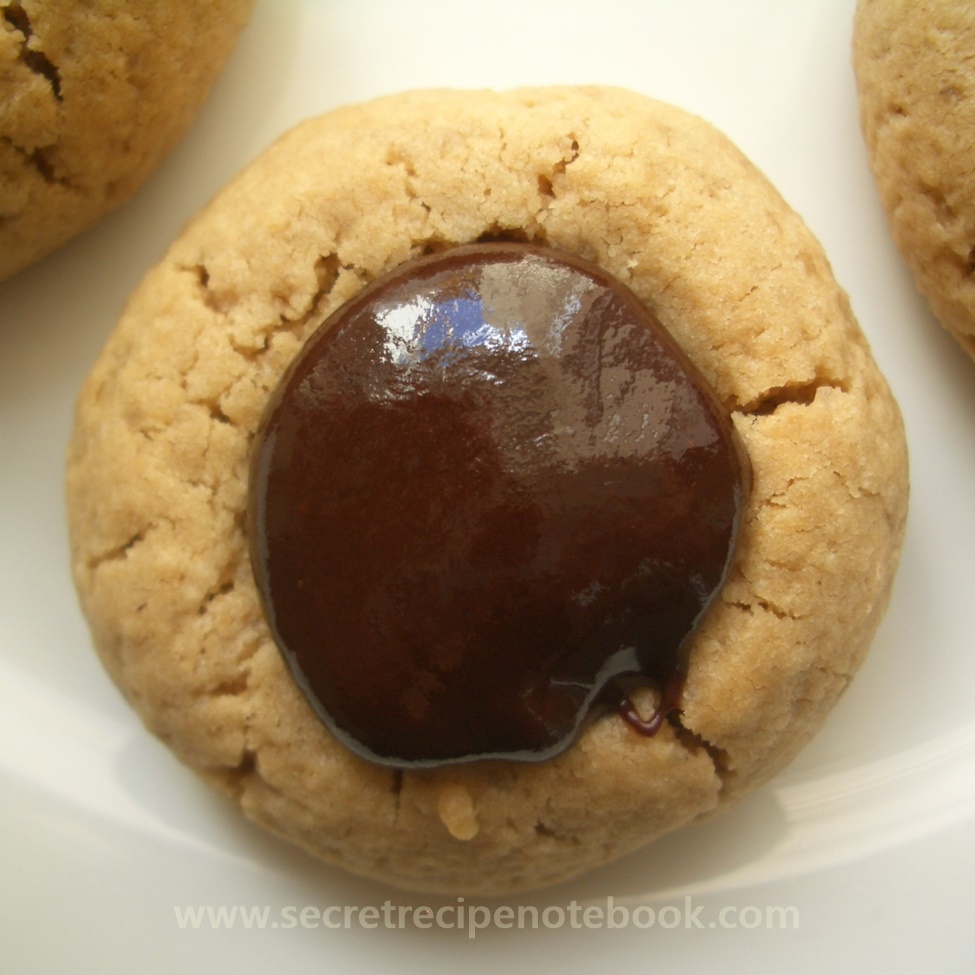 useful tip
Most thumbprint cookies are baked with the filling inside, but these cookies are baked without filling. Since the cookies are empty, they're going to puff up in the oven and lose some of indentation. So when cookies come out from the oven, grab the wooden spoon and press the center of the warm cookies down to make a deeper indent. This way you will have room for more delicious chocolate ganache.


Looking for more gluten-free recipes?
For more cookie inspiration, take a look at our collection of yummy cookie recipes. Also check out our selection of interesting gluten-free cookies, too.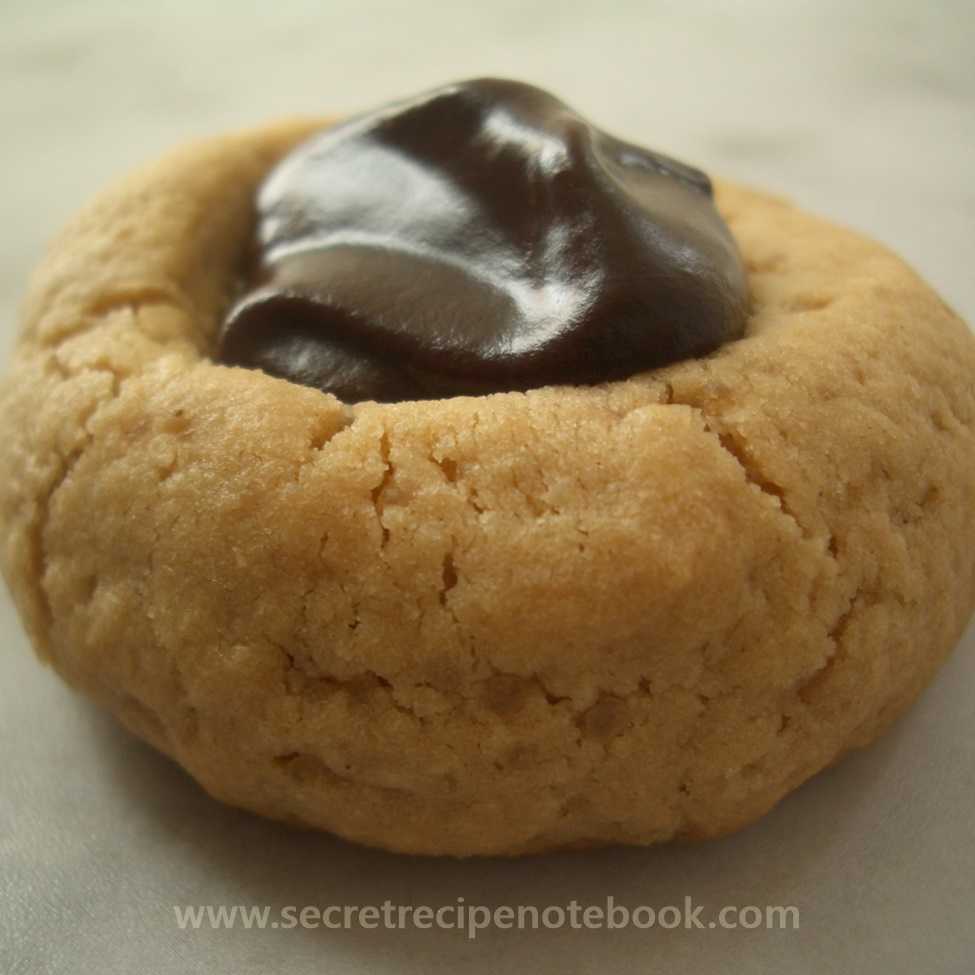 Take the dough form the fridge and scoop a full teaspoon-sized balls of dough and roll them between the palms. Place balls on prepared baking paper, leaving 2 - 3 cm between each ball. You can also use small cookies scoop to scoop the dough, which makes it really easy to get uniformly sized cookies. Using your thumb gently press an indentation into the centre of each ball - 3/4 in depth.


shop kitchen essentials for this recipe
Digital Kitchen Scale | Mixing Bowls | Electric Hand Mixer | Cookie Tray | Baking Paper Sheets | Cooling Rack | Cookie Spatula | Heatproof Bowl | Small Saucepan
Gluten-free chocolate Thumbprint cookies
MAKES: 24 cookies
COOKS IN: 30 minutes plus cooling time
LEVEL: Easy
INGREDIENTS
For the cookies
90g (1 cup) chestnut flour
80g (1/2 cup + 1 tbsp) millet flour
64g (2/3 cup) almond flour
1 teaspoon

baking powder

1 pinch of

salt

112g (8 tbsp) 

butter

65g (1/3 cup) 

demerara sugar

1

egg

, at room temperature
1 teaspoon

Amaretto liqueur

1 tablespoon grated

orange zest
For the filling
100g (3.5 ounces) dark chocolate (55 - 65% cocoa)
30ml (1/8 cup) 

whipping cream

(33 - 36% milk fat)
METHOD
FOR THE COOKIES, preheat the oven to 175°C (347°F), 10 minutes before baking. Line baking tray with baking paper.


Sift the chestnut flour and combine with millet and almond flours, baking soda and salt in medium bowl.


Cut the softened butter into cubes and place together with demerara sugar in one bowl. Beat with hand electric mixer or stand mixer for about 2 - 3 minutes or until creamy. Add egg and Amaretto liqueur and continue to beat for a few minutes on a high speed.


Gradually add flours, mixing with hand mixer until just incorporated. The dough is sticky and soft.


Scoop a full teaspoon-sized balls of dough and roll them into 2-cm balls then place them on prepared baking tray. Leave some space between balls as they will spread during the baking. Using you thumb, gently press an indentation in the centre of each ball.


Bake in the preheated oven for about 10 - 12 minutes. The cookies will still look soft. Remove from the oven. The indents will lost some shape as the cookies will puff up, so gently press again your thumb into the warm cookies. Allow cookies to cool on the baking tray for 5 - 6 minutes, then transfer to a wire rack to cool completely.


FOR THE CHOCOLATE GANACHE, place chopped chocolate into a heat-proof bowl. Heat the whipping cream on a low heat until it start to simmer. Pour over chocolate and let it sit for about 2 - 3 minutes. Slowly stir the chocolate until completely melted. Cool for at least 10 minutes before filling the cookies.



Fill 1 teaspoon of chocolate ganache to each indentation, going back to add more to those that don't have as much as chocolate as others. Ganache will thicken inside the cookies and set on the tops after a few hours, but will still be creamy when you bite into the cookies.