Almond Bi
scotti
If you are looking for an ideal cookie for dipping into a tea or coffee, the classic Italian almond biscotti is the ideal choice for your. The name biscotti literally means "twice baked" as the dough is formed into logs, baked, sliced and baked again.

These are the classic version with almonds but these cookies can also be enhanced with hazelnuts, pistachios, dried fruits, chocolate pieces or any combination of these. To find your favourite flavour be creative and play around with this. Shop high-quality nuts easily online!
For chocolate lovers, try our chocolate almond biscotti which are easy to make.


This webpage contains affiliate links. Please read our disclosure policy.

More recipes
you'll want to try:
This recipe makes 20 crunchy biscotti, so there will be more than enough to keep and enjoy. Since biscotti are dry cookies, they can be stored at room temperature for a few weeks, but it is best to keep them in an airtight container.


Some extra tips for making almond biscotti
The trickiest part about making biscotti is handling the dough. It's soft and sticky so we advise working with it quickly with slightly dusted hands. It's best to form a log directly on the baking sheet.


For a richer aroma, toast the almonds before adding to the dough.


Cut the logs into slices at the right temperature. It is best to let them cool after the first bake until they can easily handled. But don't wait to long as the logs will become hard and can break while slicing. Use a serrated knife to cut the logs.


Be careful when turning the biscotti in the oven during the second bake to prevent cracking and crumbling. It's best to use tongs to turn them.


The final texture of the biscotti depends on the amount of time spent in the oven. For a slightly softer texture, decrease the time of the second bake. If the biscotti are too soft, increase the duration of the second bake to get dry crunchy biscotti.


How to store almond biscotti
To keep the biscotti crisp, store them in a cookie glass jar at room temperature. If they should lose their crispness, simply toast them in the oven for a few minutes on 150°C.

Looking for quality cookware and bakeware, home stuff or gifts to the loved ones? See new arrivals here and shop online!


Try our popular cookie recipes:
Almond
Biscotti

MAKES: 20 biscotti
COOKS IN: 1 hour
LEVEL: Moderate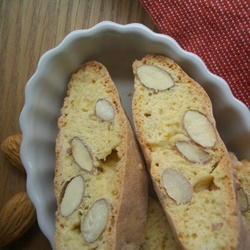 Handy equipment:
INGREDIENTS
240g 

plain flour 

(2 cups)
75g 

caster (fine) sugar 

(1/3 cup)
110g whole almonds (3/4 cup)
2

eggs

, at room temperature
1 teaspoon 

baking powder

1 tablespoon grated orange zest
1 pinch of

salt

1 tablespoon

Amaretto liqueur
METHOD
Toast the almonds in the oven at 140°C/284°F for about 10-12 minutes or until lightly brown. Adjust the oven temperature to 180°C/356°F.


Whisk the eggs with the sugar. Add the grated orange zest, Amaretto and salt.


In a medium bowl, combine the flour and baking powder and then add gradually to the egg mixture. Work the mixture with your hands to get compact soft dough. Add th

e prepared almonds and incorporate them into the dough.




Divide the dough into 2 equal pieces and shape into 2 logs (5 cm wide and 1 cm high) directly on the baking sheet. Bake in the oven for about 20-25 minutes or until they are lightly golden.


Cool the logs for about 10 minutes and then cut them diagonally (at a 45° angle) into 1 cm thick slices. Lay the slices flat on the cookie sheet, turn the oven down to 140°C/284°F and bake for another 5-6 minutes, turning halfway through.


CATEGORIES: Cookies, Italian, Almond
We are a participant in the Amazon Services LLC Associates Program, an affiliate advertising program designed to provide a means for us to earn fees by linking to Amazon.com and affiliated sites.